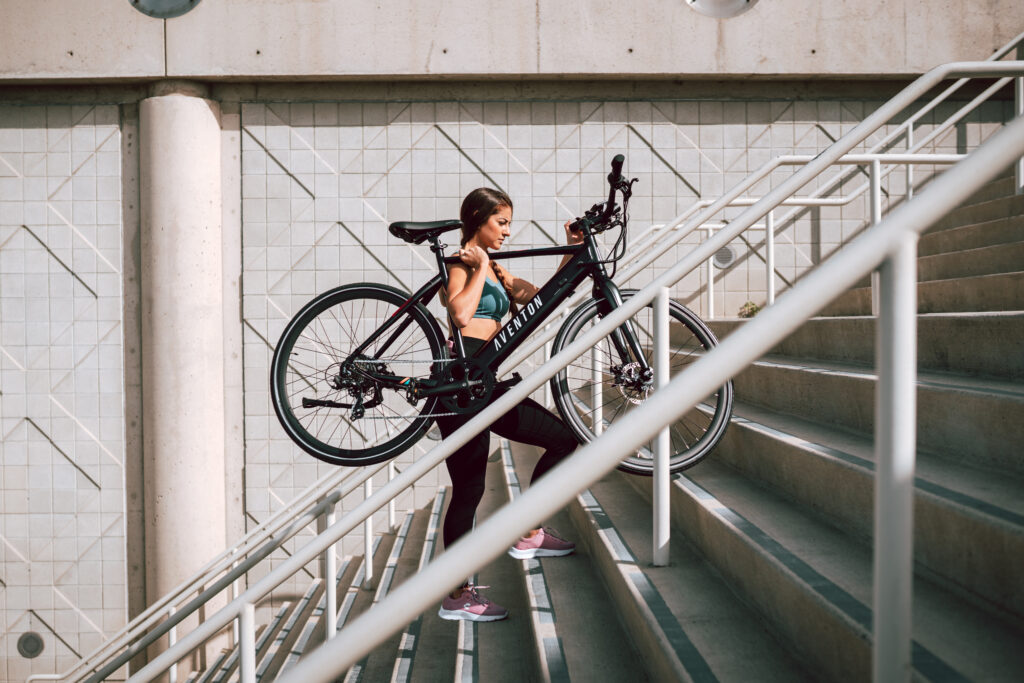 Aventon's newest creation is the Aventon Soltera. The Soltera is a city bike that has design elements of a sleek road bike but with a more comfortable riding position. At $1,199 for the single-speed option and $1,299 for the seven-speed, it is the most affordable Aventon ebike you can buy. (Note that the Aventon Pace 350 is priced at $1,299). Check out our video review below or read on for our full Aventon Soltera review.
Soltera Design and Weight
One of the most important things to remember as you read through this Soltera review is that this bike is designed to be light and efficient. You aren't going to find a large motor or battery on this ebike. But in exchange you get an excellent-looking ebike made by the company that is best known for its attention to detail when it comes to frame construction. The welds disappear into the frame, something no other company is doing on ebikes in this price range.
Plus, at 41 lbs (43 lbs for the 7 speed variation) this ebike will be easy to carry if need be or even put on a bike rack you already own. For those looking for a more accessible ride, the Soltera also comes in a mid-step frame design. Both models have a 300 lb capacity.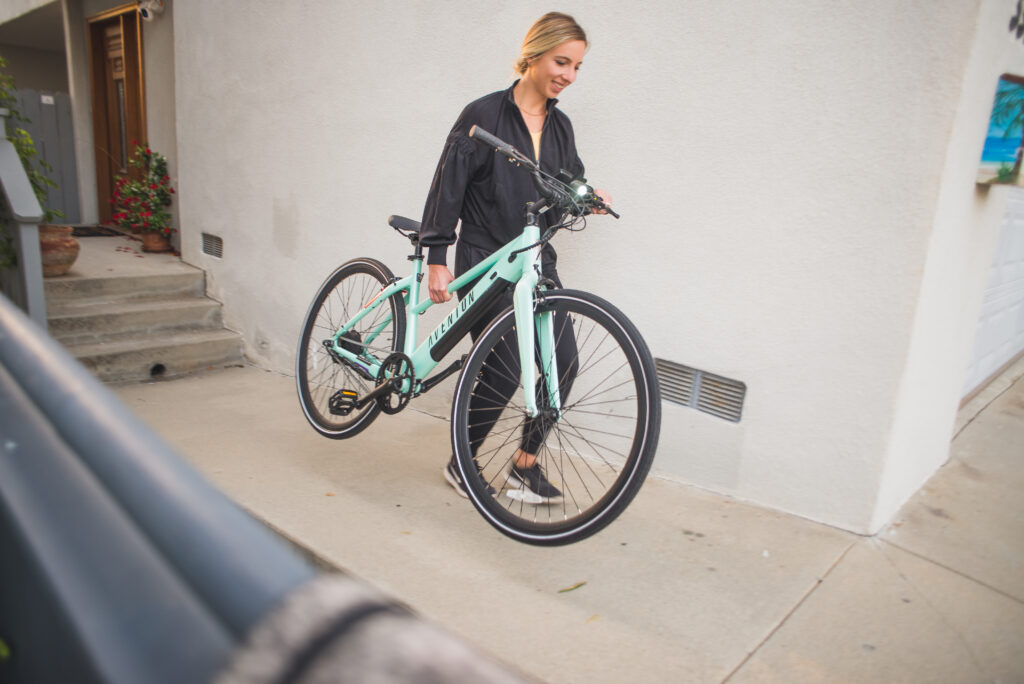 Soltera Color Options
Onyx Black – Single Speed & 7 Speed
Citrine – 7 Speed
Azure Blue – Single Speed
Lilac Grey – 7 Speed
Salmon Pink – Single Speed
Seafoam Green – Single Speed & 7 Speed
Aventon Soltera Electrical Components (Motor, Battery and more)
The Soltera uses a 36V 350 watt (nominal) rear hub motor powered by a 36V 10Ah battery (360 watt-hours). The battery uses LG cells and is integrated nicely into the bottom of the Soltera frame.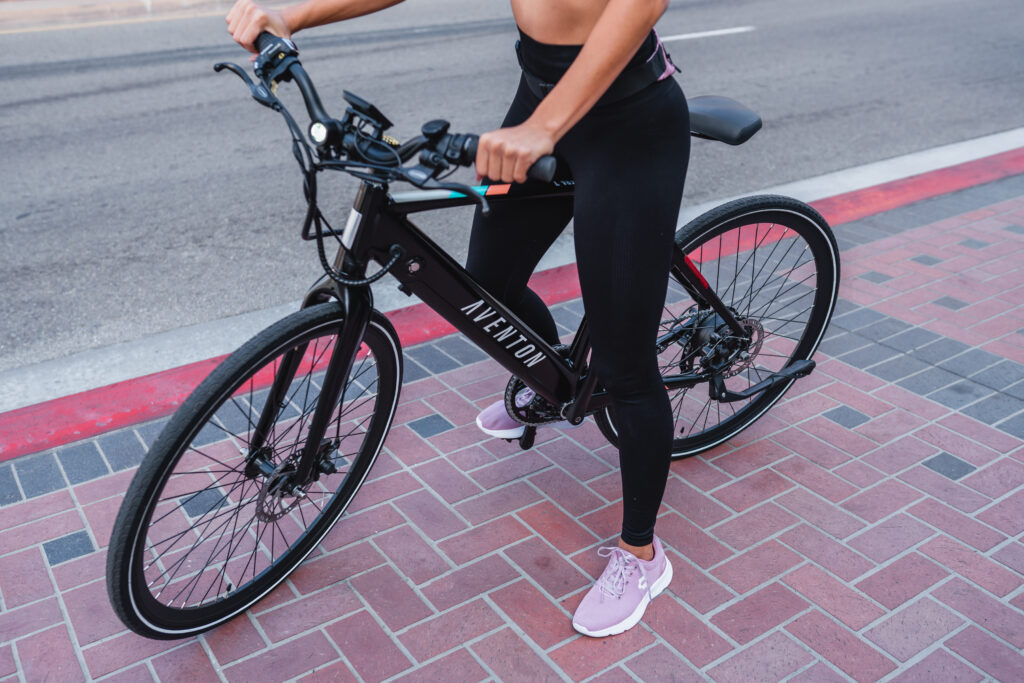 It's a Class 2 electric bike, meaning throttle and pedal assist (cadence sensor) up to 20 MPH. Aventon quotes a range estimate of 41 miles. Check out Aventon's Soltera range estimates below which are based on real-world riding. The battery is charged with an included 2 Amp charger.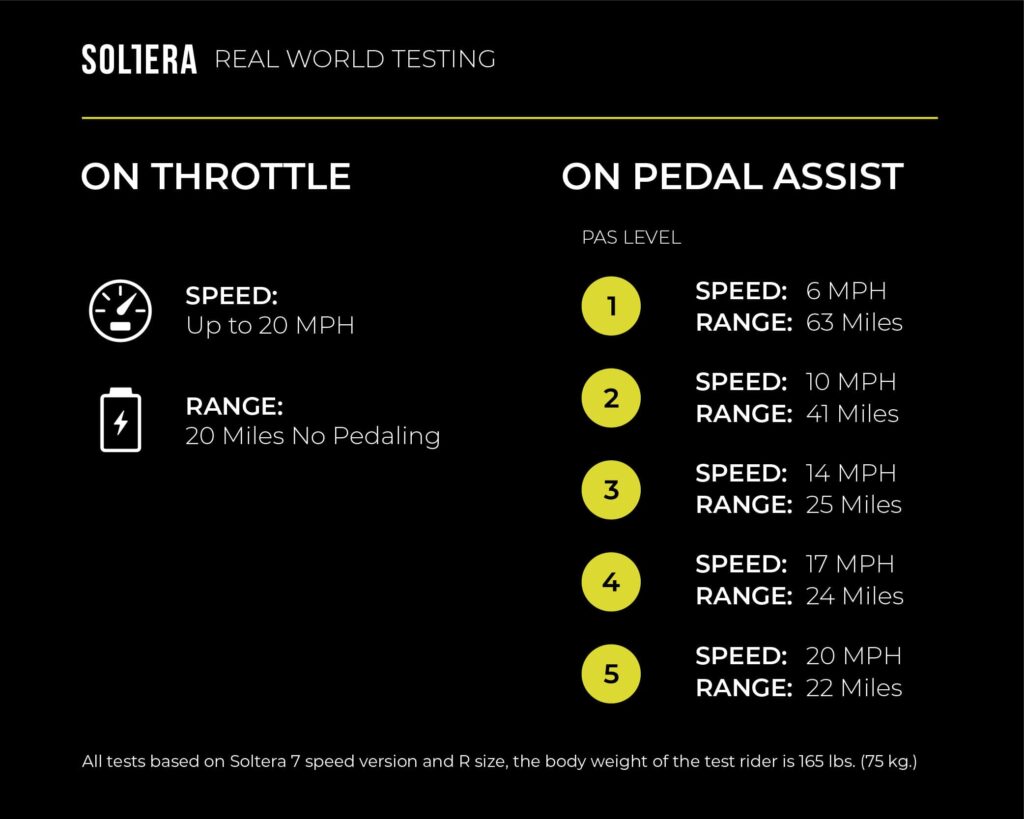 Even though the Soltera is a more budget-friendly ebike from Aventon it still uses the same display found on the Aventon Aventure fat tire ebike (see our review), their most expensive electric bike. This means you can use a mobile device and pair it with your Aventon ebike. The Aventon app allows for some customization including changing settings, ride tracking, social interaction, gamification, and more. Aventon did a nice job with the app and it is a differentiator. Mobile apps are a feature often seen from ebike companies that sell much more expensive ebikes.
Finally, the Aventon Soltera has a left-hand thumb throttle though it's important to be cognizant of throttle usage simple due to the battery size on the Soltera. Using the 5 levels of assist (cadence sensor) will lead to a longer range.
Soltera 7-Speed vs Soltera Single-Speed
The components on the Soltera differ slightly between the 7-speed and single-speed. Mainly, having the option to shift gears but also the brakes.
The included 7-Speed derailleur is Shimano Tourney which is an entry-level component offered by Shimano. In our experience, it performs adequately and is a common component you'll find on many ebikes in this price range. The shifter is a twist-shifter, something we don't often see on many electric bikes.
But here's where it gets interesting. The 7-speed Soltera comes with Tektro mechanical disc brakes (160mm rotors). On the single-speed are lighter Tektro caliper brakes. Both should provide plenty of stopping power, especially for such a light ebike. However, the mechanical brakes are likely to perform better in wet conditions. The caliper brakes on the other hand will be easier to adjust and replace, even for the amateur home mechanic.
The single-speed clocks in at just 41 lbs and the 7-speed Aventon Soltera weighs 43 lbs.
Soltera Components
All of the other components on the Soltera models are the same. Since the Soltera ebike leans more towards being a road bike for the city, it has thin Kenda 700 x 35c tires. Both axles front and rear are nutted so no quick release. The stem has a slight rise of 7-degrees and a Selle Royal rounds out the components found on the Soltera. Check out the full Aventon Soltera specs.
What Makes the Aventon Soltera Special?
Cables are nicely wrapped and hidden into the frame of the Soltera frame (pictured below). The integrated front light that runs off the Soltera battery is plenty bright and mounts on the handlebars. In the rear are integrated lights that are built right into the frame. This is a feature we first saw with the popular Aventon Aventure (though that ebike only had the light on one side). Not only do these lights look great but they will also increase visibility – something important for city riding.
Ebike Escape's Take
Aventon continues to impress with their new ebike models. The Soltera is one of those ebikes where you get what you pay for and then a little bit more – a fully-featured LCD display, integrated lights, app connectivity, and let's not forget the sleek design.
It's a 36-volt system with a 350-watt motor so you shouldn't expect an overwhelmingly powerful ebike. But that's not the point. It's meant to be an efficient, lightweight ebike that can be used in the city or on paved paths. And the Soltera does just that. If you are shopping for an ebike in the $1,000-$1.300 price range the Aventon Soltera should 100% be on your list. Check out the full specs on Aventon's website (and support Ebike Escape!).