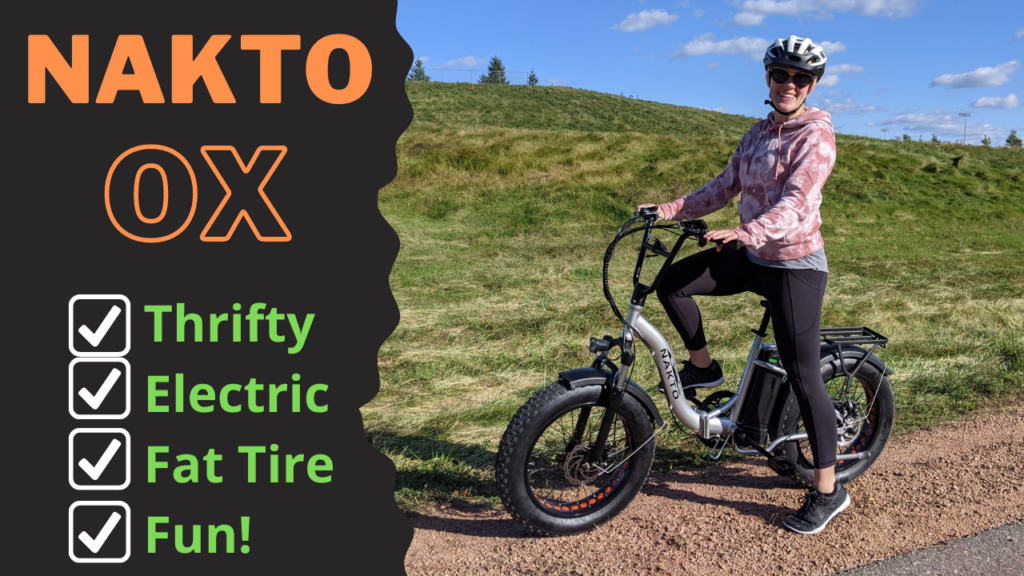 Nakto is an overseas company with a US warehouse located in California. Known for their thrifty pricing on their line of ebikes, we were intrigued when Nakto reached out to us to review one of their models. After browsing through their many styles, we intentionally choose their higher-priced model, the Nakto Ox ($1099). While at the high-end price for Nakto, the Nakto Ox still fits comfortably in the economical category for the price range of an ebike. Worth noting is that many of the Nakto models are available right from Amazon.
Kara has been riding this bike for the last month and is ready to share our take on the Nakto Ox. See our full video review video below or read on for our Nakto Ox written review.
Nakto Ox Review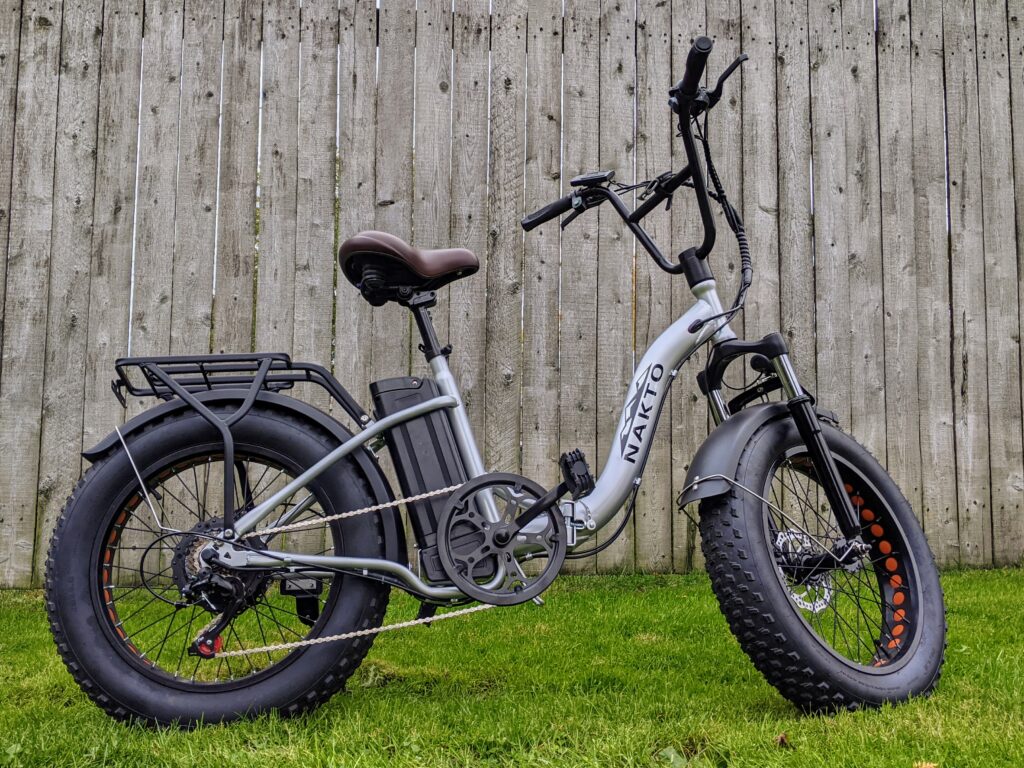 If you are looking for an all-terrain, economical ebike loaded with convenient features, the Nakto Ox might be your favorite new ebike. I have really enjoyed riding this bike around town. This bike can tackle beat up pavement, hills, and errands with style. Let's take a spin through the features.
Nakto Ox Frame + Parts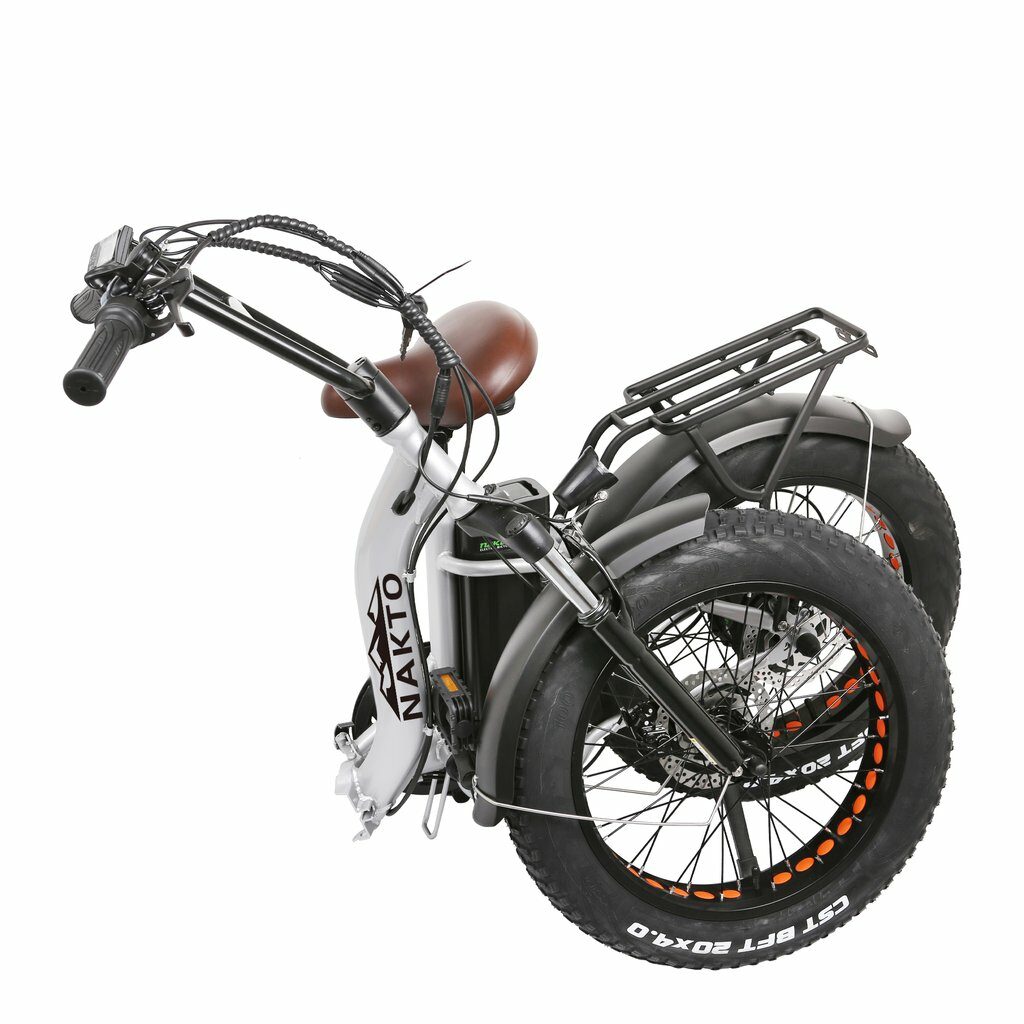 The Nakto Ox's step-thru, steel frame comes in two colors: Gunmetal Black and Metallic White (which looks like silver to me). The frame is advertised for people 5′ to 6′ tall. Ryan, who is 6′ tall, finds the bike manageable but a little on the small end for his preference. I am 5'5″ and the bike works well for my height. While I have good balance, I still enjoy the ease of a step-thru frame. For my friends who are not the most graceful of riders, I would highly recommend a step-thru. This frame makes it a breeze to mount the bike and convenient if you need to disembark quickly.
One of the unique features of the Nakto Ox is the ability to fold in half. I stubbornly have yet to purchase an ebike rack for my vehicle, so it is vital any bike I own fits inside my SUV. Usually, I need to remove a tire to make this happen, but that can prove difficult with an ebike as the tires aren't often quick-release. Since the Nakto Ox has a folding fame and pedals, there is no need to remove any parts before fitting it inside the vehicle.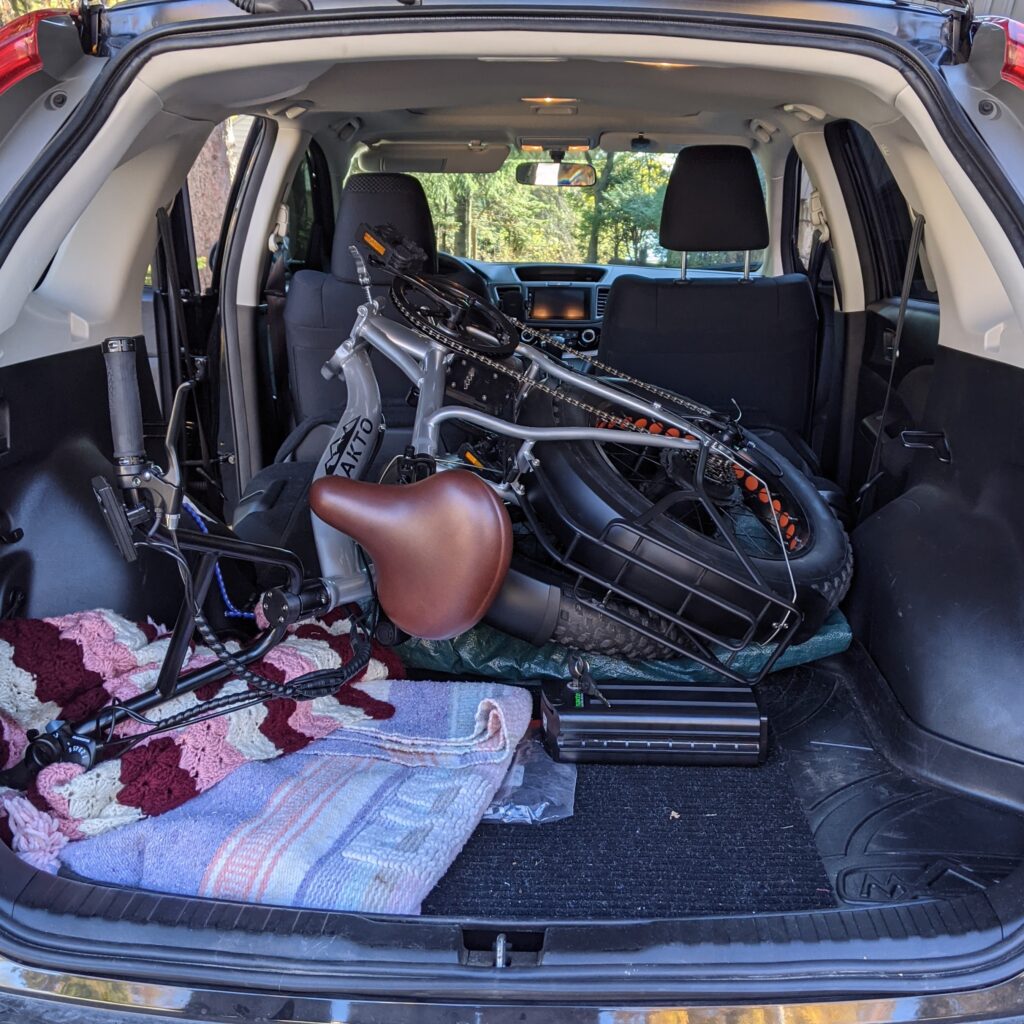 I can easily unlock the quick release and fold the frame on my own, but lifting the 75 lbs. bike is more challenging on my own. I opt to team lift this into my vehicle so that I do not risk scratching my bumper.
Unfortunately, Nakto did not opt to make folding handlebars part of the design. The handlebars and stem do not feel as sturdy as some of the ebikes we test – another potential cost-saving move by Nakto. I love the upright, 'hi-rise' style of the handlebars though, and the grips are comfortable.
The Nakto Ox may have skimped slightly on the unfoldable handlebars, but they did not skimp when it comes to parts. The Nakto Ox offers a Shimano shifter and derailleur and Shimano disc brakes.
Kenda fat-tires and front suspension make a great pairing for a smooth ride. I am not convinced the front suspension is doing very much, but the fat-tires are impressive especially at lower pressure. I can barely feel any bumps in the road and gravel is a breeze.
Power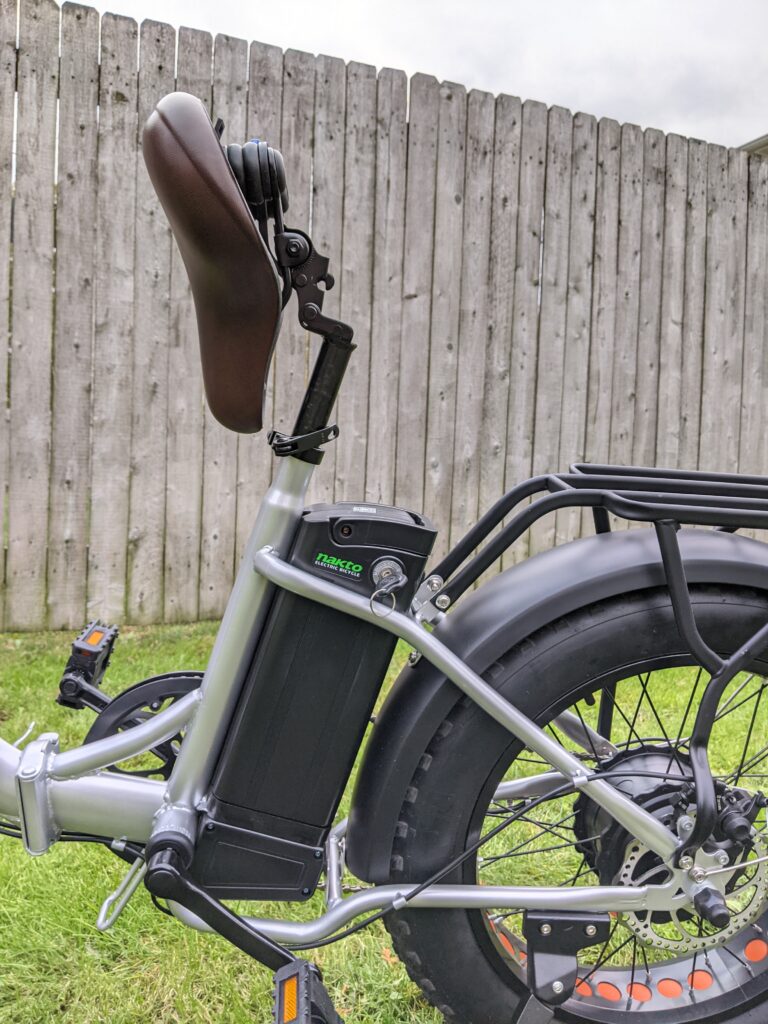 The Nakto Ox offers 5-level pedal assist and a right hand thumb throttle*. Nakto advertises a run time of 22+ miles, which of course is dependent on how much pedal assist and throttle power you use on your trips. I was able to get the speed up to 23 mph during my rides with the powerful 500-watt motor. Nakto Ox offers an easy-to-remove 48V 10Ah battery. I struggle to remove the batteries of some of the Rad Power Bikes models, and the Nakto Ox has a much easier design to remove. The seat has a lever to flip it up and a handle on the battery to pull after you release it with the key. I prefer this design to most of the other ebikes I have used with removable batteries.
Nakto Ox Accessories
What makes the economical pricing of the Nakto Ox a bit wild is how many accessories it includes. Fenders, a rear rack, integrated headlight, kickstand, and integrated horn all come standard on the Nakto Ox. These are all useful accessories that I would have purchased if they weren't included. The horn makes a funny sound, but it accomplishes the task. The integrated front LED light is surprisingly bright. Nakto made a great decision to include these accessories on the Nakto Ox as it makes the price point event more alluring.
Often ebikes have crowded handlebars that leave little space for additional accessories; this is not the case for the Nakto Ox. You can easily add a cell phone holder. I use the Nite Ize Wrapter cell phone holder (see picture). You might also utilize the space for a bike lock holder. Check out our ebike accessories recommendations for more ideas.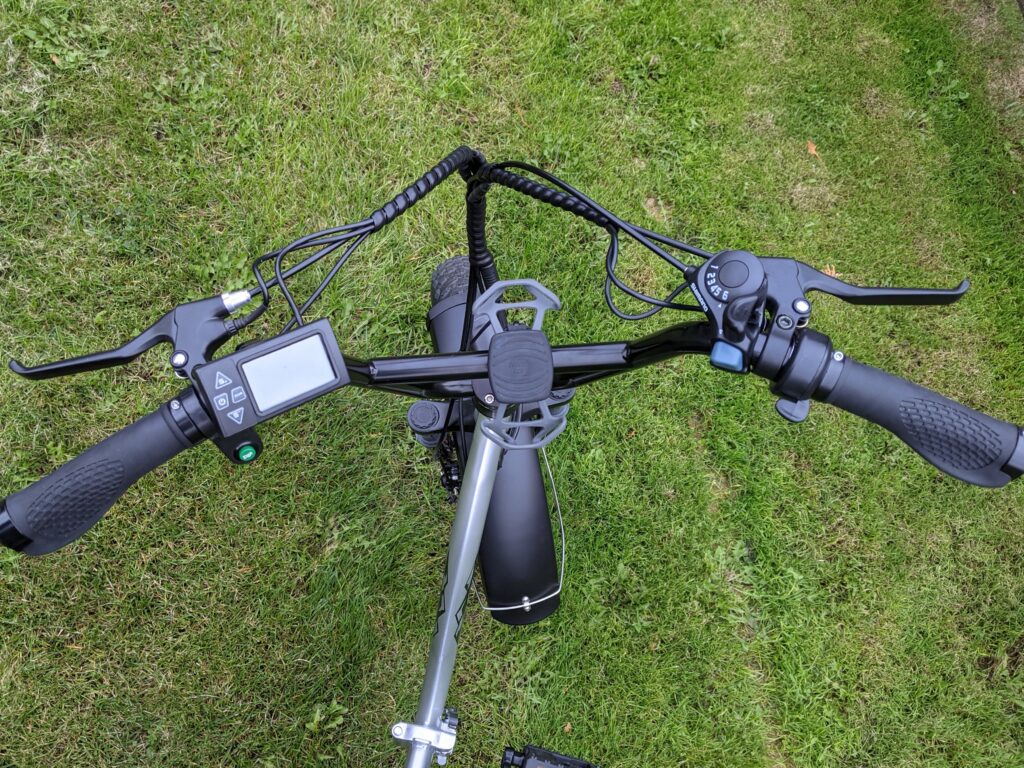 Nakto Ox: An Economically Priced, Fun Ride
The Nakto Ox is an excellent gateway into the world of ebikes with its price point and features. The fat-tire provides a smooth riding experience and the folding frame allows you to skip the heavy-duty ebike rack in many vehicles. The included accessories make the price point even more alluring. Of course, as an economical bike from an overseas company, there are certain drawbacks to expect.
Little travel in the front suspension and lower quality handlebars that are not designed to fold are the two aspects that could be improved. We also cannot comment on the customer service as we do not have enough history with Nakto yet. Still, Nakto seems to offer some of the most affordable ebikes on the market so if price is a major factor then they are worth a closer look. Check out the Nakto electric bikes on their website or Nakto's ebikes available on Amazon.
*We found a few errors on the Nakto website, including the throttle information. At the time of this post, Nakto advertised the Nakto Ox has having a 'full twist throttle'; however, the Nakto Ox in our possession has a thumb throttle.