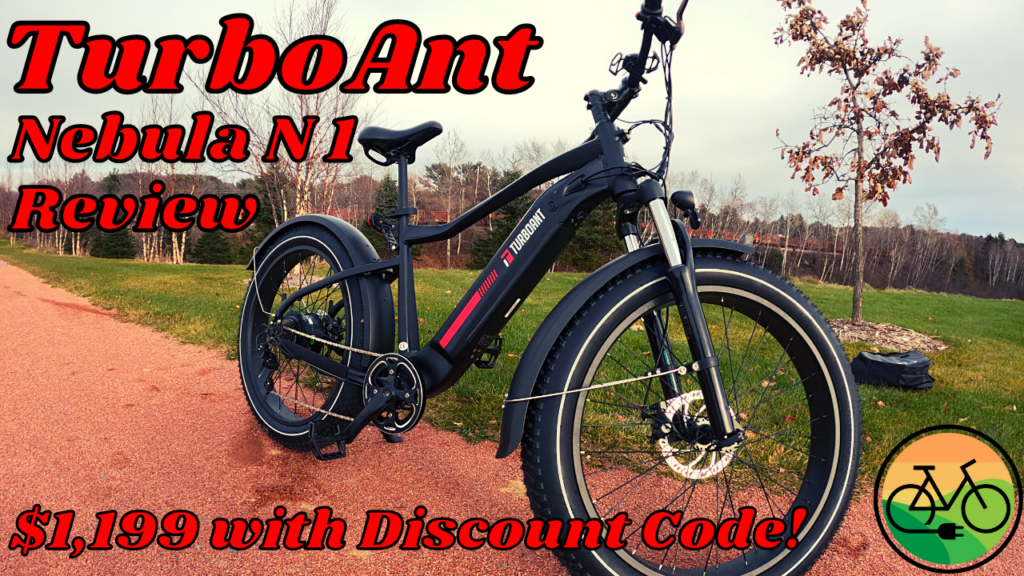 As Wisconsinite who bikes year round, the snow and ice can be a challenge without the right two-wheel vehicle. When TurboAnt reached out to ask if I would do a review, I requested their Nebula N1 full-size fat tire immediately. Having not worked with TurboAnt before, I looked forward to seeing what their bike can do. See our full written review for the TurboAnt Nebula N1 below or check out the video full video review. For more ebike options, see our favorite ebike brands list or to save on ebikes, our ebike discounts code page.
TurboAnt Nebula N1 Review
The TurboAnt Nebula N1 is a black, 72.8 lbs., 7-speed fat-tire ebike with an integrated battery. The Nebula N1 is currently priced at $1,849 which would otherwise put it around the same price as a myriad of other fat tire ebikes. However, using the discount code EBIKEESCAPE in your cart will save you $650, bringing the Nebula N1 to just $1,199. The great price (and still solid specs) is what sets the Nebula N1 apart from other fat tire ebikes.
TurboAnt Nebula N1: The Power and Speed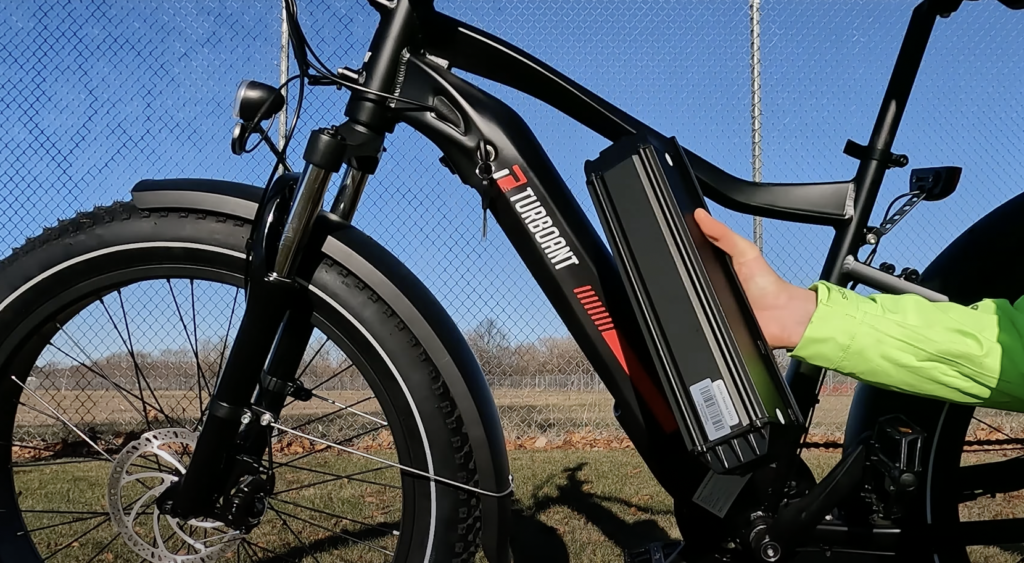 The Nebula N1 offers a removable 672 Wh integrated battery located underneath the frame (48V 14 Ah) that can be charged on or off the frame. TurboAnt notes that the battery is using Samsung cells. It's always nice to see an ebike company use name-brand cells. The advertised range is 35-60 miles. Though range estimates can vary drastically depending on amount of pedaling, road conditions, rider weight, average speed, and throttle usage. A more reasonable rang expectation for a battery this size is between 30-40 miles.
The advertised maximum speed of the Nebula N1 is 28 mph and our review model came shipped with a 20 mph top speed (Class 2 rating). Using the advanced settings of the display, the Nebula N1 turns into a Class 3 ebike, though the throttle is still active over 20 mph (see 13:11 in the video above for a demonstration). As always, be sure to follow your local and state regulations. During our test ride, on flat roads using the throttle only (no pedaling), we got this ebike up to 24 mph. While pedaling, the Nebula N1 reached a top speed of 26/27 mph in the highest pedal assist setting.
The 750-watt Bafang motor is plenty powerful and is one of the highlights of this well-priced electric bike. In our video review, we took it up a steep hill and were impressed with its performance.
TurbiAnt Nebula N1 Components
The Nebula N1 can handle a payload of 264 lbs. and is recommended for people between 5'3″ and 6'4″ tall. Note that the Nebula N1 does not come with an included rear rack.
26×4″ tires – advertised as puncture-resistant

Tektro Mechanical Disc Brakes
Shimano 7-speed derailleur
Quick-release front tire
Good front suspension and shock absorption
Kickstand included
Plastic fenders front and rear
Integrated Lights
While the integrated front and rear lights offer ok visibility, the rear light is partly blocked by the fender and is not bright enough to provide much daytime visibility. Lights are one feature I would recommend upgrading. You can easily upgrade your visibility with mounted rechargeable LED lights. You can check out our light recommendations here.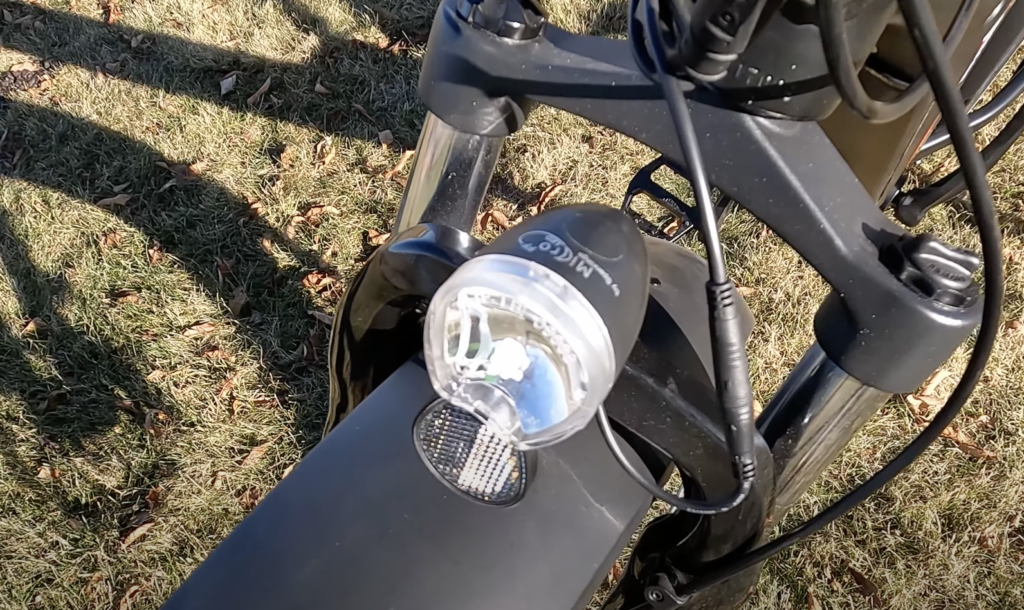 TurboAnt Nebula N1: The Cockpit
Quick Rundown
Faux leather grips
Simple monochrome display
Integrated bell!
Side Mounted left display which opens the handlebars for added accessories
Flat handlebars (no rise)
Shimano 7-speed thumb shifter
Adjustable stem to make handlebars more comfortable
Right-hand twist-grip throttle
Decent cable management that runs the cables inside the frame
View the full Nebula N1 specifications.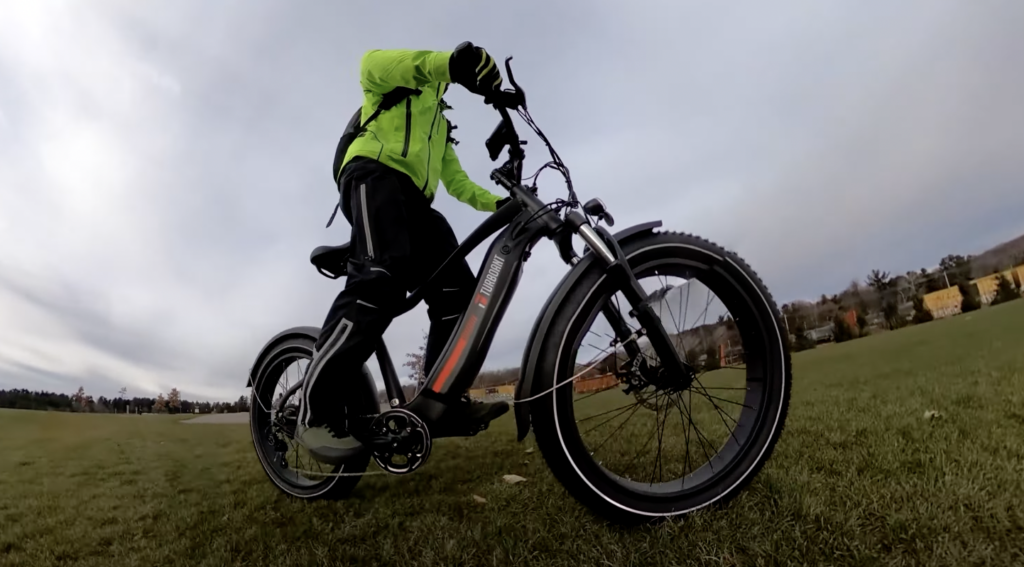 Upgrades I Recommend for the Nebula N1
Increase your visibility with a more powerful front and rear light especially if you plan to ride at night (rear light, especially)
Increase your comfort with an upgraded saddle
Add a cellphone holder to the handlebars if this fits your lifestyle
See our specific ebike accessory recommendations for more suggestions.
TurboAnt Nebula N1: Concluding Thoughts
If you are looking for an affordable but still powerful fat-tire ebike, the Nebula N1 is a great choice. At the discounted price of $1,199, we think this bike is a great buy and might just be the best value fat tire ebike on the market. Make sure to use our discount code EBIKEESCAPE if making a purchase. Happy riding!
For more ebike recommendations, see our brands we love page.