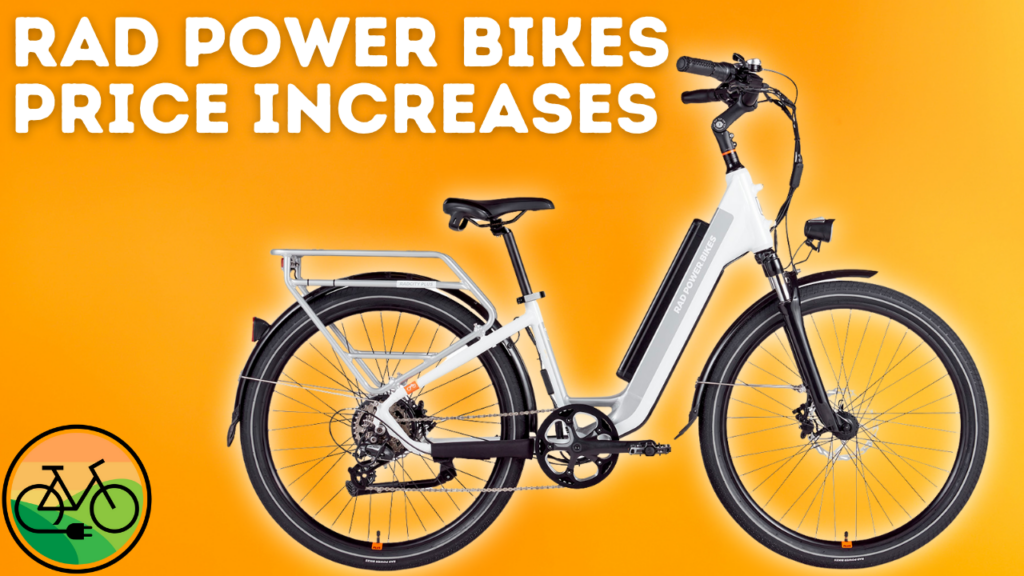 Earlier this month Rad Power Bikes announced they were increasing prices on some Rad Power Bikes models. According to the company, it has become much more expensive to build and ship their electric bikes. The cost increase is not specific to Rad Power Bikes or even the electric bike industry. Costs are going up and consumers are paying more for products. Let's take a look at the price increases and below I'll give my analysis. Changes are highlighted in bold.
| | | |
| --- | --- | --- |
| Model | Old Price | New Price |
| Rad City and RadCity Step Through | $1,599 | $1,599 |
| RadCity Plus and RadCity Plus Step Through | $1,799 | $1,999 |
| Rad Mini and RadMini Step Through | $1,299 | $1,499 |
| RadMission | $999 | $1,199 |
| RadRover and RadRover Step Through | $1,699 | $1,699 |
| RadRover Plus and RadRover Plus Step Through | $1,999 | $1,999 |
| RadRunner 2 | $1,499 | $1,499 |
| RadRunner Plus | $1,799 | $1,899 |
| RadWagon | $1,899 | $1,999 |
Rad Power Bikes Price Changes 2021/2022
RadMini Pricing
As expected many of the models that I considered to be great buys went up in price. The RadMini was in my opinion the best value in the Rad Power Bikes fleet at $1,299. At the new price $1,499 it matches the price of the RadRunner 2 which was recently announced. Learn more about the RadMini on the Rad Power Bikes website.
RadMission Pricing
We also saw the RadMission price rise $200 which is maybe the biggest surprise. There is a lot of competition at the $1000 price point and at the new price, it is more expensive than some electric bikes it competes with. It also makes the bike less accessible to those looking for a quality ebike at an affordable price. At this price, shoppers may also want to look at spending more to get one of the models with a bigger battery, suspension, LCD screen, and more powerful motor. See our RadMission review or take a look on the Rad Power Bikes' website.
RadCity 5 Plus Pricing
Back when the RadCity 5 Plus was announced I was surprised to see it priced $200 less than the RadRover Plus. At $1,799 it was a fantastic deal when looking at the entire Rad lineup. With the price increases, both Plus models are now $1,999. Both are solid electric bikes and I am a big fan of the semi-integrated battery, improved motors, hydraulic disc brakes, and dual LCD displays. Check out our RadCity 5 Plus and RadRover 6 Plus reviews or check out Rad's website for more information.
RadRunner Plus Pricing
The RadRunner Plus received just an incremental price increase of $100. At $1,899 it is now $400 more than the newly announced RadRunner 2. Still, if you want a blend of a cargo and moped-style ebike in a smaller package compared to the RadWagon, then the RadRunner Plus is a great choice. Compared to the RadRunner 2, you'll enjoy the additional benefits of the LCD display, suspension, 7-speed derailleur, fenders, premium headlight, and included passenger package found on the RadRunner Plus. Check out our RadRunner 2 review. Dig more into the RadRunner Plus and RadRunner 2.
RadWagon Pricing
The RadWagon continues to be my personal favorite ebike in the Rad Power Bikes fleet. Its cargo-carrying capability is unmatched. Plus if you have kids it becomes even more of a mini-van replacement. It too received a $100 price increase to put it in line with the Plus models. Learn more in our RadWagon 4 review or check it out on the Rad Power Bikes' website.
Conclusion
While it's never nice to see price increases it is the reality of the current supply chain and increased costs of manufacturing electric bikes. Hopefully, these prices stay intact throughout 2022. If you're looking at buying a Rad Power Bike and found this analysis helpful consider using this link before purchase.