One thing was clear when researching this Ride1Up 700 Series review — the juice is worth the squeeze. While the price is a little higher than the other Ride1Up ebikes, at $1,695, the quality of components the bike comes with makes this bike a great choice for riders looking for a higher quality bike with bike shop level components. We put the Ride1Up 700 Series through its paces and compared it to other ebikes. And it stacks up well.
Ride1Up 700 Series Step-through video review
Ride1Up 700 series — motor and battery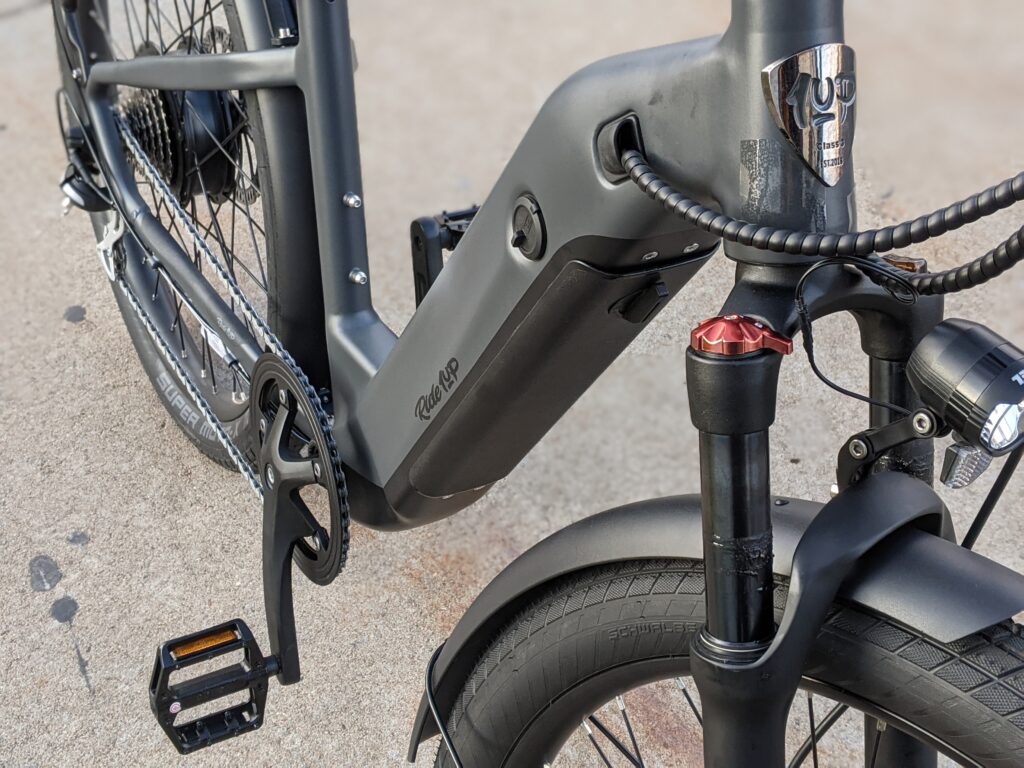 The 700 series comes equipped with a 500-watt nominal (800+ watt peak), geared-hub motor that will give you some real pick-up. What sets the Ride1Up apart from others in this price range is that it is a Class 3 electric bike. This means 20 mph with the throttle alone but speeds up to 28 mph while pedaling. In our road test, the 700 Series electric bike got up to that speed pretty quickly via throttle, and with little effort even using pedal assist.
The Shengyi Motor is powered by a 48V 14Ah Reention Rhino integrated battery employing Samsung cells. To give the 700 Series a clean look, the battery is tucked away underneath underneath the downtube. That should power the bike 30-50 miles per charge depending on a multitude of factors – rider weight, wind, tire pressure, throttle usage, pedal assist level, terrain etc.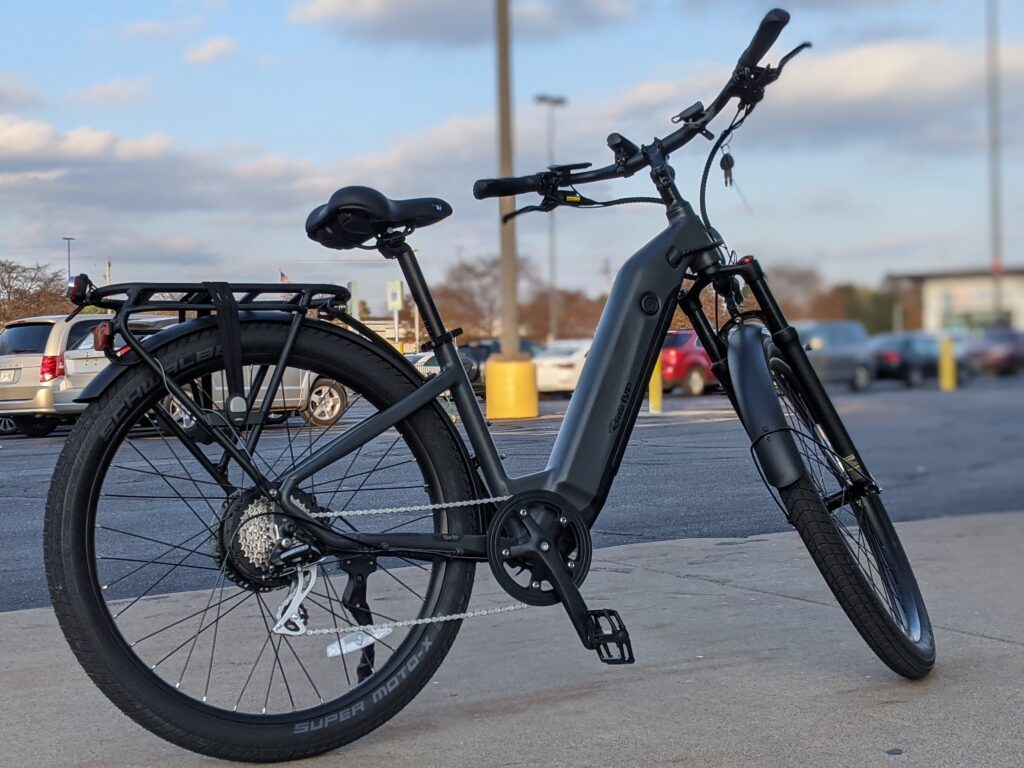 Components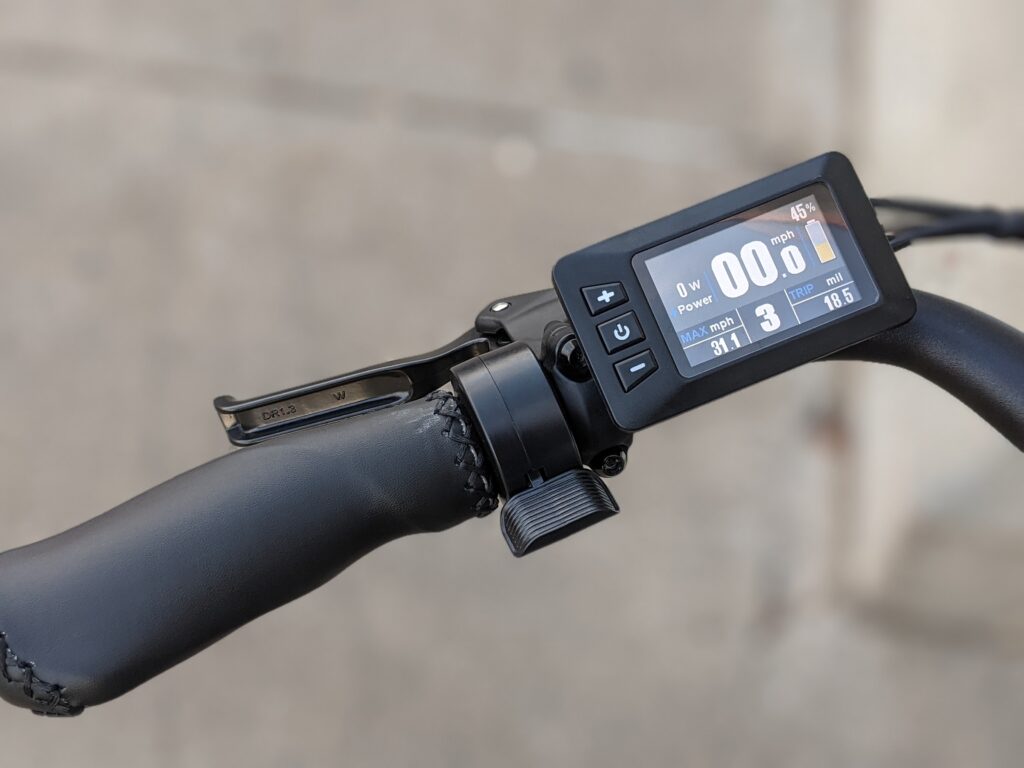 The bike comes with an 8-speed Shimano trigger shifter, slightly higher quality than found on many ebikes in this price range. It comes with 180mm rotor Tektro hydraulic disc brakes, also a step up from your entry-level bike.
Simply put, the Tektro hydraulic brakes are some of the best we've tested on more budget friendly ebikes. Many ebikes we review come with mechanical brakes and are only 160mm in size. There's also a motor cutoff built into the brakes so once you hit the brakes, power is cut to the motor.
The 700 Series step through comes with faux leather grips and swept-back handlebars, which hold a left-hand thumb throttle. There's even a new Ride1Up badge on the front, a more premium aesthetic touch.
The color display is located on the left of the handlebars and also holds the controls. Those who prefer a minimalistic-type display will be happy here. It provides all of the information you'll need including motor wattage output.
Up front is a Mozo hydraulic lockout suspension fork, with 100 mm of travel which adds to the comfort of this electric bike. One thing to add: The cable management is excellent. It's a small touch but is not something we see on many electric bikes. It adds to the premium feel at a more budget-price theme we took away after our review.
Ride1Up 700 Series — the drivetrain
It's nice to see a Shimano Acera rear derailleur driving this 700 series bike. It drives a 45-tooth chainring and 8-speed 11-32 cassette in the rear. The gearing works well even at higher speeds. Check out the full specs on the Ride1Up 700 Series.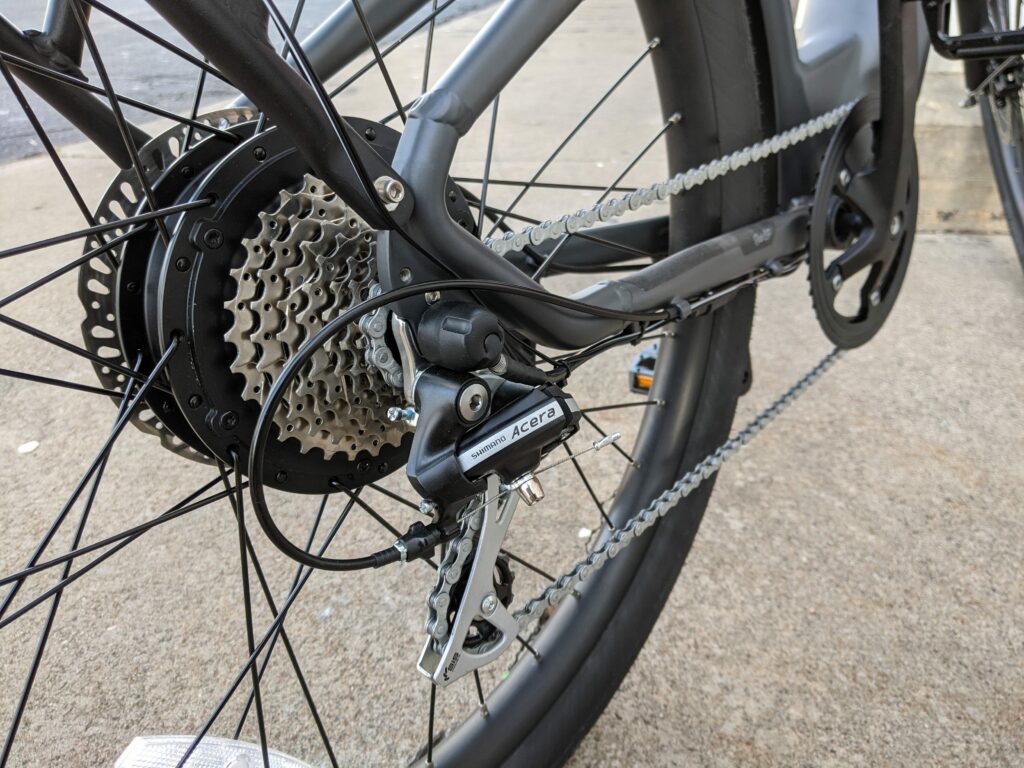 Ride1Up Accessories
The Ride1Up 700 Series comes with integrated front and rear lights, good for being seen but one might want to add a front light with a flashing mode for better ability to see the road (especially in daylight). Still, the integrated Buchel light is one of the better integrated lights we've tested out. It also comes with a heavy-duty kickstand that clears the pedals (always a bonus) and two keys for the removable battery.
Even more, the 700 Series comes equipped with high-quality metal fenders that hug the tires nicely. Also included is a rear rack with pannier hangers, making it a versatile bike if for hauling goods. If you're looking for other ideas to outfit your 700 Series check out our Ride1Up 700 Series accessories list and video.
Tires
The high-quality Schwalbe Super Moto X touring tires should provide a smooth ride, with fewer punctures thanks to the Green-Guard lining. And that 27.5″ x 2.4″ sizing ought to give you a smooth roll while striking the perfect balance between rolling resistance and traction.
Frame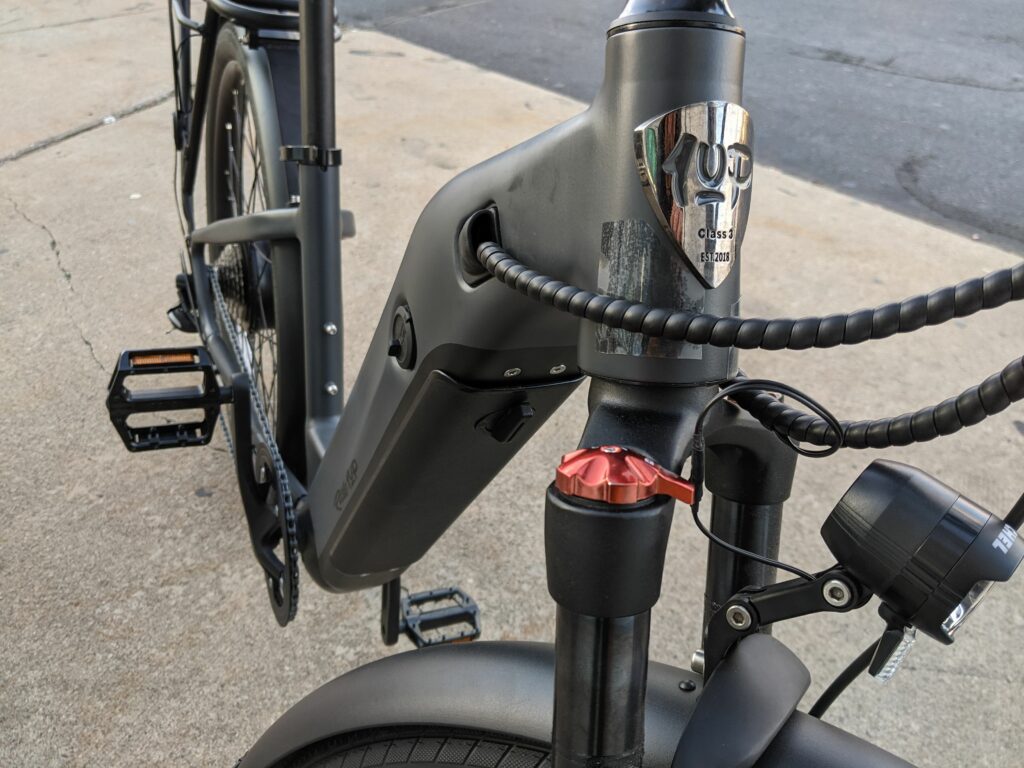 The Ride1Up 700 Series comes in both a high step and a step through (pictured). It is offered in gunmetal grey and light blue. On the high step models, you'll find straight handlebars but on the step-through version swept-back handlebars are included. We are fans of the increased accessibility of the step through. Plus the handlebars put you in a comfortable upright riding position.
Conclusion on the Ride1Up 700 series
The Ride1up 700 Series is priced higher than other models in the Ride1Up fleet. But you get a lot for the incremental price increase. Namely: hydraulic brakes, larger battery, and all of the accessories. You're unlikely to find a better value out there in a Class 3 ebike. Learn more on the Ride1Up website.
Interested in learning about other Ride1Up electric bikes? Check out our reviews on the Roadster V2, Core-5, 500 Series, LMT'D, and the recently announced Cafe Cruiser. Ride1Up also offers a premium electric bike called the Prodigy (our analysis here).