Ride1Up has announced its newest electric bike. And yes, it is a mid-drive! Kevin Dugger, the owner of Ride1Up had hinted at a new model coming in our most recent interview. Coming in three different frame types, and keeping with Ride1Up's ethos of value pricing, the Ride1Up Prodigy comes in at $2,295.
You'll find a handful of ebikes with mid-drive motors under $2,000 but not many. And those that you do find are unlikely to sport the components found on the Prodigy. Most mid-drive electric bikes come in at $2,500 or more. So if you are looking for an affordable mid-drive Class 3 electric bike then the Ride1Up Prodigy might be for you.
Read on for our written Prodigy review or check out our full test in the video below.
Ride1Up Prodigy XC Video Review
If you're looking for a more affordable electric bike check out the Ride1Up Core-5, 500 Series, or even the LMT'D. These are all ebikes I have personally tested and reviewed.
Prodigy Frame Styles: High Step, Step Through and Mountain Bike
Let's start off with the frame options. Ride1Up continues the tradition of offering both an XR (high-step) and ST (step through) frame. The step-through still has a top tube but based on pictures it still looks plenty approachable. Plus the added top tube adds extra rigidity to the frame. Beyond the XR and ST, Ride1Up is offering an MTB or mountain bike variation. This diverges a bit from their previous focus solely on commuter-style electric bikes, but is a move I fully support. The addition of a mountain bike frame style allows customers to pick out exactly the ebike that fits their needs.
The mountain bike variation comes with knobby Maxxis Forekaster tires, and costs $100 more. It also adds a suspension fork to tackle trails in comfort. Note that the high step and step through variations of the Ride1Up Prodigy also come with fenders and a rear rack (40 lb capacity).
Suffice to say if you are looking for a commuter bike go with the XR or ST frame style with the Schwalbe G-ONE speed tires. If you plan to do any off-roading, opt for the MTB variation.
Ride1Up Prodigy Motor and Battery
Powering the Ride1Up Prodigy is the German made Brose TF Sprinter with an integrated torque sensor. The Brose TF is enclosed in an aluminum housing and appears to have the highest assistance levels offered in the aluminum series (specs below). It has 90 Nm of torque and will reach speeds up to 28 mph (Class 3 ebike) with pedal assist. Like many mid-drive electric bikes the Prodigy does not have a throttle.
Paired with the Brose TF Sprinter motor is a 36 V 14ah Phylion BN21 using Samsung Cells, and a smart BMS (battery management system). The 504 watt-hour battery is good for 30-50 miles according to Ride1Up which seems like a reasonable estimate based on our experience.
The Prodigy comes with a minimalistic 1.5 inch Brose color display. Note that Brose also offers a 3.5 inch screen which does not appear to be an option. The 1.5 inch display has 6 controller buttons and allows you to customize the data displayed on the screen.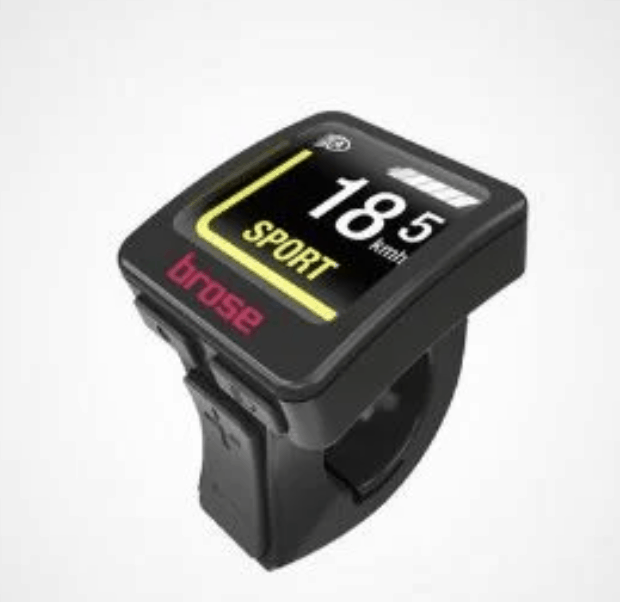 Ride1Up Prodigy Specs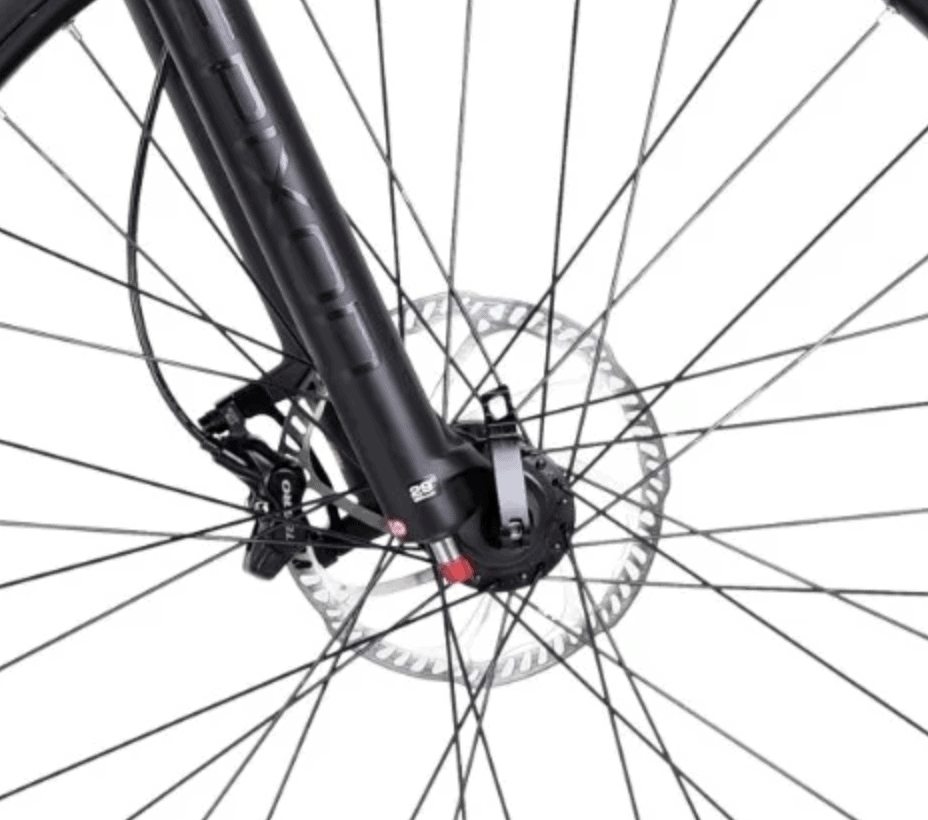 Rounding out the Ride1Up Prodigy are some great components. It includes 4 piston hydraulic disc brakes (Tektro Orion HD-M74) with 180 mm rotors, and a 9-speed Shimano Alivio rear derailleur. Shimano Alivio is higher-end than the Shimano components most often seen on budget-friendly ebikes.
On all of the models you'll find a Buchel Shiny 80 integrated front headlight (80 lux) and on the commuter models, a Buchel Edge taillight. Ride1Up has even included Ergon locking grips on the Prodigy. It's a nice touch to have name brand locking grips and I personally love the Ergon Grips I've tested. The Ride1Up Prodigy weighs 48 lbs. Check out the full specs of the Prodigy on the Ride1Up website.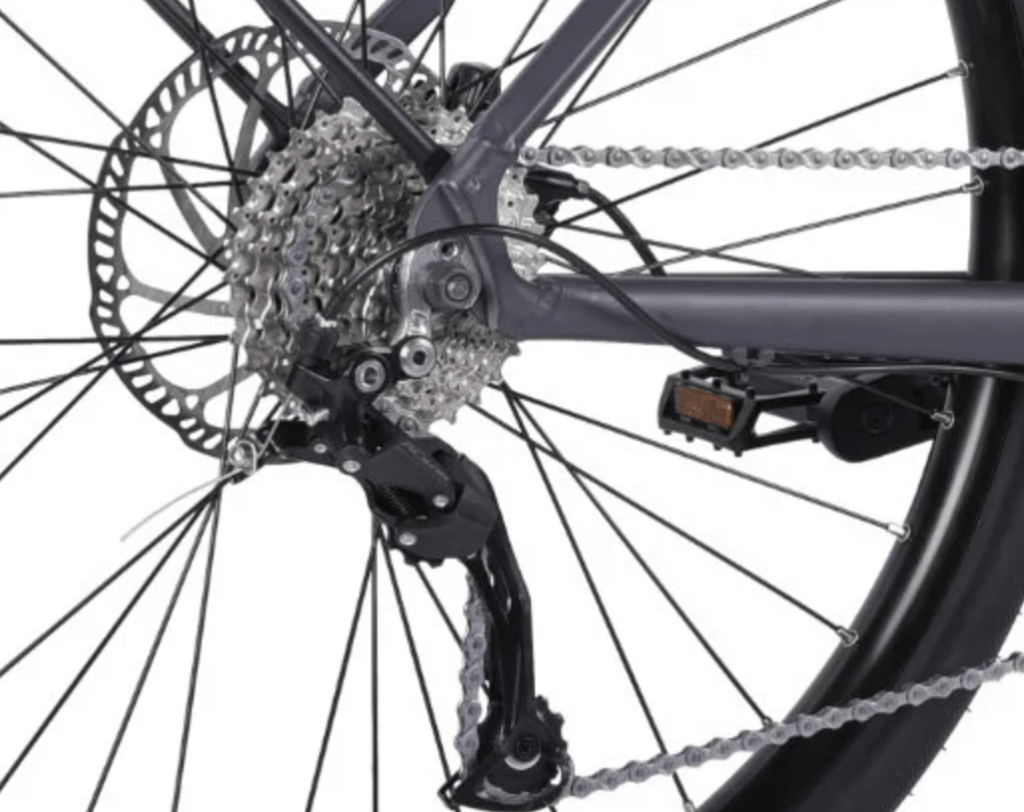 My Take on the Ride1Up Prodigy
What first caught my eye with Ride1Up over a year ago was the value they offered in their electric bikes. This has been confirmed with the Ride1Up models I have reviewed. With the Ride1Up Prodigy they have struck the balance again and I'll be searching for other ebikes in this price range to compare the Prodigy. It's an excellent looking ebike with its matte gray frame and black stainless steel spokes.
It's exciting to see Ride1Up move into mid drives, specifically opting for a German made Brose motor. I also like that they continue to offer both high step and step through variations and the mountain bike variation is sure to catch the attention of more adventurous riders. I can't wait to get my hands on this electric bike and see if it lives up to what appears to be an excellent, value-priced ebike. The only downside? The Ride1Up Prodigy isn't expected to ship until August 2021. I will keep readers updated on when this bike is available to be ordered.
Planning to purchase a Ride1Up electric bike? Using our affiliate link helps support Ebike Escape.