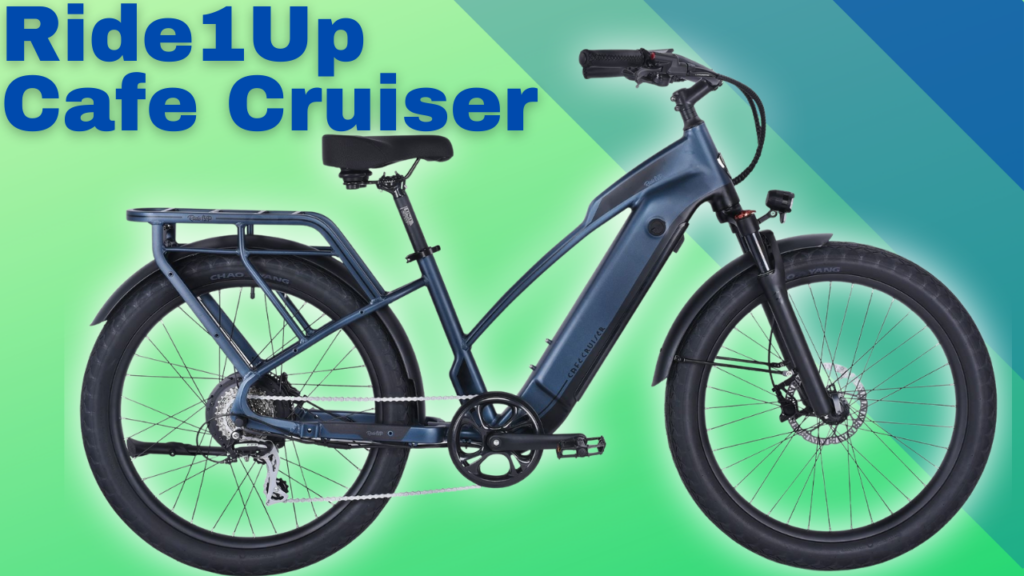 Ride1Up has long been focused on commuter-style ebikes, a strategy that has paid off for the company. But how many commuter models can you really offer? The answer is a lot if you check out the full Ride1Up lineup. With the brand new Ride1Up Cafe Cruiser electric bike, they are offering something that resembles pieces of their other models, but also adds comfort and more cargo capability. It's different, but a bit of the same in some respects. Check out our Cafe Cruiser video review below or read on for our written review.
Pricing and Availability
The Cafe Cruiser is currently priced at the promotional price of $1,595 which in our opinion is a great deal when you look at the specs. And that's really not surprising since Ride1Up is very much focused on being an ebike brand where you get a lot for the money.
The Ride1Up Cafe Cruiser was announced on December 16, 2021, and bikes are already on their way to the United States. Shipping is estimated for customers who preorder are the end of January or February. As with all things logistics these days, it's better to set your expectations for a later arrival.
The Ride1Up Cafe Cruiser Frame
The downtube where the battery is integrated shares a similar same design as the immensely popular 700 Series (see our Ride1Up 700 series review here). Apart from that, the frame geometry is quite different. The Cafe Cruiser has a slightly pedal forward design and both the high step model and step through model are offered with swept back handlebars. This will offer a more comfortable upright riding position and makes the Cafe Cruiser the most comfortable to ride ebike in the Ride1Up fleet. There is also a Mozo front suspension fork with a lockout that offers 80 mm of travel.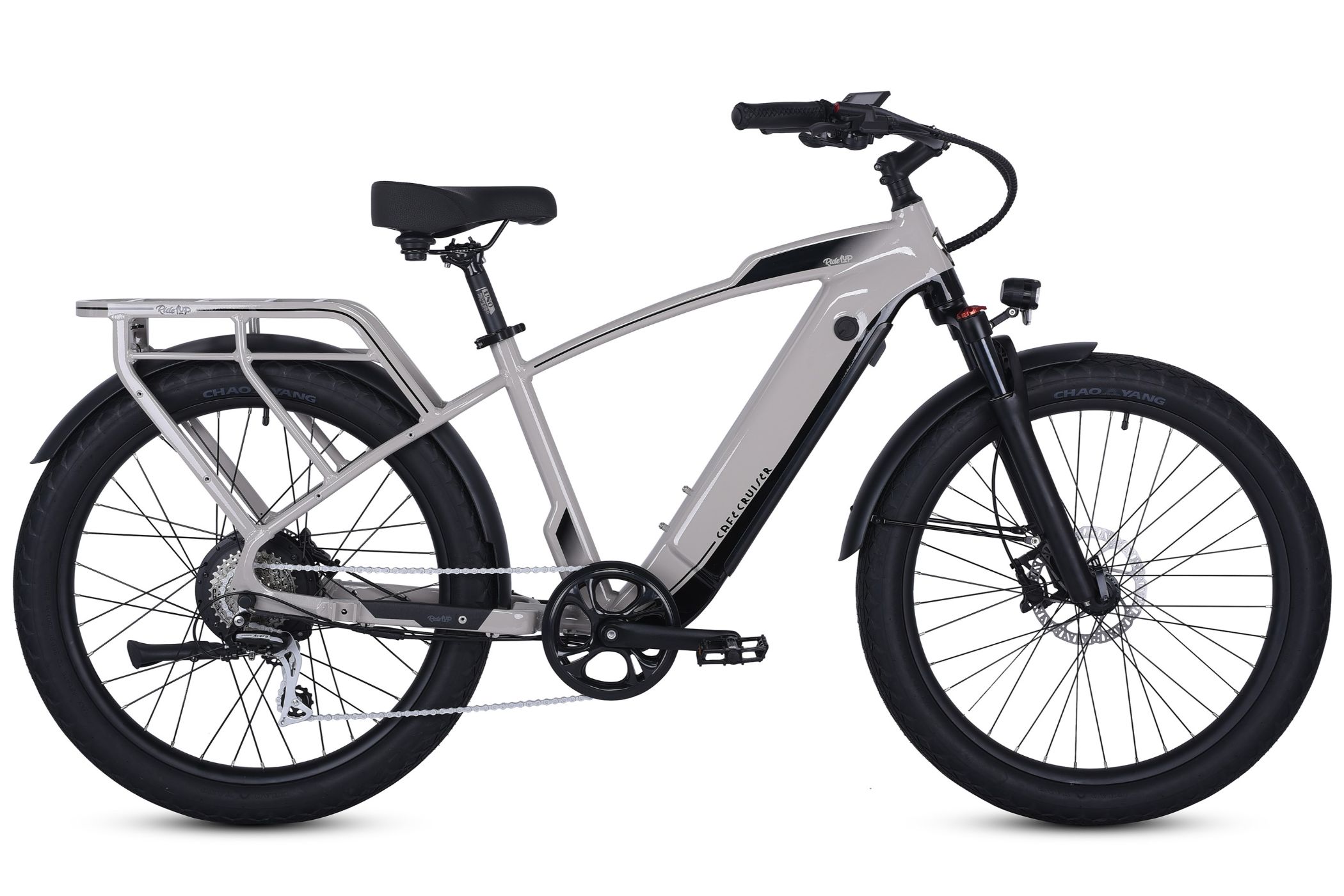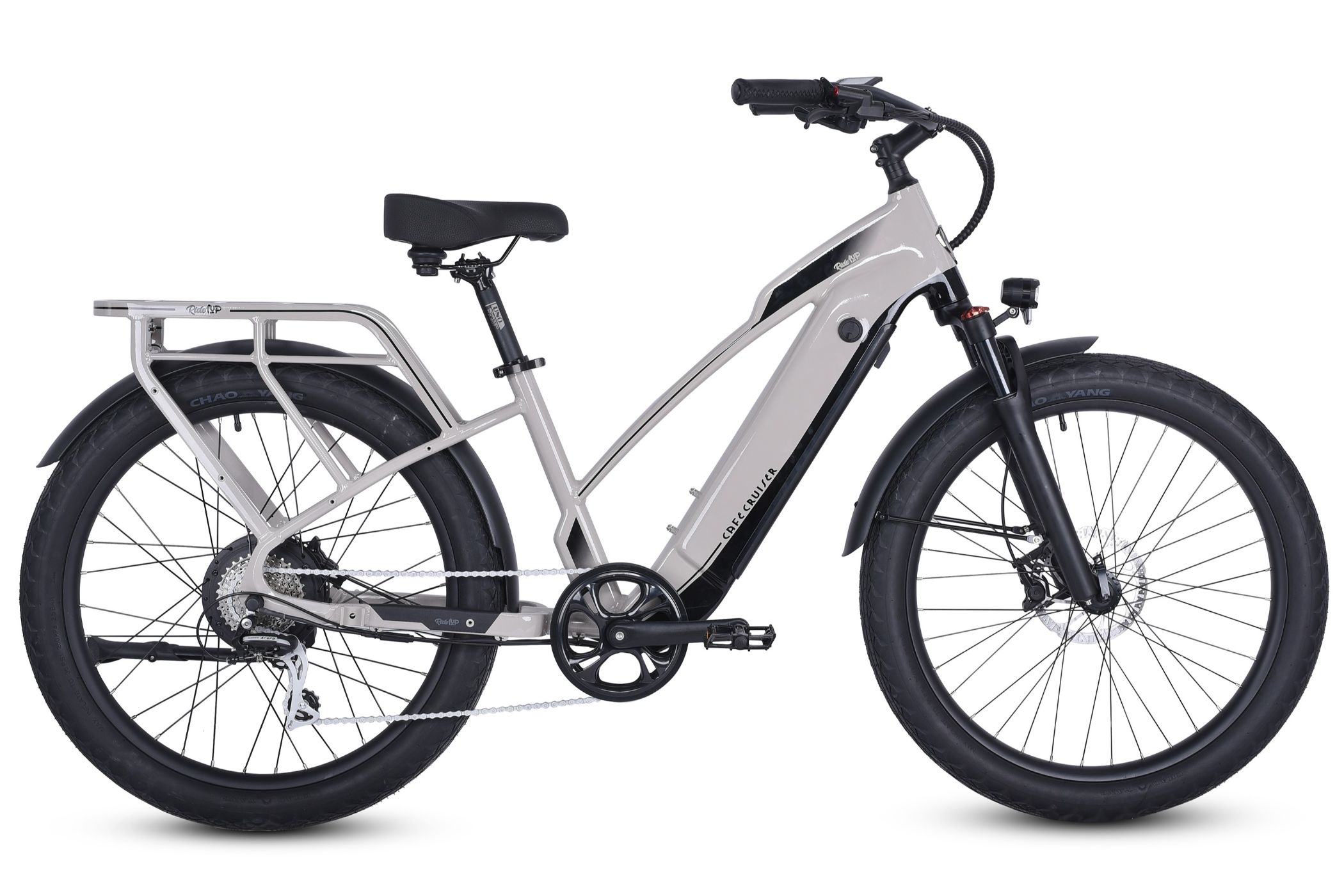 In the rear, you'll find a sturdy rear rack, which makes the Cafe Cruiser also the most versatile ebike in the Ride1Up fleet. Are you seeing the comfort and cargo theme?
The rack is welded directly to the frame, resulting in a total cargo capacity of 130 lbs. As a comparison, the 700 Series rear rack is only rated at 50 lbs. That additional capability will come in handy for large grocery runs or even hauling around the kiddos or lightweight adults.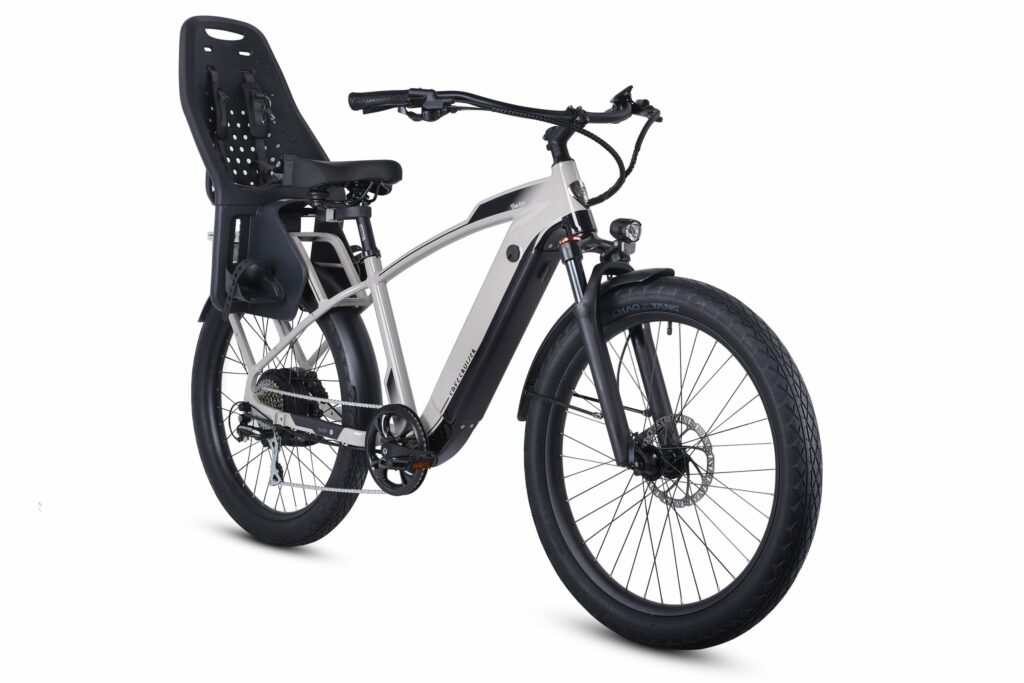 A passenger package is available for $125. A rear plastic skirt guard protects the legs of the rear rider and a rear cushion will keep your passenger happy. Foldable pegs located on the chainstay finish off the passenger package.
Speaking of weight, the Cafe Cruiser weighs 65 lbs and has a total weight capacity of 300 lbs. Ride1Up notes a height range of 5′ 5″ – 6′ 4″ on the high step model and 5′ 5″ – 6′ 4″ on the step-through (really a mid-step) variation.
Finally – colors! The Cruiser comes in sharp colorways (below). For a more understated look, there is matte gunmetal grey and indigo. We think the glossy latte (or cream) color really makes a statement and makes the rest of the bike pop.
Bafang Motor, More Battery!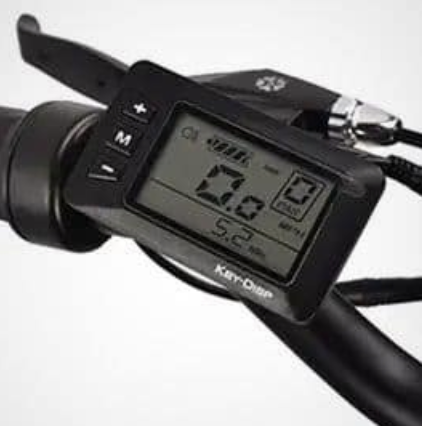 The Ride1Up Cafe Cruiser sports a name-brand Bafang 750 watt motor. We are excited to test the performance of the motor since this is a different motor compared to what comes on other Ride1Up models. Generally, if you're looking at a Class 3 electric bike, Ride1Up is one of the most affordable options out there. As with all Ride1Up electric bikes, the motor is engaged via a cadence sensor or the left-hand thumb throttle.
Powering the motor is a slightly larger 48V 15Ah battery pack with Samsung cells which is integrated into the bottom of the downtube for a clean look. Ride1Up estimates a range between 30-50 miles which is an accurate estimate in our experience for a battery of this size.
For the display, Ride1Up opted for the simple monochrome KD21C display. It will give you all of the pertinent information you need, but we would have liked to see the color LCD that is offered on other Ride1Up models.
Other Cafe Cruiser Components
Other highlights include Zoom hydraulic brakes which both feel better and are easier to maintain compared to mechanical disc brakes.
In the rear is a Shimano Acera 8 speed derailleur paired with a Shimano Acera trigger shifter. Not only are these name brand components but they are slightly higher quality compared to what you'll find on other electric bikes in the $1000-$2000 price range.
To increase comfort, Ride1Up has opted for 26″ x 3″ tires on the Cafe Cruiser. Three-inch wide tires are really a sweet spot when it comes to ebike tires. They aren't so wide that you'll feel sluggish and notice a significantly reduced range. In our experience, 3″ tires offer increased comfort and confidence while riding, especially those who are new to ebikes (or just getting back into biking). You'll can also lower the tire pressure for increased comfort or pump them up for reduced drag. The Chaoyang Sandstorm tires, while wider are still set up for city riding with their diamond-shaped tread pattern. View the Ride1Up Cafe Cruiser full components list.
Fully Outfitted
Besides the integrated rear rack, the Cafe Cruiser comes with metal fenders and a front and rear light. These accessories look similar to the ones found on the 700 Series which we were impressed with. The Buchel 60 lux front light is a better-than-most integrated front light. In the rear is a Sapnninga Luceo rear light.
Our Take
Cargo ebikes hold a special place in our ebike fleet so we are a bit biased with the Ride1Up Cafe Cruiser. Add to that the unique geometry, the comfortable riding position that swept-back handlebars offer, front suspension, wider tires and you really have a well-thought-out comfortable cruiser. It's slated to be the most comfortable to ride ebike offered by Ride1Up with the additional benefit of cargo capacity. Learn more about the Cafe Cruiser on Ride1Up's website.
We're excited to try one out so stay tuned for our full Ride1Up Cafe Cruiser review on the Ebike Escape YouTube channel.
Interested in other Ride1Up electric bikes? Check out our reviews on the Roadster V2, Core-5, 500 Series, LMT'D, and 700 Series. Ride1Up also offers a premium electric bike called the Prodigy (our analysis here).