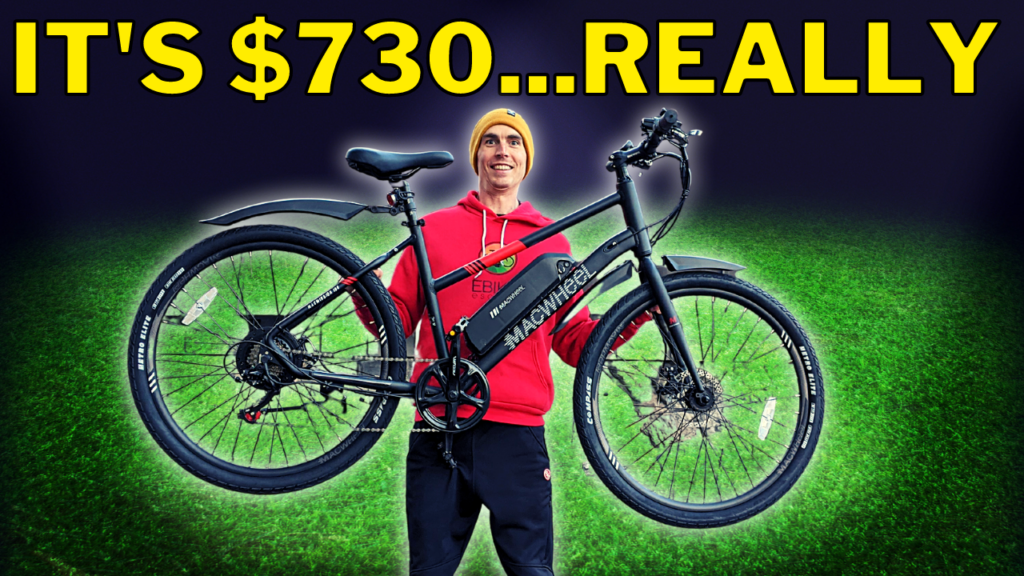 On Ebike Escape we've covered a lot of affordable ebikes, including from brands like Rad Power Bikes and Ride1Up. But the Macwheel Macmission 100 might be the new contender for the most affordable ebike you can buy right now.
At only $727 on the Macwheel website (save an additional $10 with our link), it's almost hard to believe a company could sell an ebike for that cheap. Needless to say, we were skeptical. Would they cheap out on parts to get the price that low?
Without giving too much away, let's just say we were quite surprised, and think you will be too.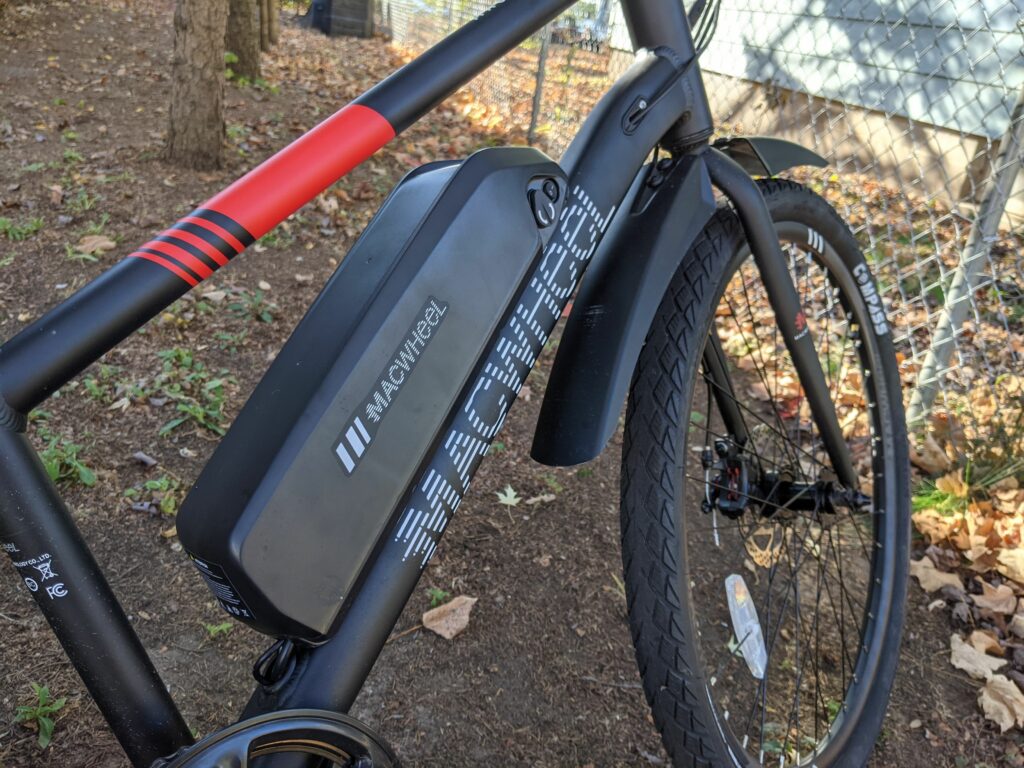 Machwheel Macmission 100: The most affordable ebike to date
Hopping on the Macwheel Macmission 100 on a chilly Sunday afternoon, I wasn't 100% sure what to expect. The bike looked solid enough, but at such a low price point, how good could it be?
I hopped on and started pedaling — and I have to say, this is a solid bike. I put the bike on pedal assist 2 of 5, and even up the slight incline I had no problem pedaling up and away on my ride. As always, I like to see what the bikes can max out at. Cranking it up to pedal assist five, I was able to get the Macmission 100 up to 22 miles per hour or pretty close to it. With throttle alone I hit 21 miles per hour, as did Ryan in the test for this video.
As we'll see later in the review, the Macwheel has a mix of surprisingly good features for a bike so affordable, as well as some — let's call them opportunities for upgrades.
Motor and battery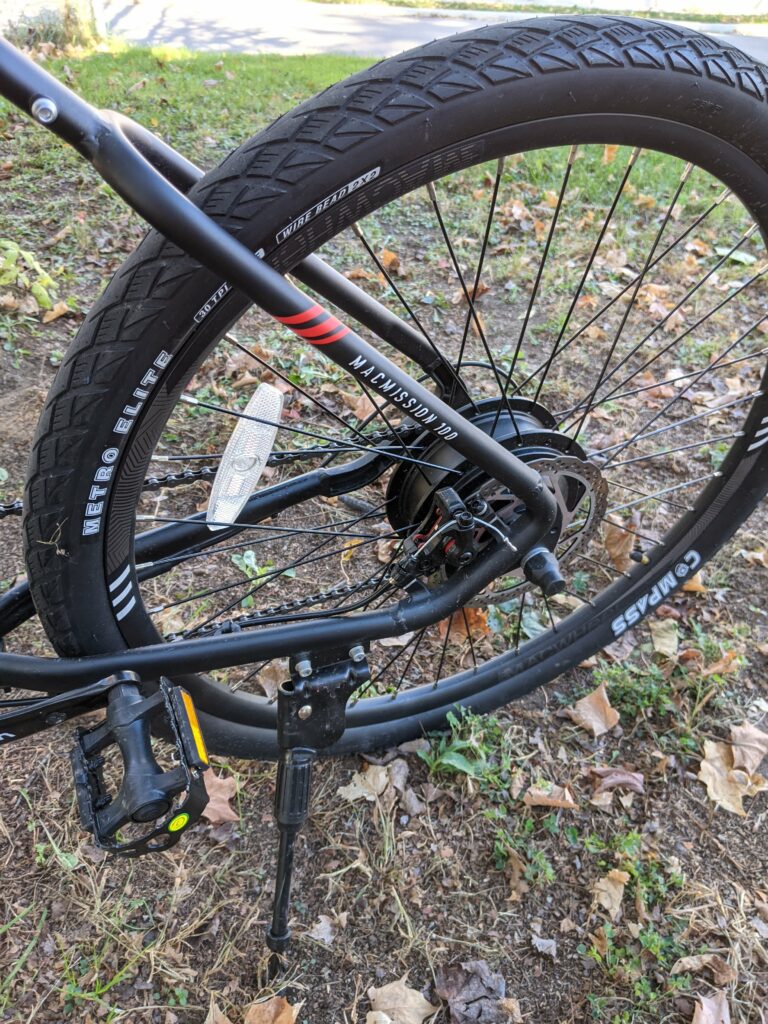 I was sure, hopping on the Macwheel Macmission 100, that this bike was going to be weak. How much power can you swing at that price?
On that point, I was definitely wrong. Don't get me wrong, I've ridden far more powerful ebikes, but the 350w brushless Vinka motor has a surprisingly good kick to it. Acceleration was pretty good, the pedal assist was smooth and it kicked on with only minimal delay.
Macwheel says its battery charges in all of three hours. Its 4-amp charger will quickly juice up the 36 volt, 13 Ah battery, which is usually an upgrade offered on most bikes. So for it to come on this bike at only $727 is crazy good. It has an on/off switch, a locking mechanism and a meter to show how much juice it still has. Macwheel says it gets 40-47 miles per charge. Bottom line is that the motor and battery are downright impressive when you consider the price.
Aesthetics
One thing about the battery, like most at this price point, is that it sticks out from the frame. That might be a bummer to some, but I wouldn't see that as a big deal. What is cool is the cable management: Cables are routed through the frame, which is something you normally see on bikes much more expensive. It's great that Macwheel took the care to do this.
The mid-step frame comes in black and white and white and blue (below), with no size options (the mid-step makes it much easier for shorter riders to use of course). And there are mounts for a rear rack.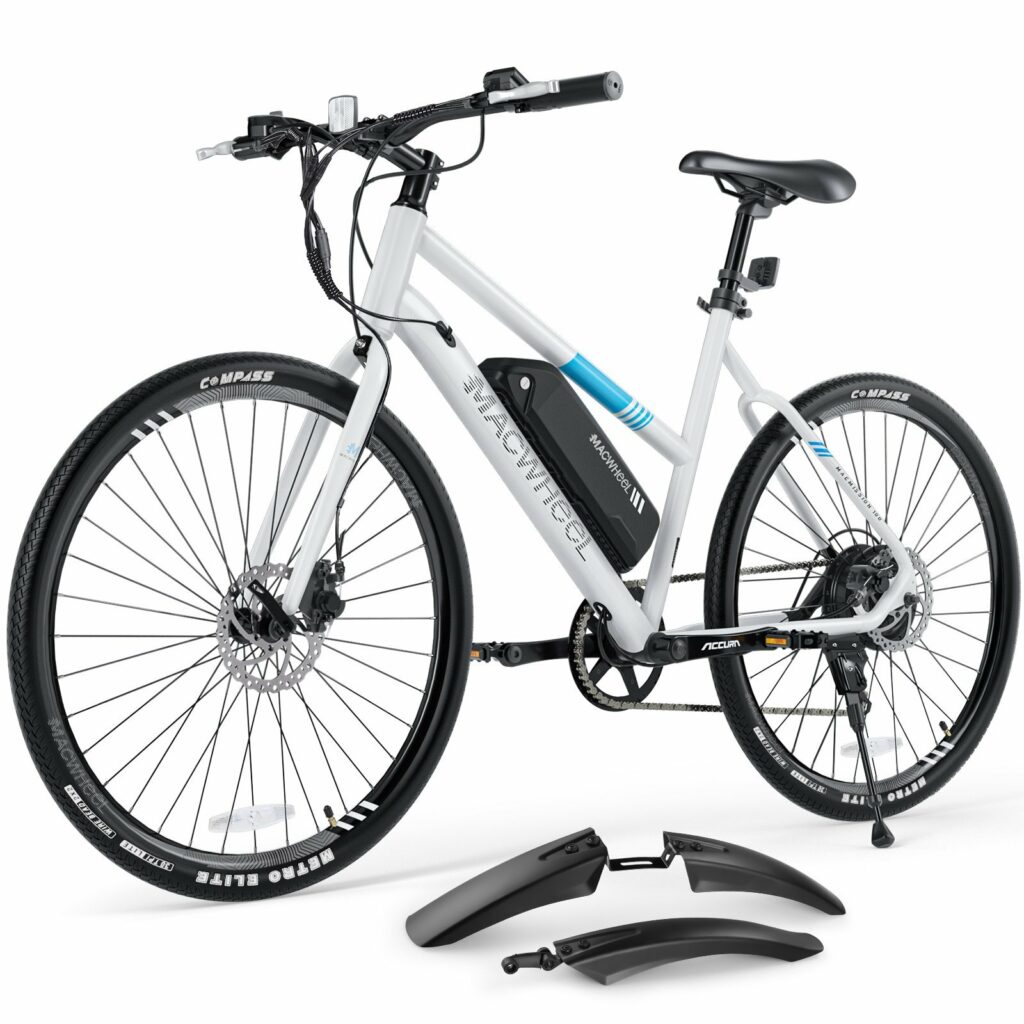 Things you'd want to upgrade on the Macwheel Macmission 100
The handlebars are flat and the saddle is nothing special. It might be worth adding an adjustable stem to make the bike more comfortable.
I'd for sure upgrade the cheap pedals, though I tend to do that on my bikes anyway (check out our ebike accessories list for some options). And the crankset is the kind you'd expect on a cheap department store bike. It felt solid enough, but a bike lover would want something a little more solid.
And, we didn't love the fenders. They were cheap and flimsy, and not the best looking.
The disc brakes are no-name 160mm, but seemed to do the job adequately. If you're used to really good brakes that might be an area to upgrade or at least consider upgrading when you have to replace the brake pads anyway.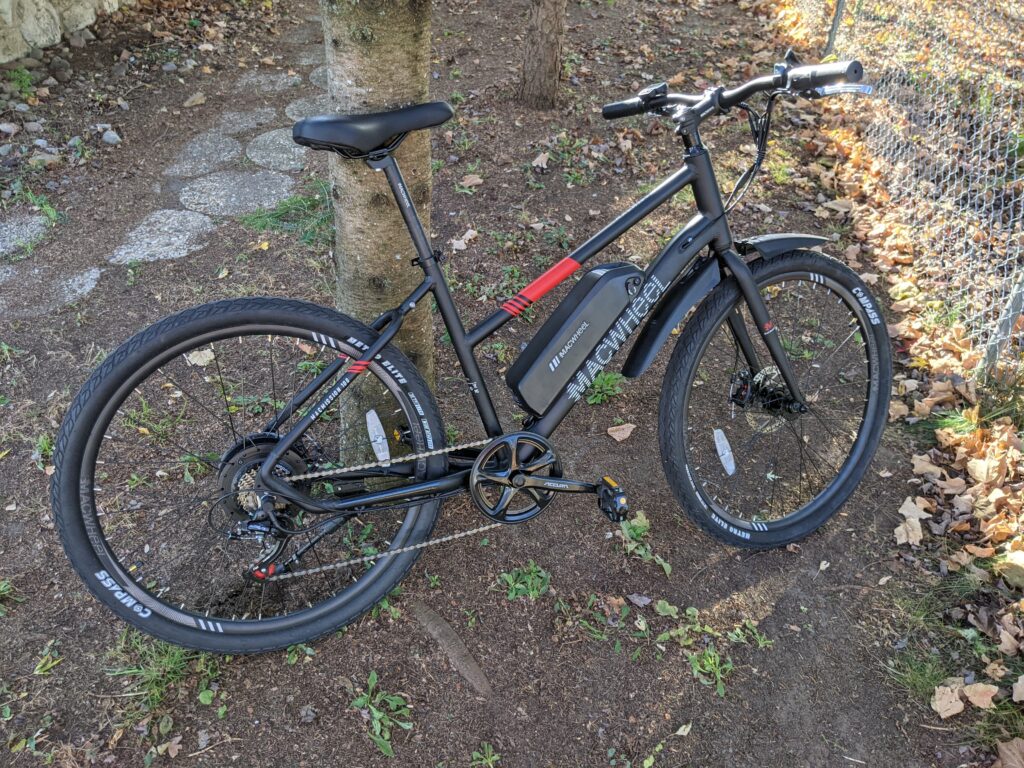 The good
The Macwheel Macmission 100 features a Shimano rear shifter and a Shimano Tourney rear derailleur. It's Shimano's basic level components, but hey, it's Shimano and they make good stuff.
Also, the backlit LCD display shows you the pedal assist mode, speed, avg speed, max speed, a trip odometer and seemed to function pretty well.
The twist grip make is a new one to Ebike Escape, but it functioned just fine. And the kickstand was placed well, out of reach of the pedals which allows for easy bicycle maintenance and moving the bike around.
Overall impressions
It's truly surprising how good this bike is, considering the price point. As you see now, there are a few things you'd want to consider upgrading with this ebike — but you'd have a solid ebike right out of the box. This is a good ebike for the price, and if you're on a strict budget you should definitely consider it. Macwheel is a new company to us so before you buy be sure to see how the company handles customer support requests. For us, It's our favorite pick for a sub $1000 electric bike at time of writing. Check it out today and save an additional $10 using our link.