Not sure you will use your ebike? Cautious about spending too much before you know if you will like it? The Ride1Up Core-5 is an affordable lightweight ebike with impressive specs for a reasonable price of $1,195. Don't let the lower price make you think it won't hold its own! This bike is an upgraded version of the Core-5 that we originally reviewed in 2020 and even with the improved specs, the price stayed the same. Read on for our review of the Ride1Up Core-5.
You can also check out our video review for a closer look at the bike components, riding footage, and a hill test. If you decide to buy this bike please use our link! It's a free way to help support our team continue to review ebikes. We appreciate the support!
Ride1Up Core-5 Video Review
Lightweight Frame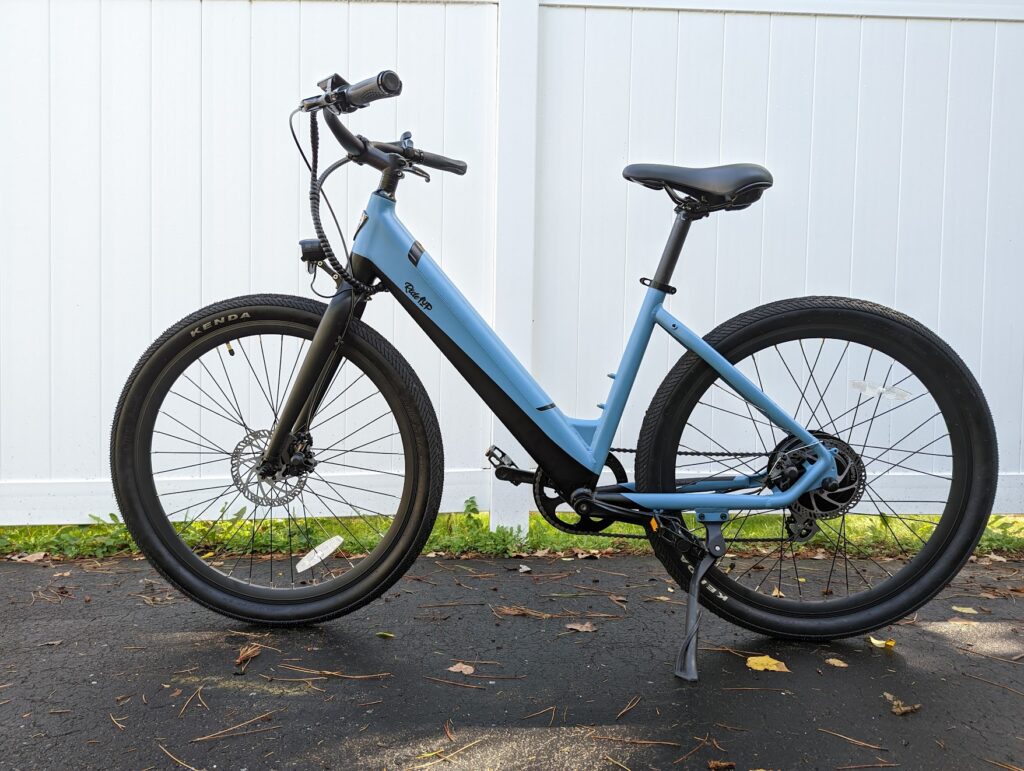 I love the Ride1Up Core-5's frame because it looks like a pretty traditional bike. Many people won't even know you are riding an ebike. You can choose between a high step (XR) or a step-through version (ST). The standover height for the XR is 28.5″ and for the ST it is only 19″. A great perk of the Ride1Up Core-5 is that it can fit a wide variety of rider heights. The ST is designed for riders from 5′ up to 6'1″ and the XR is designed for riders from 5'6″ to 6'4″. The full geometry specs on each frame can be found on Ride1Up's website.
This lightweight bike comes in with a total weight of around 49 lbs, less than the typical 60lbs or more for other ebikes. The weight capacity is 300 lbs. The ST has swept-back handlebars for a more upright riding position while the XR has straight handlebars. Additional comfort is provided by the locking grips with palm rests. Both bike frames come in gray or azure blue and have updated color schemes for a more sleek look compared to the original Core-5.
Upgraded Battery and Powerful Motor
Ride1Up has upgraded the battery from a 48V 10.4Ah in the original to a 48V 12.8Ah in the 2022 version for a total of 614 watt-hours. They stayed with the same Shengyi motor which has 750 watt sustained power. In our testing, the bike peaked at just less than that amount. This is the same motor as Ride1Up's more expensive 500 Series and 700 series models.
The Core-5 is a Class 3 ebike capable of speeds up to 28 mph with pedal assist and 20 mph with throttle only. On our top speed test, we saw a max speed of 27 mph. There simply aren't many Class 3 ebikes at this price, making this a top selling point of all the models offered by Ride1Up. The Core-5 has a left-sided thumb throttle.
There are multiple options for pedal assist levels. You can keep it at the factory setting of pedal assist levels 0-5 or adjust the settings so you have up to 9 different levels of pedal assist. We demonstrate this in the above video. The power levels are also adjustable allowing you to customize what percentage power of the motor you'd like at every pedal assist level.
This is a more basic screen than most we see but is actually more easy to read in direct sunlight than some of the "fancier" screens. It still has all the essential information you need, such as speed, pedal assist level, battery life and it even shows your current wattage usage.
Pedal assist is engaged with the cadence sensor which is undoubtedly what we would expect at this price point. If you'd prefer a torque sensor check out Ride1Up's LMT'D or Prodigy models.
Components on the Ride1Up Core-5
The bike we got has a 46T front chainring (though the website reports a 44T) with a Shimano Altus derailleur and a 7-speed 12-32T cassette (the website says 11-32T). On the right of the handlebars is a Shimano thumb shifter. Even at higher speeds the gearing allowed us to continue to provide human power and the 32 tooth lowest gear is helpful on hills.
The tires are Kenda tires sized at 27.5″ x 2.2″. They have some light tread but are overall designed for roads or some very light off-roading. Another update from the prior version is a 60 lux that runs off the main battery. This particular light is brighter than the average front headlights we find on many ebikes.
Ride1Up includes Tektro mechanical disc brakes with 160mm rotors. We were glad to see Ride1Up continue to use name-brand components on one of their most affordable models. They perform well, especially when you consider the price-point of this ebike.
View the Ride1Up Core-5 full specs.
Ride1Up Core-5 Accessories
While the Ride1Up Core-5 doesn't come with a rear rack, one is available directly from Ride1Up for $50. There are also no fenders included in the base price but it is something you can also buy from Ride1Up if they are important to you.
While not necessary, some riders may want to upgrade to a different saddle as the included seat is a bit narrow. A suspension seatpost may also be an accessory to consider since the Core-5 has a rigid front fork. If you are looking for recommendations for upgrades and accessories, check out our accessories page. For specific recommendations for the Core-5, check out our accessory video from our original review of this bike in 2020.
Conclusion
Overall the Ride1Up Core-5 like the other Ride1Up models does a great job maximizing affordability while maintaining quality on the parts that matter. The motor is the same as some of the higher priced Ride1Up models, there is increased battery size, and a comfortable simple frame that's accommodating to shorter riders.
With this more budget-friendly ebike you are giving up the suspension in the front fork, quick-release wheels, minor battery capacity and hydraulic brakes. I think these are all reasonable compromises for the price. This bike is great for shorter riders and those looking to dip their toes into the ebike market. If you plan to get the Ride1Up Core-5, please use our link as a free way to support Ebike Escape.
Electronics (Battery, Motor, Display)
9
Components (Shifter, Derailleur, Fork)
8.5
Ride1Up core-5 Pros
Price
Ideal for shorter riders
Branded Tektro brakes
Increased battery
Upgraded integrated headlight
Lightweight ebike
High step and step through options

Ride1Up core-5 Cons
No fenders or racks
No suspension
No quick release tires
The front fork needs to be installed by the customer or bike shop