The RadRunner Plus is a fun utility/cargo ebike with a special passenger package. It is a great way to bring family or a friend along for your adventures. With its moped-type styling and fun BMX handlebars, it is a fun ride for both driver and passenger. If you are familiar with Rad Power bikes, this bike is similar to the RadRunner with some extra bells and whistles.
A specific comparison video between the RadRunner 2 and the RadRunner Plus can be found here. Our video review dedicated to the RadRunner Plus is being edited as we speak and will provide riding footage and a hill climb.
This passenger-friendly, moped-style ebike sells for $1,899. As always, if you are planning to get an ebike, please use our RadRunner Plus link. This is a free and easy way to support Ebike Escape.
RadRunner Plus Video Review
Designed to Bring a Friend
One great feature of the RadRunner Plus is that it comes with what RadPower Bikes usually advertises as the passenger kit. It includes a sleek-looking passenger seat that blends in well with the main bike seat.
If you are planning to pedal with full leg extension, you may need to adjust the seat. It is a nice perk to be able to choose between matching the height of the passenger seat for a sleek look or raising the seat for improved comfort. Many moped-style ebikes don't have this option. There are also included pegs for the passenger to rest their feet on. Finally, it has a wheel guard to prevent clothing or feet from the backseat rider from getting stuck in the wheels.
For younger passengers, you'll find a Thule Yepp Maxi window underneath the passenger seat. Simply remove the passenger seat and replace with the Thule Yepp Maxi (available on Amazon or from Rad Power Bikes). Check out our video to learn more.
The total payload capacity of the bike is 300 lbs (120lb rear capacity) so there is a limit to the size of your friend.
RadRunner Plus Ebike Frame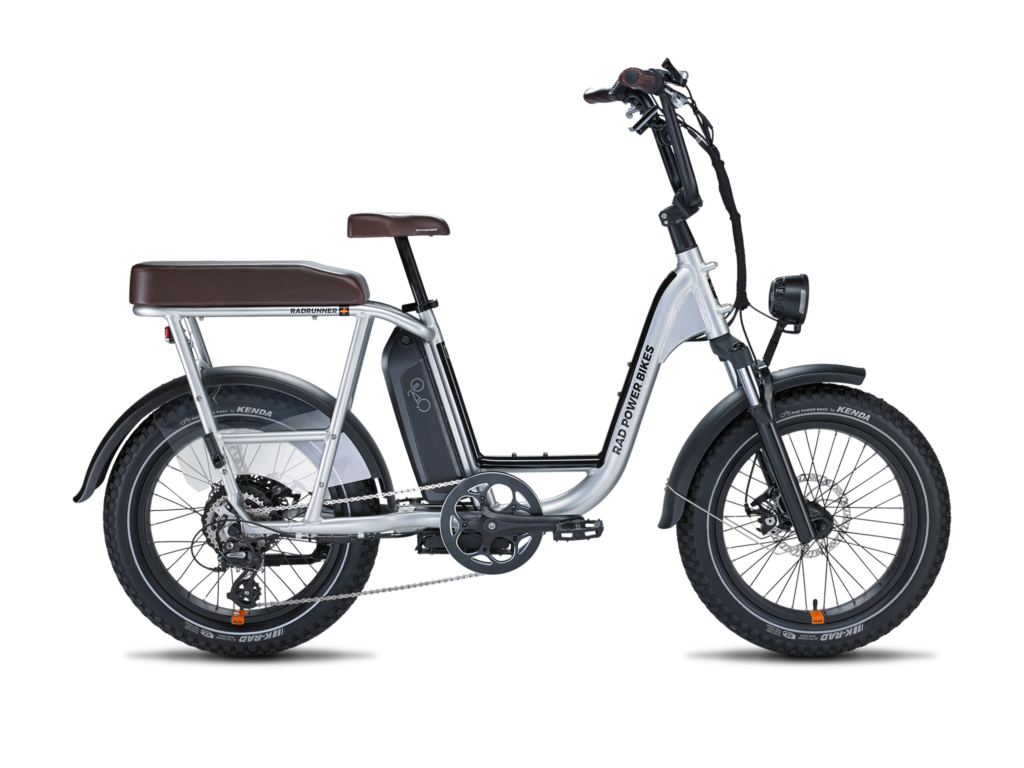 This ebike is designed to fit a fairly wide range of riders. It is advertised to fit those between the heights of 4'11" and 6'2″. If you still aren't sure if this bike will fit you, check out the Rad Power Bikes website which provides additional details about what size inseam this bike will fit. The standover height of the RadRunner Plus is 16.5″ and the total weight is 77 lbs. There is only one color option for the Plus at this time: silver.
While this bike is great for zipping around the city, it also has fatter tires to handle some off-road trails. The tires are Kenda K-Rad sized at 20′ X 3.3″. They have a K-Shield puncture-resistant liner. This ebike also has an RST spring fork in the front for a smoother ride with 80 mm of travel. it includes lockout and a preload adjustment. The suspension is one of many things that differentiated this bike from the more affordable RadRunner 2.
The Electronics
The RadRunner Plus features a 750 watt peak brushless Rad Power Bike geared hub motor. It's the same motor Rad has used on their ebikes for years. The battery is an externally mounted 48V 14 Ah pack for a total of 672 Wh. There are 5 different levels of pedal assist, engaged with a cadence sensor. The range of the RadRunner Plus is estimated to be between 25-45 miles on a single charge. This will vary based on many variables, including the rider's fitness, pedal assist level, the weight of the passenger, and terrain. If you get sick of pedaling, encounter a hill, or just want an extra boost you can use the right-hand half-twist throttle instead.
Like all Rad Power Bikes, the RadRunner Plus is a Class 2 electric bike capable of speeds up to 20 mph with the throttle or while using pedal assist.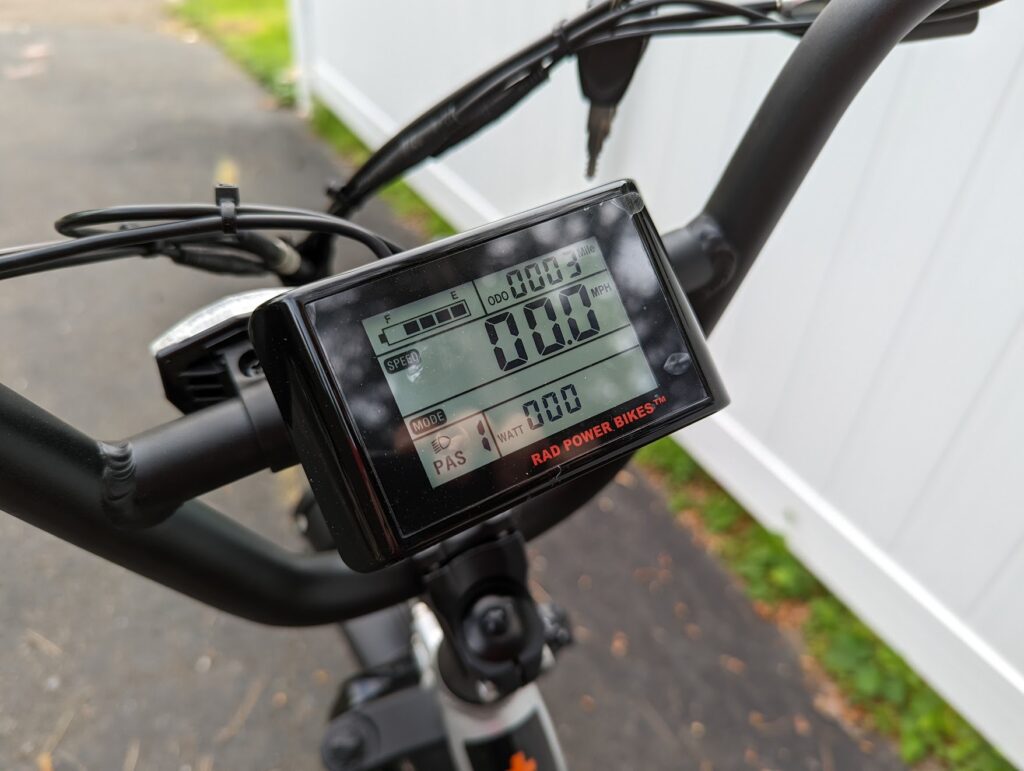 A backlit LCD screen gives you information about battery life and current pedal assist level. In addition, it includes a speedometer, odometer, trip odometer, and wattmeter. There is also a USB charging port to charge your device.
Components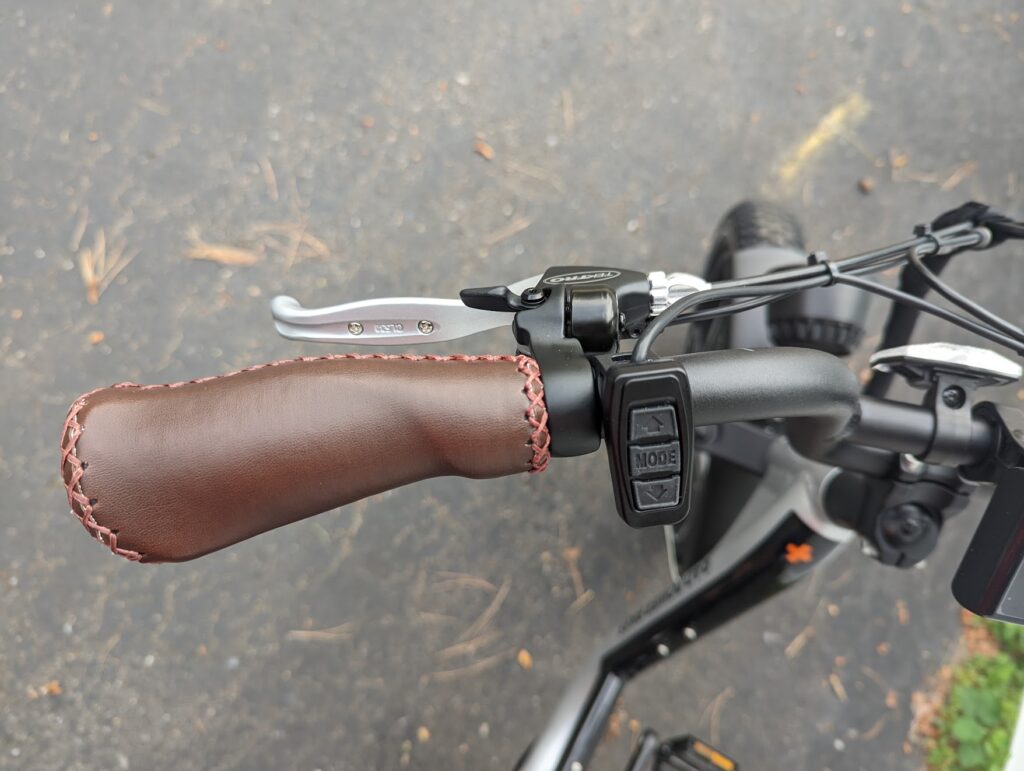 Besides the inclusion of the front fort suspension, the other major difference between the RadRunner Plus and the RadRunner 2 is that the Plus features a 7-speed Shimano Acera derailleur. It has a 48T front chainring with an 11-34 rear freewheel. Adding the extra gearing makes tackling those hills a lot easier. Gears are changed with the basic Shimano thumb shifter.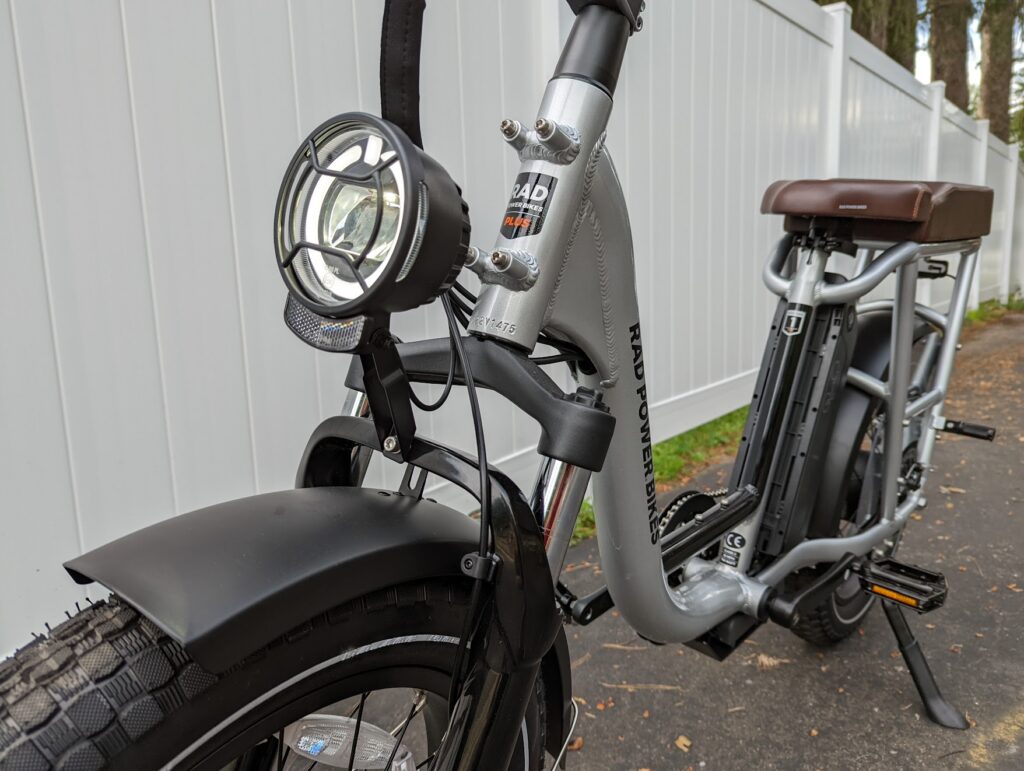 A nice safety feature is the auto-on lights. It includes a front premium LED headlight which is significantly larger than on the RadRunner 2. It's nice of Rad to throw this bonus in. The Plus also includes an integrated taillight with brake light and flash mode. Also included are full front and rear plastic fenders.
The brakes are Tektro mechanical disc brakes with 180 mm rotors which are common on many of the Rad Power Bikes models. They perform well but as ebikes approach the $2000 price point, we do expect to see hydraulic brakes. This is one area we'd like to see addressed given this is advertised as a "plus" model.
Extra Accessory Options
While you can pick accessories a la carte, you also have three optional "kits" of accessories if you are looking to upgrade. These are called "Bring a friend," "Essentials," and "Haul it all." Each configuration is different offering extra options for storage or passenger upgrades. All of these accessories are also offered a la carte. Our favorites are the passenger bars and the center console, though the latter does remove the accessibility of the step-thru frame.
Check out our ebike escape accessory page for more recommendations to customize your electric bike.
Our Take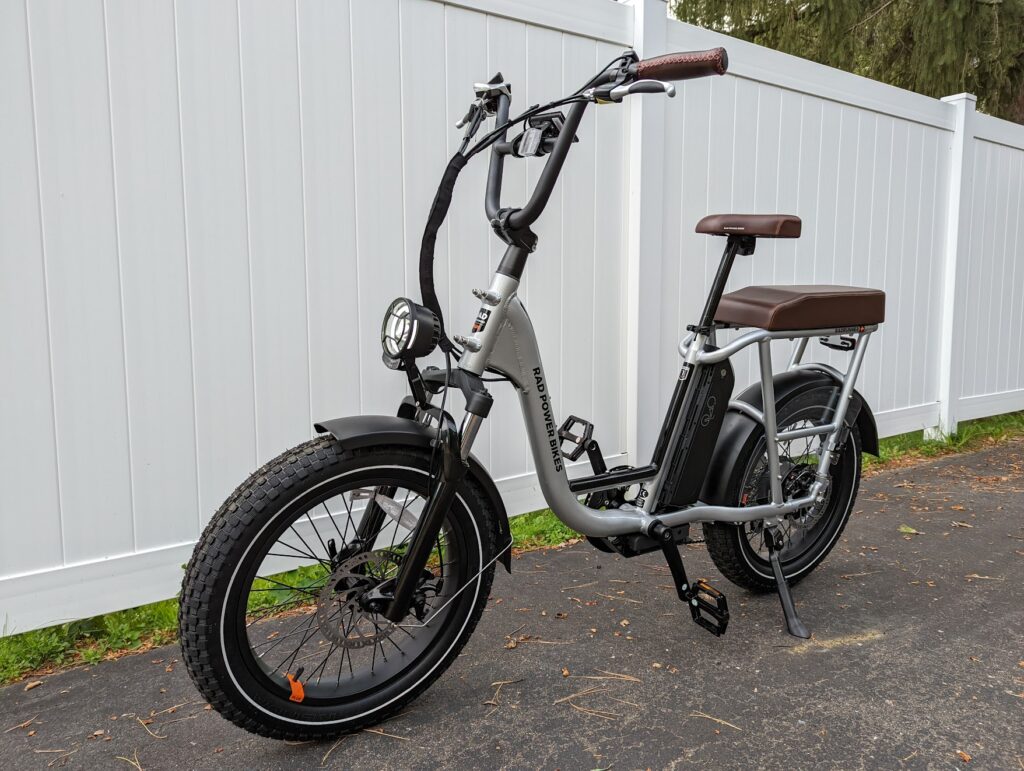 This stylish and functional ebike might be a great fit for you if you are looking to bring a small to medium-sized passenger along for the ride. The passenger seat integrates well with the saddle though the saddle could be softer.
We like the RadRunner Plus's urban styling and fatter tires. With 7 speeds and a front suspension, it is a more comfortable ride than the RadRunner 2 but it is also more expensive. This ebike is smaller and more manageable than the "minivan of bikes," the RadWagon while still offering more versatility than other models.
While the RadRunner Plus has enough power to get you up some hills, if you love moped styling, you could find something more powerful. Note other moped style ebikes may not adhere to the "Class" designations in the United States.
If you think the RadRunner Plus or another RadPower Bike is right for you, please use our link before purchasing. We appreciate your support!
Electronics (Battery, Motor, Display)
8.5
Components (Shifter, Derailleur, Fork)
9
RadRunner Plus Pros
Moped styling with step-thru
Included passenger seat and accessories
Ideal for a variety of rider heights
Front suspension
7 speed shifter
Versatile
Radrunner plus cons
Single color option
Not as powerful as some other moped-styled ebikes
Uncomfortable saddle
Mechanical disc brakes