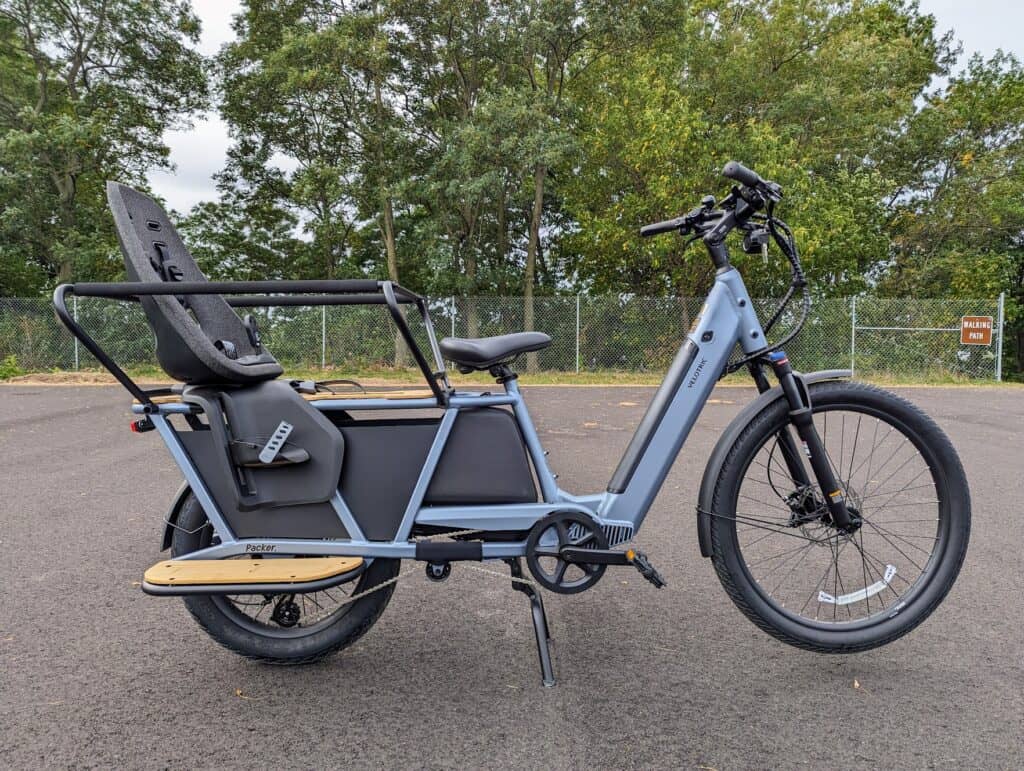 More and more cargo ebikes are hitting the market, and today we review the Velotric Packer 1, a budget-priced cargo ebike. It has a large motor, reliable 4-piston hydraulic brakes, a step-through frame design, and a front suspension fork. It is currently selling for $1,899. This is a great place to start if you haven't tried a cargo ebike yet. We love using cargo ebikes for hauling kids, and there is plenty of room for other goods thanks to some unique accessories from Velotric.
Buying a Velotric Packer 1 or any other Velotric ebike? Use the discount code ESCAPENOMAD60 for an extra $60 off.
Velotric Packer 1 Video Review
Step-thru Frame on the Velotric Packer 1
The Velotric Packer 1 is a cargo ebike, sometimes called "a car replacer." With the long tail in the rear, there's plenty of room for a load of groceries, a couple of kids, or an adult passenger. The Packer is priced on the lower end of the spectrum for cargo ebikes. Make sure you budget for some accessories to tailor this ebike to your needs like those pictured above. They sell bundled packages for around $2,100 at the checkout, but you also can get each a la carte. These include seat pads, a safety balustrade, footrests, front and rear baskets, or a handrail for the passenger. We were impressed with the quality and variety of Velotric accessories.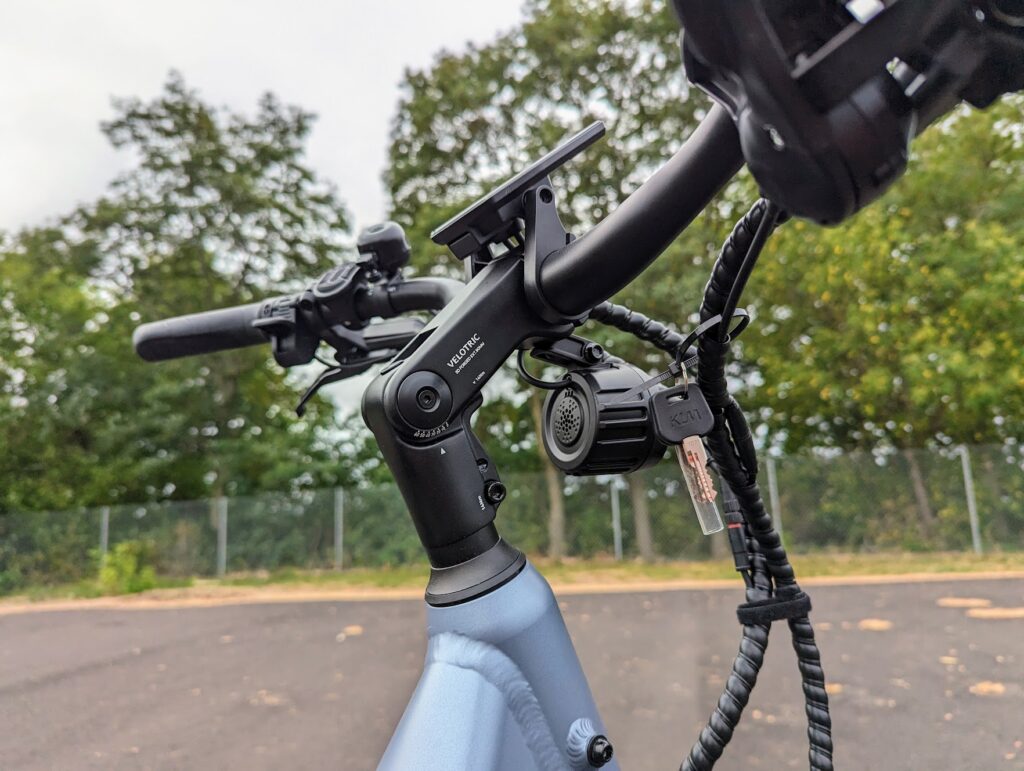 The frame itself is recommended for riders between 5'3″ and 6'6″. The adjustable stem and sweptback handlebars make it a comfortable ride for this large height range. It has a step-through frame with a standover height of just 16 inches, which is helpful when getting on a fully loaded ebike. It comes in two colors: indigo gray (pictured) and sky blue.
The bike weighs 75 lbs and has a total payload capacity of 440 lbs. The capacity of the rear cargo area is 175 lbs.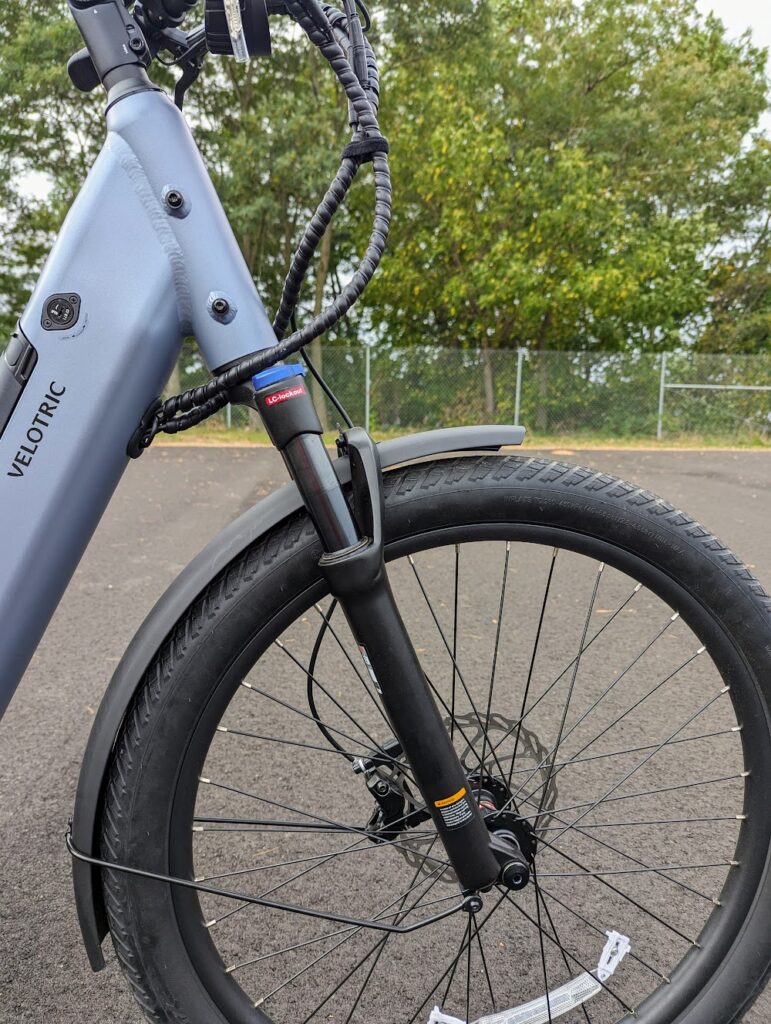 For added comfort, there is a hydraulic suspension front fork with 80 mm of travel and that includes a lockout. This feature is not always found on cargo ebikes. Adding a suspension seatpost is another accessory to consider for improved comfort. A thru-axle front hub instead of a quick release attaching the front wheel increases strength, and rigidity and is also safer. At this price point, we haven't seen other brands yet offer thru-axles. It's a nice touch from Velotric.
Velotric Packer 1 Motor, Battery, and Electronics
The 14.4 Ah battery is an average size. Velotric reports 52 miles of max range, which might be possible in pedal assist level one in absolutely ideal conditions. I expect most will fall within the 25-40 mile range, especially if you are hauling cargo. The battery is UL 2271 and UL 2849 certified for increased safety. Check our UL certified ebikes article here for more information about ebike battery certification.
A 750-watt rear hub motor powers the Packer, and the peak power is 1,200 watts. This generously sized motor should power you and your cargo where you need to go. In the default settings, the ebike is shipped as a Class 2 ebike with a max speed of 20 miles per hour and can be powered with just the thumb-controlled throttle if desired. In the advanced settings, you can change that top speed to 25 miles per hour, turning the Packer into a Class 3 ebike with speeds up to 25 mph. With the current gearing, you will likely have difficulty adding any meaningful power with pedaling once you get over 20 miles per hour.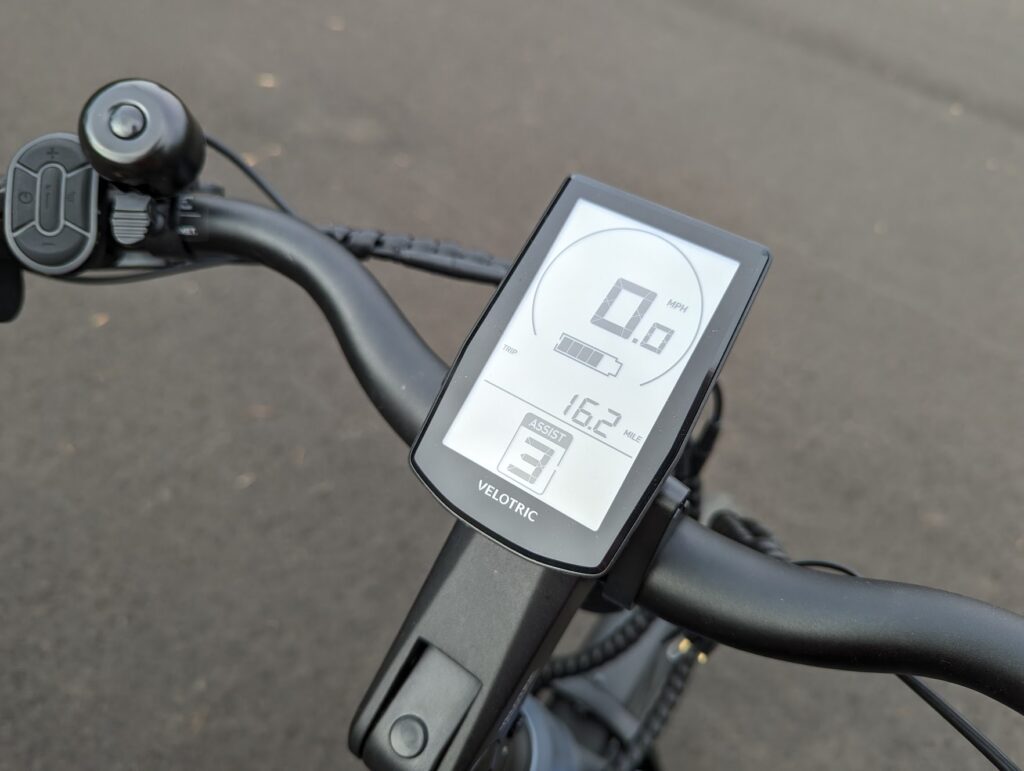 You can access the advanced settings in the basic 3.5″ backlit LCD display. It also shows your speed, battery remaining, assist level, and more.
While you have the option of the throttle, there are also several levels of pedal assist to choose from. The levels are eco, tour, normal, sport, and turbo (levels 1-5). You have an additional option to put it in walk mode, which moves along at 2.9 mph. Pedal assist is engaged with a cadence sensor on the Velotric Packer 1.
Components
When you are riding a heavily loaded cargo bike, you want confidence in your brakes. The 4-piston hydraulic brakes with 180 mm rotors are reliable and get the job done.
The drivetrain is a Shimano 8-speed with a 46T chainring and a 13-34T cassette. In the front is a CST 26″x2.4″ tire compared to a CST 20″x3″ tire in the rear. The slightly large front tire adds to a feeling of stability and the smaller rear tire lowers the center of gravity. This is greatly appreciated when you haul precious cargo, whether that is kids or the weekly grocery run.
Mounted to the stem is an integrated, brighter than most, 130 lux headlight and in the rear, an integrated taillight (also brake actuated). The Packer 1 also includes full front and rear fenders.
Included with the bike is Apple Find My for iPhone users. This feels like a premium feature and is an unexpected plus on this budget-friendly cargo ebike. Another handy feature is the included waterproof storage bag, which sits behind the seat tube and includes a TSA lock.
A dual-leg kickstand is included and is essential for a cargo bike. It could stand to be a bit more sturdy, but overall, it gets the job done.
Our Take
The Velotric Packer 1 is a great cargo ebike with a budget-friendly price. It has a powerful motor and an average-sized battery. We love the step-through frame design and the optional accessories to make your ebike perfect for whatever you want to haul. The Velotric Packer 1 includes a front fork suspension, a brighter-than-average headlight, and an included Apple Find Me, which are all things that are not common with affordable cargo ebikes.
For other cargo ebike options, check out our article with the best cargo ebikes (which came out before the Velotric Packer 1 was released).
Velotric Packer 1 Pros and Cons
Electronics (Battery, Motor, Display)
9
Components (Shifter, Derailleur, Fork)
9
VELOTRIC PACKER 1 PROS
750 Watt motor peaking at 1,200 watts
Front suspension fork
Lower center of gravity for increased stability
Apple Find My
Bright integrated headlight
High weight capacity on the rear rack
Customizable
Nice unboxing experience
Included frame bag
Well-priced
Swept-back handlebars with adjustable stem
VELOTRIC PACKER 1 CONS
Cadence sensor
Limited neutral color options
Average size battery
Ghost pedaling when the top speed is changed