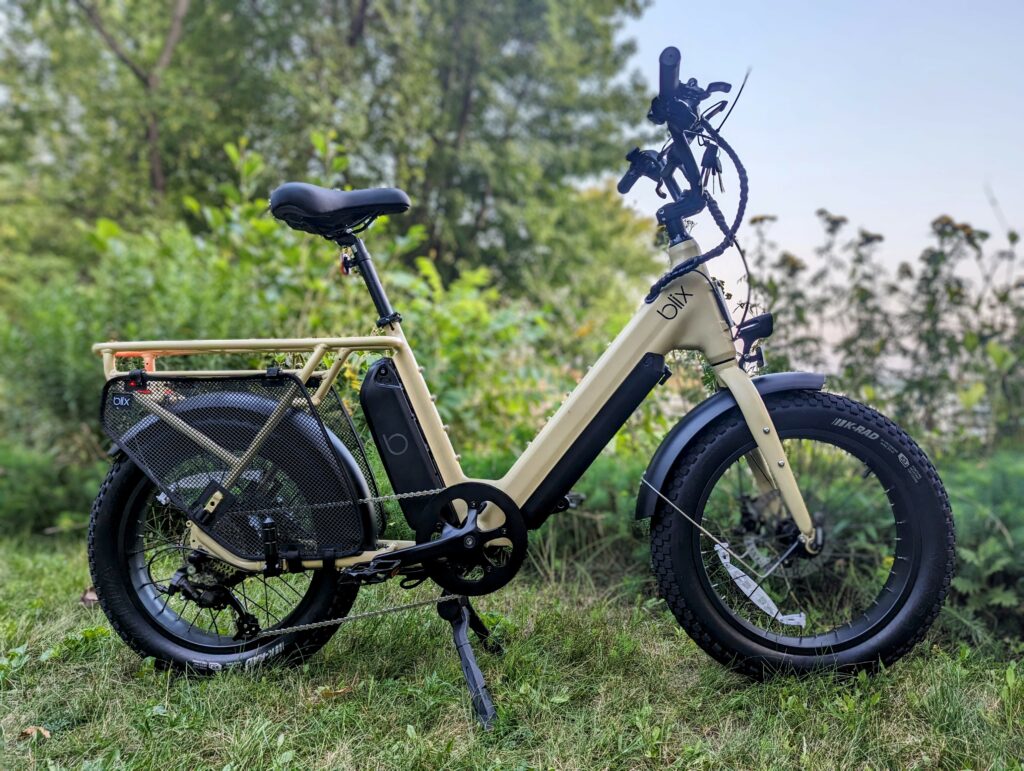 The Blix Dubbel is the all new utility-style ebike from the established, US-based company, founded in 2014. At time of publishing, $1849 gets you the single battery version and a bump up to $2249 gives dual battery power. 
Read on to find out more about this family-friendly, step-through ebike, and click below to watch our in-depth video with first-person riding footage.
And if you are in the market for purchasing a Blix Dubbel, using our affiliate link supports the work of Ebike Escape. You can find out more about all the ebikes in the Blix range that we've reviewed here.
This ebike is designed for heights from 5' to 6'2" with a standover height of 15.6". Smaller wheels are comfortable for shorter riders and an extended seatpost easily accommodates those who are taller.
It has a generous 250lb capacity with an additional 150lb on the rear rack. And the weight of the bike itself ranges from 70lb to 78lb for single and dual batteries respectively.
At time of writing the single battery version is available only in a Bright White finish whilst the dual also has a Matte Nu Cream or Slate Grey color options.
More Power
Both batteries are a standard 48V, 13.6Ah with 641.9 Watt-hours each. Together they provide an impressive range of up to 80 miles, alternating between each battery, draining about 5% at a time. They can be charged on or off the bike and feature charge meters.
Power buttons on the batteries operate the minimal display, on the left of the cockpit. The black and white display is simple and small, but cycles simply through all the main features, including speed, pedal assist level and battery charge. Battery capacity is always displayed by the ring around the display and pressing up or down for pedal assist will briefly show your current level on the display before defaulting back to your preferred setting (example: current speed).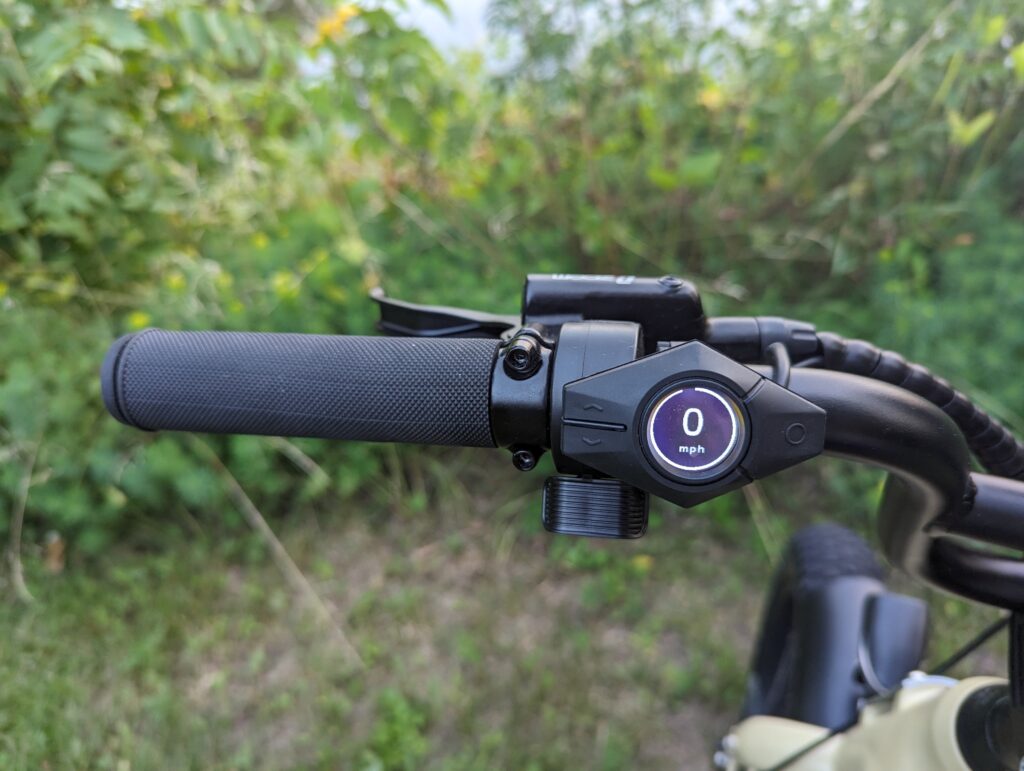 Connecting with the Blix app was a bit unreliable in our testing, especially via Android devices, but once connected, it's a stable resource, with flawless firmware updates, offering a bike-locking function. The app also enables override to Class 3 speeds up to 28mph.
The Dubbel ships at Class 2 and zips up to its top speed of 20mph with the throttle. And a current-based cadence sensor delivers uninterrupted and smooth, 5-level, pedal assist powering (compared with speed-based systems which cut-out).
Even challenging hills are a breeze with the 750 watt motor, peaking at 1350 Watts, offering 90Nm of torque. Class 2 limits don't really allow this capable motor its full expression.
Branded Brakes and Robust Tires
It's good to find a few branded components on the Blix Dubbel. The Zoom hydraulic disk brakes and matching levers with cut-off offer a sure stop. And the 8-speed Microshift trigger shifter, along with Microshift 26 derailleur is a notch better than most.
The 11-32 tooth rear freewheel and 48 tooth front chainring are perfectly serviceable. Heavy-tread Kendra K-Rad tires measuring 20"x 3.3" are robust enough for some light off-roading. We say light because the fixed front fork suspension does not permit too much rough riding. Nor is the low-seated dual kickstand suited to uneven surfaces.
Ample Accessories
Neat cable wrapping and customizable BMX-style handlebars with non-locking rubber grips give a clean finish. Front (80 Lux) and rear lights are integrated, the first with alternative mounting options, the latter, not also activated by braking.
Included accessories are metal fenders, a welded-on rear rack, mesh rear wheel guards, and folding passenger pegs, with a variety of mount points. Bottle cage bosses are aplenty, both on the seat-tube and on the downtube.
For enhancing passenger and load-carrying capabilities it is certainly worth adding front or rear rack baskets ($79 and $89 respectively) or amping up to the Large Basket at $129 or "VIP section" offering a more secure ride for kids at $149. An ample padded seat is $79 and a sweet triangle frame bag is the same price, though it inhibits the step-through!
The Dubbel also comes with one Thule Yepp Maxi window in the rear rack for attaching a child seat in the rear.
In Conclusion
Utility ebikes like the Blix Dubbel fill a useful niche between heavier cargo bikes and city/road-type bikes. The boosted range of a dual battery is a great asset and the motor on the Dubbel offers a smooth ride.
It would be great to make Class 3 speeds more accessible and Blix do have some work to do on their app connectivity. A fixed suspension fork and positioning of the kickstand limit off-roading.
Overall, the Dubbel is well-made and easy to ride. Plus Blix offers US-based customer support. Although it is at the more expensive end of the scale, especially with added accessories, Blix often offers sales so keep an eye on their website. If you need more space, check out the Blix Packa Genie, also offered with dual batteries.
Electonics (Battery, Motor, Display)
9.5
Components (Shifter, Derailleur, Fork, Brakes)
8.5
Frame (Geometry, Sizing)
9
Blix dubbel pros
Option for 2 batteries
Powerful motor
Current-based cadence sensor
Reliable Zoom hydraulic disk brakes
Great range of accessories
US Based support
So many mounting points!
Blix dubbel cons
Fixed fork
Small display
App Connectivity needs polishing
Taller riders may tower over the handlebars