When we surveyed our viewers on what Blix model ebike to review, the clear winner was the Blix Packa Genie! Let me tell you, this cargo bike did not disappoint! This bike has hydraulic disc brakes and a powerful motor that did great on our hill test. It comes in a single battery option for only $1,999 or a dual battery option for $2,299! If you'd like to buy the Blix Packa Genie please use our Blix link as a free way to support Ebike Escape.
Click below for Ryan's full review, first-person riding footage, and hill climb, or read on for the written review.
Blix Packa Genie Video Review
Step Through Frame and Size Options for the Blix Packa Genie
The Blix Packa Genie has a total length of only 81″ which includes its extra long rear rack – this is a cargo ebike after all. It has 24″ wheels to keep a lower center of gravity and increase stability which is helpful when hauling cargo. Speaking of cargo, the total payload capacity is as follows:
Maximum rider weight is 250 lbs
Rear rack cargo capacity is <150 lbs (or greater if rider weight is under 200 lbs)
Optional front rack capacity <50 lbs
The step-through frame on the Packa Genie makes it easier to mount and the stand-over height is just 21″. Blix notes a height range of 5'1″ up to 6'3″. With such a wide range of rider heights, it's nice to have the adjustable stem to be able to customize the riding position. Color options include bright white, teal, or slate gray.
A Powerful Motor and Dual Battery Option
One of the major selling points of the Blix Packa Genie is the dual battery option. The single-battery version comes with a 48V 12.8Ah battery and the dual battery (behind the seat-tube) adds an additional 14Ah pack (1286.4 watt-hours total).
If you usually have shorter rides you may choose the single battery option to save a little cash but if you are trying to use your ebike as a car replacement, you will probably want the dual battery option. Blix estimates that can get you up to 80 miles on a single charge on the dual battery Blix Packa. This is of course is dependent on a lot of variables such as payload, speed, tire pressure, weather, throttle usage etc.
The Blix Packa Genie has a powerful 750 watt rear hub motor with a peak output of 1,350 watts. This should help you power up those hills regardless of the kind of cargo you are hauling. There are 5 levels of pedal assist with activated with the cadence sensor. A left-hand thumb throttle is available in case you get tired of pedaling or just need that extra boost. Suffice it to say, the Blix Packa Genie's powerful motor makes quick work of getting up to 20 mph while pedaling or using the throttle as a Class II electric bike.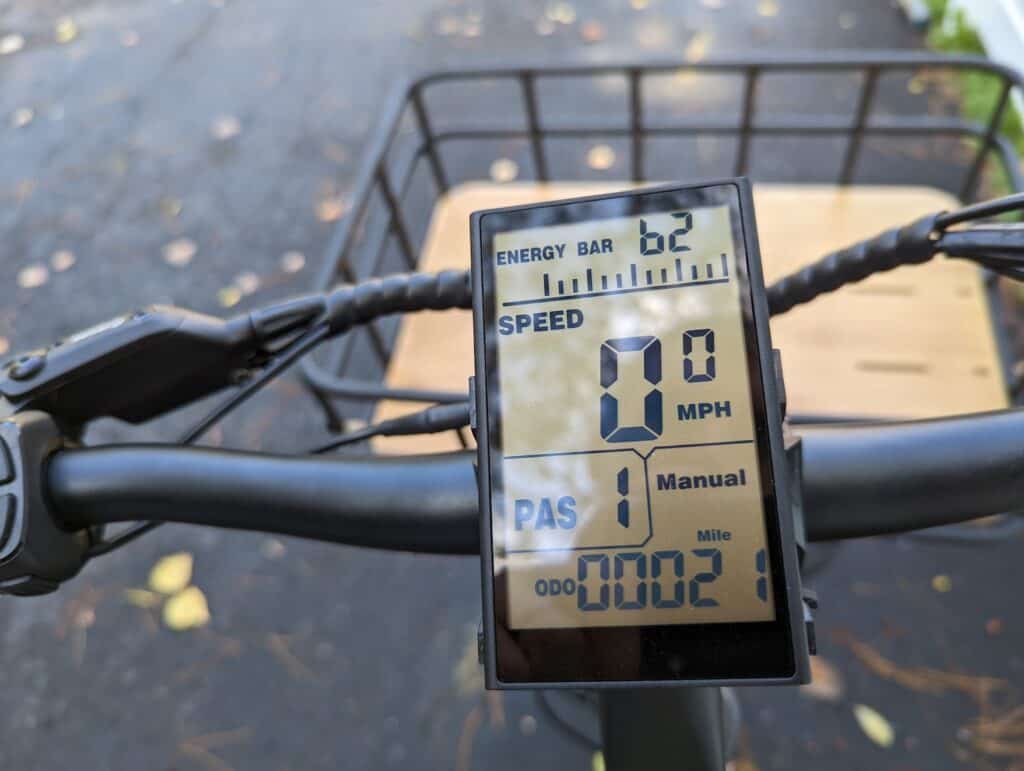 We like the simplicity and easy to read LCD screen. Even on a bright day it's easy to see it. It lists battery life as well as having a speedometer and odometer. You also have the option of charging your phone or other devices right from the bike with the USB port located on the display. An additional USB port is located on the front battery.
Hydraulic Disc Brakes and an Upgraded Derailleur
The Blix Packa Genie has Zoom hydraulic disc brakes with 180mm rotors. It is always nice to see hydraulic disc brakes, they give you that extra confidence in your brakes which is so important when you are hauling important cargo. It's not a feature we see on the more affordable cargo ebikes so Blix deserves some extra credit here.
Blix chose to use a 7speed Shimano RevoShift twist-grip shifter, different from the thumb shifters we see on many ebikes. It's paired with a Shimano Acera derailleur which is a slight step up from the more basic Shimano derailleurs (Tourney and Altus). There is a "megarange" 14-34T rear freewheel and 48T front chainring. The gearing is plenty acceptable for the 20 mph top speed and the 34 tooth low gear is nice if you encounter any significant hills.
Being seen on your ebike is also important. The Packa Genie has an integrated front LED headlight as well as integrated rear brake light. This is becoming more standard but we find it is an essential feature when riding around cars. Blix also added tires with reflective sidewalls for extra visibility. The tires themselves are 24″x 2.4″ and are puncture resistant with Kevlar technology. Plastic fenders are included front and rear. Check out the full Blix Packa Genie specs.
Accessorizing the Blix Packa Genie's Modular Racks
This is an amazing cargo ebike but to make it amazing for YOU there have to be options to customize. Blix has a modular rack system and they advertise up to 200 combinations allowing you to get the perfect setup.
The Packa Genie can be customized to carry kids of a variety of ages as well as have a front or rear rack, baskets, or platforms but it comes stock as a bare bike. The running boards ($99) or optional rear pegs ($25) are not included but are necessary for older children.
Above we have the front rack with the large front basket ($79 + $129), mesh wheel guards ($35), VIP section ($199), and a Thule Yepp Maxi child bike seat. This is not an exhaustive list so be sure to check out Blix's accessories page for more. Other accessories you may want to consider can be found on our electric bike accessories list.
Blix Packa Genie Conclusion
Here at Ebike Escape we love cargo bikes as they are a great "car replacement". This has been one of our favorites and has earned its spot on our best cargo ebikes page. The Packa Genie is the best-performing cargo ebike on our hill climb test. The dual battery option provides great range, the hydraulic disc brakes instill confidence and you can customize it to your liking. If you are thinking of purchasing this bike, please use our Blix link to help support further reviews and videos. You can also call the company. They are US based and provide good customer support. Give them a call, you won't be disappointed!
Blix Packa Genie Cargo ebike
Electronics (Battery, Motor, Display)
9.5
Components (Shifter, Derailleur, Fork)
9
Blix Packa genie pros
Dual battery option for great range
Hydraulic disc brakes
Cargo accessory options
Powerful motor
Quality derailleur
Adjustable stem
Blix packa genie cons
Single battery option is below average capacity
Twist grip shifter might not be preferred by some
Kickstand has low ground clearance
Front light is hidden when adding front basket