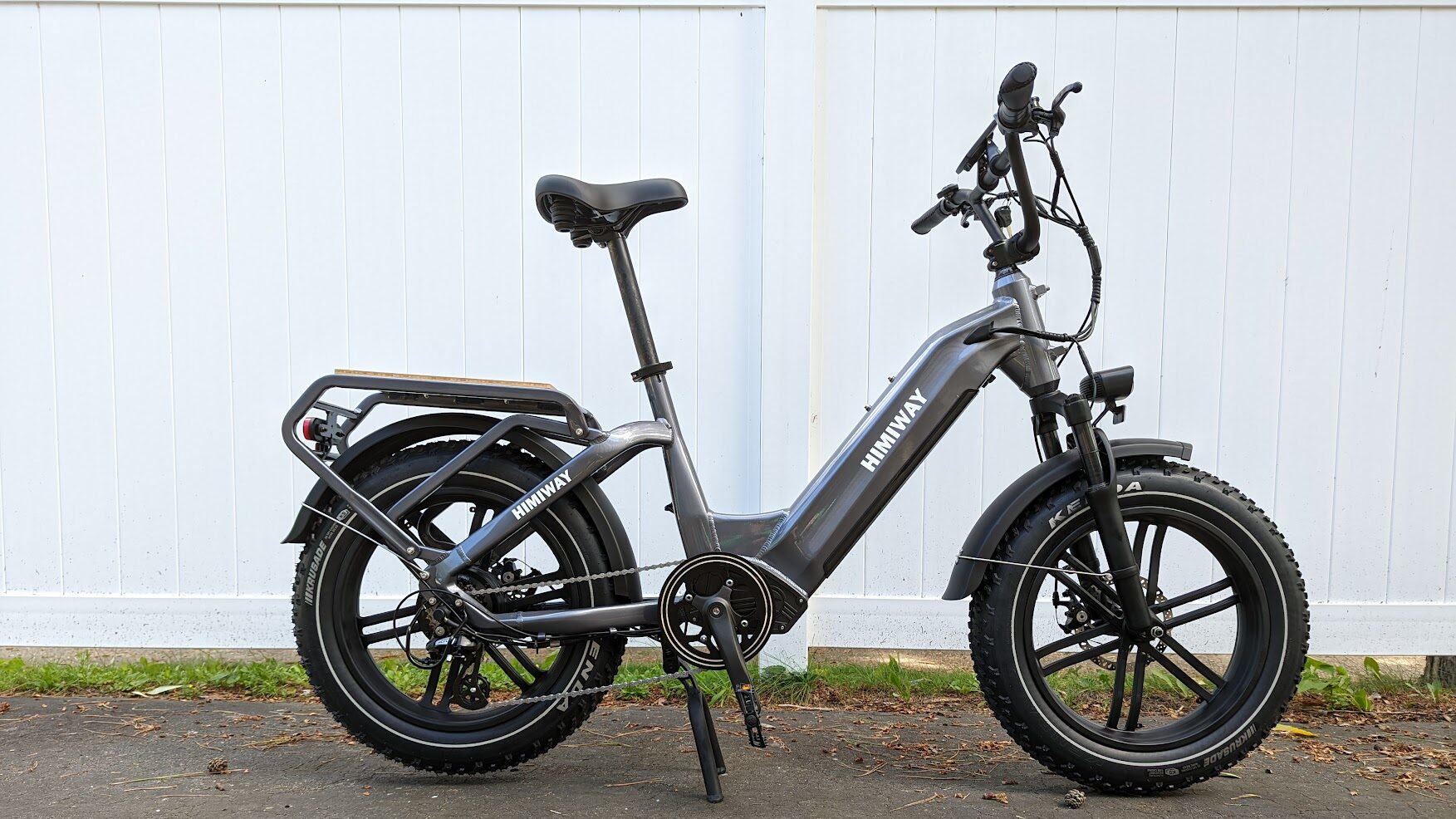 Himiway has been a leader in the fat tire ebike space, and the new Himiway Big Dog is no exception. In this review, we look at how this $1,999 fat tire ebike stacks up to the competition — especially for shorter riders who might be put off by other bikes. As a reminder using our affiliate link will get you $65 off any ebike purchase with Himiway.
Read on for our written review or check out our full Himiway Big Dog video review below!
Himiway Big Dog video review
Frame design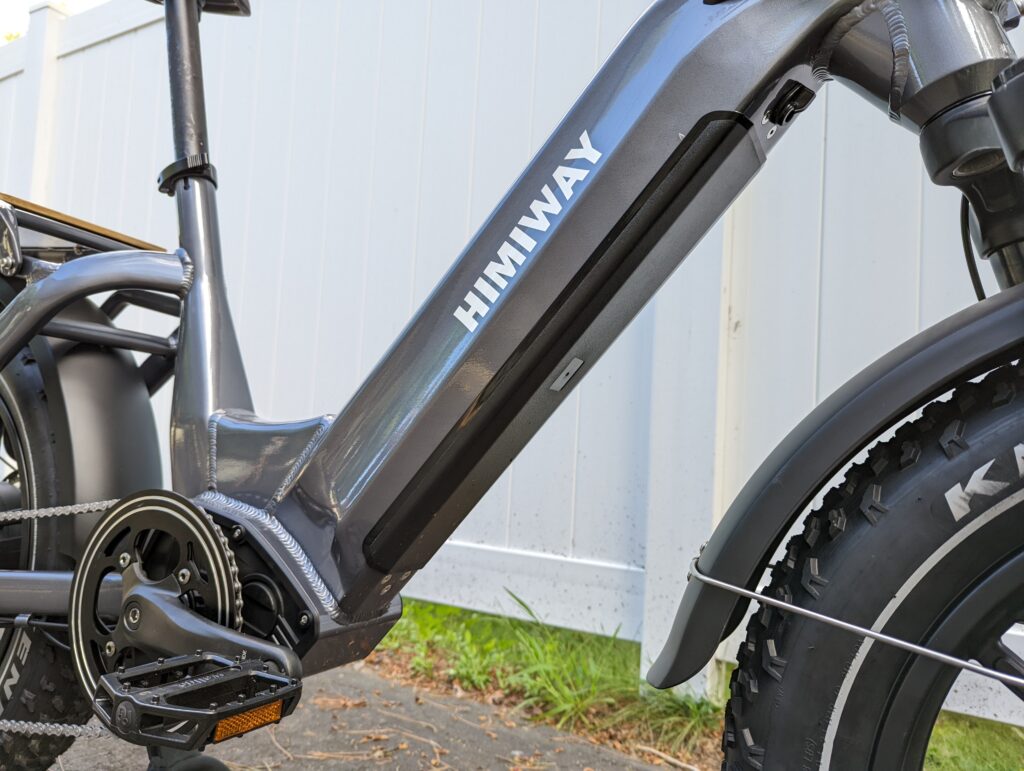 The Himiway Big Dog is like the Himiway Zebra's little sibling. It sports a similar shape, just miniaturized to accommodate shorter riders and be less intimidating. It's still a heavy bike at nearly 91lbs but Himiway notes a rider minimum height of only 5 feet, and with a step-through design, the bike should fit just about everyone. Himiway also put the battery inside the frame, keeping it out of the way for shorter riders. A more upright riding position is provided by the BMX style handlebars.
Though the frame doesn't feature a huge cargo carrying space like an extra long cargo ebikes, its rear rack is wide and wooden, with the Himiway brand embossed on top. And with a carrying capacity of 400 pounds, the Big Dog will is certainly capable of hauling.
The bike comes with one frame size and height, and according to Himiway it should fit riders from 5′ to 6'2″. In our riding, we found that those on the taller end may feel more comfortable on a full-sized fat tire ebike like the Zebra.
Big Dog Battery, Motor and Display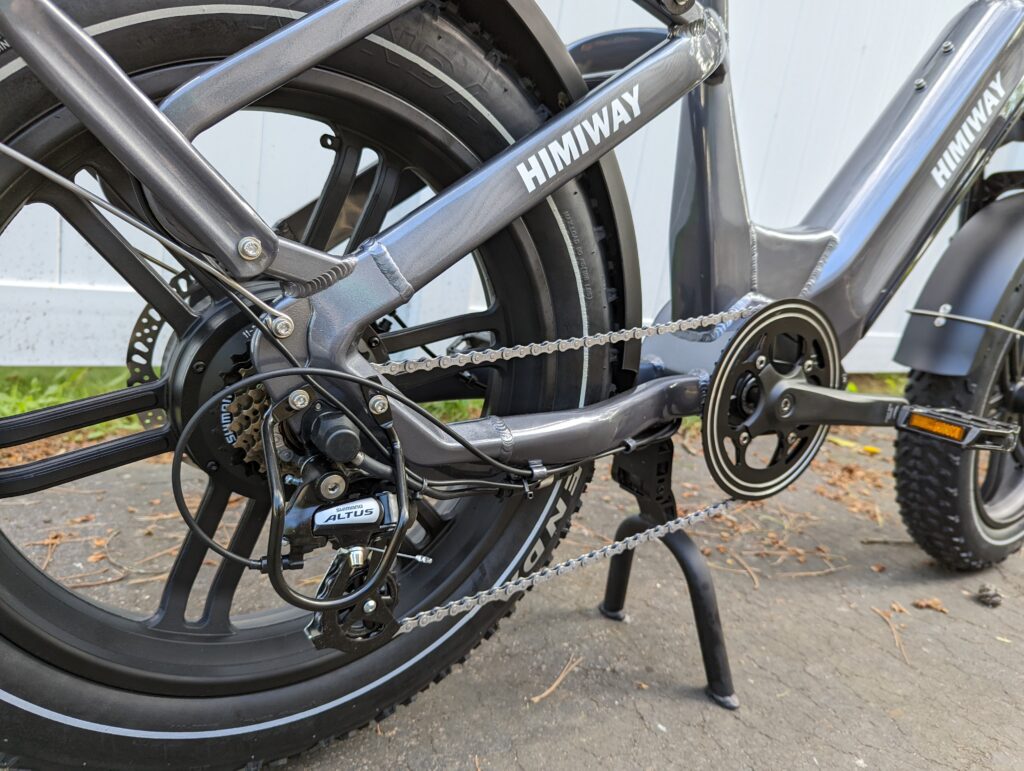 The Himiway Big Dog comes with an impressive 48v, 20Ah battery using Samsung or LG cells. Most bikes don't come with that kind of capacity and it ought to provide an impressive range. Himiway's specs say 60-80 miles on a charge, though that can vary widely depending on a number of factors including rider weight, tire pressure, wind, terrain etc. The Zebra with the same battery lasted for 60 miles in our range test.
Someone could easily mistake the Big Dog as a mid-drive motor but it is actually a 750-watt rear drive motor with a 22-amp controller. What you're seeing near the crankset is the housing where the controller resides. The Big Dog should actually peak around 1,000 watts, and with 86nm of torque, is a very powerful ebike. And, like the Zebra, it's heat resistant to provide more trouble-free riding.
The monochrome display might look a little plain, but its capabilities are anything but. Under advanced settings, a rider can change not only the number of pedal assist modes but how much power each one has. That could be particularly useful for riders who want a lighter touch on the first pedal assist.
The Himiway Big Dog ships as a Class 2 electric bike with a top speed of 20 mph with the right hand twist grip throttle or pedal assist.
Himiway Big Dog Components
The shocks and drivetrain are similar to the Himiway Zebra. It comes with an entry-level Shimano 7-speed SIS Index thumb shifter which is paired with a Shimano Altus rear derailleur. That's all pretty standard on this range of ebikes.
The Big Dog includes Tektro Aries mechanical disc brakes with Tektro 180 mm rotors. Motor cutoffs help you ensure the power stops once you squeeze the brakes. One important distinction is that the Zebra currently comes with hydraulic disc brakes, which offer a better feel and performance.
Like the Zebra, the Big Dog comes with a 14-28 tooth rear freewheel and up front is a 46 tooth single-walled front chainring.
One area where the Big Dog differs from the Zebra is the tire size. The Big Dog offers the moped-sized 4″x20″ Kenda Krusade nobbies. (The Zebra comes with 26″x4″ wheels closer to the original mountain bike size.) Both provide plenty of traction in a variety of terrain. The Big Dog tires sit on mag wheels which means they will never need adjusting though they do weigh more than spoked rims. View the full spec list.
Accessories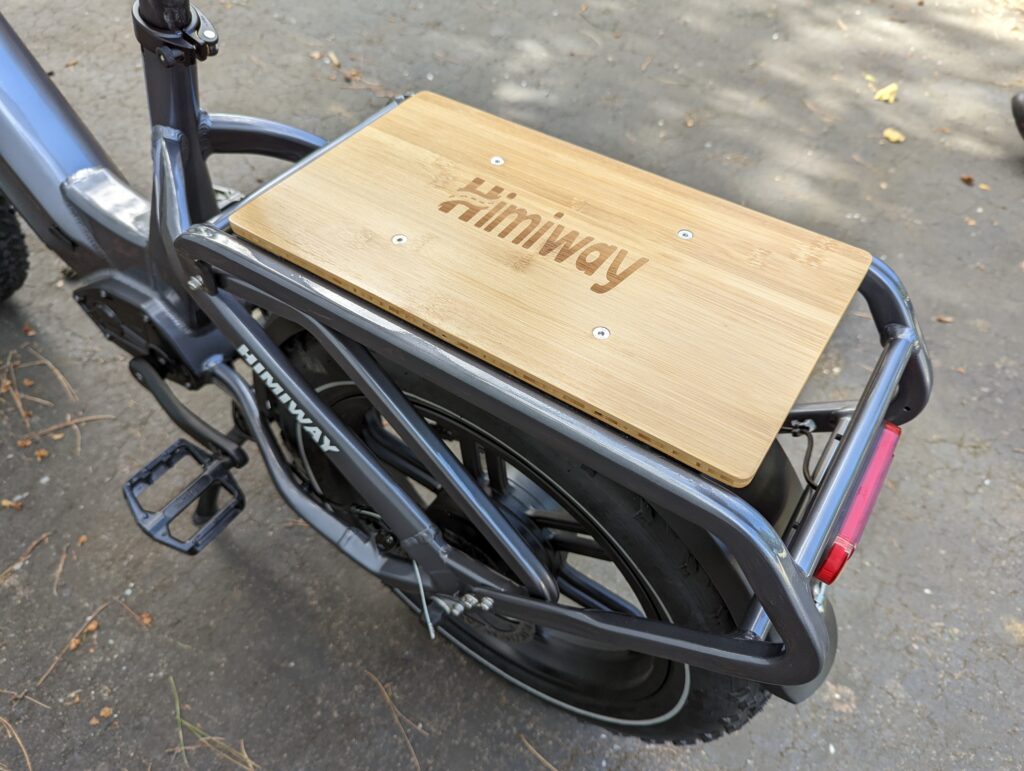 The Big Dog comes right out of the box with the aforementioned extra-wide rear rack, plastic fenders for the front and rear, a 16-in-one multi-tool and a cool biker hat. A dual led front light runs off the main battery and a custom rear "Himiway" rear light can be found behind the rear rack.
Besides that, you can buy a front rack, rear rack bag, a portable power station, a waterproof pannier bag and a myriad of other accessories.
Himiway Big Dog wrap up
Himiway has built a business out of fat tire ebikes and the Big Dog is a solid entry into the mix. It should be perfect for shorter riders because of its step-through design. And with a capacity for 400 pounds of payload, it also should make a solid bike for a heavier rider. (One reviewer thanked Himiway for making a bike that fit him.)
The Himiway Big Dog might be the perfect bike for someone who wants cargo capacity but doesn't necessarily want a large cargo bike. Plus it's capable with its powerful motor and has a large battery for more adventuring.
Electronics (Battery, Motor, Display)

9.5
Components (Shifter, Derailleur, Fork)

8
Himiway Big Dog Pros
Accessible frame design for shorter riders
Custom LCD Display
Mag wheels won't need adjusting
Large battery capacity
Powerful motor
Nice paint job and rear rack
Better than average LED lights
Himiway big dog cons
Chain hits dual kickstand when riding over bumps and makes noise
Mechanical disc brakes (would prefer hydraulic at this price)
Pedal assist motor power sometimes didn't kick off as fast as it should