Last fall we reviewed the Magicycle Cruiser and now we are happy to introduce and review the Magicyle Cruiser Pro. This is a fat tire ebike cruiser with some key upgrades compared to the original. This is a bike meant to conquer all terrain and steep hills. It is also a bike focused on comfort.
It's priced at around $2000 with the original currently at $1,599. If you are thinking of buying, keep an eye out, Magicycle offers sales frequently. Click HERE for current pricing. If you plan to buy, please use our link, it helps support Ebike Escape so we can continue to review ebikes.
Magicycle Cruiser Pro Review Video
Magicycle Cruiser Pro vs Magicycle Cruiser
The most significant upgrade on the Magicycle Pro is the brakes. While the original Magicycle Cruiser has mechanical disc brakes, the Pro has Tektro hydraulic brakes with 180mm rotors. When you have a bike with this much power and the ability to go off-road, you'll appreciate quality brakes! As with almost all ebikes on the market today, the brakes cut power immediately to the motor.
Another great improvement is the battery. Both the original and the Pro come with a 52V battery which is a standout feature when compared to other fat tire ebikes. The original Cruiser comes with a 15Ah battery but the Pro has a 20Ah (1040 watt-hours of capacity!).
The larger battery in the Magicycle Pro helps expand the range. The company lists range of the original as 55 miles but with the Pro, they say you can get 50-80 miles per charge. The battery charges fast and has features designed to provide it with a long life such as overcharge protection. The battery takes 3-5 hours for a full charge.
While the battery got an upgrade, the motor is the same. A powerful 750-watt brushless geared hub motor with a peak of 1,000 watts. Check out our review video above to see the motor in action.
Magicycle Cruiser Pro Ebike Frame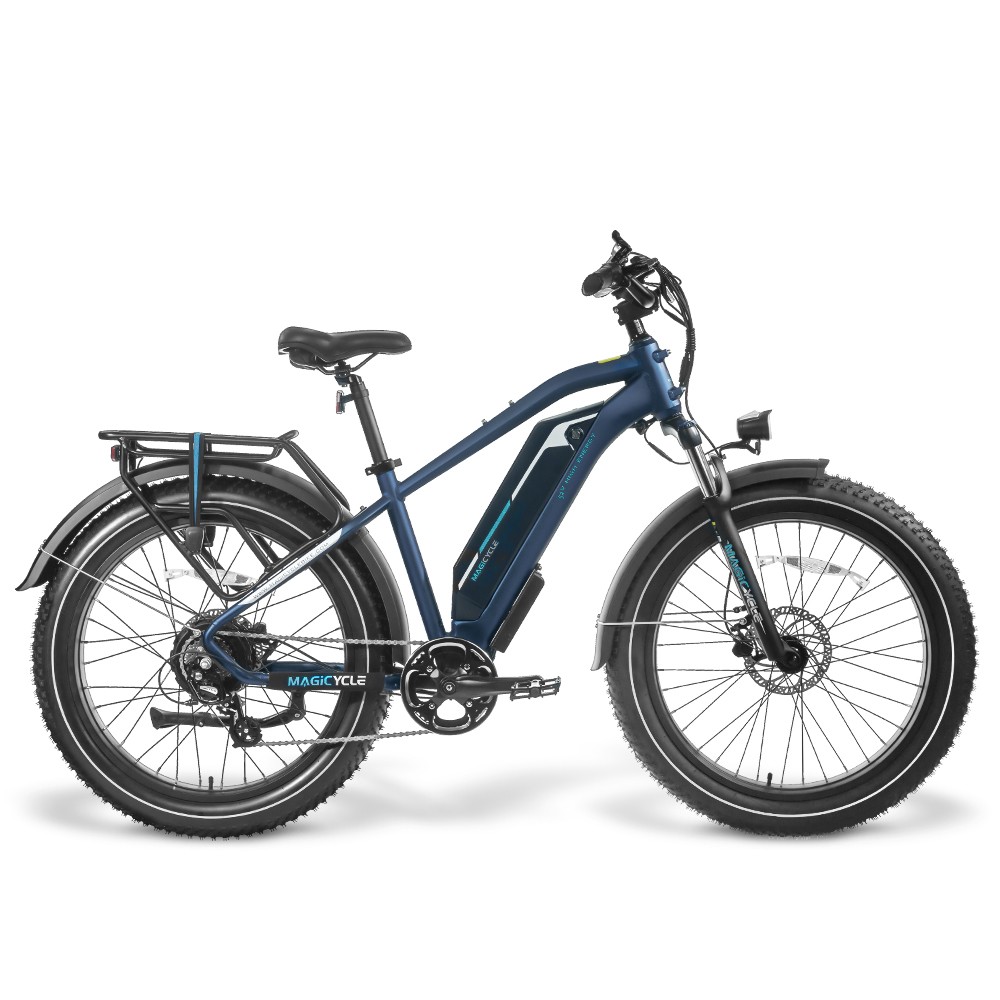 You can choose between two frames on the Magicycle Cruiser Pro: a traditional step-over frame or the step-though. Although called a step-through it's more of a mid-step. Nonetheless, it does allow the rider to hop on the bike easier than the high step.
This bike is designed for those between 5'5″ and 6'5″. The weight of the bike is 80 lbs and the payload capacity is 350 lbs. The step through has a standover height of 26″ and comes in Pearl White or Midnight Blue. The step-over model comes in Midnight Blue only.
Both frame types come with a front suspension fork with a lock-out feature. Those who prefer a more upright riding position may want to consider adding an adjustable stem or stem riser to change the position of the handlebars.
The Same Great Display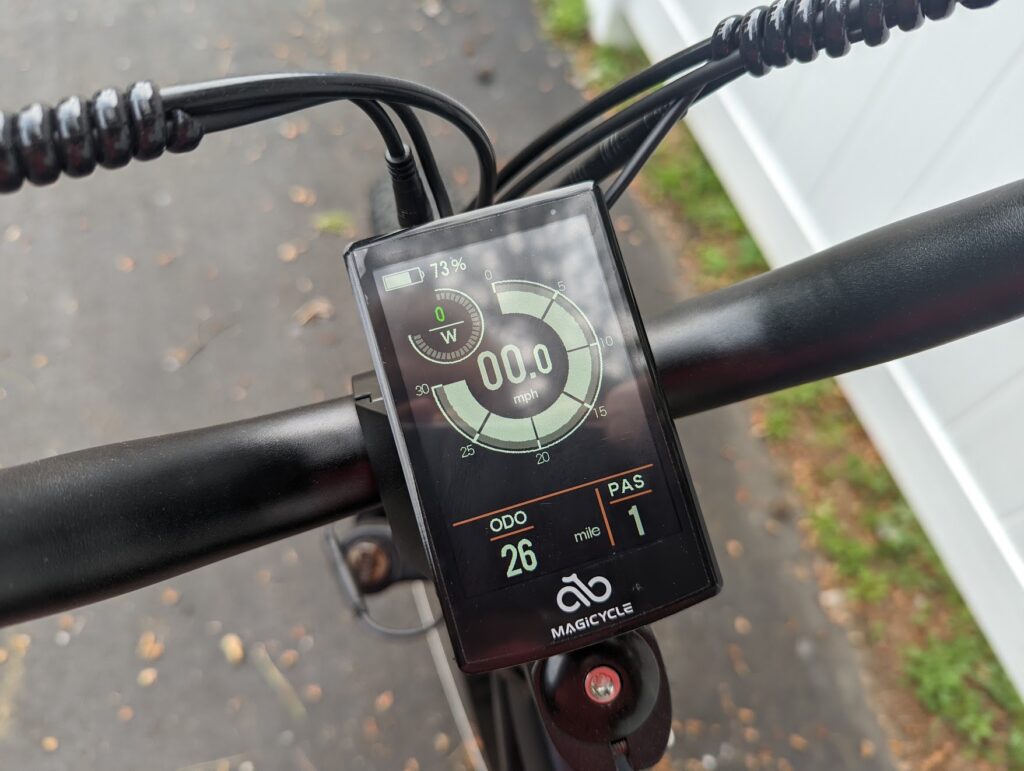 Magicycle has a great display on the original and they didn't need to change for the Pro. It is a multifunctional full color LCD display with backlight. Like other LCDs, it can be a little difficult to see in bright sun. The display is visually appealing and shows speed, mileage, power, battery capacity, and remaining power.
Unlike many ebikes, getting into the advance settings is pretty intuitive. You hit the "i" button and have immediate access to lots of options to customize. One of the most helpful is the ability to fully customize how many pedal assist levels you want (up to 7) and how much power you want each level to provide.
The more ebikes I ride, the more this feature appeals to me. Depending on your terrain and elevation gain, it may feel like a large or minuscule jump between factory settings when using pedal assist. It is great to be able to make it perfect for your ride. Other options you can select allow you to see time, current wattage, and more.
Components
The Magicycle Cruiser Pro comes with full plastic fenders and a very sturdy rear rack. I find these two features key for commuters. The rack comes with straps so it's ready for baggage right away. The tires are Kenda sized at 26″x4″. They have a reflective sidewall to help make sure you are seen on the road. It also has an integrated front 6V LED light and an integrated rear tail light. As is becoming more common, the brake lights become brighter when the brakes are applied. That is always a nice safety feature.
Magicycle stayed with the same Shimano SIS Index 7-speed shifter thumb shifter which is an entry-level shifter we see on many ebikes. There is a 14-28T freewheel in the rear and a 42 tooth front chainring. They included a chainstay protector to help protect the frame.
The controller on the bike is located underneath the downtube of the Cruiser Pro which makes it more exposed than others. If you are planning to ride off-road, consider getting the skid plate they sell as an accessory to help add some protection.
Option Accessories from Magicycle
If you like to modify and add accessories you will love Magicyle's site. They have a large selection of items to add to your bike. This includes things such as bike mirrors, baskets, cell phone holders, suspension seat posts, water bottles, and a wide variety of bike rack bags including waterproof panniers. That is nowhere near an exhaustive list! They even sell a Magiclycle pet leash and a massage gun! If you'd like our thoughts on accessories check out our full electric bike accessories list.
In conclusion…
If you want power and a huge battery, this might be the bike for you. The Pro is not surprisingly more expensive than the original Magicycle Cruiser but the better specs justify it. The brakes and battery are also great upgrades.
This is a relatively new brand with customer support based in China which is something to be aware of. So far we've heard no complaints about the company but will continue to keep a close eye on the company. Click here for current pricing, pull the trigger and buy this bike or just learn more.
Electronics (Battery, Motor,Display)
10
Components (Shifter, Derailleur, Fork)
8
Magicycle cruiser pro pros
52V 20 Ah Battery
High step and mid step options
Powerful motor
Hydraulic disc brakes
Included rear rack and accessories
Easy to use LCD display
Magicycle cruiser pro cons
Exposed external controller
Customer service based overseas
Not ideal for people under 5'5″