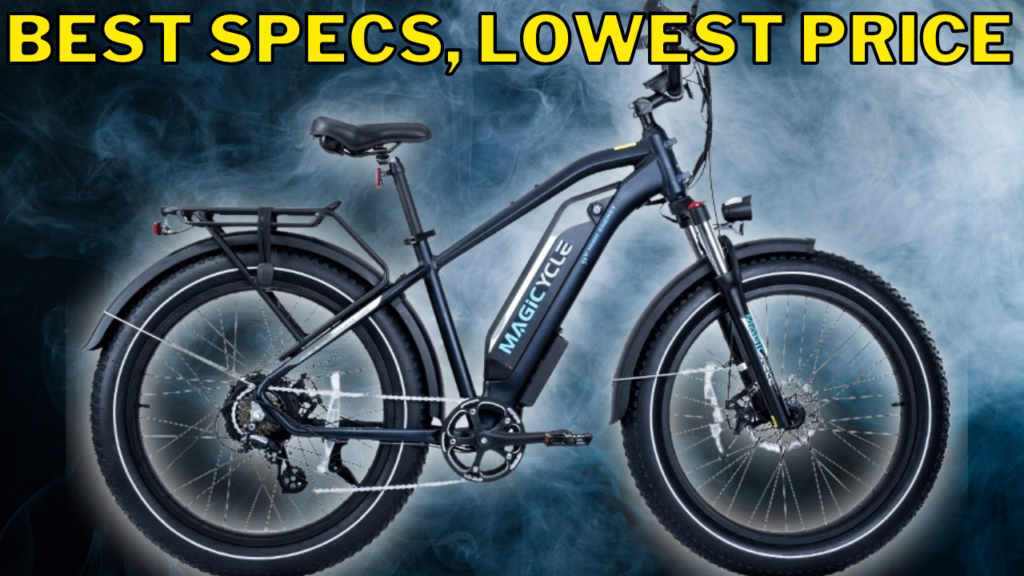 There are a number of fat tire ebikes on the market these days, and the Magicycle Cruiser has done well to stand out from the pack. The fat bike brings a solid mix of cost-savings matched with features that makes this a great entry-level ebike. The Magicycle Cruiser is currently priced at $1,599 though the company tends to offer discounts from time to time so keep an eye out on our electric bike discounts code page.
The bike feels similar to some of the Ariel Rider bikes we've reviewed when you consider the power of the motor. It's fast and powerful and almost feels a little like getting on a motorcycle, especially when you consider the size of these fat tire ebikes. Whether for the street or out on the trails (or trudging through the snow), the Magicycle Cruiser gets the job done. Check out our Magicycle video review below or read on for our written review.
The frame
The Magicycle Cruiser's frame comes in both step-through (technically a mid-step) and full frame models. It's a fat tire bike but has the shape of a cruiser (hence the name, right?) due to its handlebars which give a more upright riding position. The front suspension fork has a lockout feature, and is unbranded (has the Magicycle logo on it but no manufacturer for the fork).
The frame color is midnight blue, and a pretty stylish shade in this reviewer's opinion. It's also offered in white for the step-thru variation. And with some great cable management putting much of the wiring through the frame, it'll look clean and slick as well.
The bottle cage bosses adorn the top of the top tube, an unusual place for them. But it can be hard to find good places to locate bottle cages on this style of frame. Finally, while the battery is not integrated into the frame, the design of this battery makes it look like it is. Note that the battery on the Magicycle removes from the side, making it easy to install and remove.
The motor
It feels powerful, and there is a reason why: The Cruiser comes equipped with a 750-watt, 87nm brushless geared hub motor that pushes the bike to a max speed of 28 miles per hour. While it is advertised as a 750 watt motor, it is peaking much higher.
It's powered by a 52-volt, 15Ah battery (780 watt-hours) that should give the Cruiser a 55-miles range on the high end on the lowest pedal assist mode and providing plenty of your own power. Real range is going to be in the 30-40 mile range. The 52 volt system is really what sets this fat tire ebike apart from others, especially when you consider the price.
Using the included 3 Amp quick charger with a built in cooling fan, it takes 3-5 hours to charge up. A bump out for the controller is found on the bottom of the downtube. It's a bit awkward in placement but with this frame design there are few other options – and we've seen this placement on other ebikes.
Display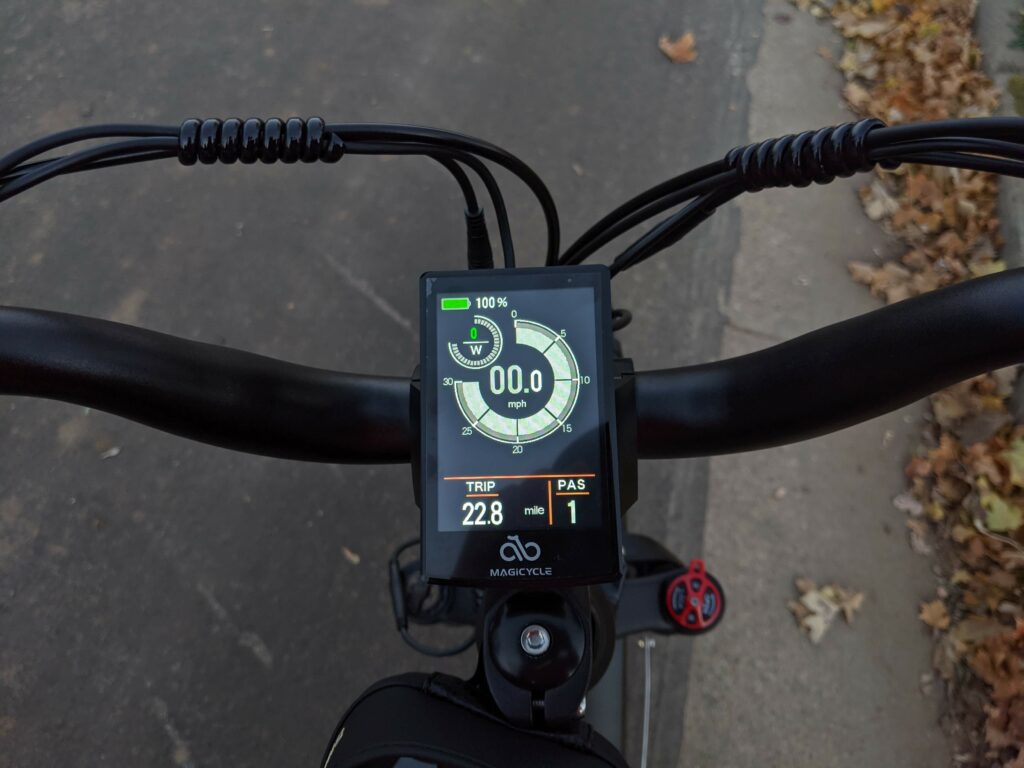 This might be one of the more impressive aspects of the bike. Its display is like a small smartphone, and comes with a number of features. On the front you have access to the bike's seven pedal assists modes and can see speed, battery percentage and trip, and you can toggle through total miles and max speed. A couple of button presses and you can access menus that allow all kinds of customization.
One cool thing that helps the Magicycle Cruiser stand out from many other ebikes: the pedal assist levels are fully customizable. That will help you really dial in the right amount of assistance to keep your ride smooth and easy.
Magicycle Components and Accessories
The bike has a Shimano seven-speed Altus derailleur with a Shimano thumb shifter and a twist-grip throttle. These are common components on many more affordable ebikes and in our experience perform just fine.
The bike comes with 180 mm disc rotors, larger than the 160 mm you often see. Our review model came with unbranded brakes which were perhaps the one downside of this ebike. They just didn't feel as nice as other mechanical disc brakes. However, we've learned that Magicycle is improving their brakes already in the next iteration which means the company is listening to customers.
The Magicycle Cruiser comes with 26×4″ Kenda fat tires with reflective sidewalls for increased visibility at night. You get integrated front and rear lights very similar to the ones found on Rad Power Bikes. The front has two lights in one; An outer ring to make the bike visible to others, and an inner one to light your path as you ride. It comes equipped with a rear rack and plastic fenders as well. Magicycle even includes a top tube bag and a few other goodies. Suffice to say the Magicycle comes fully outfitted. Check out the full components list.
Magicycle vs Himiway vs Rad Power Bikes
There are many similarities between Magicycle Cruiser and Himiway Cruiser. In fact, if you squint it might be hard to tell the difference altogether. Himiway certainly has more of a track record, but beyond that these two electric bikes are so close to each other you're kind of splitting hairs trying to compare them. Perhaps one other difference to pay attention to are the displays and the slightly different design of the rear rack if that's something you plan to use often.
When comparing the Rad Power Bikes RadRover and RadRover 6 Plus to the Magicycle Cruiser there are more differences. Both the Magicycle and Himiway are more powerful given they can reach speeds up to 28 mph. Rad Power Bikes come as Class 2 electric bikes with a top speed of 20 mph (though it can be overridden – see this post for overriding the RadRover 6 Plus). The climbing ability on the RadRover 6 Plus is similar to the Magicycle and many will appreciate the semi-integrated battery and controller. In addition the RadRover 6 Plus has hydraulic disc brakes which are superior to mechanical disc brakes. Spec wise, both the Magicycle and Himiway Cruisers outshine the RadRover 5 (non Plus version) with their larger battery but there is something to be said about buying from the Rad Power Bikes, the largest seller of ebikes in North America.
Final thoughts on the Magicycle Cruiser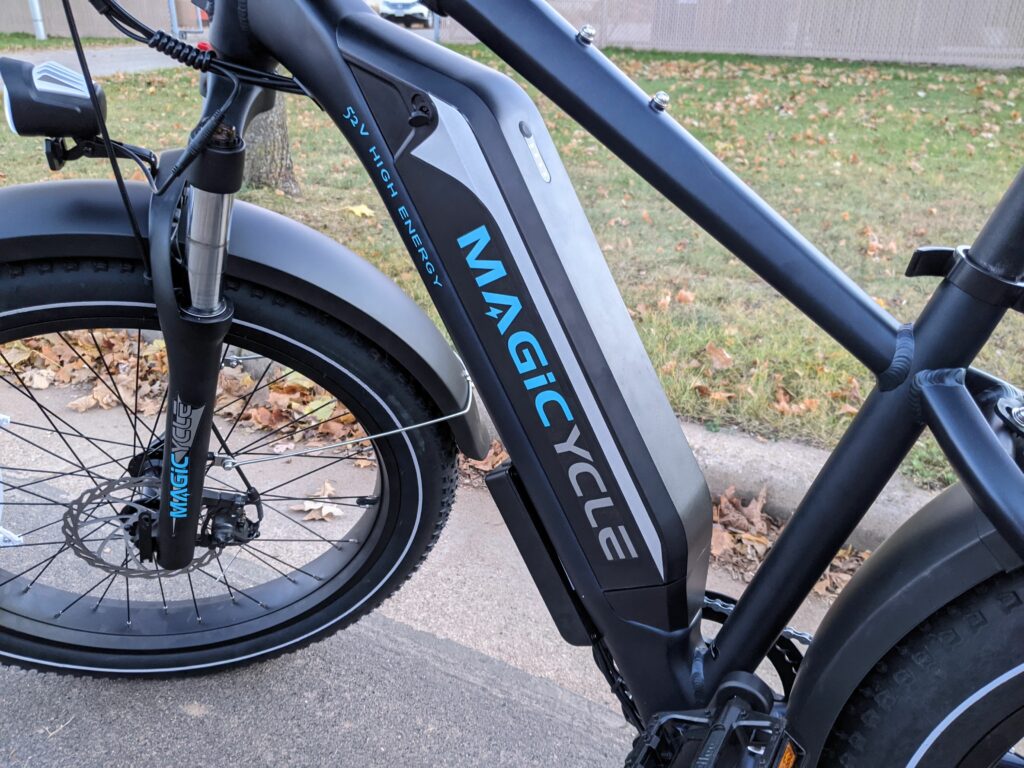 Overall it's pretty impressive the number of features they packed into this bike. There are some things here that we'd expect to see on much more expensive bikes. Those include the fancy display and 52 volt battery. The name brand Shimano components are nice to see we would have liked to see name brand mechanical disc brakes.
Testing a bike is about more than adding up the parts catalogue. Feel matters, and the Magicycle Cruiser really feels like a great value. They seem to have made a quick name for themselves and are a new company so be sure to do research on customer support. Although there are a couple of things we'd like to see different, the Magicycle should be on your list if you're looking for an affordable electric fat tire ebike.
Check out the Magicycle Cruiser today.