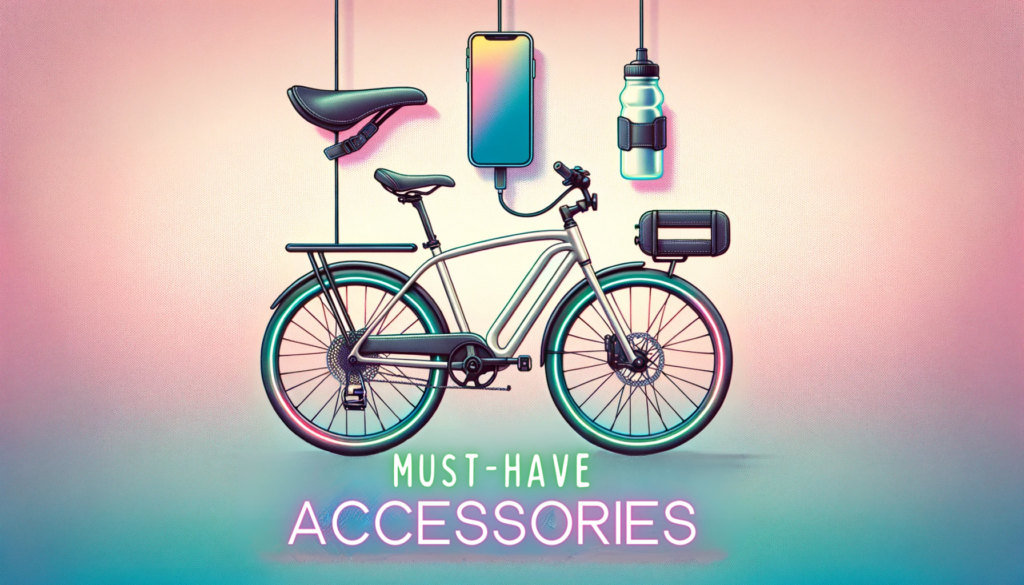 Embarking on an ebike adventure is exhilarating, and having the right accessories can significantly enhance your ride. Whether it's for safety, convenience, or adding a touch of comfort, the right gear is indispensable. We've curated a list of the top 7 ebike accessories, inspired by the thousands of miles we've ridden on our own ebikes. Many of these indispensable items can be found at shop.ebikeescape.com, making your quest for the perfect accessories a breeze.
Below is a summary table of the top 7 ebike accessories along with brief descriptions and links for easy reference and purchase.
| Accessory | Description | Link |
| --- | --- | --- |
| Ebike Mirrors | Adjustable with ball end, HD-glass optional, bar-end or handlebar mounted | Ebike Escape Mirrors |
| Saddles | Plush comfort, wide with shock absorption | Cloud-9 Saddle, YLG Seat |
| Suspension Seatposts | Improved ride comfort over bumps | SR Suntour SP12-NCX |
| Ebike Rated Helmets | Robust protection with NTA 8776, built-in LED lights | XNITO Helmet |
| Locks | High security chain or folding lock | Kryptonite Locks |
| Cell Phone Holder | Secure hold, easy access, good for large phones and cases. Quick release or bracket mount | ElastoKASE |
| Water Bottle Cage | Easy access to hydration for large insulated water bottles. Strap mounted, bottle cage boss mount or handlebar mount | ABC Water Bottle Cage Mount |
1. Mirrors: Enhancing Road Safety
A good set of mirrors is your ally in staying safe on bustling roads. The mirrors available at shop.ebikeescape.com provide a crystal clear view of what's behind, allowing for better decision-making while on the move. Available in bar-end or handlebar-mounted and in HD or regular glass.
2. Saddles: Your Comfort Companion
Long rides demand comfortable saddles. The Cloud-9 Cruiser Select Saddle is a plush haven, while the YLG Oversized Comfort Bike Seat caters to those preferring a wider seat. Both are excellent in reducing pressure and fatigue, making your rides a comfortable venture.
3. Suspension Seatpost by SR Suntour: Smooth Sailing on Rough Terrains
Bumpy rides are no fun. The SR Suntour Suspension Seatpost is a magic wand that absorbs the roughness of any terrain, ensuring a smoother, more enjoyable ride. Pairing this with a new saddle can make it feel like you're riding an entirely different ebike. More details in our review.
4. Helmet by XNITO: Safety with Style
A helmet is a non-negotiable safety gear. The XNITO Helmet doesn't just protect; its aerodynamic design and superb ventilation are also stylish, making it a trendy safety accessory. It offers NTA 8776 safety which is a standard specifically for electric bikes that travel up to 28 mph. For even more options check out our best ebike helmets list.
5. Kryptonite Locks: The Guardian of Your E-bike
Security is paramount. With Kryptonite locks, rest assured your e-bike is safe from theft, giving you peace of mind whenever you need to leave your ebike unattended. Chain locks are the most secure and cable locks shouldn't be used with ebikes. Folding locks and U-locks are a nice in-between. Shop Kryptonite's NYC locks for the most safety through the Evolution series locks also provide good security for the price. Folding locks and chain locks give you the most room for lock up whereas U-locks can be cumbersome depending on the location.
6. Cell Phone Holder by Elastokase: Stay Connected
The road ahead is clear with your phone securely mounted in the Elastokase Cell Phone Holder from our shop. It's a must-have for easy navigation and staying connected while riding. The cinch strap ensures even large phones stay in place. These cases are available in a quick-release or bracket mount.
7. ABC Bottle Cage Mount: Hydration at Arm's Length
Staying hydrated is key to enjoyable rides. The ABC Bottle Cage Mount from our shop ensures that your water bottle is always within reach, making hydration convenient and hassle-free. But the biggest benefit is that you can use a water bottle you already have. Plus various mounts are available including a strap mount, bracket mount for handlebars or for standard mounting to bottle cage bosses.
With these top 7 e-bike accessories, your rides are not only safe and comfortable but also convenient. Head over to shop.ebikeescape.com to find some of these indispensable accessories and gear up for an unmatched ebiking experience. Your journey towards adventurous and safe ebiking starts with the right accessories. Gear up, ride on!