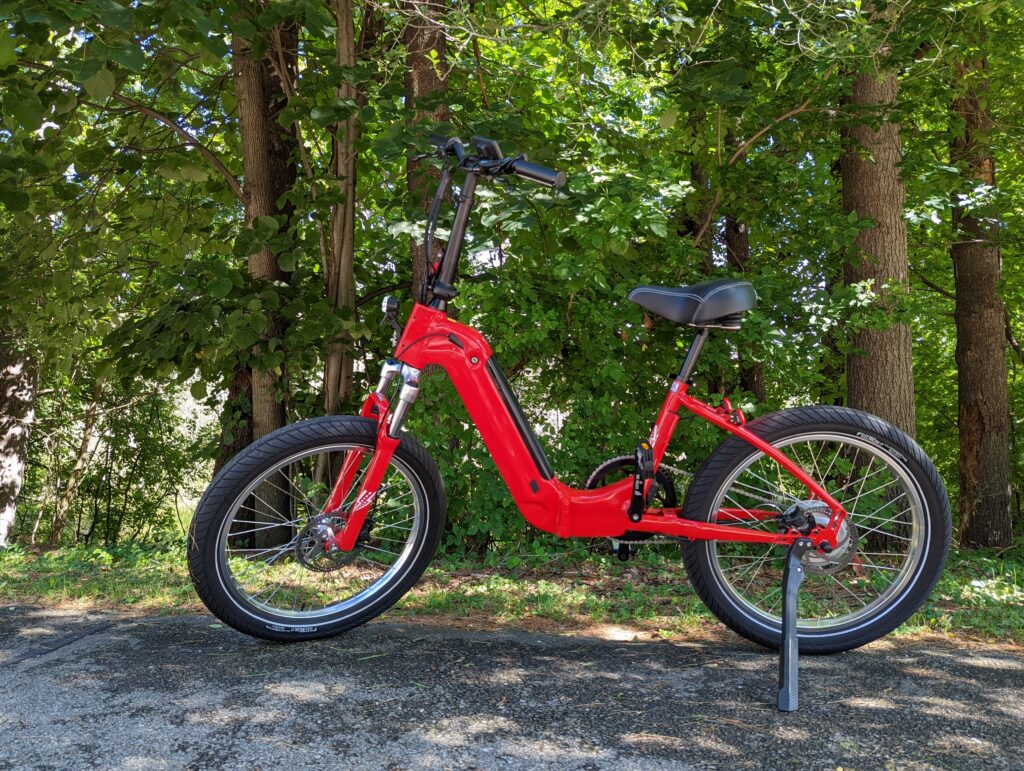 Excitement is an understatement for this Electric Bike Company Model F ebike. Made right here in the U.S. Electric Bike Company (EBC) created the Model F for those who want a custom, built-to-order ebike that is more compact as it's also a folding bike. The current market price is $1799 regularly $1999, plus shipping. Unlike many ebike brands, EBC bikes come shipped via freight, fully assembled with the front tire attached. This means your ebike arrives in the same condition as it was in when it left the California factory.
Read on for our Model F review or check out our Electric Bike Company Model F video review below.
Electric Bike Company Model F Review Video
Design of the Electric Bike Company Model F
This is not just another folding ebike, it's Electric Bike Company's take on a step-thru folding ebike. If you're familiar with the brand they have historically focused on California cruiser ebikes (see their website). The release of the Model F (F is for folding) marks EBC's entry into non-cruiser ebikes. Beyond the quality, its larger tires are what make it stand out from other folders. Most folding electric bikes sport 20×3″ or 4″ tires. With the model F, EBC went with 24″ x 3″ tires. While these tires ultimately raise the riding height, the ride feel is comparable to that of many other folding ebikes.
Three stock colors are available including red, white, and black but like other Electric Bike Company models, you can use their color customizer to make this ebike your own for an additional cost. The hydroformed frame is made out of Aluminum 6061. On our scale, the Model F weighed in at 63.5 lbs.
There are some drawbacks to the first generation Model F. One downside is that it has no stand to rest on when the bike is folded. Typically these are welded to the bottom of the frame. This is something that is almost universally included on folding electric bikes, not only to protect the frame but also have the bike sit upright by itself.
A second downside is the pedal distance from the ground to the bottom of the pedal at about 8 inches. This is likely the result of the frame design, pedal crank length, and tire choice. To get full leg extension on the Model F, the seat needs to be raised higher than it otherwise would need to be, resulting in it being much more difficult to get off the bike to the side. Our recommendation is to instead hop off in the front of the bike with the step-thru frame between your legs so long as you feel comfortable doing so. This is demonstrated in the video review above. Be sure to visit the EBC website to see other Model F frame measurements.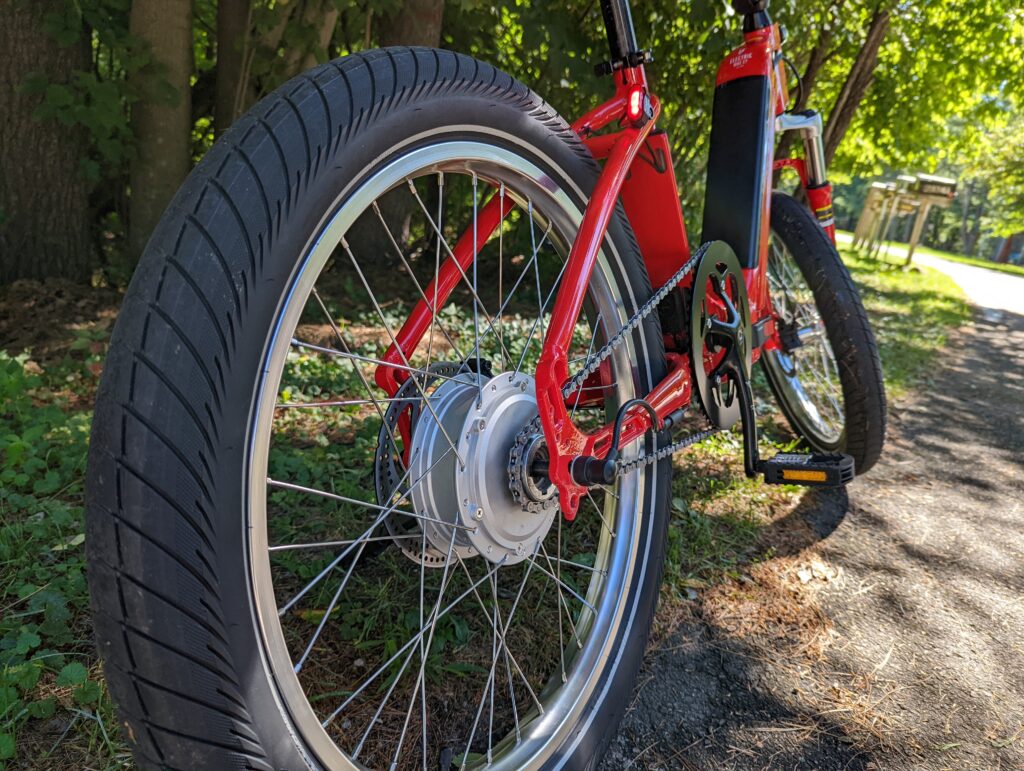 Model F Specs
In the cockpit is a user-friendly colored LCD screen with a USB plug below for charging a device. Housed in the downtube is a 12Ah battery, slightly smaller than the average ebike battery size of 14Ah.
The Model F utilizes an MXUS 750 watt motor (now branded EBC) that peaked just shy of 900 watts in our testing. It ships as a Class 2 electric bike with the left-hand thumb throttle kicking off at 20 mph. However, we were able to pedal the bike up to speeds around 23 or 24 mph with pedal assist out of the box.
In the advanced settings of the display, it is possible to override the top speed to about 25 mph with throttle OR pedal assist. However, this should be done at your own risk and according to all local laws and regulations.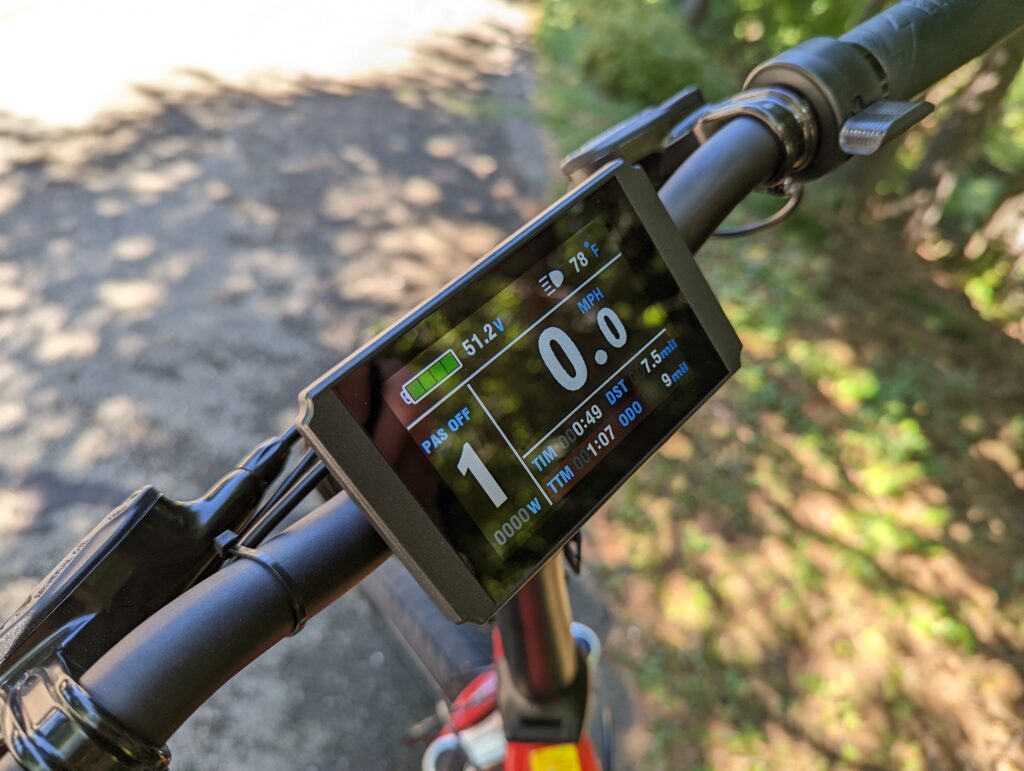 Model F Components
Part of the higher cost of the Model F is due to the higher quality components included. On the handlebars, which are admittedly shorter than we see on many folding ebikes (22.5″) you'll find custom vegan leather locking grips. These are imprinted with Electric Bike Company, giving the bike a more premium feel.
Another standout feature is the large saddle cushy saddle. It is among the best seats we've seen included on electric bikes that we've reviewed. Rounding out comfort is the Zoom front suspension fork with lockout.
Electric Bike Company, not one to compromise on quality went with Bengal hydraulic disc brakes that perform extremely well. In the front and rear are 24″x3″ Electric Bike Company Rhino tires with reflective sidewalls. According to EBC they are also puncture resistant.
An important distinction on the Model F is that it is a single-speed. In the front is a massive 58 tooth front chainring. It's paired with a 16 tooth in the rear in order to prioritize pedaling at higher speeds. View the full Model F specs.
Model F Accessories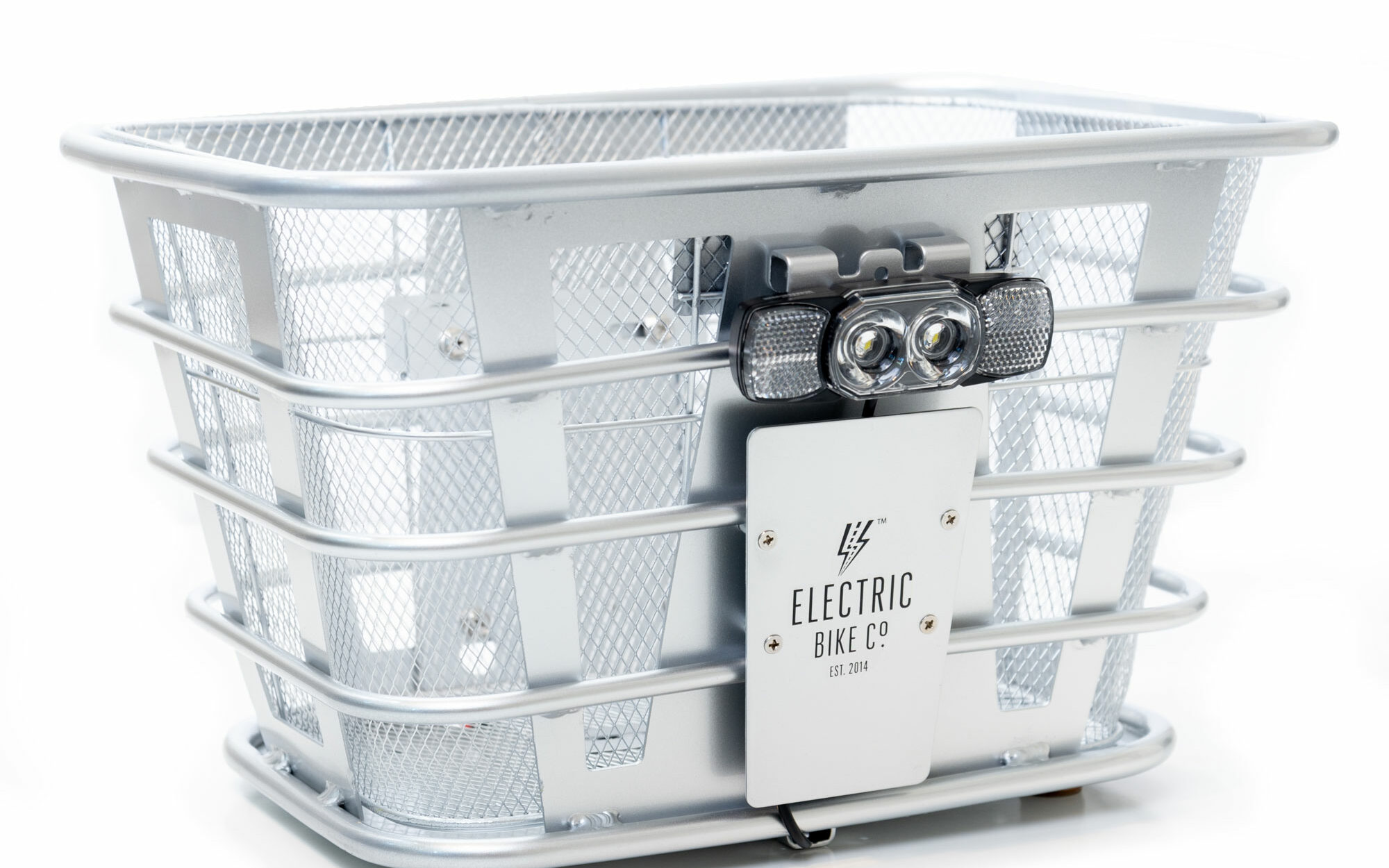 Included in the purchase price of the Model F are front and rear LED lights that run off the main battery. In addition, you receive an internal alarm with two key fobs. This "locks" your bike so if anyone were to start to move the bike it will sound a loud alarm. This does not negate the need for a quality bike lock but it is a nice additional safety measure.
This ebike can have all the bells and whistles with its vast array of available accessories. Even better, some of these accessories can be custom painted as well, such as the front basket (our favorite) or the front and rear fenders.
EBC has a variety of other ebike accessories available on their website, from helmets to cell phone mounts, even bike racks. For more options check out our electric bike accessories list.
Conclusion
Overall the Model F is an interesting entry point for EBC into non-cruiser ebikes. The quality matches we have come to expect from Electric Bike Company but we would like to see some subtle changes in the next generation. If you're curious about other Electric Bike Company ebikes, check out this review on the Electric Bike Company Model E.
Electric Bike Company Model F Review
Electronics (Battery, Motor and Display)

9
Components (Shifter, derailleur, fork)

9
Powerful MXUS motor
Quality Bengal brakes
Customizable colors with high end paint job
Quality components/aesthetic touches throughout
Comfortable saddle
Alarm included
Quality lights
Variety of accessories available
Ships fully assembled
No frame stand when folded
Awkward geometry for getting on and off
Lower than average battery
Narrow handlebars