The Model E electric cruiser style ebike from Electric Bike Company is distinguished by its affordability and quality. But don't let the beach cruiser frame fool you. The model E is powerful and also comfortable. It's the most affordable ebike in the Electric Bike Company lineup, designed for individuals on a budget. Read on for our written Electric Bike Company Model E review or watch our video review below.
Unmatched Quality
The Electric Bike Company (or EBC) Model E has a base price of $1,699, which is on the moderate price range for an electric bike. But for the price, you won't find a more polished electric bike. From its wheels to seatpost and handlebars, Electric Bike Company is setting the bar for quality. Part of this is due to their ebikes being built in the US with global components.
If you plan to purchase an Electric Bike Company ebike. Please consider using this link. Any purchase made through that link helps support Ebike Escape.
Customize Everything!
Like other Electric Bike Company's electric cruisers, the Model E is 100% customizable, from colors to components. This of course adds to the price, but the option is there.
You have the choice of using the base 48V 12 Ah battery, which is hidden in the bottom of the frame or upgrading to the 14 Ah longer-range battery for an additional $399. A single-speed drivetrain is included but a 7-speed rear derailleur is also available for $149. Other options include a front basket (our favorite accessory), fenders, a rear rack, suspension seatpost, GPS tracker, and alarm. If you've never checked out Electric Bike Company's color customizer it is worth playing around with. You can even get real wood fenders!
Features of the Electric Bike Company Model E
The Motor
The Model E features an MXUS rear hub motor with 1000 watts peak power. The Model E has a left-hand thumb throttle that cuts out at 20 mph. The top speed while pedaling is 27 miles per hour in our testing. The bottom line, the MXUS motor provides more than enough power and is perhaps overkill for a cruiser-style ebike. Still, it's good to know you'll never have to worry about climbing hills.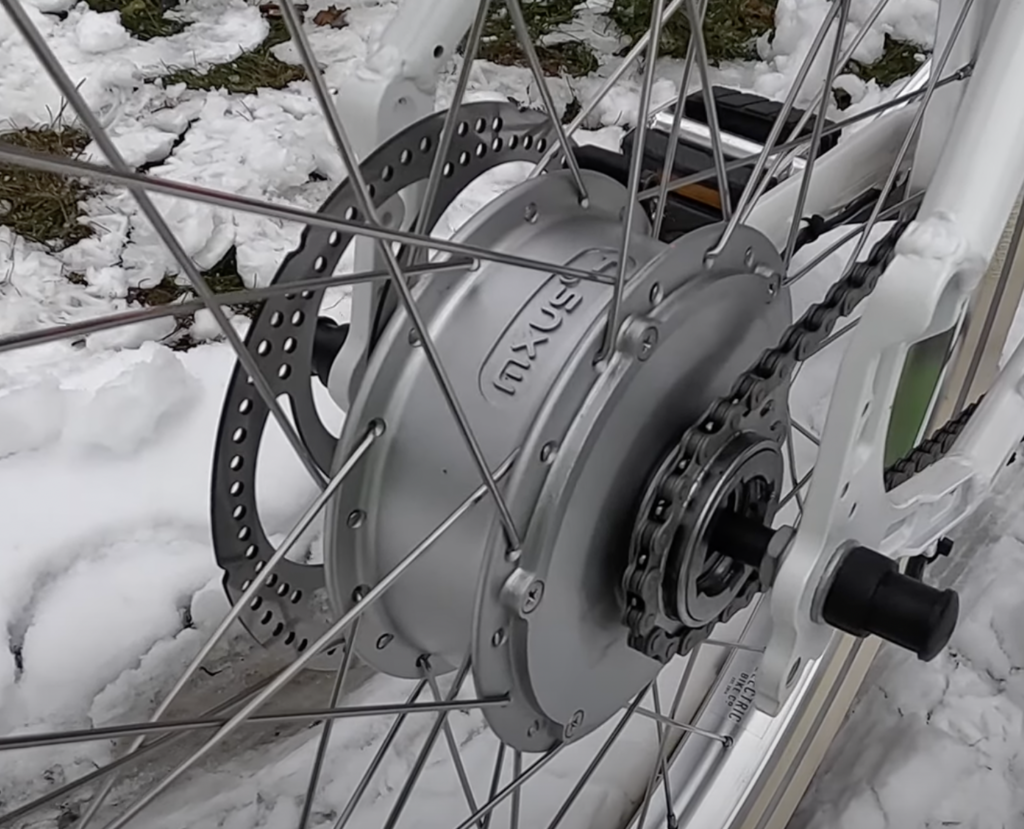 Frame Design and Handlebars
EBC frames are hydro-formed and made out of aluminum. It is a 7-step process and it shows – painting, cleaning, base primer, three coats of paint, and two coats of clear sealer. Heat treatment increases strength and durability.
Three standard colors are included in the $1,699 price point: white, red, and black.
The Model E frame is designed to provide clean, hidden wiring while maintaining a traditional appearance of a non-electric cruiser. When it comes to cable management, EBC did a nice job. And worth pointing out is the accessibility with the step-through frame. The company notes the frame will fit a wide range of riders from 4'6″ – 6'8″. The max weight capacity is 350 lbs and the bike weight with battery 56 lbs.
Since this is a cruiser style ebike, the handlebars are swept-back putting the rider in a very comfortable and upright riding position. An included adjustable stem allows you to adjust the handlebars further to your liking.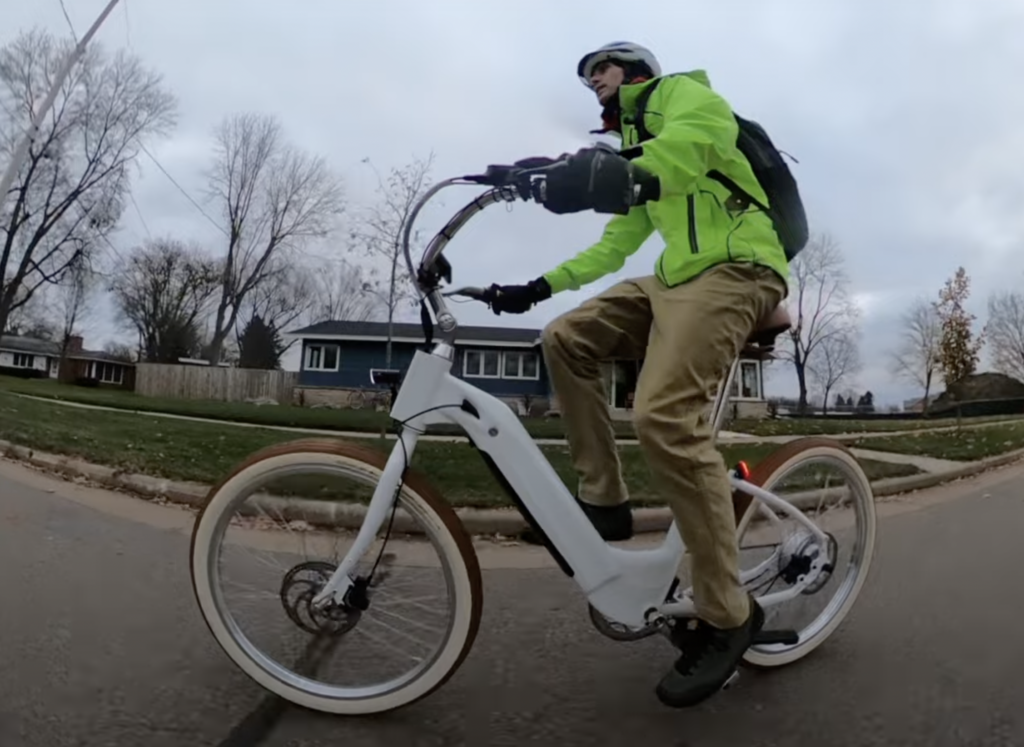 Grips and Saddle
The grips and saddle match perfectly. You can select either black or brown with hand stitching. The grips are locking and feel comfortable in your hand. The saddle is extra wide, padded, and provides a good amount of cushion. It is one of the nicest stock saddles that we've seen.
Brakes
The Model E features hydraulic disc brakes (180 mm rotors) which aren't necessarily a given at this price point. The Bengal hydraulic disc brakes provide ample stopping power and are easy to pull. Like most ebikes on the market, an automatic motor cutoff mechanism prevents riders from running the motor while using the brakes.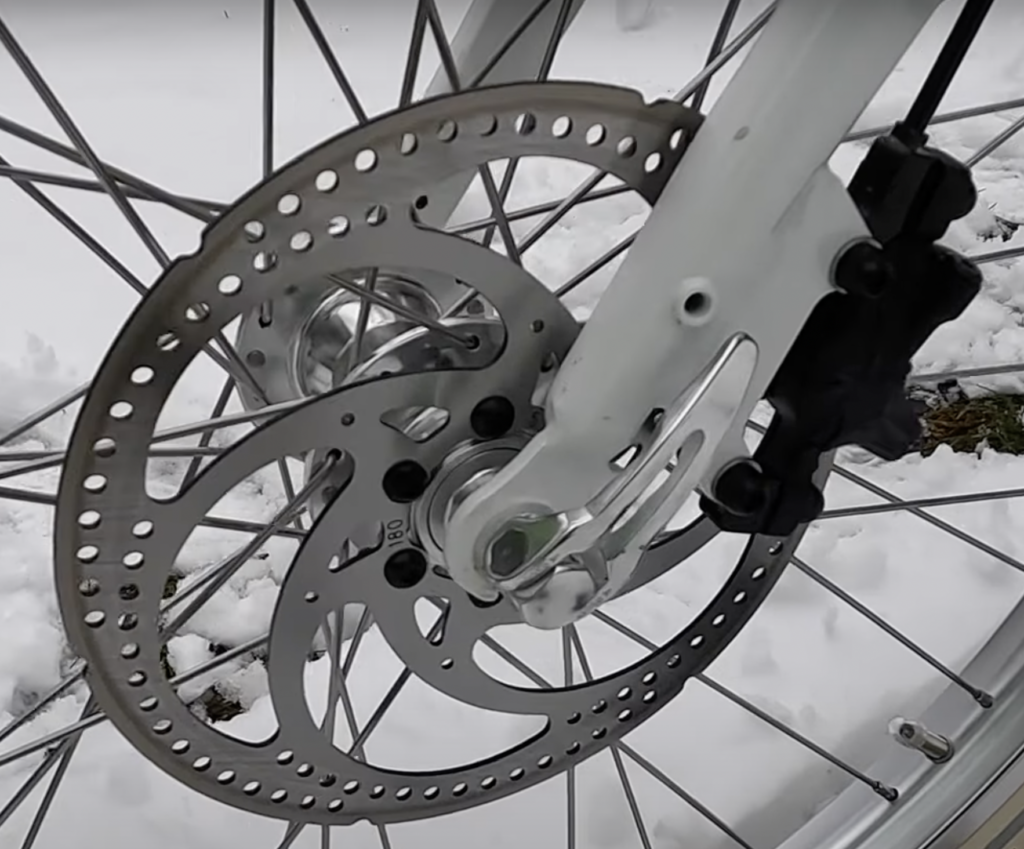 Single-Speed Drivetrain
The single-speed Model E has a 56 tooth chainring front chainring and 18 in the rear. We found that at slower speeds the gearing felt good though at higher speeds 24 mph+ your legs will be spinning at a faster cadence and it will be more difficult to provide your own power.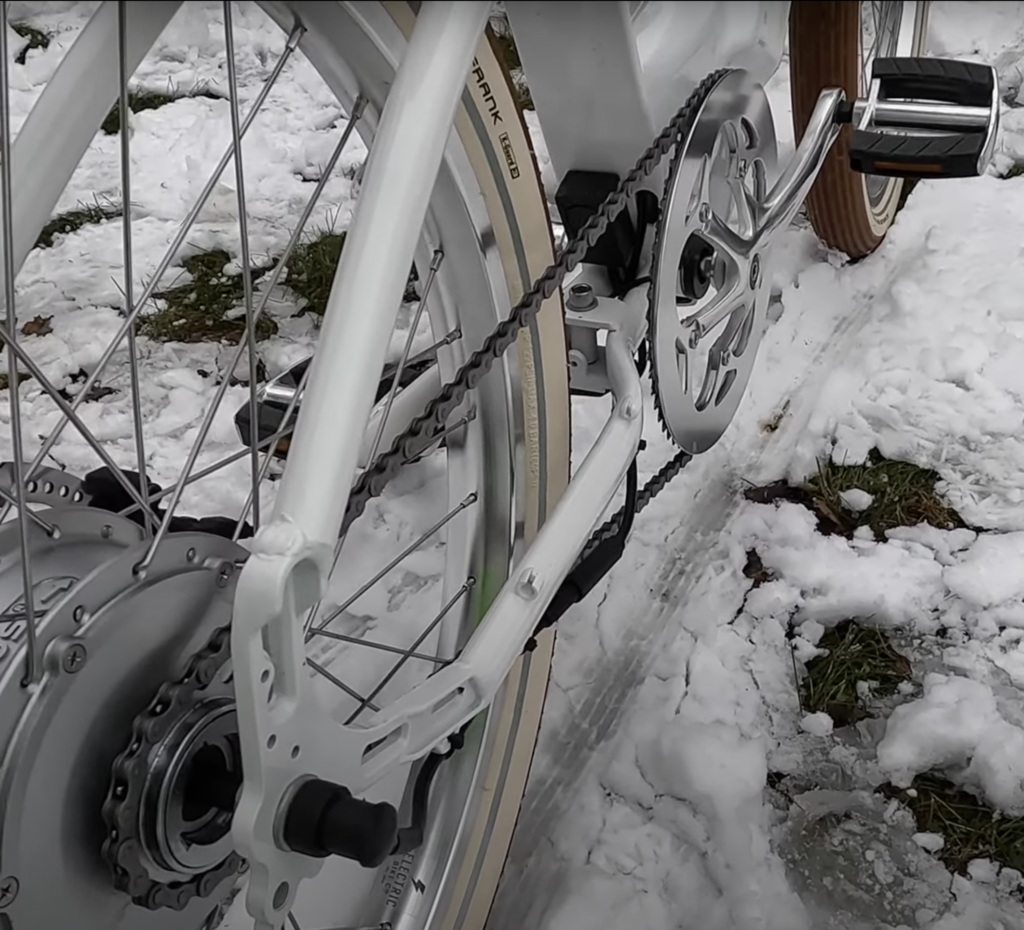 Rear and front light
Front and rear lights run off the main battery and offer increased visibility on the road. The lights are turned on by holding the pedal-assist 'up' button. These lights are brighter than average and we especially liked the dual lights in the rear.
Model E Battery
The EBC Model E comes with a 48V 12 Ah, lithium-ion battery that can be upgraded to 14 Ah for an extra $399. Included is a 3.5 amp 'super charger' with cooling fan which is larger than the 2 amp chargers we usually see.
Tires and Wheels
Electric Bike Company went with 26″ x 2.35″ Schwalbe Fat Frank E-Cruiser Tires. Offered in black or our favorite, brown with white sidewalls, not only do they look great – they also perform great too. The width is a good size for a cruiser tire and Schwalbe is a solid brand name. Continental E50 black tires are an $89 upgrade.
More petite riders can opt for the 24″ wheels and tires at no additional cost.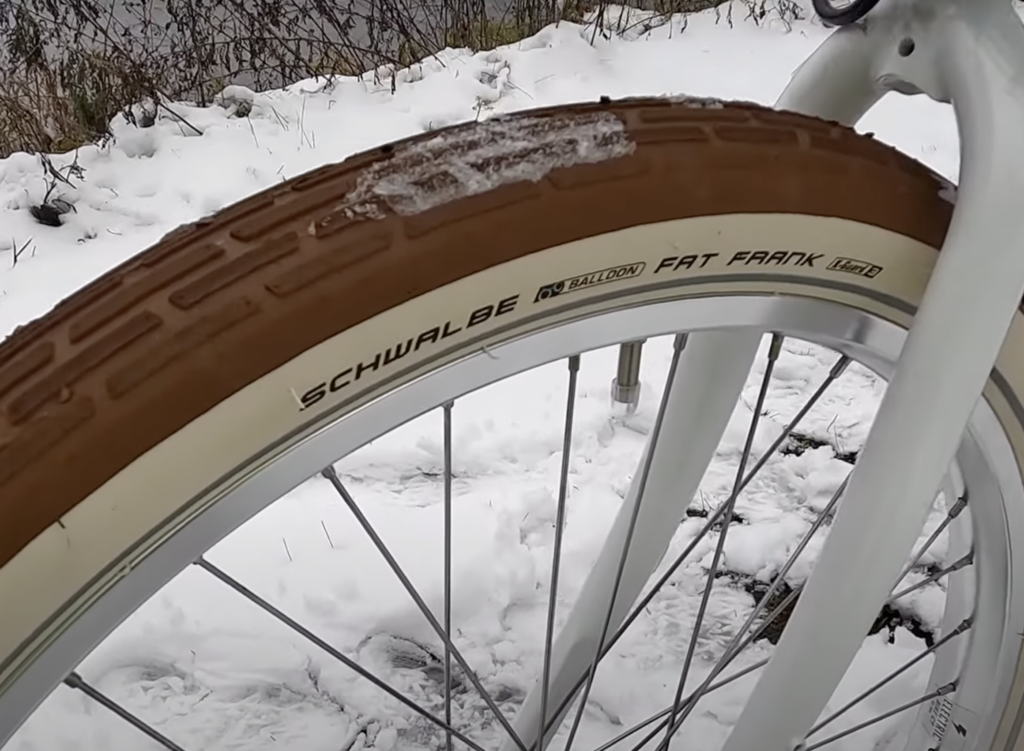 Shipping
While most ebike companies offer free shipping through UPS or Fedex, Electric Bike Company is a little different. To ensure their ebikes arrive in the same condition as when they left the facrory, EBC ships their ebikes via freight. This costs $199, but the other benefit is the bikes come fully assembled. Simply rotate the handlebars and you're ready to ride. The shipping cost is easy to justify, especially if you would otherwise have your bike assembled by a bike mechanic. You can save on the shipping if you purchase from one of the many EBC locations in California.
LCD screen
The Model E uses a center-mounted color LCD. The display is easy to read and also has a USB plug for charging your devices.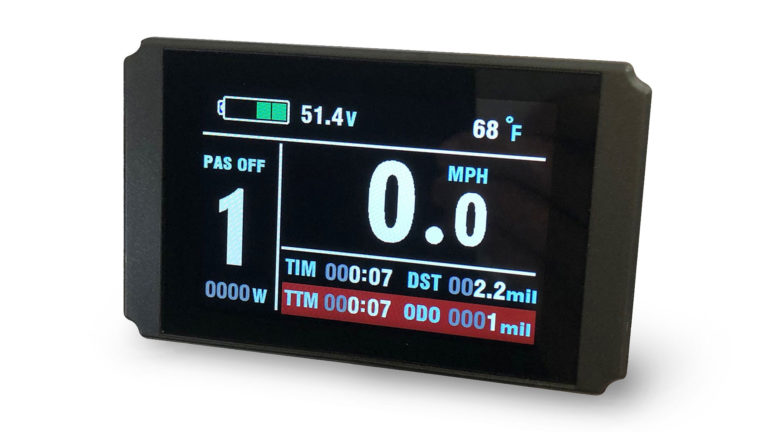 Bottom Line
The Electric Bike Company has delivered on an economical electric cruiser bike with the Model E. It's priced surprisingly well and for the $1,699 price you won't find a better quality cruiser. Plus, EBC is building its ebikes right here in the United States.
We look forward to reviewing more of the Electric Bike Company models. View the Model E on Electric Bike Company's website.