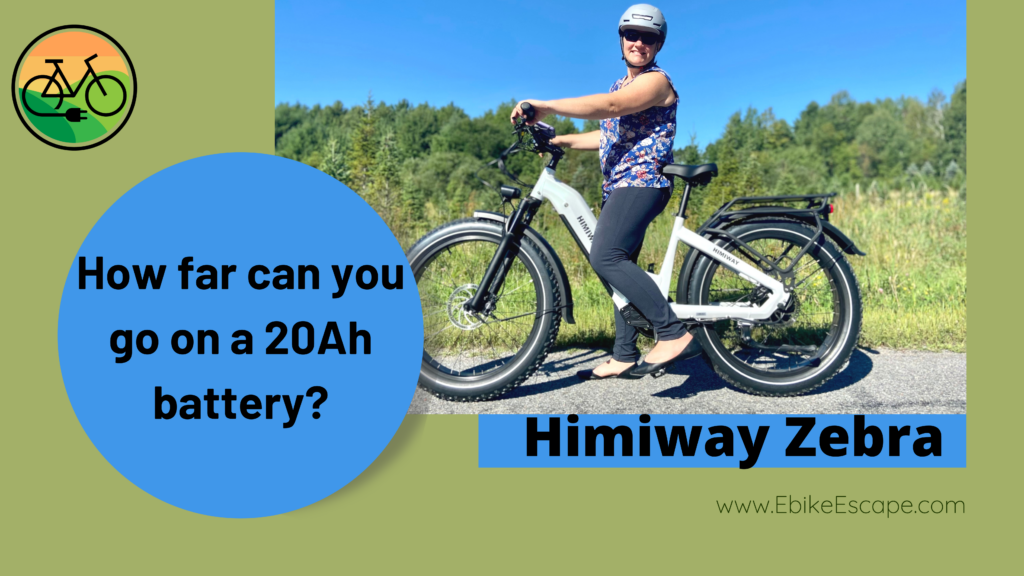 Curious about how many miles you can actually log on the Himiway Zebra on one charge? I rode this fat tire ebike to work and back until it could go no further! If you want to check out the final Himiway Zebra range miles, skip to the bottom. Before we get to that, here are some of my other thoughts about the bike after putting on some serious miles.
If you are thinking of getting the Himiway Zebra, please use our affiliate link (and save $65!) so we can continue to review ebikes and offer range tests. It currently sells for $1,999. Read on for our written thoughts on range or check out our real-world range test video below. As a bonus I share some of my thoughts about commuting on this fat tire ebike!
Range Test Video
My Hilly Commute
First off, the power on this bike was pretty impressive. One of the reasons I like to commute on ebikes, rather than traditional road bikes, is because I have some pretty big hills along the way. Despite my fairly short commute (about 6 miles), I gain approximately 375 feet on the way to work and another 415 ft on the way home. The 750-watt rear hub motor of the Himiway Zebra pulled me right up those hills!
It was so powerful that even though there are five levels of pedal assist, I actually stayed in pedal assist 1-2 for the majority of this range test. Generally, I like to have an average pace of around 12-14 mph on my range tests. Even with the big hills, pedal assist two hauled me right up while still maintaining around 11-12 mph. If I planned to continue to commute with this bike I would have adjusted the pedal assist power levels in the advanced settings. This would allow the Zebra to have a smaller jump in power between pedal assist one and two. Take a peek into the manual and you will find directions on how to do this.
I can gain some pretty serious speed on the downside of the hills. The fastest I clocked the Himiway Zebra was 34 mph! The Tektro hydraulic disc brakes are comforting to have and felt reliable when I needed them.
Zebra Bike Comfort and Commuter Convenience
The Zebra provided a comfortable commute. It is not quite as upright of a bike as some ebikes with adjustable stems or more upright bars, but these could be added if desired. For someone who has a harder time with a traditional bike, like my 65-year-old mom, being upright would be important. For me, I like that the bike has more traditional geometry and feels like a more traditional bike, only electric. The seat is comfy, the fat tires (Kenda 26" x 4") add to the plushness and front suspension helped the ride feel smooth even with some bumpy roads.
Even though it is becoming more standard, I think it's worth mentioning this bike does come with a motor cut-offs. When you hit the brakes, the motor stops providing power. Sometimes it's easy to get more speed than you'd like or accidentally engage the throttle. It's comforting to know you can stop the motor immediately.
A couple other key features for commuters include the installed lights. It's always nice to not have to worry about charging and placing external lights. The Zebra has an integrated rear brake light and a dual spotlight LEDs in the front. I also use a helmet with built-in lights, the Xnito Gull. This helmet is a staple in my commuter gear. I don't have a basket on the Zebra right now but the rear rack is certainly capable of carrying one and I would add that if this was my regular commuter.
The display has the battery capacity which I was keeping a close eye on. It also has an odometer, speedometer, and tells you what pedal assist level you are in. These are all pretty standard but what I had a lot of fun watching, was the watt meter. It gives you an idea of how much power the bike is putting in for any particular part of your ride.
Himiway Zebra Range
Alright, on to the actual Himiway Zebra range! This ebike brags a range of 60-80 miles per single charge according to the Himiway website. The battery is a rather large 48V 20ah (960 watt hours!). Himiway doesn't provide details about their range estimate online. I have to assume they would be doing their test at reasonable, perhaps lower speeds and fairly flat ground so I really didn't expect to get 80 miles. I was pleasantly surprised to get to the minimum range stated with a final range of 60 miles!
The bike stayed strong until around 50-55 miles. At that point, I started to increase pedal assist levels on the hills but you could tell it was starting to struggle. I started going slower and getting more winded on the hills. By the end, it was giving me a short burst of power as I increased pedal assist but that was about all it had. As this is an ebike with fat tires and a weight of about 79 pounds, I was not able to continue taking it up hills after the motor died. I had to call my husband to pick me up! The Zebra got a well-deserved rest riding home on our Saris MHS. (check out our review of the Saris MHS bike rack here)
If you want more information about the bike check out our full Himiway Zebra review which has more technical details. Also, check out our video where Ryan shows the bike off and includes first-person riding footage, a hill climb test, a top speed test, and much more!