Being able to take your ebikes on the go opens up opportunities to explore some pretty unique places. I had heard many positive reviews about Hollywood Racks, but wanted to do my own Hollywood Racks review. If you've just begun shopping for a hitch mounted rack for your electric bikes you should know that not just any rack will work. If you have a bike rack sitting in the garage, chances are it isn't rated to haul ebikes.
Check out our Hollywood Racks Sport Rider video review below or keep scrolling for the written review.
Hollywood Racks Sport Rider
Hollywood Racks Sport Rider: Where to Buy?
Hollywood Racks (also available on Amazon) is a popular option and is the same brand that Rad Power Bikes offers directly on their website. And for good reason too, these racks are sturdy. You can expect to pay several hundred dollars for a hitch mounted ebike rack, though I've seen some options approaching the $1,000 mark. Whichever one you choose, keep in mind that it is worth buying a high quality ebike rack since it's holding potentially thousands of dollars worth of ebikes.
Using the Sport Rider without ebikes
Besides the extra strength of ebike specific bike racks, there is nothing that makes them unique – meaning you can also haul your non-electric bikes. For our family I envision trips where we take our RadWagon along with my mountain bike to explore an area where there are both mountain bike trails as well as paved trails.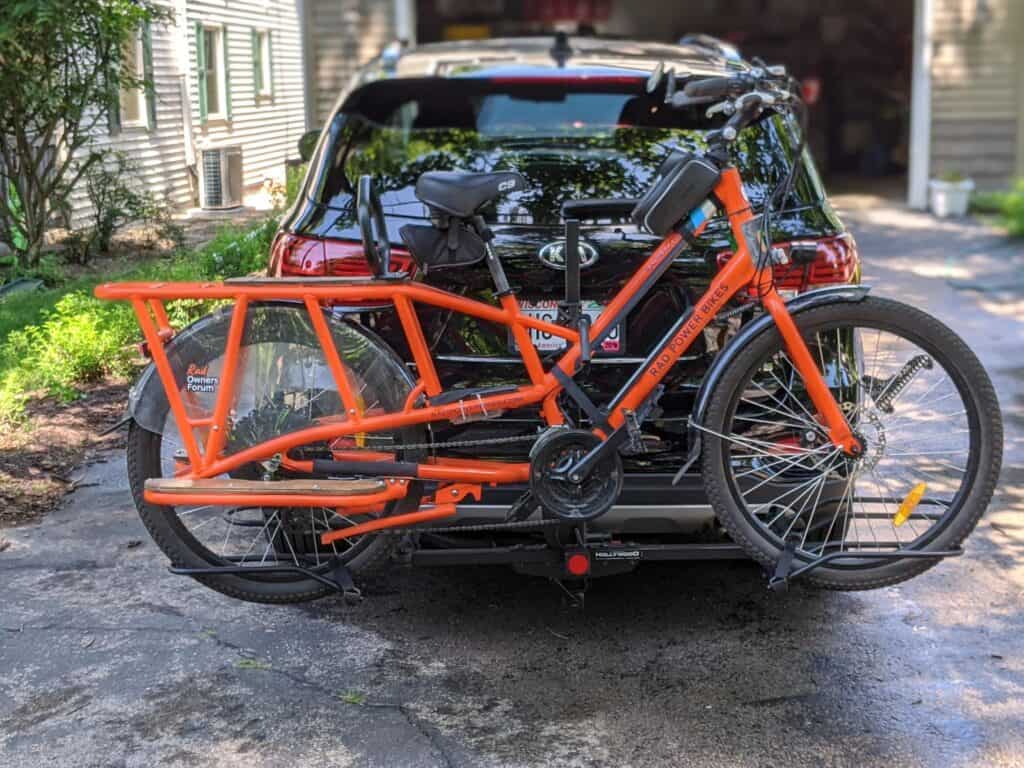 Hollywood Racks Sport Rider SE Details
I received the Sport Rider from Hollywood Racks to review. What's unique is Hollywood Racks offers a setup specific for cargo bikes with up to 3″ wide tires. Our rack can accommodate one cargo ebike and another ebike with up to 5″ tires. The rack is rated for 80 lbs per ebike, which is sufficient for almost any electric bike on the market today. I recommend that you remove your batteries prior to putting them on the rack. This both reduces the load, but also allows you to store the battery in a protected place inside your vehicle. I even opted to take off some of our more fragile accessories like my bike mirror prior to our trip.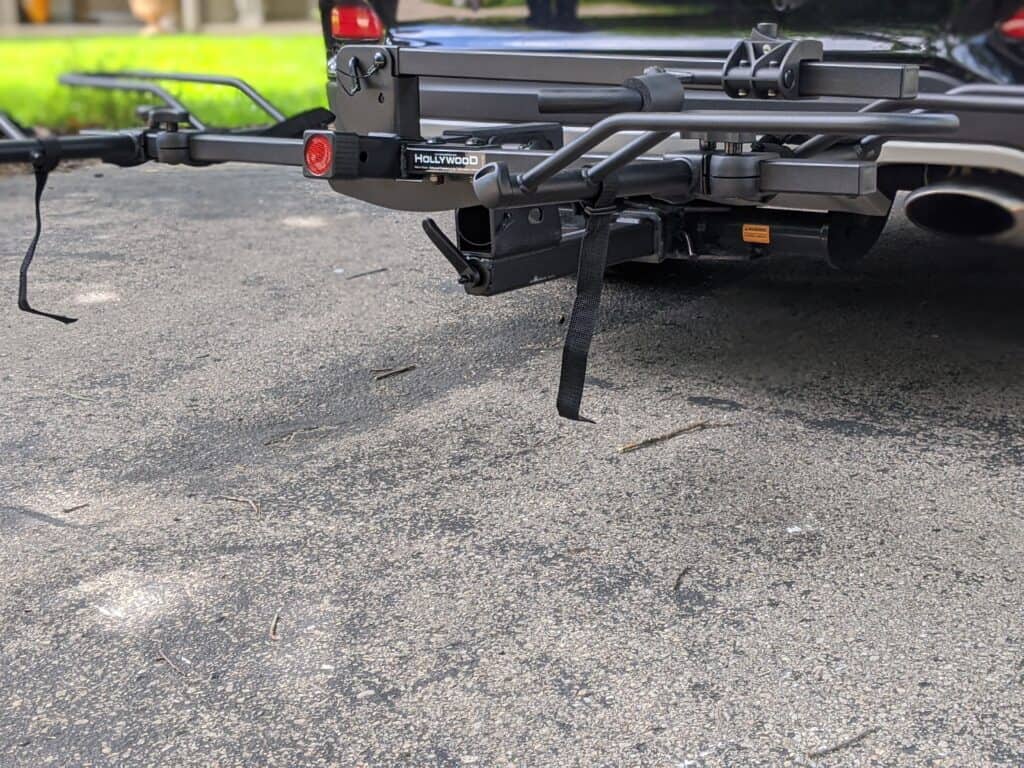 Part of the strength of ebike racks comes from the fact that ebike racks are typically made for 2″ receivers. In fact, Hollywood Racks does not recommend using a 1 1/4″ to 2″ adapter. The company has also patented a "No-Wobble Hitch System" which delivers on its promise (see below).
Securing Your Ebike
Securing your ebikes only takes a few minutes since there is only one center attachment point and two wheel straps. Note that you may want two people to lift the ebike on to the rack. If you have a step-thru frame you will need a bike adapter bar which acts as an artificial top tube. You can buy the one from Hollywood Racks, but there are other options as well.
The center attachment points sit on a center post and then it locks in at the point where it comes in contact with your frame. These are keyed which adds a level of security. I was impressed with how sturdy the ebike felt given it clamps down only in the center of the bike. The Hollywood Racks ebike rack also locks to the hitch of your car and they include a cable lock as well. Of course you can always use your own bike lock if you choose. I am personally a fan of the alarming ebike locks like the one I reviewed from Abus. For additional protection from the elements and a layer of security you may want to also consider the Pro Bike Tool cover.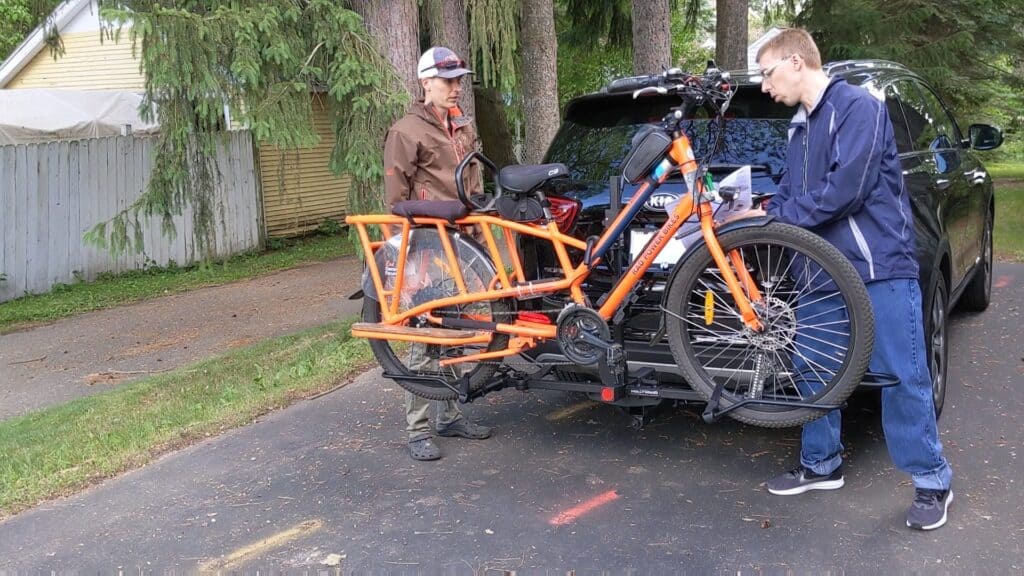 One other feature worth noting is the rack's ability to fold closer to the vehicle when not in use. The center arm folds down and then the hitch folds up with the simple pull of a locking pin. Check out the video below if you want to see the Hollywood Racks Sport Rider SE in action.
You can find the Hollywood Racks electric bike racks on Amazon, direct from Hollywood Racks, or on the Rad Power Bikes' website (affiliate links).
hollywood racks sport rider review for ebikes
Hollywood rack sport rider pros
High weight capacity
Easy to secure ebikes
Multiple security features
Affordable compared to others
Works with all wheel sizes
Hollywood rack sport rider pros cons
Requires top-tube adapter for step-thru ebikes
Will not hold up to salt as easily as others made of aluminum (keep it clean!)
No ramp option