If you are anything like me, you've spent multiple hours searching through size charts and YouTube reviews trying to understand exactly MIPS is; all before making that important helmet purchase. Add in the countless hours you have then spent relying on your helmet to protect your brain and it makes the idea of changing helmets for any reason difficult to consider. When Sena, a leader in motorcycle communication devices for over 20 years, released the Sena R1 and M1 smart helmets I wasn't sold on the idea of changing helmets. However, no longer having to use hand gestures to communicate with my spouse while navigating our ebikes around town, nor having to talk loud enough every pedestrian on the street also know to turn left, would be difficult to forgo.
Sena has taken its fantastic communication technology and shrunk it into a universal, strap-mounted, Bluetooth intercom system called the Sena Pi. Being such big fans of Sena's previous products (check out our Sena R1 Evo Review) we were excited to get a closer look for this Sena Pi review. We've also included our video review at the bottom of this post.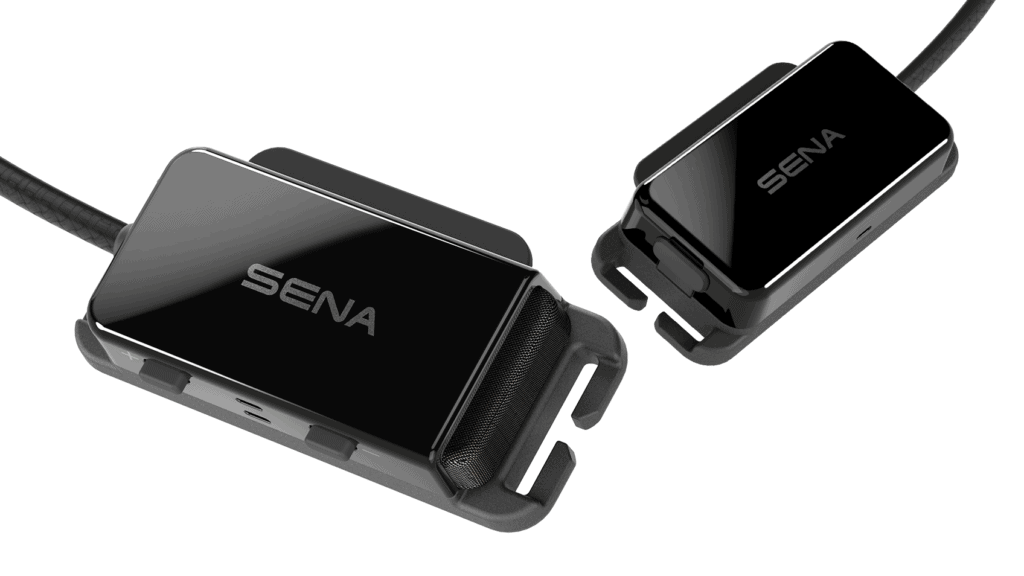 What is Sena Pi?
The Sena Pi is a small lightweight device that simply slides onto your existing helmet straps and transforms your beloved helmet into a Sena Smart Helmet. The Pi has Bluetooth functionality and an intercom system. The Bluetooth can be used to navigate, listen to music, or make phone calls. However, the Pi's best feature is the 2-way HD intercom system. This 2-way HD intercom system allows you to talk, with great clarity thanks to the Advanced Noise Control™, to a fellow ebike enthusiast without the need for cell phones or data. The noise reduction, including wind noise reduction is downright impressive with all Sena cycling products.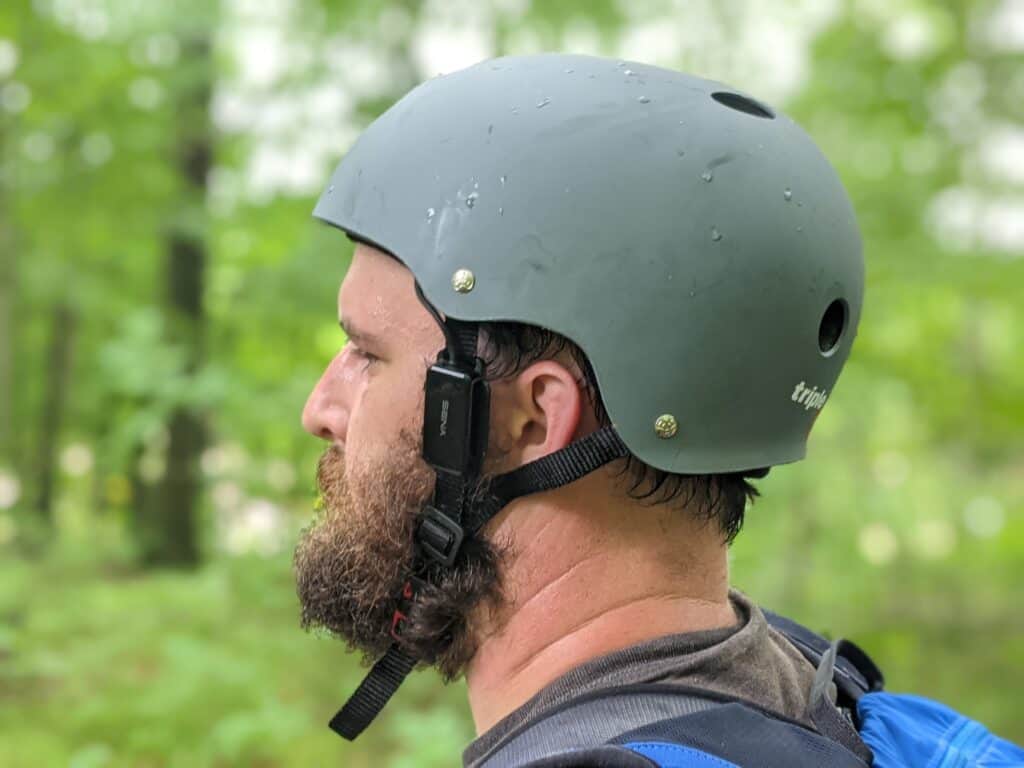 Sena Pi initial setup
The setup and install of the Sena Pi is very straightforward. The Pi is designed to slide onto helmets with an 18mm (or 0.7in) wide strap. After routing the helmet straps into their respective channels on the earpieces, the single cord goes under the padding. I was not able to get the cord installed between my padding and helmet shell, however, after quite a few hours of riding this has not caused any discomfort.
Once installed you then simply press the two buttons, located on the left earpiece, to turn on the Pi. The Pi immediately defaults to "phone pairing" mode. Once paired you can either use the button combinations to navigate the Pi, or use the "Sena Utility" app which makes it a lot easier. The Sena Utility app is also where you can find the complete user guide for the Pi.
Pi Specs and Price
The Sena Pi has a range of 1/4 of a mile and advertises a talk time of 6 hours. While that range doesn't sound all that impressive on paper, my wife and I found it more than adequate for our ebike to ebike communication. Even out in the woods mountain biking the range was sufficient. The charge time from empty is 2.5 hours, and uses a USB Type-C cable. This same cable is what you will use to update the Pi's software should you ever need to. The price for all of this great technology and crystal clear communication is $99 and they can be found on Amazon or directly from Sena.
Sena Pi vs Sena R1 or M1 helmets
The Sena Pi is a great alternative for anyone looking to add some connectivity to their helmet, and be able to utilize Sena's Bluetooth intercom system. Sena did have to slim down the feature set of the Pi to create such a sleek package. The range, talk time, total amount of intercom users had to be decreased and Sena removed the "Hey Sena" voice command. We here at Ebike Escape were not sad to see the last feature go since sometimes 'Hey Sena' can be triggered accidentally while you're speaking.
The last elephant in the room with the Pi is the price. While there is great value in the Pi, for $30-40 more you can get a complete Sena helmet. The R1 cost $129 and the M1 comes in at $139. Besides getting an entire helmet you also get a more robust feature set. The main ones are double the talk time, 4-way intercom access, and double the range. (Comparison chart below) And if you want a greater ability to connect with a group, the M1 Evo or R1 Evo is available for $159. The Evo variant helmets utilize Sena's Mesh 2.0 Intercom™ system, which has a Virtually unlimited number of intercom users. (Worth noting, the Bluetooth connection of the Sena Pi/R1/M1/Rumba/X1s can all connect together, while the Mesh Intercom™ of the Sena R1 Evo/M1 Evo cannot connect to the Bluetooth intercom. The Pi still will be limited to connecting with one other device)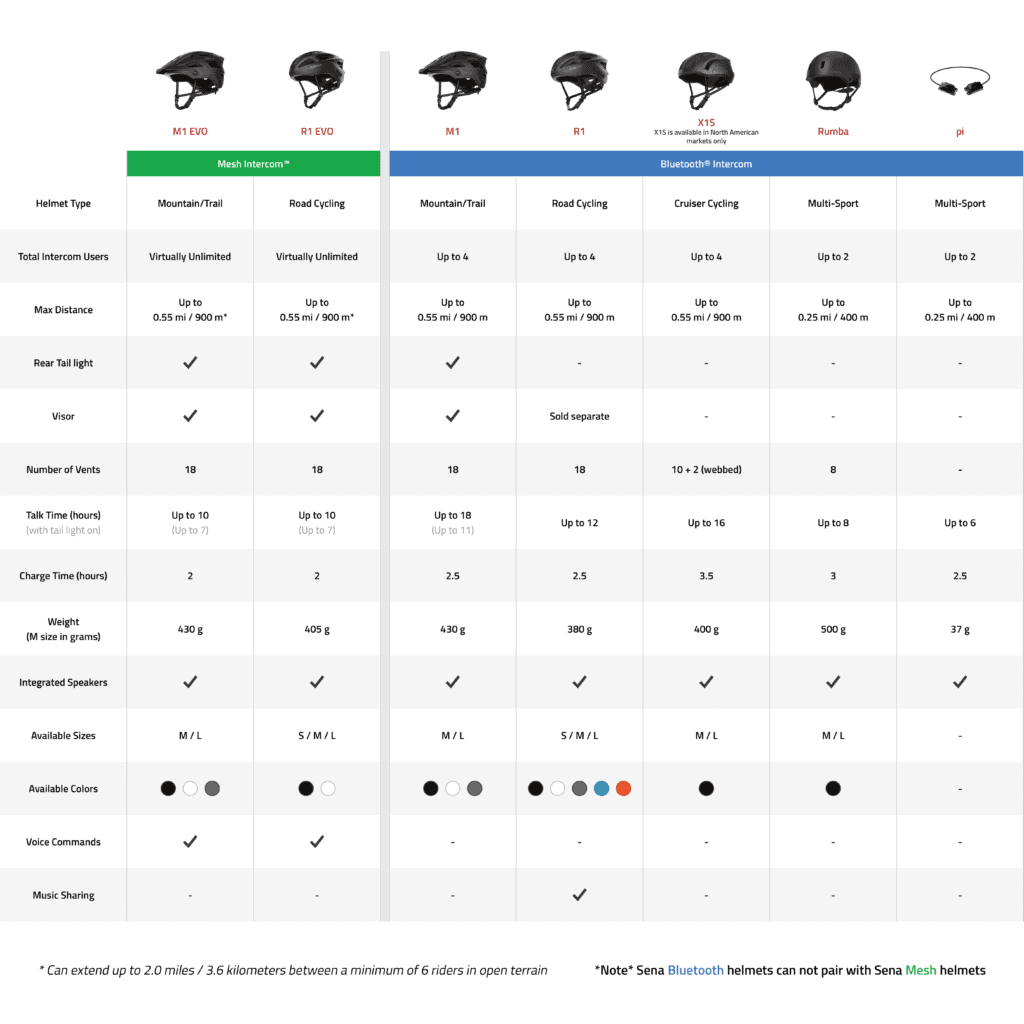 Wrapping up the Pi
The Sena Pi is a great device that I love to use whether I am leisurely riding around town on ebikes with my wife or enjoying some mountain trails with my friend. It makes communicating while riding a far more enjoyable event. Even though the Sena smart helmets do offer a stronger feature set, the universal nature of the Pi is hard to look past. We here at Ebike Escape cannot recommend any of Sena's communication devices enough and are always happy to see universal options brought to market.
If you would like some recommendations on other helmets that the Sena Pi would compliment. Please check out our ebike accessory list for links to other helmets we recommend.