We got to review the Denago Fat Tire ebike at the perfect time of year. Though the snow came early here in the midwest, the Denago Fat Tire ebike had no trouble holding its own. There are certainly quite a few fat tire ebikes on the market these days. A couple of things that make this bike stand out include a well-tuned torque sensor in a sub $2,000 bike, hydraulic disc brakes, and several frame size options. Check out our full video review or read on for all the details.
As always, consider using our affiliate link if you are planning to buy the Denago Fat Tire ebike. It is an easy and free way to support Ebike Escape.
Denago Fat Tire Step-Thru Video Review
Denago Fat Tire Size and Frame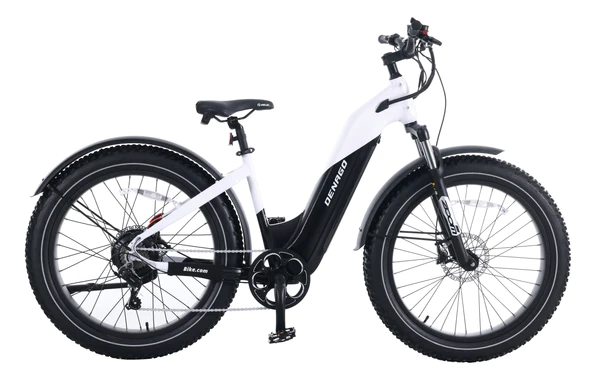 The Denago Fat Tire comes in two different frame sizes, both of which are step-through. The small/medium is designed to fit riders between 5'4″ and 5'11" while the medium/large should fit people from 5'11" to 6'5″. There is only one color option: a sleek white/black mix. The bike weighs 79 lbs with the battery installed and the maximum rider weight is 300 lbs with a max cargo capacity of 55 lbs.
The frame includes a Zoom front suspension fork with preload and lockout. The riding position on this ebike is more aggressive than a lot of cruiser-type fat tire ebikes due to the straight handlebars and the lack of an adjustable stem. That may be a pro or con depending on your riding preference and these accessories can be added after market.
Battery and the Well-tuned Torque Sensor
It is unusual to find a torque sensor on a sub $2,000 ebike so we were pleasantly surprised to see this feature on the Denago. While a torque sensor tends to give an ebike a more natural pedaling experience than a cadence sensor, one criticism is that sometimes the rider has to put in more power than they would like to get increased motor power. This is not the case with the Denago Fat Tire. They have the torque sensor tuned so that you have a natural pedaling feel without having to put in a lot of effort to get moving.
The maximum speed in this Class 3 ebike is advertised as 28 mph on pedal assist and 20 mph with the left-hand thumb throttle. In our testing, we reached a top speed of 26 mph.
Power is provided by a 750-watt Bafang rear hub motor. The battery is 48V 19.2 Ah (921.6 watt-hours) and is hidden into the downtube of the bike. The website doesn't have a range estimate but in our experience, we would expect 30-60 miles on an average ride. You may get more miles in optional riding conditions.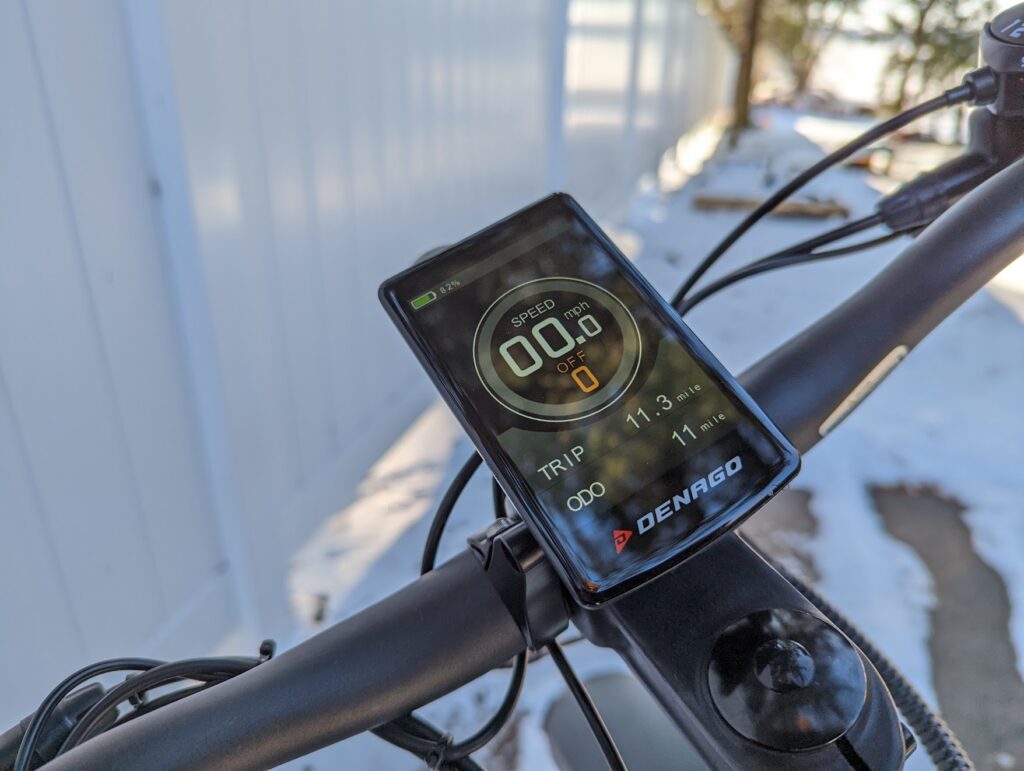 The display on the Denago is a high-resolution color LCD screen. It shows speed, distance traveled, battery power, trip time, and calories expended. It also has a walk mode function and an optional pin password.
Denago Fat Tire Components
For components, let's start with an important aspect of any fat bike, the tires. Denago features 26″ x 4″ Kenda tires which are pretty standard for this type of ebike. Simply put, they will handle any type of terrain. The brakes are Zoom hydraulic disc brakes which is always a nice upgrade compared to mechanical disc brakes. They are paired with 180 mm rotors. There is a Shimano thumb shifter, with a 7-speed Shimano Tourney Rear Derailleur. While sufficient for most riders, these are the most entry level components offered by Shimano. The crankset is 48T up front and there is a 14-28T freewheel.
There are integrated rear and front headlights which are plenty bright. They can be turned on and off on the handlebars and the rear lights operate as brake lights. With the lights turned off, the brake lights will still illuminate when pulling the brakes. With the lights on, the brake lights go brighter.
The saddle has a lift handle attached for easier maneuvering. While it would be nice to have a rear rack included, the bike does come with metal fenders and mounting points for a front and rear rack. If you are looking for other accessories or ways to customize your bike, check out our accessory page.
In Conclusion
The Denago Fat Tire ebike may be joining a large field but I think it compares favorably. The torque sensor is a big plus for some and the fact that it is geared to require less input from the rider is nice. The large battery and powerful motor allow this bike to take you where you need to go. For a closer look, first-person riding footage, and a hill climb test check out our video review above. Looking for a city-oriented electric bike? Denago offers two other models, the Commute and the City.
Electronics (Battery, Motor, Display)
9.5
Components (Shifter, Derailleur, Fork)
8.5
Denago Fat tire pros
Well-tuned torque sensor
19.2 Ah battery
US-based company/support
Integrated headlight and taillights
Powerful motor
Hydraulic disc brakes
Metal fenders
Step-thru frame design in two sizes
Denago Fat tire cons
Forward leaning riding position
Not designed for people shorter than 5'4″
Rear rack and fenders not included
Entry-level derailleur
No included rear rack