Juiced Bikes is a company known for its large 52 volt battery packs and long-range ebikes. The RipCurrent and RipCurrent S are the sport utility fat tire models. These models tick lots of boxes for riders but there are also some finer details on these ebikes that many will appreciate which we're excited to highlight in our RipCurrent S review.
The RipCurrent sells for $1,699 while the Rip Current S comes in at $2,499. The extra money buys you a larger motor, a bigger battery, and a rear rack as well as fenders. Read on for more details. As always, if you decide to buy a Juiced RipCurrent or RipCurrent S, please consider using our affiliate links as a free way to support Ebike Escape.
Juiced RipCurrent S Video Review
Massive Battery and Motor
The RipCurrent S comes with a massive battery: 52V 19.2Ah! That provides a total of 998.4 watt-hours and is a battery that is hard to beat. It also has a large 1000-watt Bafang Hub motor with a peak power of 1,300 watts. This bike is powerful and will go the distance. In fact, Juiced estimates a range of over 70 miles with a single charge! This might be a generous estimate but the fact is that this ebike will meet most riders' range requirements. One quirk on the new Juiced gen 2 batteries is that there is a power button that is not accessible with the battery inside the frame. It needs to be turned on before placing your battery into the frame.
Hills or speed will not be a problem for this bike. It ships as a Class 2 ebike with a top speed of 20 mph while pedaling or throttle alone. However, it can be unlocked for Class 3 speeds up to 28 mph. For even higher speeds, the RipCurrent S Performance Upgrade is available for $249. This allows the bike to reach 30 mph on the throttle alone and works on the 2022 RipCurrent S, excluding the step-thru. Be sure to check your local laws and regulations.
Even the more affordable Rip Current base model has a 52V battery though with a smaller 15Ah pack. That is still a big battery. Besides the smaller battery, the motor is a 750-watt Bafang Hub motor. The range is estimated at a still respectable 45+ miles per charge.
LCD Screen and Power Modes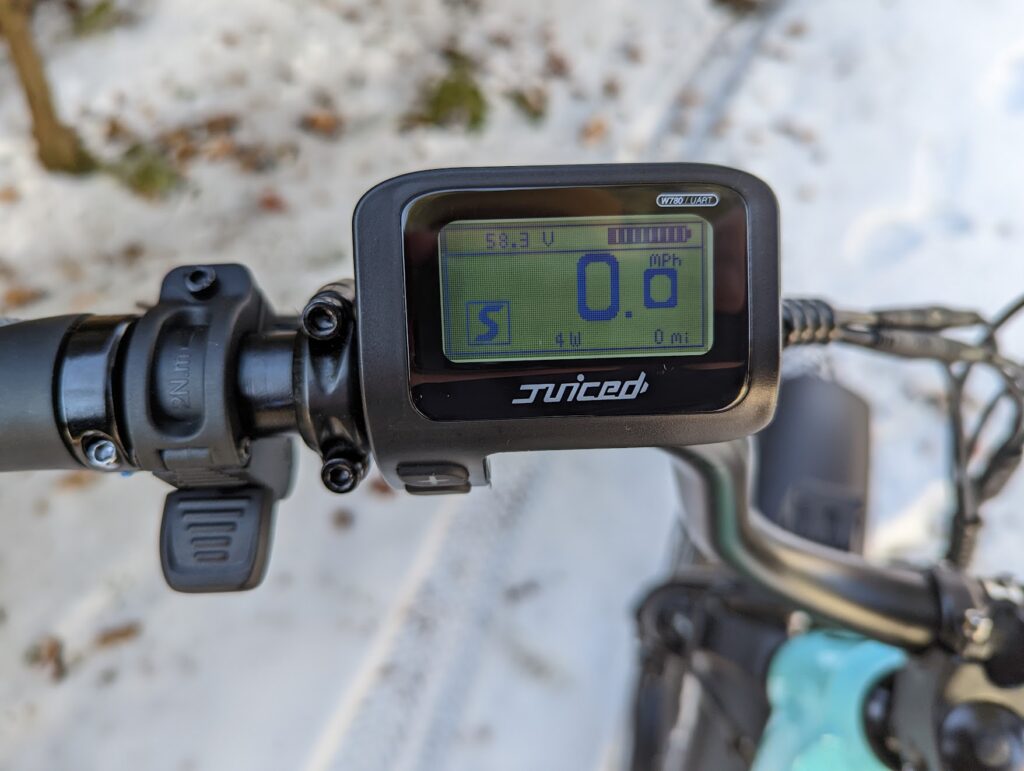 The LCD screen for the Rip Current S is backlit and small but shows all the essential information such as current speed, odometer, remaining battery life – even the battery voltage. Using the screen, you can choose between seven different levels of assistance. From slowest to fast the options include Eco, 1 2, 3, Sport, and Race (unlockable). Whatever your goals are, this bike can help you get there.
Want even more options? Dive into the advanced settings. We found these pretty easy to use and Juiced has a very helpful video going through all of the features. The RipCurrent S also has a walk function to provide a bit of assistance if you are pushing the bike. This ebike also has cruise control! It will lock in any speed you choose 20mph or below and hold it even without pedaling or using the throttle. If you pedal, it will increase the speed. As soon as you apply the throttle or brakes, or push any button, the cruise control will turn off.
Components
The Rip Current and Rip Current S have both cadence and torque pedal assist. The torque sensor measures how much effort you are putting into the pedals and proportionally adds power. This helps avoid the feeling of ghost pedaling allowing for a more natural feeling ride. The cadence sensor allows the motor to still provide some power even while providing little effort (as long as your legs are spinning). This setup is really the best of both worlds and is one of the unique features of this ebike. Don't feel like pedaling? There is a left-hand thumb throttle available as well.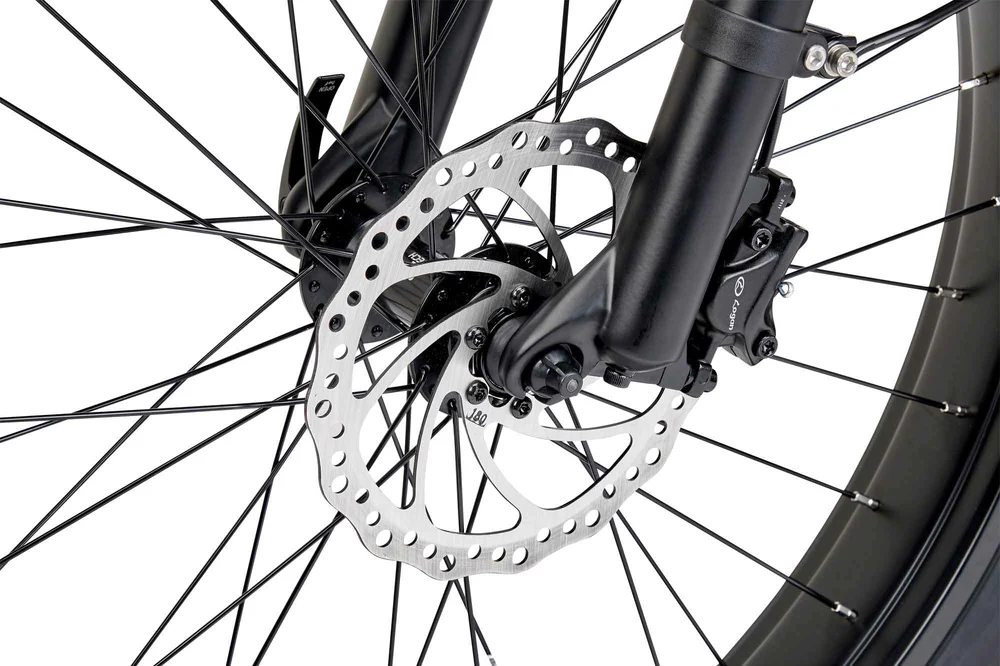 Both the base RipCurrent and S version have hydraulic disc brakes with 180 mm rotors (Logan HD-E500 on the RipCurrent S). The RipCurrent S featueres a 9-speed L-TWOO A5 trigger shifter and matching A5 derailleur. In the rear is an 11-32T cassette and a 52T Pro Wheel chainring. Juiced nailed it on the gearing which allows you to continue to provide human power even at faster speeds and be able to get into sufficiently low gear on hills. We would have liked to see name brand Shimano components for the drivetrain but the L-TWOO components performed fine in our testing.
Both bikes have fat tires sized 26″ x 4″. They also have the same bright 1,050-lumen headlight and battery-operated rear taillights. We found the headlight to be super bright but didn't really like the battery-operated rear light, perhaps a change Juiced can make in the next generation.
While the basic model comes without racks or fenders, the Rip Current S includes both fenders and a rear rack. The rack has a 50 lb capacity. Unfortunately, there is no option for a front rack.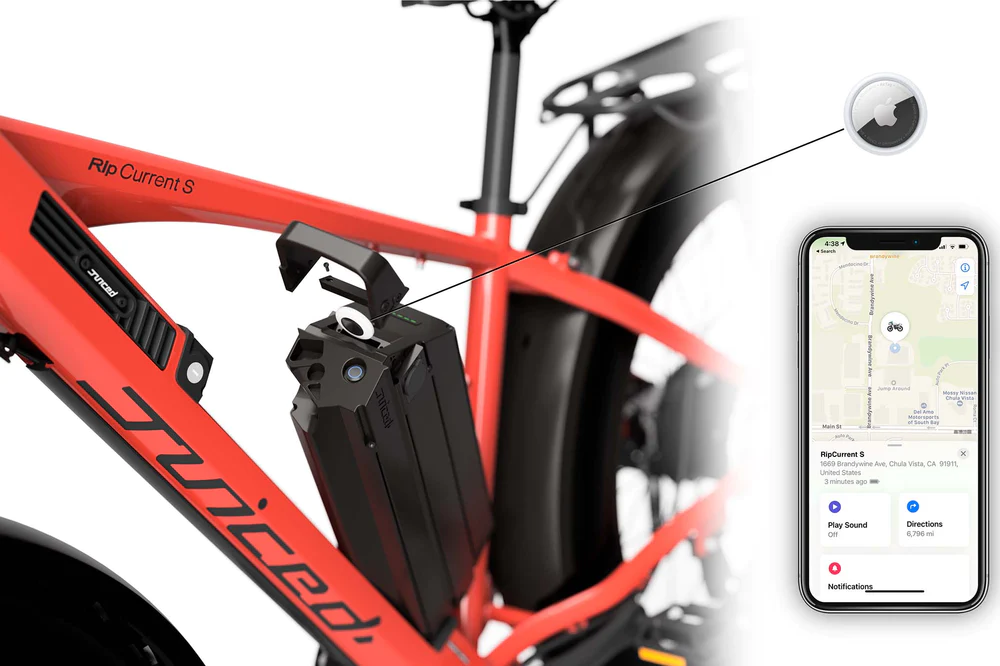 One additional upgrade the S has is an integrated compartment for an Apple AirTag. This is made possible by the gen 2 or G2 battery. If theft is a problem in your area, this is a helpful feature. Make note, the Apple AirTag itself is not included in the purchase of the bike. It is currently for sale from Juiced for $30.
Bike Frame and Sizing
Both the Rip Current and the Rip Current S come in traditional high step as well as a step-through variation for easier access. The S models frames include an upgraded air suspension fork with lockout compared to the coil suspension on the RipCurrent. The original RipCurrent frames are around about 5-6 lbs lighter than the S models due to the smaller battery but overall the sizing is the same.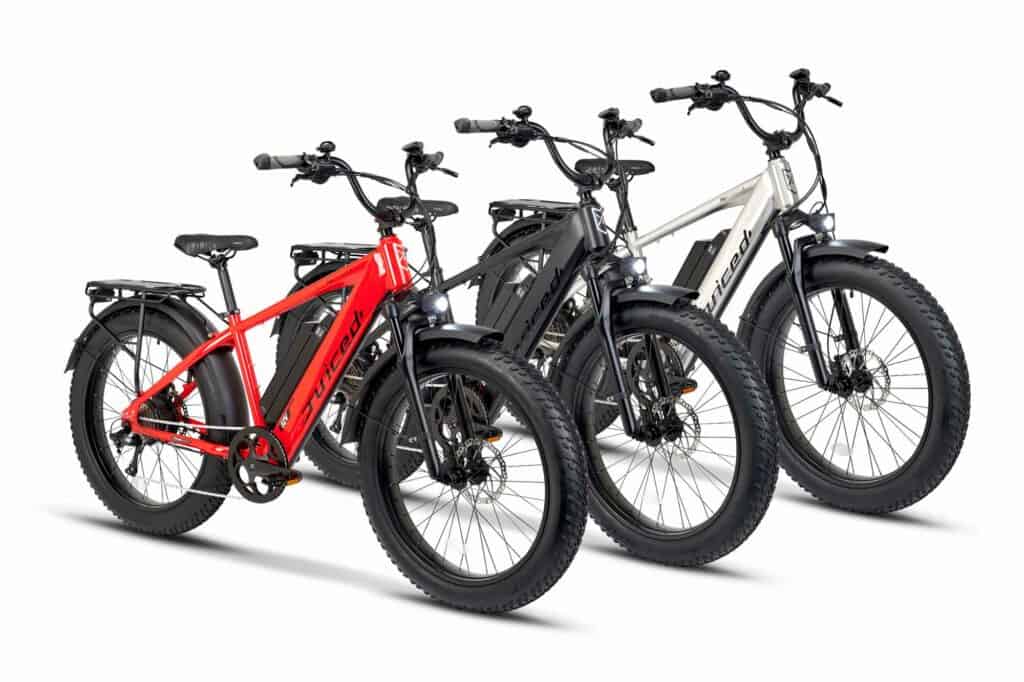 The high step frame comes in three sizes. The medium has a 30.5″ standover height and is recommended for heights between 5'4″ and 6'0″. The large fits heights from 5'8″ to 6'3″ with a standover height of 32″. Finally, the XL has a standover height of 32.8″ and fits rides 6'0″ and over. The high-step model weighs 76 lbs with the battery in place and has a 300 lb weight capacity. You have a choice of red, black, and gray for the frame color in the S but the base model RipCurrent only comes in black.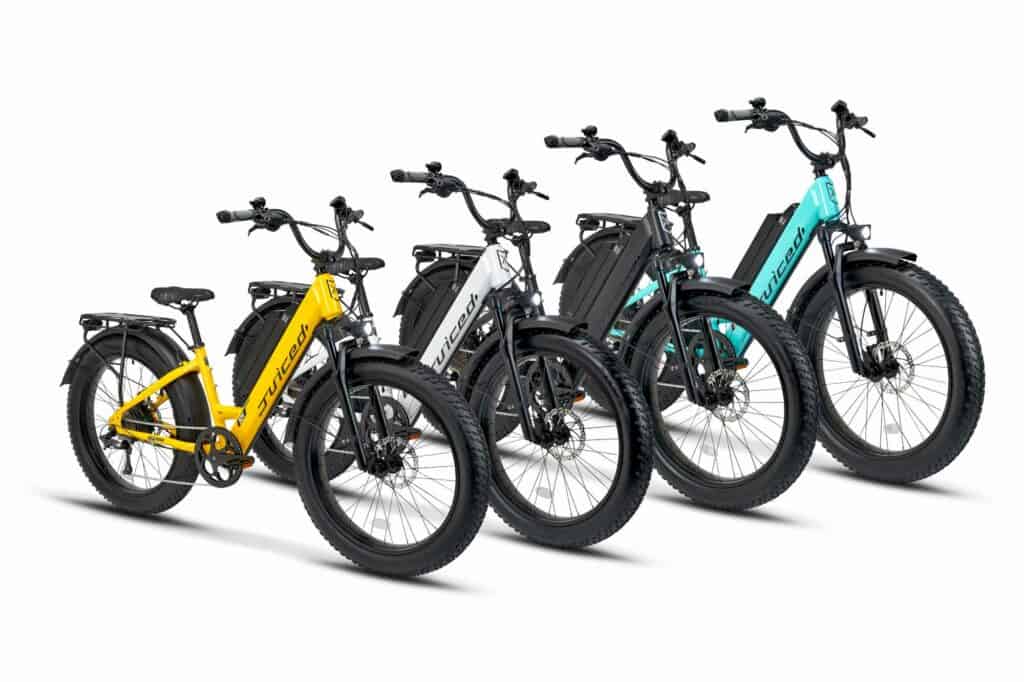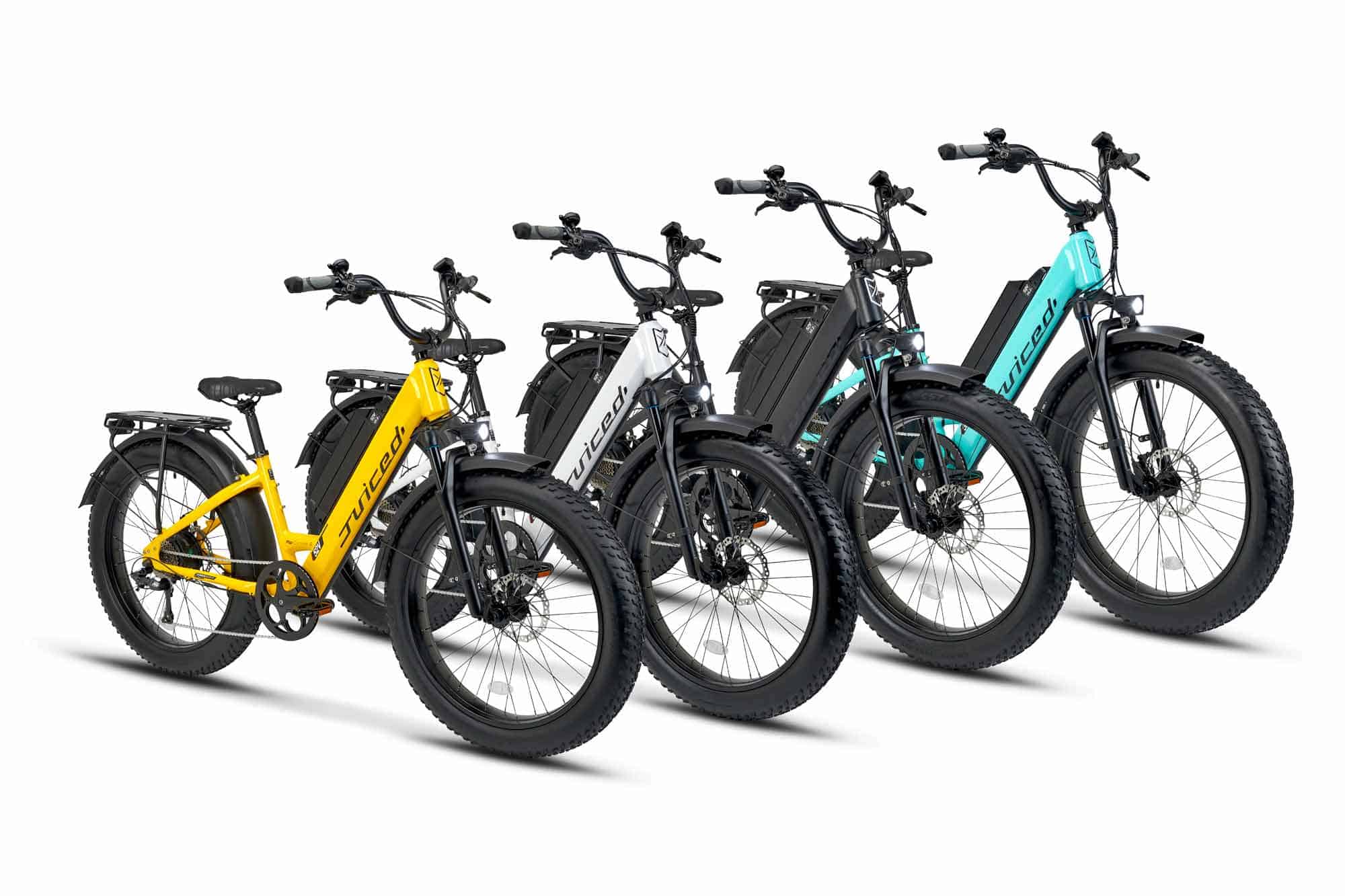 The step-through model is recommended for riders from 5'3″ to 6'1″. Color options are a little brighter and include black, beach blue, arctic white, and yellow. The ebike weighs slightly less at 73 lbs and has a slightly lower weight limit of 275 lbs.
The large swooping handlebars on both bikes provide a comfortable upright riding position. Aiding to the comfort with the handlebars are the ergonomic and locking grips.
In Conclusion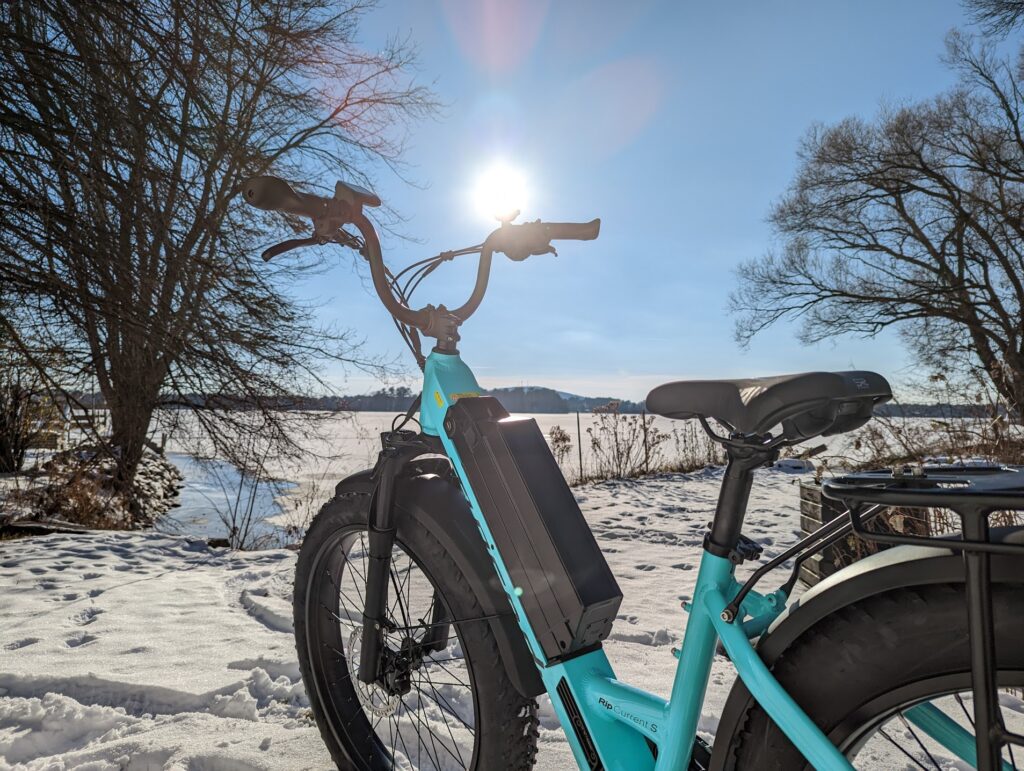 The Juiced Rip Current and Rip Current S are notable for their massive batteries and powerful motors. The S has slightly better specs and an expected higher price point. Both bikes have hydraulic disc brakes, step-through or traditional frame options, and fat tires. These bikes are versatile and able to handle off-roading as well as roads. The S model comes with a rack for extra storage area. Juiced Bikes is a reputable brand and you should feel comfortable doing business with this company. There are certainly more affordable fat tire ebikes out there but you won't be getting all the impressive specs this bike has to offer.
Juiced RipCUrrent S Review
Electronics (Battery, Motor, Display)
9.5
Components (Shifter, Derailleur, Fork)
9
Juiced RipCUrrent S Pros
Huge 52V 19.2 Ah Battery
1,000 Watt nominal motor
Torque/Cadence Sensor Combo
Air suspension fork
9-Speed drivetrain
Well-packaged on delivery
Dedicated space for a hidden Apple AirTag
Option for race mode
Comfortable riding position with multiple frame sizes
Juiced RipCUrrent S Cons
More expensive than some other fat tire ebikes
Shifter/derailleur are not name brand
No front rack available
The rear light runs off it's own battery
Semi-integrated battery
Other Fat Tire Ebike Options
Interested in doing some comparison shopping? Check out our review of the Himiway Zebra, the Ariel Rider Kepler, the RadRover 6 Plus, or the Magicyle Cruiser. You can also check out our list of the best fat tire ebikes. Check out our best folding ebikes for some smaller folding fat ebike options. There are a lot of choices out there!