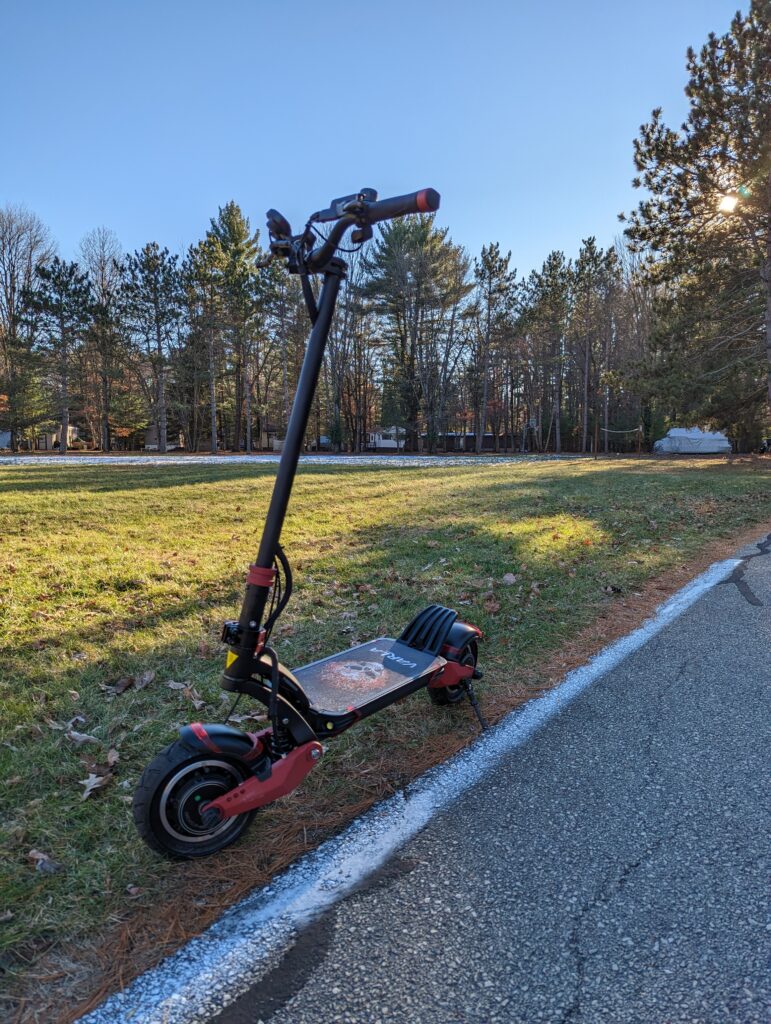 We don't normally review electric scooters at Ebike Escape, but when we get an opportunity to review something compelling we jump (or ride!) at the chance. In this instance, we have the Varla Eagle One dual motor electric scooter which retails for $1,699 at the time of this writing. It rides smooth with an adjustable suspension and provides plenty of power (stopping and going) to make your experience enjoyable and practical. Let's get into what might make this the electric scooter for you.
Appearance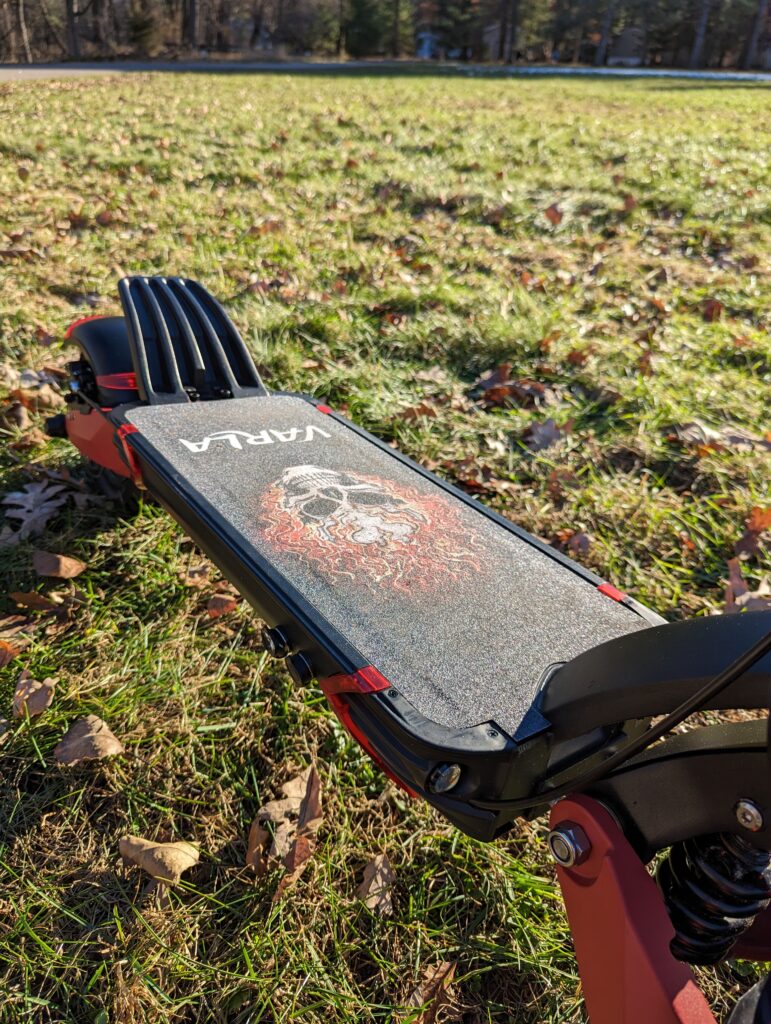 The black metal with red accents gives it a pleasing color scheme over a simple all black appearance. I got several looks and comments as a result. If the Varla skull logo isn't to your liking on the deck, we received 3 additional deck stickers to replace it with.  These are just adhesives so you wouldn't be able to swap back to a previous design, but it makes changing the look simpler.  The deck surface material has a sandpaper feel to provide traction while you are riding.  As a performance oriented electric scooter, it is larger with an overall 51.2" height, 50.4" length, and weighs a hefty 77 lbs. I'm 5'11" 170 lbs with an athletic build and had no trouble handling the Varla Eagle One. People who are looking for a lightweight portable electric scooter should look elsewhere, or at least plan on taking a slow start. The capacity is listed at 330 lbs with a recommendation of 265 lbs. I felt very comfortable taking each of my kids to the bus stop one morning so while it can handle the weight it's not recommended to have two riders on the scooter.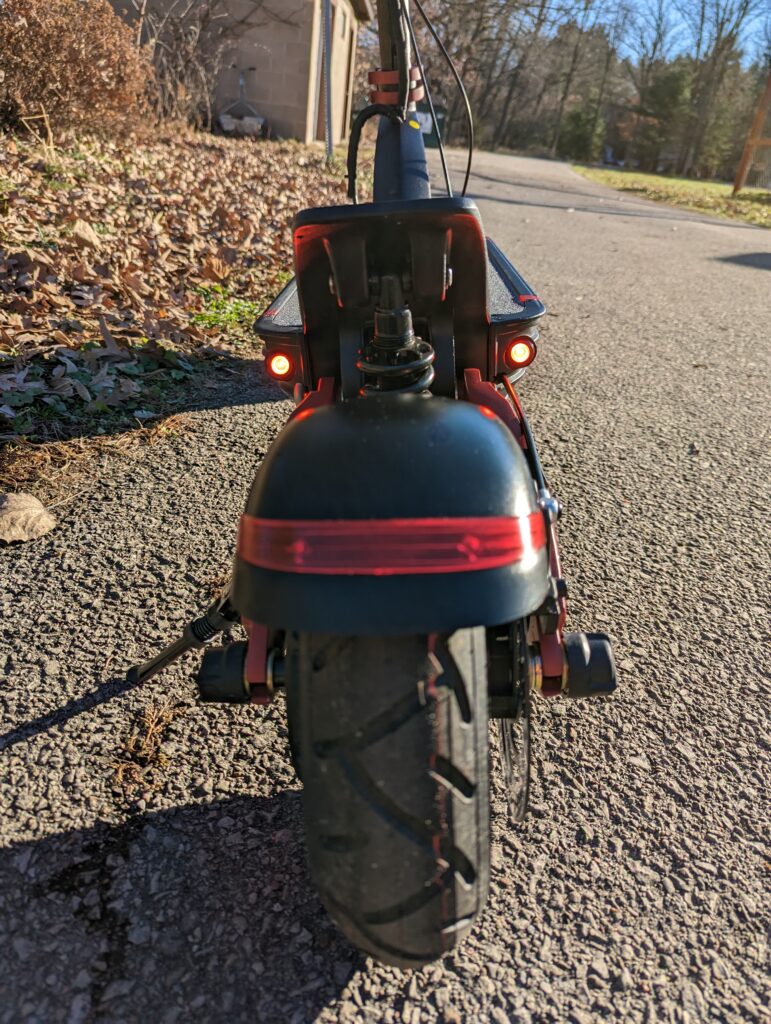 Two front led deck lights and two rear led deck lights provide standard lighting. The rear lights flash when brakes are applied which is a nice safety feature for anyone who might approach you from the rear. I would recommend if you ride often at night to purchase a stem or handlebar mounted headlight to provide extra illumination for safety.
Varla Eagle One Performance
It cannot be said enough how powerful the dual 1000W motors feel. My comfort level is around 25-30 mph on straight, smooth terrain, however the Eagle One is advertised to reach speeds of up to 40 mph. I live in a very hilly area, and with a push of a button I can engage the dual motors and tackle those hills with ease. I've had other scooters and even ebikes that couldn't tackle my hills as effortlessly as the Eagle One can. The throttle is a trigger pull design which did confuse some of my natural hand placement confusing it as a brake. I found it useful to start in the 'Eco' mode while I got used to the layout.
The Varla Eagle One sports a 52V / 18.2Ah lithium-ion battery and advertises a range of 40 miles. As with any electrical powered vehicle, especially a scooter, your range will vary depending on your rider weight, terrain, and how much you apply the throttle. Fortunately, the Eagle One provides both a battery level meter in the LCD display as well as a voltmeter in the ignition so you can always be confident that you can make it to your destination. The 8-9 hour charging time can be improved with the purchase of a second charger as the Eagle One has two separate charging ports. Make sure you treat these charging ports like any other charging port as they are susceptible to short circuits if a piece of metal happens to get inside and crosses the connectors.
Braking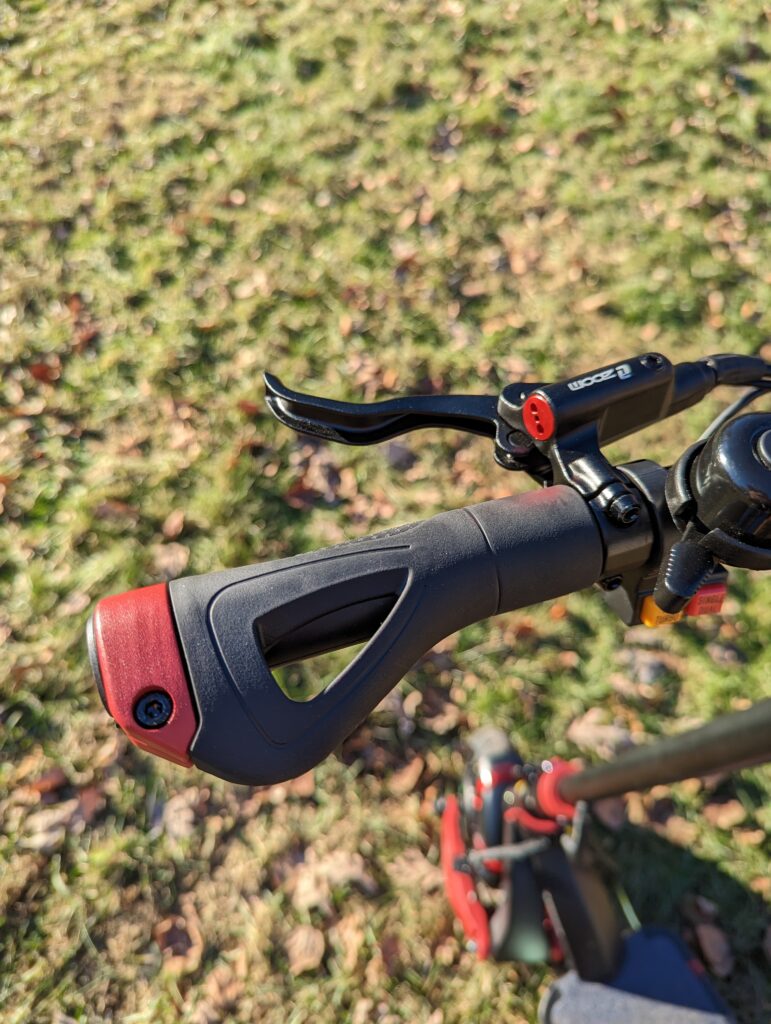 The Eagle One has the required stopping power given the performance that is provided from its dual motors. The dual Zoom hydraulic brake system includes an adjustable regenerative option via the settings in the display. Note that there is a separate brake for both the front and rear wheel so make sure to brake first with the rear wheel then use the front brake. I was comfortable with the braking system almost immediately as one of my current ebikes uses a zoom hydraulic system and I have used regenerative braking systems in the past. If both of these are new to you expect to take some time learning how to properly stop, especially if you are riding at higher speeds.
Display
The color LCD display is simple and intuitive. You can see your mileage, estimated battery level, gear (1, 2, or 3), and speed in either kph or mph. I found it easy to read all the information provided in bright daylight. All the advanced configuration options are easy to follow in the manual provided. In addition to the display, as mentioned earlier the key style ignition provides a voltage reading for added confidence in your battery level. The Eagle one does require that the key be turned to the on position in the ignition before the LCD display will turn on which is a nice extra anti-theft feature.
On the left side of the handlebar, you'll have your Eco/Turbo and Single/Dual motor controls. It is great being able to quickly toggle between the different modes with a single button. I have to say the labeling is a bit confusing on the buttons and it is hard at a glance to tell whether they are pushed in or not, but after a few rides I got used to it. I felt a difference between all of these settings and different combinations. For the most part, I would run in Eco mode with the Single motor option, and if I wanted a little extra speed I could tap into the Turbo function. If I was going up a steep hill, that's when I would switch over to the Dual motor option and effortlessly climb my way up. With these adjustments plus the gear control on the display, it is easy to dial in exactly the type of ride you want to have.
Handling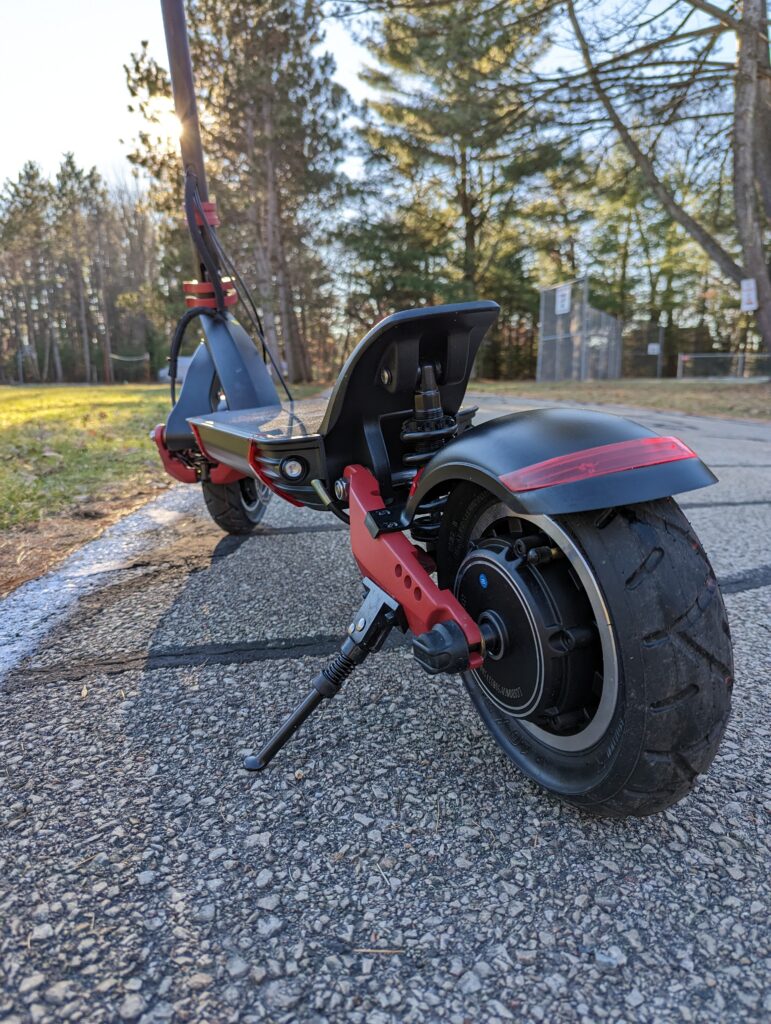 The Varla Eagle One uses 10 x 3 inch pneumatic tires with an adjustable spring suspension. You feel the suspension immediately when you step onto the 21.6" x 9.1" deck. I was amazed at how smooth the ride is going over bumps and cracks in pavement. The kick plate provides added comfort when you really want to lean into your acceleration. I usually have to take it slow between the road and my driveway because of the hard bumpy transition. With the Eagle One I hardly noticed. The stem is locked via two quick releases on a collar style clamp. It takes a bit of effort to get this dialed in correctly each time I need to move the collar, but I don't anticipate having to fold this scooter often. I didn't experience much wobble in the stem through any normal use. If you lean heavily on the stem with a lot of weight or consistently ride at higher speeds you might experience more movement. There are options in the market if you'd like to upgrade the collar or purchase a stem stabilizer if you lean more into the handlebar/stem while riding.
Conclusion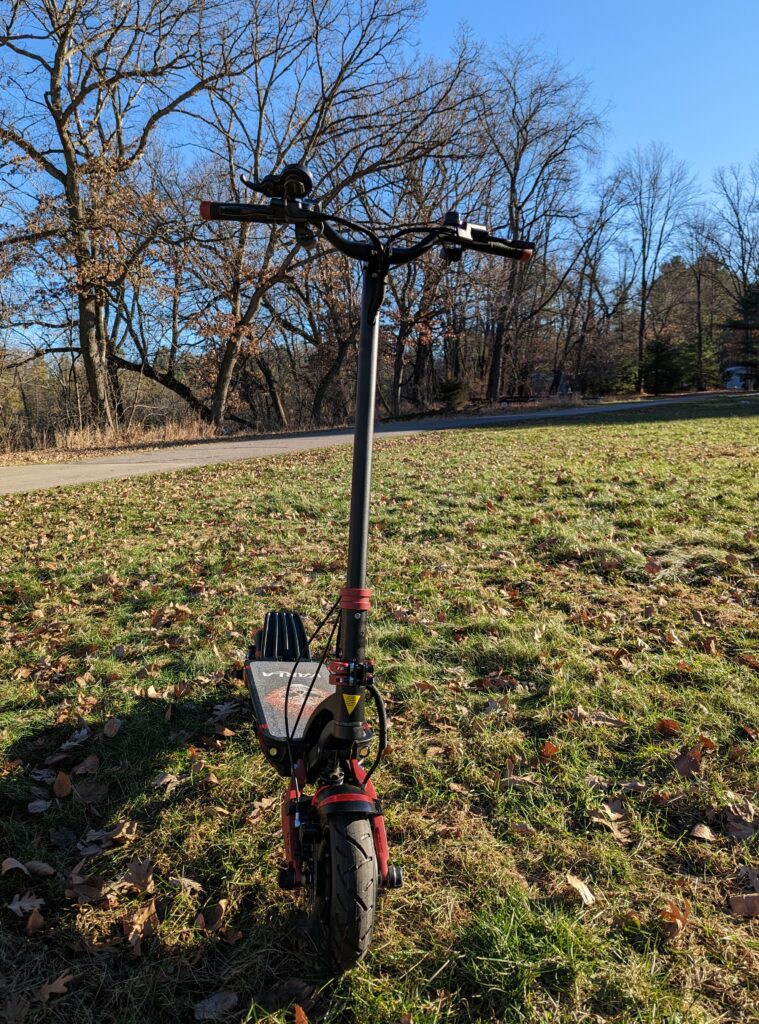 The Varla Eagle One dual motor is an excellent choice for a performance electric scooter. The dual motors provide plenty of acceleration and power to tackle hills, the suspension adds a comfortable ride, and the hydraulic braking gives the stopping force when you need it. Varla has put together the complete package at a reasonable price point.
Electronics (motor, display and battery)
10
Components (brakes, suspension, tires etc.)
8.5
Styling, finish and comfort
9
Varla Eagle one pros
Powerful dual motors
Large battery
Suspension
Multiple Performance Settings
Varla Eagle one cons
Weight
No folding handlebars
Basic lighting