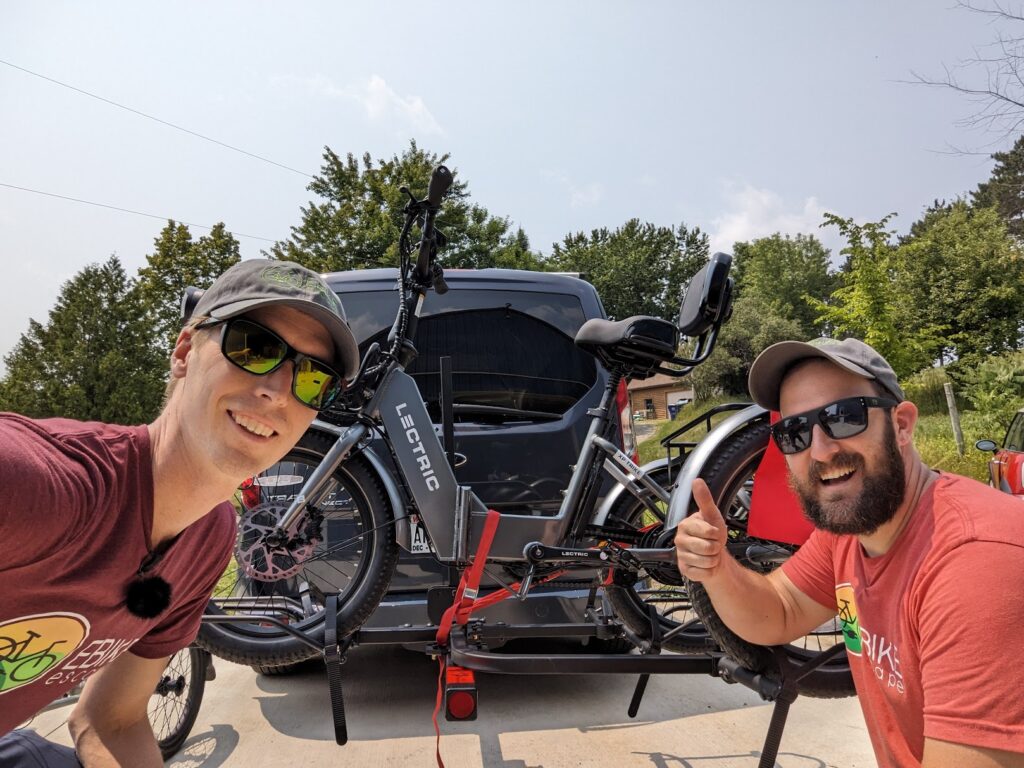 The electric trike market has been exploding lately! But if you have an electric trike, how do you transport it? Read ahead for our Hollywood Racks Trike Adapter Review.
The Hollywood Sport Rider Rack recently made our list of the best racks for ebikes and is a popular choice among ebike owners. Hollywood continues to innovate and is the first company to market an adapter for an existing rack so of course, we had to try it.
If our review helps you decide to get a Hollywood Racks Trike Adapter, please consider using our affiliate link. We greatly appreciate the support.
Hollywood Racks Trike Adapter Video Review
JT and Ryan loading up two of our favorite electric trikes, the Lectric XP Trike and the Radpower RadTrike in the video below. Check out our comparison video between these two electric trikes here.
Trike Adapter Pricing and Where to Buy
If you don't have a Hollywood Sport Rider Rack, you must get the base selling for $499. It is available direct from Hollywood Racks but Rad Power Bikes and Lectric also sell it.
Then the trike adapter is another $249. Ordering direct from Hollywood Racks you can get the Sport Rider and the Trike Adapter for $699 ($50 off). There are a few other options on the market for hauling your electric bike, but not many. Some are purpose-built for a specific electric trike as opposed to designed to work with many different trikes. Other options that do exist are priced about the same.
Weight Limit
The max weight for the trike adapter is 90 lbs. The Lectric and the Rad Power Bikes RadTrike are less than 90 lbs as long as you remove the battery. This still allows you to load up the first spot closest to the vehicle with a two-wheeled electric bike that weighs up to 80lbs. Other specs to keep in mind:
Max combined Weight: 170 lbs.
Max Wheelbase: 60″
Max Track Width: 36″
The weight limit is sufficient to haul the two most popular electric trikes on the market while still hauling most electric bikes. This is a perfect solution for those who own both for transportation.
Hitch Requirements
You will need a class 3 hitch that provides a slightly higher range for tongue weight. Hollywood Racks recommends against using an adapter with a 1.25-inch or 2-inch adapter. Sadly, this setup is not approved for use on any RV, Travel Trailer, 5th Wheel or towed vehicle
If this doesn't sound like it will work for your setup, consider buying the Lectric Trike. Like most of the Lectric fleet, the trike is a folding bike that makes transport easier. In our experience, it fits most SUVs.
Setting up your Rack and Loading the Trike
The Hollywood Racks Trike Adapter includes everything you need to get up and rolling. The first time you use the rack, there is some customization to ensure the rack fits your trike. Once you get that first ride in, the next time loading up goes faster.
The wheel blocks are designed for tires with a diameter of less than 20 inches and shorter width. This allows the trike to sit better in the wheel holders. You may need to make adjustments based on the exact size of your tire.
The kit includes two mounting bars and an extra wheel mount. One bar extends your rack towards the rear to accommodate the trike width and the others extend to allow mounting of your front trike tire and the left-rear wheel. The right wheel holder is attached to the base Sport Rider rack.
Once assembled, you will need two people to lift the trike into the rack. First, you secure all three wheels using the plastic straps. Next, you need to use the included tie-downs to minimize vertical movement. You can use these to go around the handlebars and hook them onto the rack. Note that the trike adapter kit doesn't utilize the same clamping system as the Sport Rider Rack and uses tie-downs instead.
Finally, attach the included red flags for higher visibility on the road as the trike does hang off the rear of the vehicle quite far.
Securing your Trike
Hollywood Racks include several locking mechanisms with the Sport Rider Rack. They have a cable lock to loop around the frame, a lock included in the clamping mechanism used for the two-wheeled bike, and a lock on the hitch itself. Nothing is foolproof if the thief is motivated enough but these are nice inclusions.
In Conclusion for our Hollywood Racks Trike Adapter Review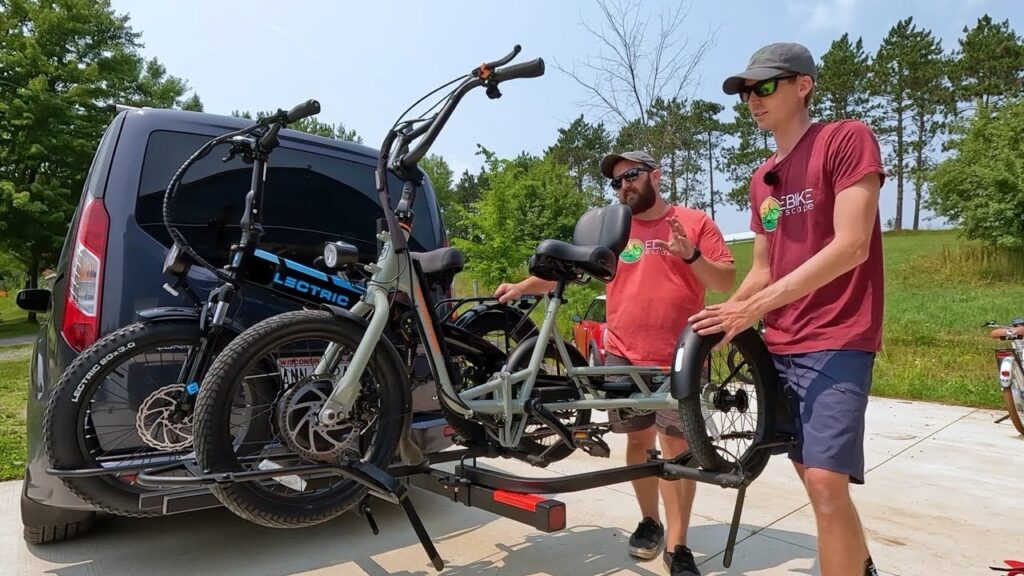 We like the Hollywood Rack overall for its high weight limit and affordable price. What makes it even better is that many electric bike owners already own a Sport Rider bike rack and the Adapter Kit is an easy and affordable way to haul an electric trike.
There are, of course, trike racks out there that are specific for certain brands. And we will be keeping an eye out for other options. The nice thing about the Hollywood Racks is that it can bring an additional ebike for your riding partner.
How do you transport your trike? Comment below.
Hollywood Racks Trike Adapter Review
Hollywood racks trike adapter pros
Allows to haul one ebike and one etrike
Includes wheel adapters for smaller wheels
Works with most popular etrikes
High weight capacity
Security features
Hollywood racks trike adapter Cons
Not compatible with RVs, 5th wheels etc.