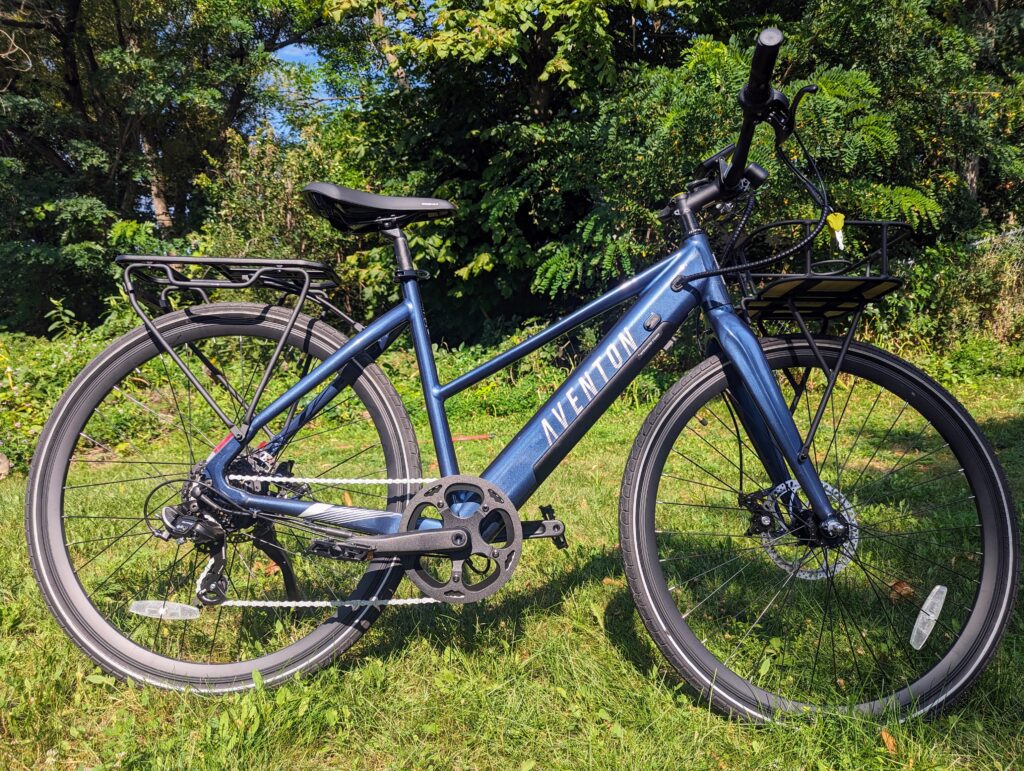 The Aventon Soltera.2 is the latest Aventon ebike to hit the streets. It offers a bunch of refinements that bring this roadbike-style ebike up to date with the features and styling we've come to expect from the Aventon brand. Read on to find out if the $1399 price tag, justifies the $200 increase from the previous version.
Aventon Soltera.2 In-depth Video Review
Frame and Fits
There's something for everyone with the range of shapes and sizes on offer with the Soltera.2. The more traditional high-step frame has either a Midnight Black or Citrine finish, sized Regular for heights 5'3" to 5'10" and Large for 5'10" to 6'4".
A more accessible, lower-barred, mid-level step-through is available in Storm Blue (pictured) or Ghost White for Small/Medium riders 4'11" to 5'7" tall or Medium/Large for those measuring 5'7" to 6'1". These ebikes weigh in at 46lb with a 300lb weight capacity.
The standover heights are quite different on each frame, starting at about 31″ on the high step and 25.5″ on the mid-step. Our recommendation is the mid-step for its increased accessibility, even for those taller riders that fit within the quoted height range.
Aventon Power and Torque Sensor
It's great to find a removable battery for protection from extreme temperatures. Plus it allows riders to bring the battery in for charging. Here Aventon provides its familiar LG cells with power credentials of 36 Volts, 9.6 amp hours or 345.6 watt-hours, and it's UL 2849 certified. Range estimates, for riders of 160 lb, are 20 miles with throttle alone on flat ground and up to 46 miles with pedal assist.
A major upgrade with the Soltera.2 is the switch to a torque sensor, completing the transition to this advanced pedal assist mechanism for the Aventon ebike fleet. This means a more natural, rider-sensitive experience, limiting energy-wasting ghost-pedaling, and responding to human input. It can make for a more demanding ride uphill but the throttle allows for on-demand full power from the bike.
While the bike uses a 36-volt system and a smaller 350-watt motor to keep the weight down, the Soltera is zippy, allowing the rider to hold relatively high speeds without significant human power in turbo.
Display and App
Class 3 speeds of up to 25MPH with throttle-assist are accessible via the app. The bike comes shipped as a Class 2 electric bike with throttle and pedal assist topping out at 20 mph. As usual, Aventon provides its color LCD display, at the stem, operated with a discrete pad of buttons on the left handlebar. On the same side of the cockpit is the thumb throttle, with motor cutoff, as well as a bell.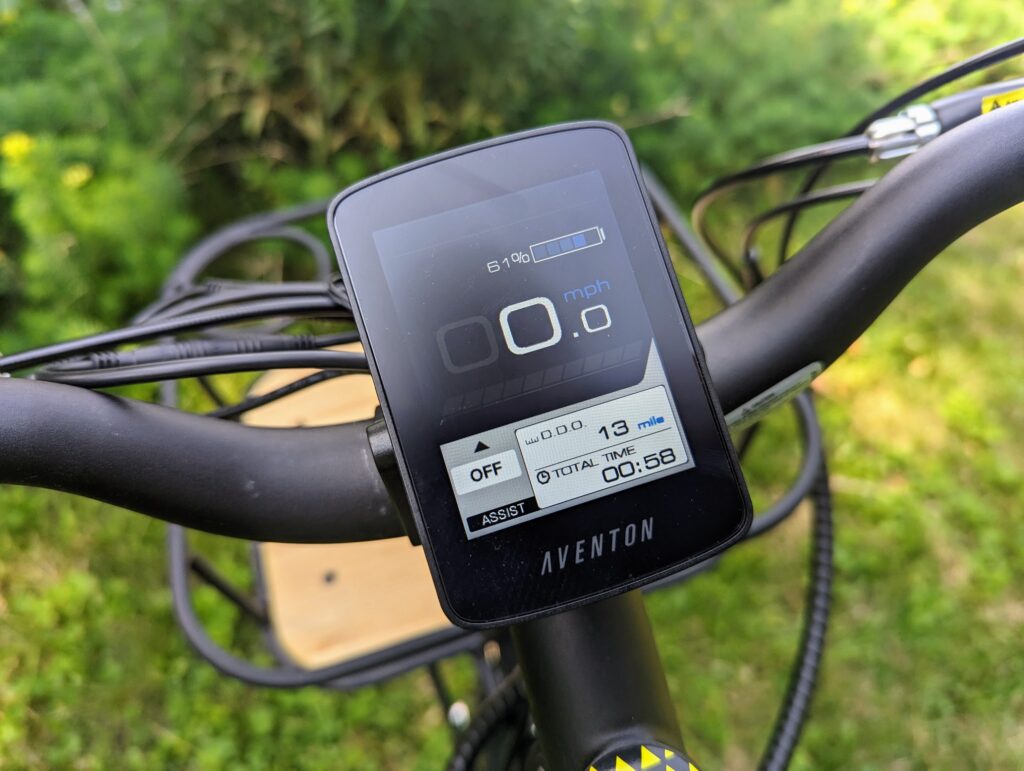 The easy-access power button is at the center of the control pad, also used for changing views on the display, such as the odometer, to speed and even ride time. Left and right buttons show trip data and up and down arrows cycle through the four pedal assist levels: eco, tour, sport, and turbo. Holding the up button turns on the integrated front headlight and rear taillights, which also function as turn signals and brake light, without the lights being switched on.
The Aventon app can be accessed by pressing Up and Down buttons together, to pair with a phone. App features include the display detail found on the bike itself, as well as the ability to record a ride, networking with other riders and gamification with medals for mileage.
Components and Extras
The 350W rear motor with 14 to 28-tooth rear and 48T front chainrings are pretty standard but very capable in this model. As is the entry-level Shimano Tourney derailleur, common even in bikes above the $2k price point. The Shimano Revoshift twist shifter is on the right handlebar, with a neat viewport to keep track of which of the seven gears is engaged.
Mechanical disc brakes with 180mm rotors are also on the basic side, though the Tektro brand is top of the range and ultimately stop this light ebike with relative ease.
There's a bolt-on front axle, meaning a wrench is needed to fix flats. Road bike tires are sized at 700x38c with reflective sidewalls. The 300 lumens integrated front light is brighter than average and Aventon's utilization of the rear lights for brake lights and turn signals is a great safety feature.
A comfortable ride is guaranteed by Aventon's ergonomic, locking grips and casual, lifted handlebars. The metal pedals are typical and the rear kickstand is well clear of them. A generous Selle Royale Essenza Plus saddle adds to rider comfort. And there's a stylish look from Aventon's excellent, concealed cable management, smooth welds, and discrete branding.
A sturdy front basket is available to carry up to 26lbs, with an Aventon-branded wood board and neat cup holder; retails at $54.99. And the rear rack for $67.99 offers bonus pannier capacity. The bike ships with a useful accessories box and reusable packaging that can be converted into a cardboard chair (Seriously!).
In Conclusion
The upgrades on the Soltera.2 bring it up to par with the rest of the range, particularly with the transition to a torque sensor. Even though the price has increased, at $1399 this remains the cheapest in Aventon's range of affordable ebikes. This bike is most suited to urban-riding for those with some experience with ebikes or road bikers looking for an extra boost.
Whilst we encourage you to make a purchase through our link to support Ebike Escape, Aventon ebikes are now available in more than 1000 retail stores across the USA. Check to see if you live near an Aventon dealer.
Looking for other options for lightweight ebikes? Check out our favorites here.
Electronics (Battery, Motor, Display)
9
Components (Shifter, Derailleur, Fork, Brakes)
8.5
Aventon Soltera.2 pros
Removable battery
Lightweight
Clean welds and design
Mid-step option
Bright integrated lights with turn signals
Torque sensor
UL certified
App connectivity
Class 3 speeds
Aventon Soltera.2 cons
Entry level Shimano derailleur
Mechanical disc brakes