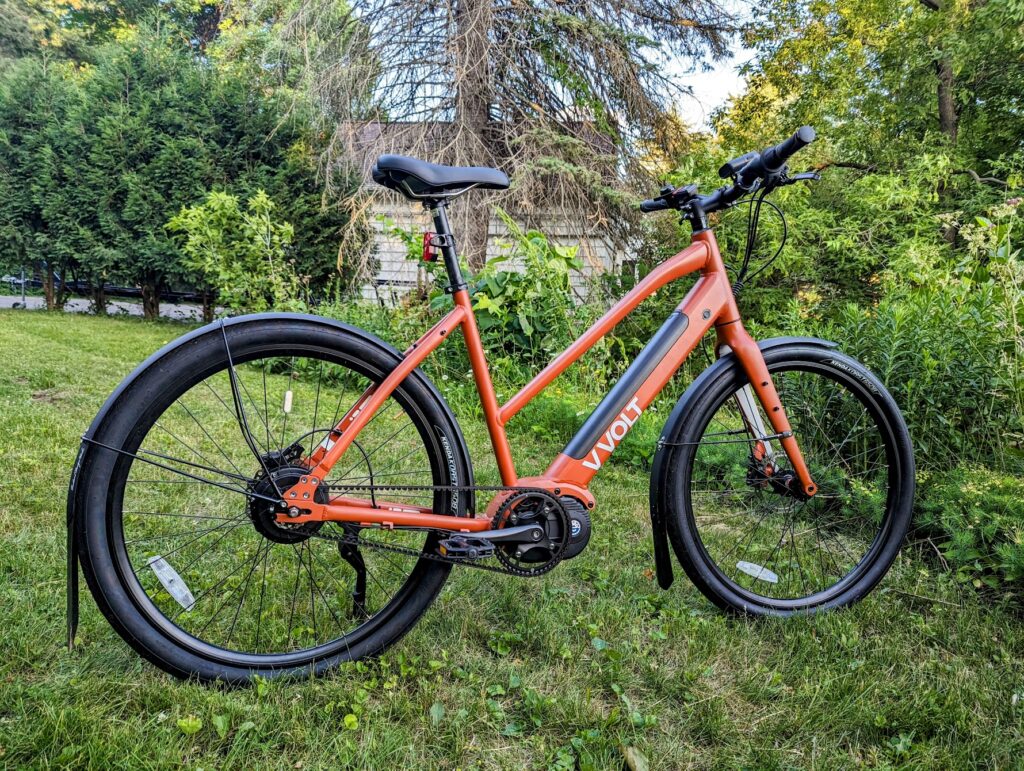 We had a blast doing a review of the Vvolt Centauri. In fact, it's still one of our favorite ebikes to ride! The Centauri has what we like to call, the trifecta: a mid-drive motor, belt drive, and an internally geared hub. The Vvolt Centauri is currently on sale for $1,999 but usually sells for $2,999 at full price. If you are looking for a natural feeling ride and an affordable mid-drive, this might be the right ebike for you.
Vvolt, based in Portland has been around for a few years now and has doubled-down on offering only belt drive ebikes due to their benefits. The ebikes are sold direct to consumer but you have access to a US-based support team should any issues arise.
As always, if we help you make your decision, we would appreciate it if you use our affiliate link. This helps support Ebike Escape at no cost to you. Thanks!
Vvolt Centauri Video Review
Vvolt Centauri Frame Sizes and Style
The Vvolt Centauri comes in a traditional and step-through frame. We are always partial to the step-through version as it increases accessibility, but both options are great depending on your needs.
Both the traditional (Centauri) and the step-through (Centauri S) models come in two sizes. The S/M or the step-through is recommended for riders between 4'9″ and 5'8″, while the L/XL is designed for riders between the heights of 5'7″ and 6'4″. If you are on the cusp, you should probably size up. The standover height for the S/M is 25″, and for the L/XL is 29.2″.
The traditional frame style in the S/M is recommended for riders between 5'3″ and 5'10" and has a standover height of 29.5″. The L/XL is for riders 5'9″ to 6'3″ with a standover height of 31″. The riding position is best described as a traditional riding experience. An adjustable stem could be added to customize the riding position.
Both frame styles and sizes weigh 51 lbs. The Volt Centauri and the Centauri S come in three colors: slate (gray), chalk white, and mars (reddish orange). Our favorite is the bright Mars color!
Motor and Battery
The Vvolt Centauri features a quiet MPF mid-drive motor. The motor is a 350-watt nominal power that peaks at 650 watts. Even with the smaller motor, it feels zippy and responds well to ride input. This is made possible by measuring pedal input (torque sensor) while also tracking pedaling speed (cadence sensor) and bike speed (speed sensor).
The integrated and removable battery is 375 watt-hours (36 volts). This is on the smaller side for batteries. It has an advertised range of 15-40 miles. And remember, this ebike is meant to be pedaled which helps prolong the range on a smaller battery. If you feel you will need a longer ride, consider upgrading to the 500-watt-hour battery. For a limited time, Ebike Escape readers can get the upgraded battery instead of the stock battery for just $300 extra. Use code "ESCAPE" at checkout with the battery in your cart.
Vvolt includes two displays with your purchase. This allows you to choose whether your Vvolt Centauri will be a Class 1 or a Class 3 ebike which can be helpful depending onw here you ride. Class 1 will add motor power up to 20 mph, while Class 3 will add power up to 26 mph. The monochrome display is small and more basic than the average ebike display, but it does include an odometer, total mileage, and current motor watt usage.
There are 6 levels of pedal assist, 0-5, in addition to walk mode.
Vvolt Centauri Components
A bike with no derailleur? Yup, the Vvolt Centauri uses an Enviolo TK, a continuously variable transmission. With this system, you will never miss-shift or miss a gear again. Simply twist the Enviolo NuVinci shifter depending on the current terrain and riding preference.
You also don't have to worry about shifting while the motor is engaged or even shifting when you are at a standstill – you can shift whenever you want!
The Enviolo internally geared hub is paired with a carbon belt from Gates. There is nothing like the smooth operation of a belt drive and an internally geared hub. Plus, no messing around with chain grease or maintenance for up to 20,000 miles.
The Rush hydraulic brakes provide good stopping power despite the slightly smaller than-average rotors, which are 160 mm. The tires are 27.5″ x 45 mm, which works great on the pavement and can handle some light off-roading, such as gravel or packed dirt. Though this ebike with its lack of suspension feels best on the pavement as a commuter.
For something a little more versatile, check out the Vvolt Sirius.
Optional Accessories
Vvolt has plenty of optional accessories if you need extra bells and whistles. You can add front or rear racks, fenders, or even a helmet.
There is no suspension on the Vvolt Centauri, so if you need extra comfort, consider adding a suspension seatpost. Our favorite is the SR Suntour NCX.
One downside of the Vvolt ebikes is there are no integrated lights, but they do include a nice rechargeable front light and another rechargeable light to add to your seatpost. For more accessory ideas, check out our electric bike accessories list.
Concluding Remarks After our Review of the Vvolt Centauri
The Vvolt Centauri is a sweet deal if you want an affordable mid-drive motor with a belt drive and an internally geared hub. That is especially true right now with the sale they have going on. This ebike has a natural riding experience, and though this is not the biggest battery or motor we've seen, it has plenty of zip thanks to the responsive pedal assist sensors. The riding experience doesn't compare to an ebike with a derailleur and chain driven by a mid-drive.
There are a couple of downsides, including no integrated lights, and a very small and basic display but these are outweighed by the amazing riding experience. It would also be nice to see a throttle included, as sometimes it is helpful even if it isn't something you use on a regular basis.
We're also excited by Vvolt's new ebikes coming later on in 2023 and into 2024 with the Slice Lite, Slice DLX, and PIE. Stay tuned for more Vvolt reviews.
Electronics (Battery, Motor, Display)
8.5
Components (Shifter, Derailleur, Fork, Brakes)
9
Vvolt centauri pros
Zippy mid-drive Motor
Gates Belt Drive
Internally Geared Hub
Affordable
Hydraulic disc brakes
Relatively lightweight
Maintenance free
US-based support
vvolt centauri cons
No integrated lights
Smaller stock battery
Small display
No fenders or rack included
No throttle