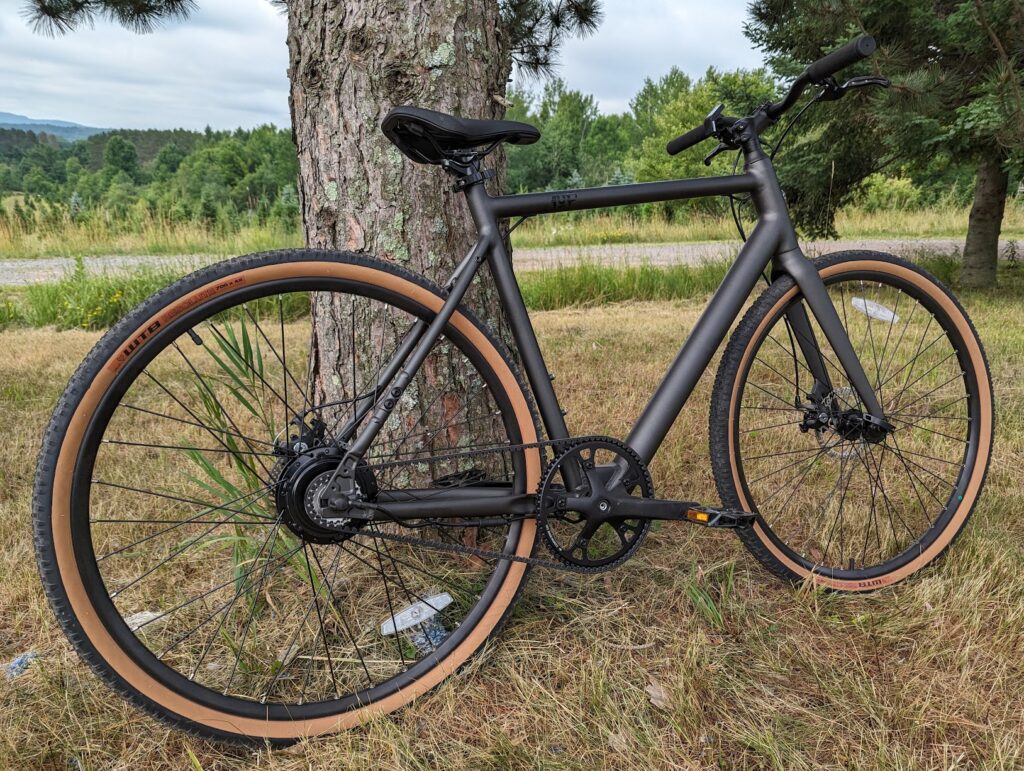 Are you looking for a bike to run errands or commute in the city? Perhaps you want a little exercise but also want a battery for a bit of an extra boost. The perfect fit might be Ride1Up's Roadster V2.
We got to review this bike a couple of years ago, and you can read about it in more detail here. Today we will review the Gravel Edition of the Ride1Up Roadster V2. It takes the base model and expands, allowing riding on more than just paved surfaces. It is sleek and lightweight, appearing similar to a traditional bike, but it packs an extra punch when needed.
Ride1Up is a well-established company that uses name-brand components and provides affordable ebikes. The Roadster V2 Gravel Edition is currently selling at $1,145 for the non-throttle version or $1,345 for the version with a throttle.
Use our discount code ebikeescape_45 for an extra $45 off. If you do get the Roadster V2 Gravel Edition (with throttle) or without a throttle, we would appreciate you considering using our link. It's a free way to support Ebike Escape.
Roadster V2 Gravel Edition Video Review
Frame Size and Style
The beauty of the Roadster V2 Gravel ebike is in its simplicity. This sleek and beautiful ebike looks like a regular bike to the untrained eye. The step-over aluminum alloy frame of the Roadster V2 Gravel Edition comes in two sizes, small and large. The small frame is recommended for riders between 5'3″ and 5'8″, while the large is recommended for riders between 5'8″ and 6'3″.
The standover height for the small frame is 30.5″ compared to 33″ for the large frame. Both sizes have a single color option, gravel gray. The bike weighs 33 lbs, which is quite light for an ebike. The weight capacity is 300 lbs.
Motor and Battery on the Roadster V2 Gravel Edition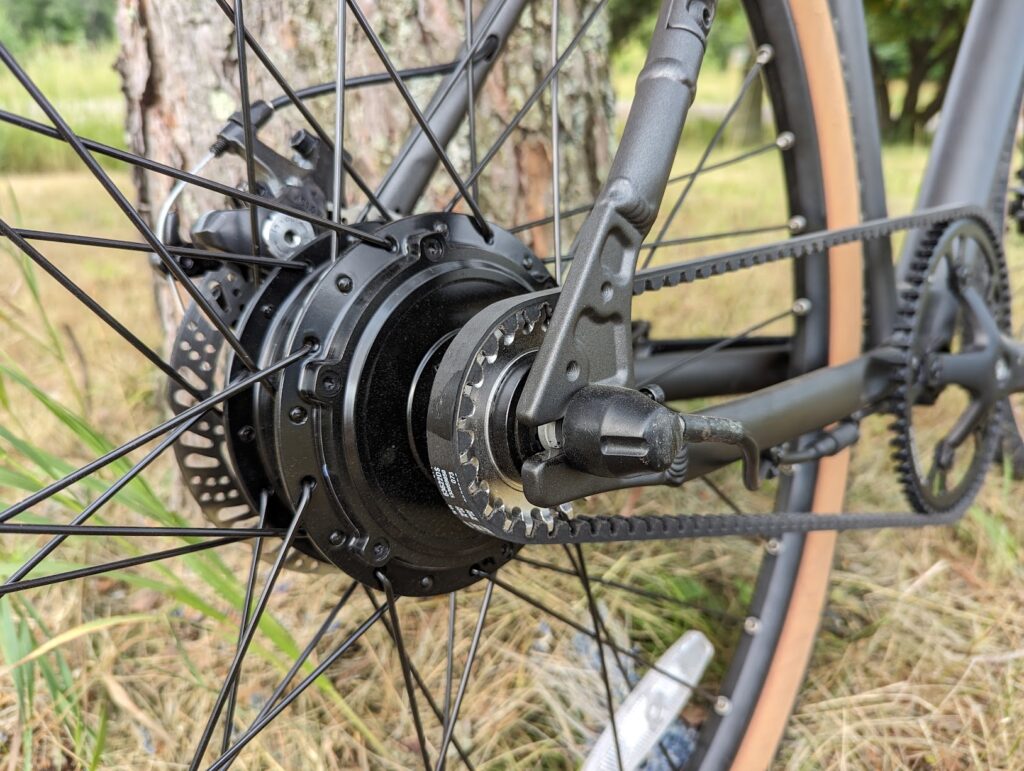 The Roadster V2 Gravel Edition motor is a petite 350-watt Shengyi geared rear hub motor. It peaks at 500 watts. This is on the small side compared to most ebikes which fits the purpose of the Roadster V2. Essentially, this isn't a bike meant to move without human power, it is designed to amplify your riding with a boost.
The Samsung battery is also rather small at 36V 7Ah for a total of 252 watt-hours. It is hidden in the downtube and can be removed for replacement but is not intended to be removed frequently. The range of this ebike is estimated at 20-30 miles. This can vary greatly depending on how much and often you use battery power vs. pedal power. For an additional $375, Ride1Up sells a 7Ah battery that mounts to the seat tube, doubling the range.
Speed and Class
The Roadster V2 Gravel Edition is a Class 3 ebike with a max speed of 24 miles per hour. The ebike provides power via a cadence sensor meaning it will add power as long as you are pedaling. How much power it adds depends on which pedal assist level you are riding in (0 through 5). Your pedal assist level, battery capacity and speed is shown on a minimalist black-and-white display. Making the display small helps the Roadster V2 look more like a traditional bike.
The version of the Roadster V2 Gravel we were able to review did not have a throttle, but you can get this ebike with a throttle if you prefer. That will increase the price to $1,345. Keep in mind any throttle usage will eat into the small battery quickly so you'll want to use it sparingly. The throttle version also sports a less sleek looking display with the throttle attached to it.
Components of the Gravel Roadster V2
The Roadster V2 Gravel Edition is a single-speed ebike with a 63T front, 22T rear Gates carbon belt drive. That means this bike doesn't have a traditional chain, thus requiring less maintenance. Despite well-chosen gearing, with a single-speed ebike, a small motor, and a small battery, the Roadster needs a good bit of help to get up steeper hills. Comparatively, it had no problem with speed on flats. The Roadster easily carried our 225 lb test rider over 20 mph.
Depending on the chosen frame size, the tires are either Continental Terra or WTB Resolute 700Cx42. These tires can of course handle some off-roading but are also designed to maintain good efficiency. The brakes are Tektro Aries Mechanical disc brakes with 160mm rotors.
A bike bell and bottle cage bosses can be found on the seat-tube. This simple and sleek bike does not include fenders, racks, or lights. It also doesn't include a kickstand which can be frustrating if that is something you are used to.
Similar to most gravel bikes, this ebike doesn't have any suspension. If having a few more bells and whistles are important to you, check out our list of accessories. Check out our other reviews of Ride1Up ebikes that may be a better fit if you are looking for something more power and battery.
View the Roadster V2 Gravel Edition full components list
Upgrades on the Gravel vs. the original Roadster V2
Both the Gravel Edition and the original Roadster V2 are solid ebikes. The Gravel Edition is slightly more expensive, currently $50 more. It comes with larger tires, upgraded brakes, and a name-brand belt. It has slightly lower gearing with 63T/22T on the Gravel Edition compared to 64T/20T on the Roadster V2. The frame sizes, motor and battery are all the same. The Roadster V2 is offered in three color options.
Concluding Thoughts
After review, we think the Roadster V2 Gravel Edition is a great ebike for commuting, particularly for those who plan to pedal and plan to ride flat areas or rolling hills. The small and well-integrated motor and battery blend into the frame to provide a sleek overall look. Plus, this is an ebike that can be easily transported or brought up a flight of stairs.
The Gravel Edition made some great upgrades, including better brakes and a name-brand for the belt drive, and is currently only $50 more than the original. Finally, considering the gravel ebike over the base model is worth considering if you don't mind bigger tires. What this ebike is the option for accessories: fenders, racks, and lights. It makes up for these downfalls with its light weight and ability to be transported or brought up a flight of stairs. For the right rider, this is a great ebike.
Roadster V2 Gravel Edition review
Electronics (Battery, Motor, Display)
8.5
Components (Shifter, Derailleur, Fork, Brakes)
8.5
Frame, Geometry and Sizing
9
roadster v2 gravel edition pros
Sleek appearance
Lightweight
Increased exercise opportunity
Affordable
Tektro branded brakes
Gates Carbon belt drive
Optional throttle
Second battery option
Speeds up to 24 mph
Two sizes
roadster v2 gravel edition cons
Single speed
Small battery and motor
No fenders, integrated lights, rack, or kickstand
If you are looking for something more accessible but sporting the same style, we recommend Ride1Up's Turris ST, or if you are looking for something to crush those hills, try Ride1Up's REVV 1. Alternatively, Propella has several options for stealthy ebikes with small batteries.