When the Lectric XP 3.0 was released in late 2022, it was arguably the most exciting upgrade of the year, and now, less than a year later, they are already improving it! This bike is one of the best-selling ebikes on the market, so we were happy to have the opportunity to review the upgraded Lectric XP 3.0.
You won't find anything else with this quality at this price. There are two major upgrades, yet it still only costs $999! That is insane for an ebike with these specs. Read on for the review article below or check out the full YouTube video review below.
If you are considering buying the Lectric XP 3.0, we would appreciate your support by using our affiliate link. Thanks for your support!
Lectric XP 3.0 Video Review with Hydraulic Brakes
Review of the Hydraulic Disc Brakes on the Upgraded Lectric XP 3.0
The main change Lectric has made on their 3.0 is the transition from mechanical brakes to hydraulic brakes, which is an awesome upgrade. The new brakes provide a lot more stopping power. They are also less noisy than the cheaper mechanical brakes Lectric had been using.
We have a comparison video that shows how much difference this upgrade made. Not only do these unbranded hydraulic disc brakes provide more stopping power, but they are also easier to pull and have less required maintenance.
New! PWR Controller on the Upgraded Lectric XP 3.0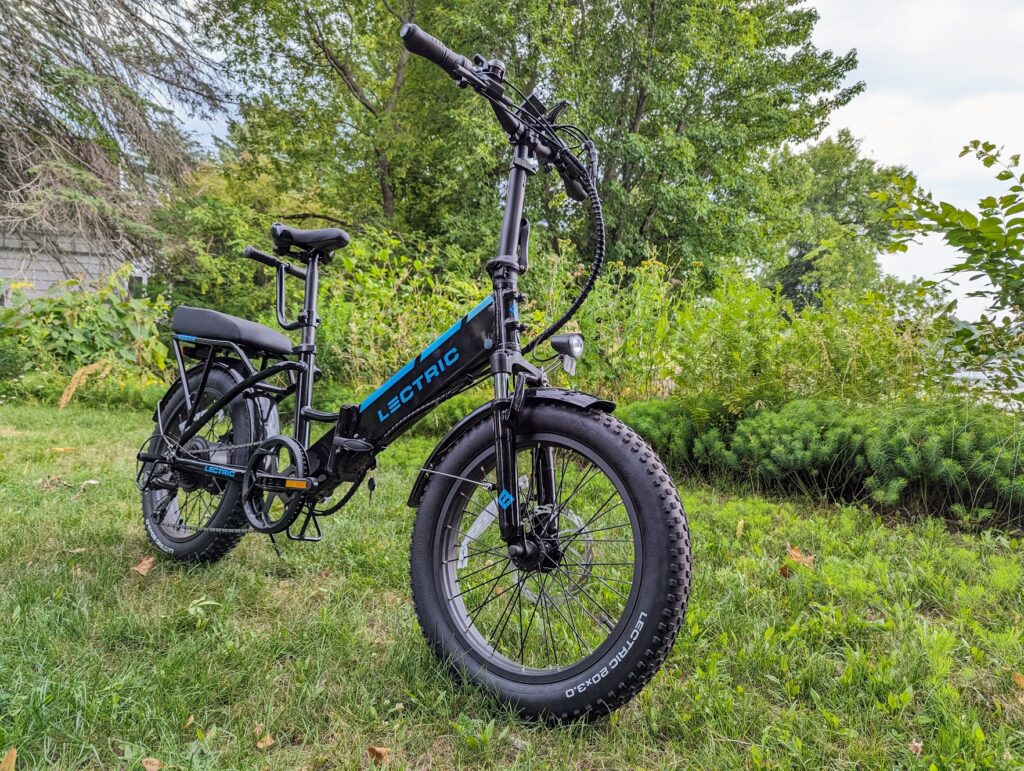 In addition to the upgraded brakes, the Lectric 3.0 now has an upgraded PWR controller. Traditionally, the power provided by the ebike per pedal assist level was based on the bike's speed – also called speed-based pedal assist.
In our review of the upgraded Lectric 3.0, we loved the new PWR controller because it provides power based on a certain amount of current instead of speed. In essence, with a traditional speed-based pedal assist, you won't go faster if you reach the max speed for a certain pedal assist level, no matter how hard you pedal. The motor simply cuts off at a pre-determined speed by the manufacturer.
With the new current-based PWR controller the motor provides consistent assistance, either a little bit (pedal assist level 1) or a lot of assistance (up to pedal assist level 5). The motor is always there assisting you making for a more natural riding experience. We found that the bike also feels less jerky off the line, which will be welcome news to newer riders.
The Lectric 3.0 still uses a cadence sensor rather than a torque sensor. This means that as long as you're pedaling (no matter how hard), the motor will engage assuming you've selected a pedal assist level 1 through 5. The upgraded PWR controller doesn't provide as natural of a feel as a torque sensor, but it certainly is a noticeable improvement.
Lectric 3.0 Frame Design
Like prior versions of Lectric XP, the upgraded 3.0 is a folding ebike. The Lectric XP 3.0 measures 37″L x 18″W x 28″H when it is folded up. This can make it much easier to transport than other ebikes.
It has two frame designs, the high step and the step-thru. Here at Ebike Escape, we almost always prefer the step-through for accessibility. However it's important to call out that the pedals are closer to the ground on the step-thru compared to the high step so be mindful when taking turns.
Color options are black for the high step and white and black for the step-through.
The bike weighs 64 lbs. It has a weight capacity of 330 lbs and a rear rack with a 150 lb capacity. This opens up the possibility for you to bring a passenger. This could be a kid riding in the Thule Yep Maxi or a small adult with the addition of passenger accessories such as footpegs and handlebars.
The step-through has a stand-over height of 18.5 inches and is recommended for a wide range of heights from 4'10" to 6'3″. The standover height for the high step is 24″ and is designed for riders between 4'10" and 6'5″. Taller riders 6′ and above should be aware that full leg extension may not be possible when pedaling.
Lectric XP Electronics: Motor, Display, and Battery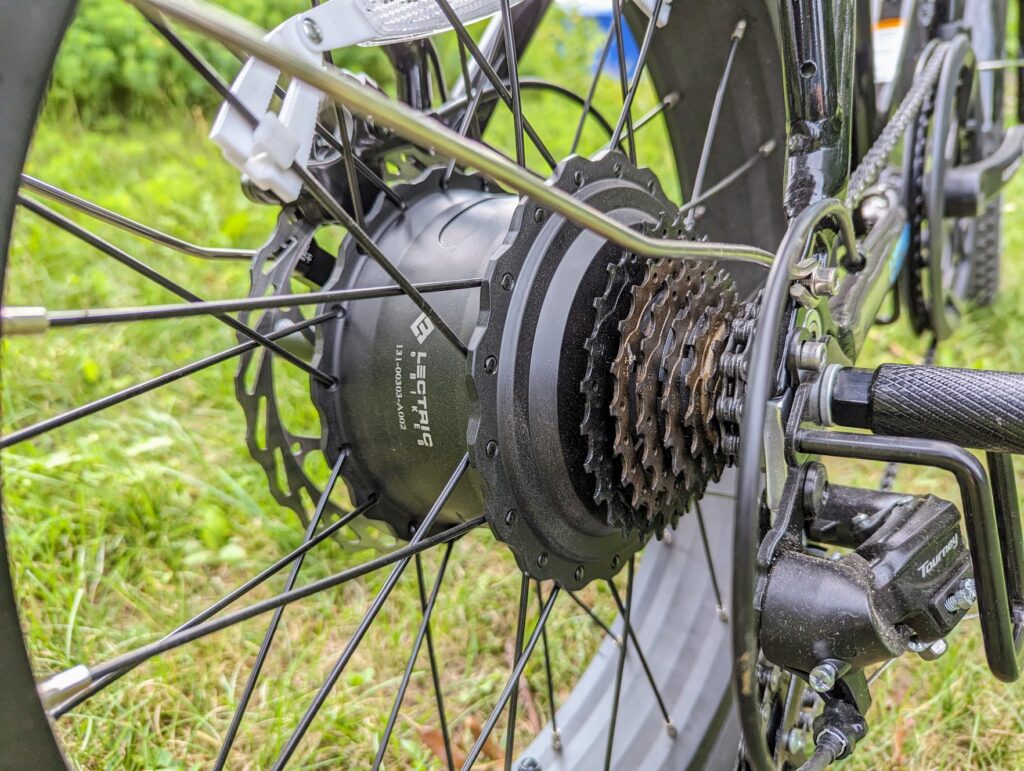 The battery with the base version is a 48V, 10.5 Ah battery, with an estimated maximum range of 45 miles in pedal assist one. For an extra $200, you can upgrade the battery to the 48V, 14 Ah Long Range Lectric 3.0 with a maximum range of 65 miles. If you think you MIGHT need the bigger battery, I suggest getting it upfront. It's a pretty reasonable price for the amount of battery upgrade you get.
The motor is a 500-watt motor that peaks at 1000 watts with a torque of 55Nm. This is plenty of power for most riders, and the performance certainly stands out when considering the price.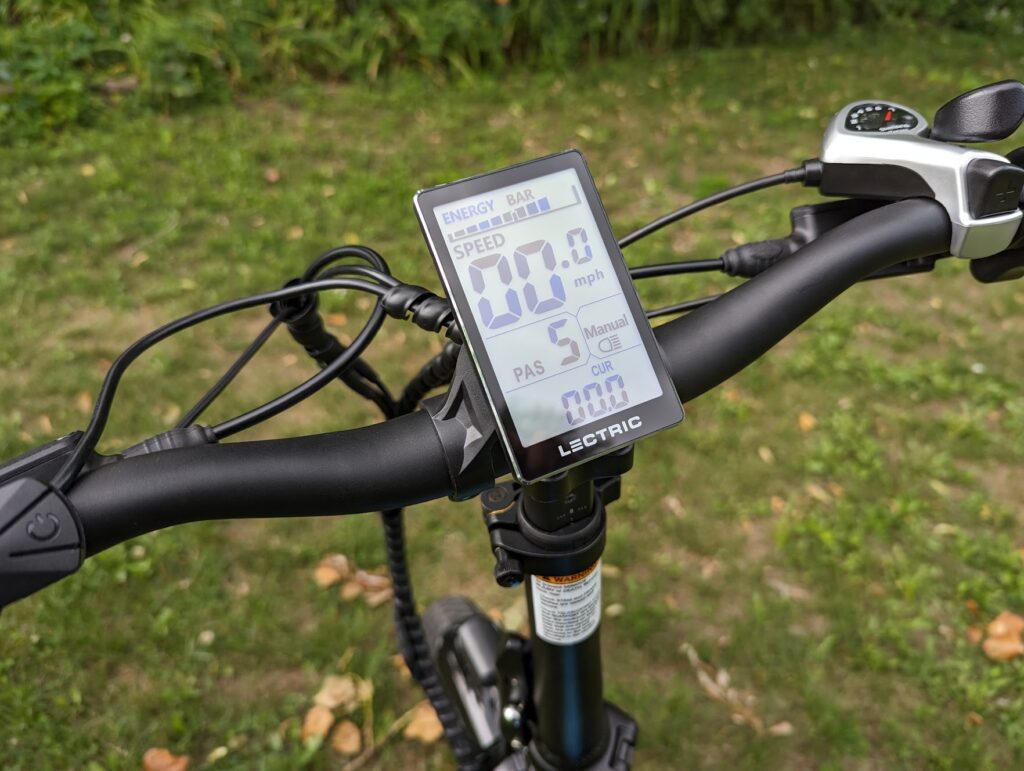 Center mounted on the handlebars is the monochrome Lectric display which is easy to use even in the bright midday sun. There are advanced settings accessible from the LCD screen, such as switching the bike from Class 2 (20 mph top speed) to Class 3 (up to 28 mph). Other advanced settings can help you further customize your ebike. Check out our video review for more details.
You can power the Lectric 3.0 with either pedal-assist or throttle. Pedal assist level 5 provides the most assistance and allows access to the full-throttle power. This gradually decreases down to level 1. You can also ride in pedal assist level 0, which not only allows you to pedal it like a non-electric, but heavy bike but it also blocks access to the throttle. I appreciate this as a safety feature.
Components
The upgraded Lectric XP 3.0 stays with the 11-28 tooth rear freewheel, which was upgraded between the 2.0 and the 3.0. The 7-speed Shimano thumb shifter works with an entry-level Shimano Tourney derailleur. You can view all the specs on Lectric's website.
There is a front suspension fork with 50 mm of travel. In addition to the front suspension, 20″ x 3″ tires help soak up the bumps and make for a more comfortable ride.
Customizing your upgraded Lectric XP 3.0
The Lectric XP 3.0 is an awesome and affordable ebike with integrated front and rear lights, fenders, and a rear rack welded right to the frame. There are plenty of ways to make it the perfect ride for you. Check out our Lectric 3.0 accessories video and accompanying blog post for some ideas.
Lectric has plenty of accessories as well like the front or rear racks, bags for storage, upgraded seats and more Lectric-specific goodies. Ebike Escape also has a store with cell phone mounts, battery bags, and more ebike-specific accessories.
Concluding our Review of the Upgraded Lectric XP 3.0
When the Lectric XP 3.0 originally came out in late 2022, we thought it was a great deal and an overall great ebike. Now that they have upgraded to hydraulic disc brakes and upgraded the power controller, we love it even more! Simply put, it's the best $1000 ebike currently on the market.
For this price range, it is hard to find anything close to comparable to what you get on the Lectric XP 3.0. If this ebike isn't what you want, check out our other Lectric reviews to find the perfect fit. Other folding options can be found in our best folding ebikes post.
Upgraded lectric xp 3.0 review
Electronics (Battery, Motor, Display)
9.5
Components (Shifter, Derailleur, Fork)
8.5
Lectric 3.0 pros
Attractive price point
Hydraulic disc brakes
Upgraded PWR controller
Versatile rear rack
Great gearing
US Based customer support
Bike comes folded and assembled
Lectric 3.0 Cons
Entry level derailleur
Key must be in bike frame for use
Battery is cumbersome to remove
May not suit taller riders