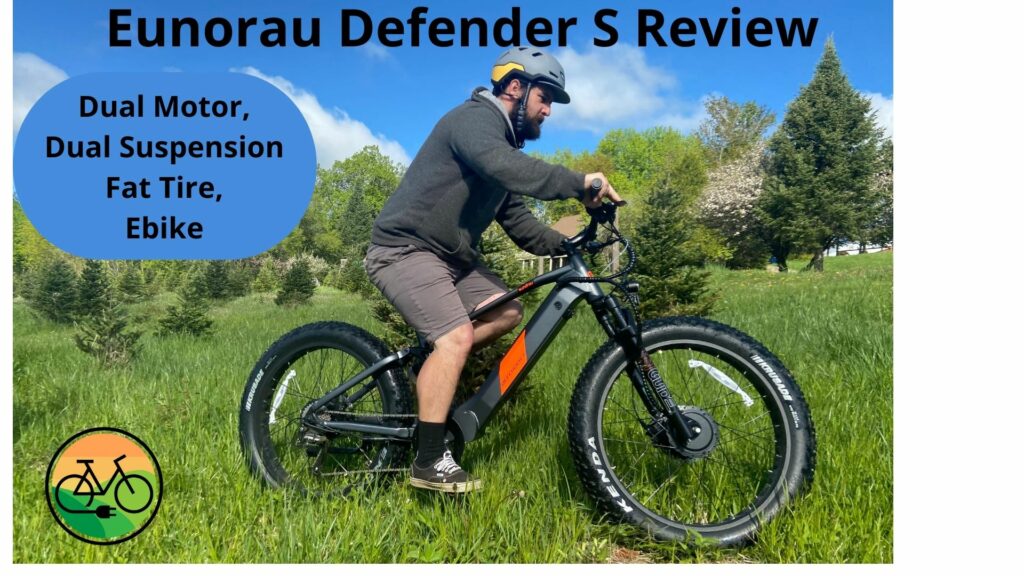 The 2022 Eunorau Defender S dual motor, dual suspension, fat tire ebike is a beast! Eunorau isn't new to AWD ebikes having previously released the unnamed AWD dual-motor ebike which has plenty of power with a 350-watt and 250-watt combo. So we almost couldn't believe it when they released the specs on the Defender S! Eunorau loaded in two Bafang 750 watt motors (1,000 watt peak) which pack quite the punch. This bike is fast and can handle all sorts of weather and terrain. We had a blast checking it out and taking it on some off-road trails. If you are looking for a powerful all-terrain bike this is definitely one to consider. Read on for our written Eunorau Defender S review or check out the video review below.
Eunorau Defender S Review
This bike costs $2,799 on the Eunorau website. If you decide to get this bike please consider using our link which can save you 3% at no extra cost to you and helps to support us here at Ebike Escape. You can also check out our accessory page if you'd like to make any updates or customizations.
Power up! Dual motor and optional dual battery
The Eunorau Defender S comes with a standard 48V 14Ah hour battery (672 watt-hours) but you have an option to increase the battery power in two ways. You can swap out the 14Ah battery it comes with for a 17Ah battery (816 watt hours) for an extra $530. You also have the option of adding a second 14Ah or 17Ah battery and running with dual batteries. With all the power this bike has, it can chew through battery life pretty quickly. Upgrading the battery or adding a second battery should be a serious consideration especially if you plan on any long trips.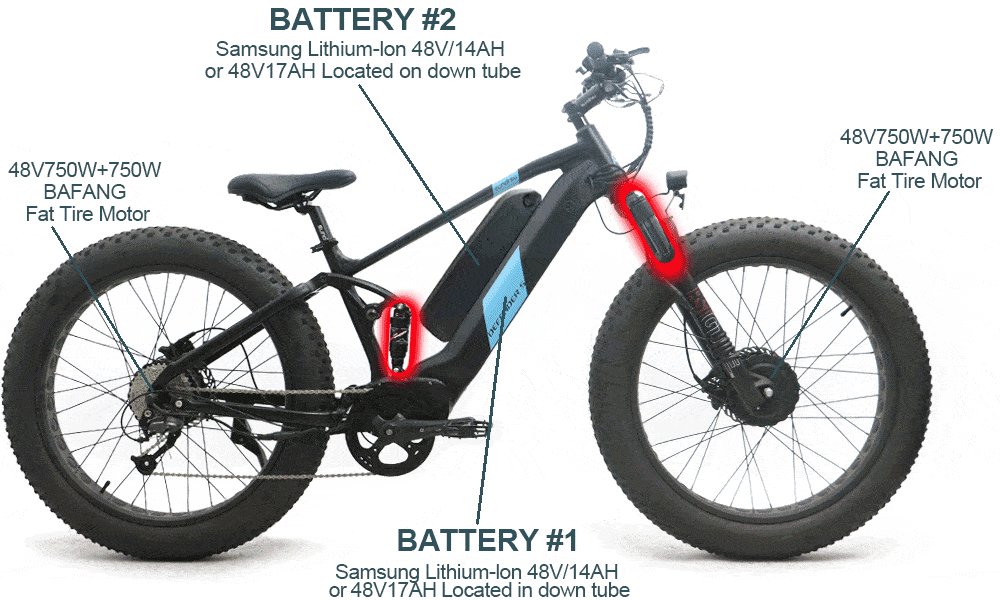 You have the option of running both motors or a single motor. There is a selector switch that allows you to select front, rear, or both motors. Using one motor can help conserve battery. Both motors are 750 watt Bafang motors that peak at 1,000 watts. We had a lot of fun switching between the motors, you can really feel the difference between one motor running and both, particularly off-road. With the dual motor design, traction is unparalleled. This bike would do just fine in the winter, the mud, or the rain. It can handle it all.
Power up! LCD, Pedal Assist, and Brakes
The colored LCD display is on the left-hand side. It is not the easiest to see in direct sunlight but it's not bad. You can customize what you want to see on the screen – options include odometer, trip information, riding speed, pedal assist level, and percentage of battery remaining. Having the battery percentage remaining is a bit nicer than just the battery bars where you are left to guess how much battery life is left.
Pedal assist is available from 0-5. Check out Ryan and JT's review video above. Even when only using the throttle, the Eunorau Defender S quickly and easily got up to 34 mph. With dual motors and high speed, this ebike doesn't fall neatly into any of the class designations in the United States. Be sure to follow local regulations and consider a helmet built to protect your brain at higher speeds.
With this kind of power and speed, the 180mm hydraulic disc brakes are a necessity. They are Eunorau branded dual piston brakes and feel solid. There is a motor cut-off feature to cut power to the motor as soon as you hit the brakes.
Components
The Defender-S is equipped with a Shimano Alivio 9-speeds shifter. This is a slight step up from the very basic Shimano shifters we see on many ebikes. The front chainring has a single-sided chain guard for protection. There is an 11-34 teeth rear freewheel in the rear with a 44 tooth front chainring.
The front suspension is an RST branded fork with preload adjustment and lockout. The rear suspension is an EXA Super Light which is a brand we aren't familiar with. We are quite impressed by how the rear suspension felt and think it is one of the best we've seen of the ebikes we've reviewed. It is readily adjustable so you can make it soft or stiff to your liking and also adjust the air pressure. The Eunorau Defender S uses Kenda Sport 26″ x 4″ tires fat tires and ready for off-road use. See the full components list.
Frame and Accessories
This bike is great for outdoor enthusiasts and hunters and the Forest Cobra would fit perfectly. It also comes in Black and Gray. The frame comes in 17″ or 19″ and is advertised to fit people between 5'3″ and 6'4″. It weighs 84 lbs but has a total weight capacity of 440 lbs which is almost unheard of with the bikes we've seen. It absolutely has the power to pull a trailer packed with gear or game. For cargo hauling, Eunorau sells bike trailers with one or two wheels though we have not tested the compatibility. Fenders and a rear rack are also available for $130.
There is an integrated front 40 lux light and a rear battery-operated taillight. If you are riding in the woods you may want to upgrade to a brighter rechargeable light. With the LCD screen off to the left, there is plenty of space on the handlebars to attach other accessories such as a holder for your cell phone or for specific hunting supplies.
In Summary:
In conclusion, this bike is fun and has power! It will get you going where you need to go and it will do it in a hurry. Even our experienced ebike reviewers were a bit surprised by its power so it may not be a great fit for a first-time ebike owner or someone who isn't very comfortable on two wheels. This is a unique bike and there isn't much to compare it to on the market. It can handle any terrain and has a huge carrying capacity. If you are looking for an ebike that can work hard, this might be the right one for you. Learn more about the Defender S.