I take my water bottle shopping very seriously as you can tell if you read my Camelbak water bottle review. No one wants to spend money on a water bottle that leaks or is impossible to clean….and yet there are so many out there that disappoint. The Polar Bottles do not fall into this category of disappointment. I was given the opportunity to test out the Polar Bottle Breakaway Muck Insulated Bottle. I used the bottle for biking, CrossFit workouts, and just around the house. While the bottle name is not snappy, it has everything I want in a sports water bottle!
Polar Bottle Breakaway Muck Insulated, Zipper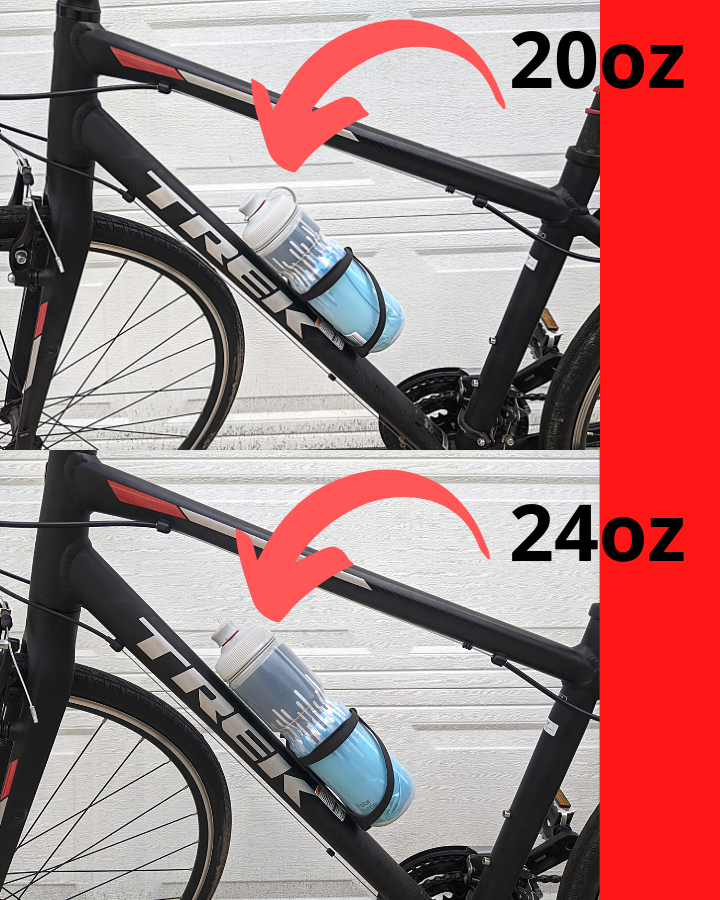 The Polar Bottle Breakaway Muck Insulated Bottle comes in three sizes: 12oz ($14), 20oz ($15), and 24oz ($16). I prefer using the 24 oz as I guzzle water like a horse in the summer during my CrossFit workouts. I only have the 20 oz and 24 oz sizes, but as you can tell in the picture, both fit easily in my bike water bottle cage. The bottles come in two different zipper color patterns.
Polar Bottle Muckguard Cap
The Muckguard cap securely attaches between the rim of the bottle and the bottle lid. Easily snap it off to take a drink. Close it to keep dirt and other germs off the valve. As a germ aware person (aka germaphobe), I love this.
Polar Bottle Surge Valve
I was irritated with the Polar Bottle valve during my first outing as I had the wrong idea. I thought it was a nozzle that you needed to push up and down in order to use and seal it. This seemed too germy and cumbersome. Then I read the one-sentence description and realized my irritation was due to user error. Whoops.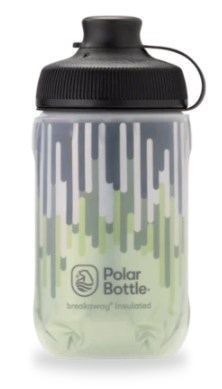 This valve design is really smart. You can keep it in the pulled-out position and it seals without needing to pop it down. You can keep the valve up with the Muckguard cap on. Water will flow out of the valve when the bottle is squeezed. I really like the generous flow of water that comes out. The Polar Bottle does not leak even when the nozzle is pulled up. When transporting in a bag or with other items, push the valve down so that the bottle doesn't squeeze the valve open unintentionally.
Insulation
I tested this bottle out multiple times on an 80+ °F degree day with high humidity. Using only water from my fridge water filter, this bottle kept my water cold for the two hours I was using it. The best part is that the insulation is one of the best I have had as far as not sweating.
Polar Bottle Brand
Polar Bottle makes many different water bottle models. The ones I used are considered all-terrain, which is more of an all-purpose water bottle that works for a lot of activities. The valve dissembles well for cleaning and the whole unit is dishwasher safe. Polar Bottle also makes bike bottles, sports bottles, insulated and non-insulated bottles.
Final Thoughts
If you are looking for a water bottle that keeps your water cold, easy to use on the go, has a cap, and doesn't leak, Polar Bottle Breakaway Muck Insulated bottle checks all the boxes. I am very happy with this water bottle, and I hope you will be too! For more ebike accessory options, check out our accessories list.