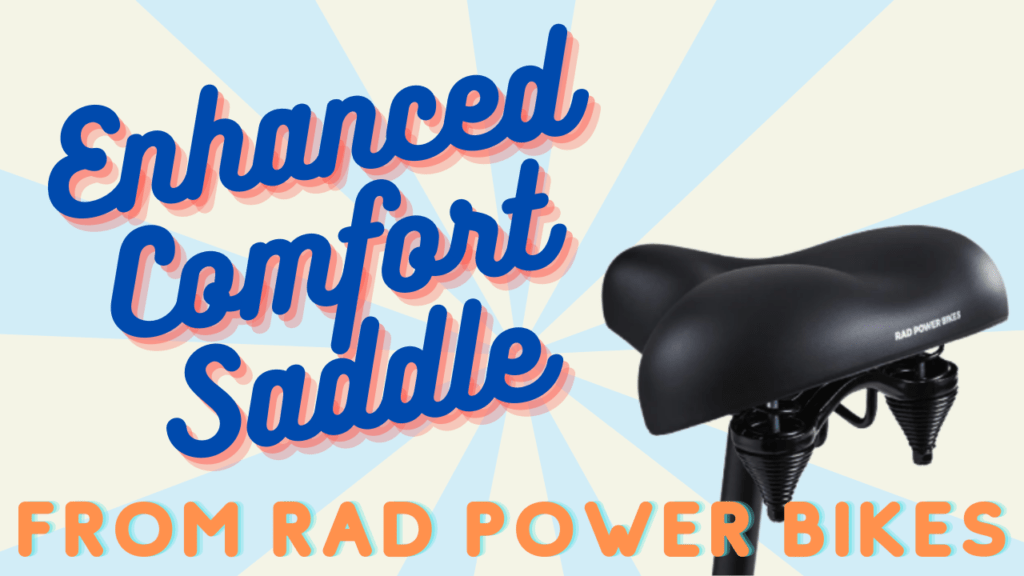 Rad Power Bikes recently came out with an Enhanced Comfort Saddle to increase the comfort of your ride from the standard seat. This upgraded accessory offers a wider seat with a waterproof exterior and cushy gel interior layer. It is compatible with all Rad Power Bikes, although the RadRunner 1 and RadRunner Plus will require a different seat post.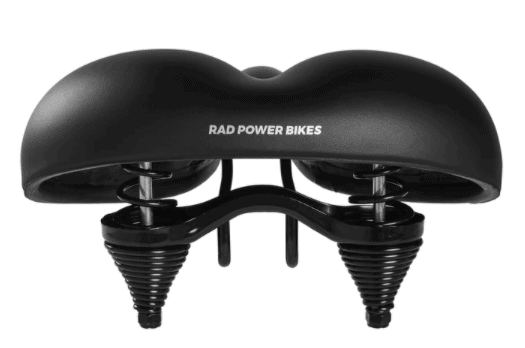 While this all sounds wonderful, we haven't told you the shipping price yet. The Enhanced Comfort Saddle costs $49 plus $15 shipping (at least to Wisconsin). With so many comfortable seat accessory options on the market, the Enhanced Comfort Seat simply does not compete in terms of price. If you are buying a bike from Rad Power Bikes and qualify for free shipping, then adding the saddle to your order would take its price down without the shipping cost. The convenience factor of receiving your bike and saddle at the same time might be worth it. If you are only looking to update your seat though and want to save money, we can recommend more affordable options.
Rad Power Bikes Upgraded Seat Options
Bike seats are one of the most common accessory purchases for ebike owners. And for good reason too, Rad Power Bikes owners typically find themselves on the hunt to make longer rides more comfortable, and a new saddle can make a tremendous difference. We have tested and/or researched a number of other seat brands that provide superior comfort for less cost.
Our favorite seat that we have tested on the Rad Power Bikes RadWagon is from the brand Cloud 9. Prices range from about $30 to $50. It is a seat that has lots of positive reviews, and I see many people purchase Cloud 9 seats. Here is a link to all of the Cloud-9 options on Amazon since many of them go in and out of stock frequently.
Two other seats that ebike owners have recommended to us are the Bikeroo Oversized Bike Seat ($40) and the YLG Oversized Bike Seat ($40). Both seats currently have a coupon on Amazon to add for even more savings. As always, free shipping through Amazon Prime.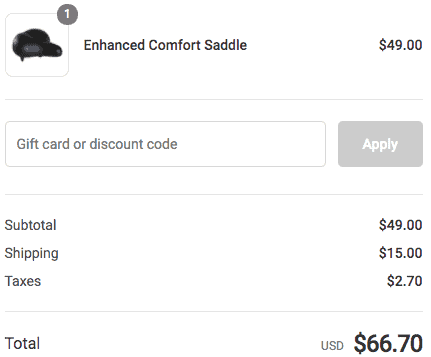 To sum up…
It kills us that Rad Power Bikes is charging $15 for shipping on a small accessory. Skip the shipping if you add it with a bike order. Otherwise, consider alternate seat options if you are looking to save money.
While we have tried out its predecessor, we have yet to test the new Enhanced Comfort Saddle for ourselves. Maybe it will be so delightful that we gleefully exclaim 'It is worth the outrageous shipping charge!'. We will update you when we test it out. We will also be on the lookout in the Rad Owners Forum for your feedback on this seat if you have tried it.
Looking for other ebike accessories? Browse our recommended ebike accessories list.
Please note: this article contains affiliate links that help make reviews like this possible. We appreciate your support!