In the vast sea of electric bikes, the Ride1Up 700 Series stands out as a true city-equipped gem, offering an impressive array of features at an accessible price point of $1,695 – but it's been priced as low as $1,295 during holiday sales.
This ebike is a testament to Ride1Up's commitment to delivering quality and value to riders. Plus, the 700 Series continues to be iterated on and has some nice improvements for this year. Let's delve into the key specifications and unique aspects that make the 700 Series a compelling choice for urban commuters and recreational riders alike.
700 Series Video Review
Ride1Up 700 Series Full Specs
| | |
| --- | --- |
| Category | Specification |
| Price | $1,695 (Special offer: $1,295 for a limited time) |
| Frame Options | Step-Thru and Step-Over Aluminum Frames |
| Handlebars | Swept-Back for Step-Thru, Standard for Step-Over (Adjustable Stem) |
| Front Suspension | Hydraulic Fork |
| Color Options | Graphite Gray, Cloud White, Matte Indigo |
| Battery Capacity | 15Ah |
| Estimated Range | 30-50 Miles |
| Motor Power | 750W, 48V Geared Hub Bafang |
| Torque | 60NM |
| Class | Class 3 |
| Top Speed | 28 MPH (Throttle: 20 MPH) |
| Brakes | Tektro Hydraulic Disc Brakes |
| Shifter | Shimano Acera 8-Speed Trigger Shifter |
| Derailleur | Shimano Acera RD-M3000 |
| Cassette | 11-30T Shimano |
| Chainring | 45T Front Alloy |
| Tire Size | 27.5" x 2.4" street tread |
| Lights | Integrated LED 80 Lux Front and Rear (Controllable from LCD Display) |
| Display | 2.2" Color LCD |
| Accessories | Metal Fenders, Rear Rack (Compatible with Connect+ System) |
| Weight Capacity | Up to 300lbs |
| Weight | 62lbs |
| Sizing Variety | Fits Riders from 5' to 6'4" (Dependent on Frame Preference) |
This table provides a comprehensive overview of the Ride1Up 700 Series, showcasing its key specifications and features.
A Comfortable Riding Experience with Two Frame Options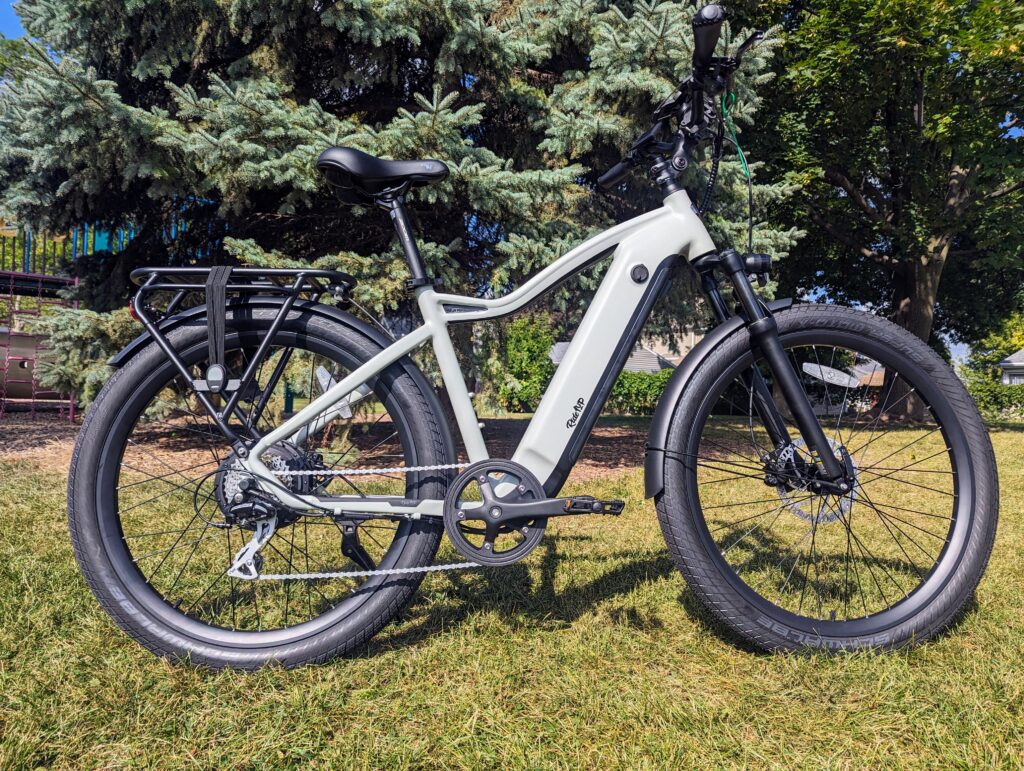 The Ride1Up 700 Series caters to various rider preferences with both step-thru and step-over aluminum frame options. The step-thru frame provides easy accessibility and an upright riding position, thanks to the swept-back handlebars.
On the other hand, the step-over frame maintains a more traditional look with its standard handlebars. The adjustable stem ensures that riders can fine-tune their riding position for personalized comfort. The inclusion of a front suspension hydraulic fork adds an extra layer of leisure, making this ebike well-suited for street riding in any city.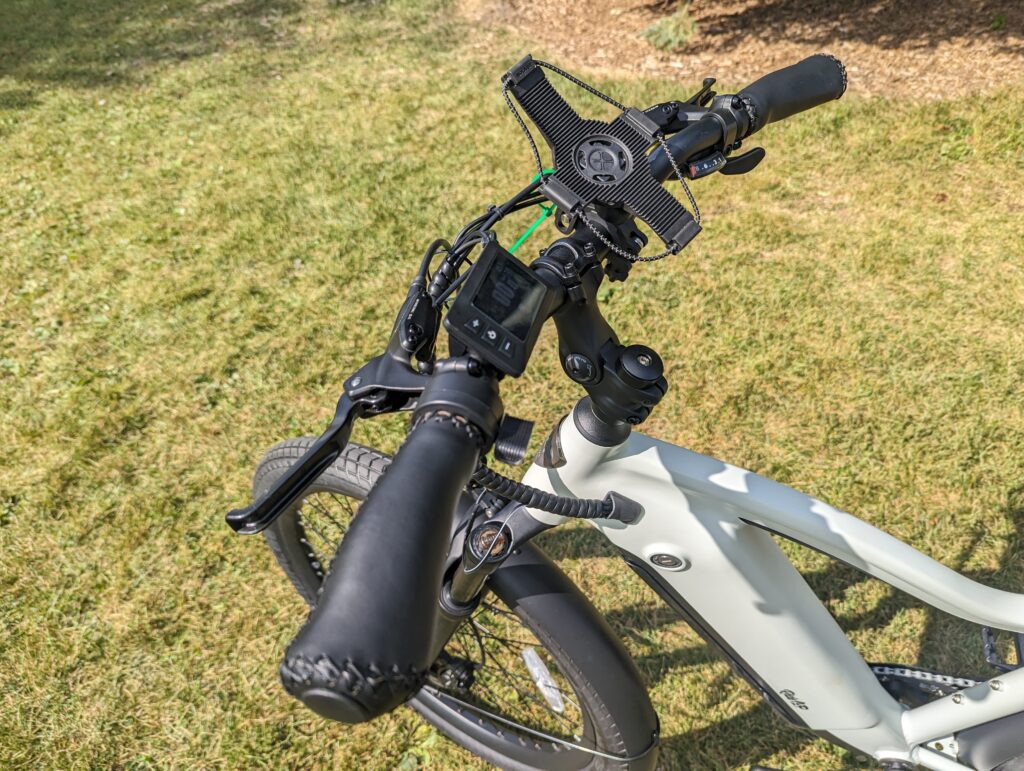 We cannot forget the importance of individual expression on your rig, which is why Ride1Up includes three color options. While you can't go wrong with Graphite Gray or Cloud White, we love the addition of the Matte Indigo.
Powerful Performance with Customizable Pedal Assist
Equipped with a 15Ah battery, the 700 Series boasts a slightly above-average capacity, offering an estimated range of 30-50 miles. This is one of the changes Ride1Up introduced in 2023, offering more battery while not increasing the price.
While not positioned as a performance ebike, the 750-watt, 48V geared hub Bafang sustained motor with a 60 Nm torque provides ample power whether you live in a city of hills or flatter terrain.
As a Class 3 ebike, riders can reach speeds of 28 mph effortlessly, and the customizable pedal assist levels allow users to adjust the power output to their liking. This feature is a game-changer, enabling riders to tailor their riding experience to match their skill level or share the bike with friends. On those days you're seeking to relax or blast up hills, take advantage of the 20mph left-hand thumb throttle!
The 700 Series utilizes a cadence sensor, which engages the motor if you're pedaling.
No Compromises on Quality
The Ride1Up 700 Series doesn't cut corners when it comes to components, offering better than most at this price point. Tektro hydraulic disc brakes ensure reliable stopping power, while the Shimano Acera 8-speed trigger shifter and matching derailleur exceed the expectations for a budget-friendly ebike. They also use the 11-30T Shimano cassette with a 45T front alloy chainring, allowing riders to provide human power at higher speeds.
The inclusion of quality 27.5″ x 2.4″ tires further emphasizes Ride1Up's commitment to providing a top-notch riding experience in any weather conditions.
Fully Loaded for Every Journey
The 700 Series comes fully accessorized, making it a hassle-free choice for riders. Metal fenders integrated LED 80 Lux lights at the front and rear (fully controllable from the 2.2" Color LCD display), and a rear rack compatible with Ride1Up's Connect+ system add both style and functionality to this city cruiser. This brand understands the importance of a well-equipped ebike, and the 700 Series doesn't disappoint.
Finding the Sweet Spot with Ride1Up
While Ride1Up offers other city-oriented ebikes like the Turris and LMT'D, the 700 Series hits the sweet spot for most riders. The Turris is a more affordable option, maintaining good specifications for its price, while the LMT'D introduces an air suspension fork and torque sensor.
However, the 700 Series strikes the right balance between price, specifications, and accessories, making it the ideal choice for a broad audience. This is especially apparent in their sizing variety, in which each 62lbs bike can hold up to 300lbs in weight, accommodating riders from 5' to 6'4" (depending on your frame preference).
Fine-Tuning the Ride
In the pursuit of perfection, it's worth noting some areas where the Ride1Up 700 Series could see improvement. Adding mounting points on the head tube for a front rack alternative and enhancing the seat or incorporating a suspension seat post could elevate the comfort level further. Some riders may notice a slight delay in responsiveness when changing pedal assist levels, a minor consideration given the overall value offered.
Quality at the Cost of Assembly
As with many direct-to-consumer brands, some assembly is required for the Ride1Up 700 Series. This might involve installing the front fork and crank arm, so it's essential to be confident in assembly skills or seek assistance from a local bike shop for a safety check. The assembly process is a small trade-off for the exceptional value and specifications you receive at this price point. Ride1Up is also offering free shipping and a one-year warranty–further increasing the value of this $1,695 treasure.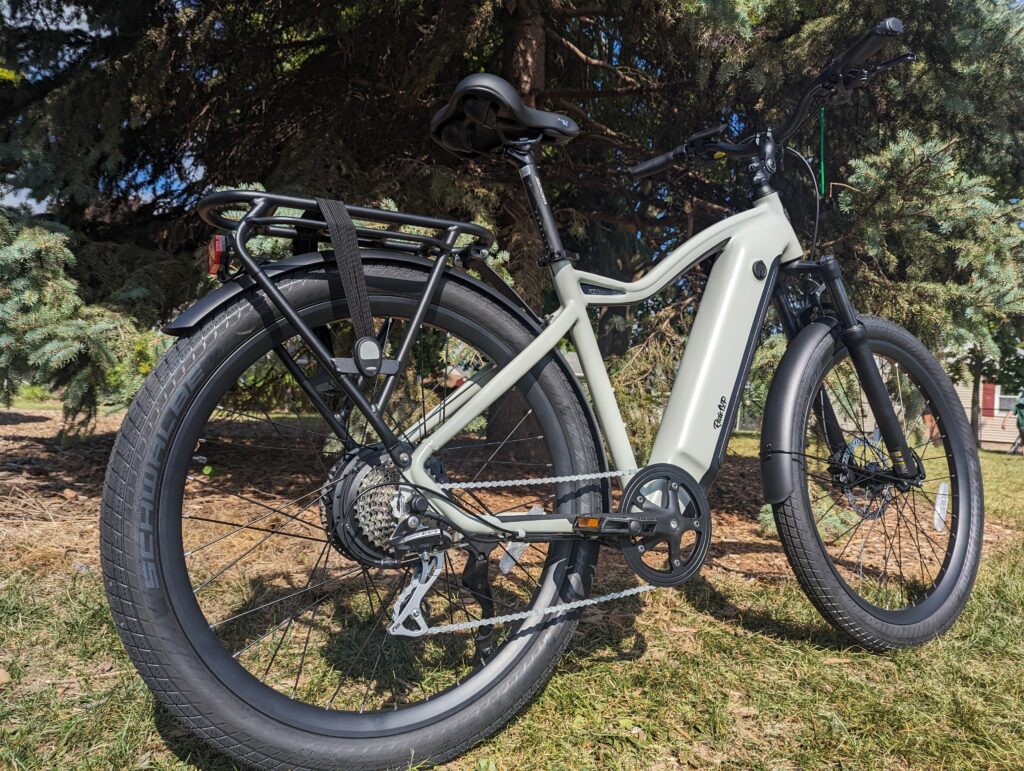 The Ride1Up 700 Series has rightfully earned its place in the Ride1Up lineup over the years. Its enduring popularity speaks volumes about its value, performance, and thoughtful design. If you're in the market for an ebike that ticks all the boxes without breaking the bank, the Ride1Up 700 Series is a compelling choice. Explore its full capabilities by checking out our review video above, showcasing the specs and ride in a comprehensive fashion.
For more information on Ride1Up's ebike portfolio, check out our other reviews!
Ride1Up 700 Series Review
Electronics (Battery, Motor, Display)
9
Components (Shifter, Derailleur, Fork, Brakes)
9.5
700 Series Pros
Well-priced
Class 3 speeds
Customizable pedal assist levels
Hydraulic disc brakes
Acera shifter/derailleur
Fully accessorized
Step-thru and high step options with nice design
Adjustable stem included
Name brand tires
700 Series cons
Offered in single size
More assembly required than most
Bottom loading battery
Seat is just average
Slight delays in increased motor power when changing pedal assist