The fat tire Mokwheel Basalt is not your average ebike; it's a step towards a self-sustaining ride. As a part of Mokwheel's "power station" ebikes, the Basalt allows solar charging and utilizes the bike's battery as a portable power bank. Mokwheel is a fresh face in our ebike reviews, and this feature set immediately sets it apart from the conventional ebike crowd. This fast, torque sensor ebike is currently selling for $1,799. Read ahead for all the details, or check out our video review below.
Mokwheel Basalt Video Review
Key Specifications
| Specification | Detail |
| --- | --- |
| Motor | 750W Nominal |
| Battery | 19.6Ah |
| Top Speed | 30 mph |
| Drivetrain | 7-speed |
| Rear Freewheel | 14/28T |
| Range | 60-80 miles |
| Payload Capacity | 350 lbs (ST), 400 lbs (HS) |
| Weight | 75-80 lbs (fully loaded) |
| Brakes | Tektro Hydraulic Disc Brakes |
| Display | Color LCD |
| Solar/Inverter Option | Available (sold separately) |
| Frame Options | Step through and high step |
Mokwheel Basalt
Power and Performance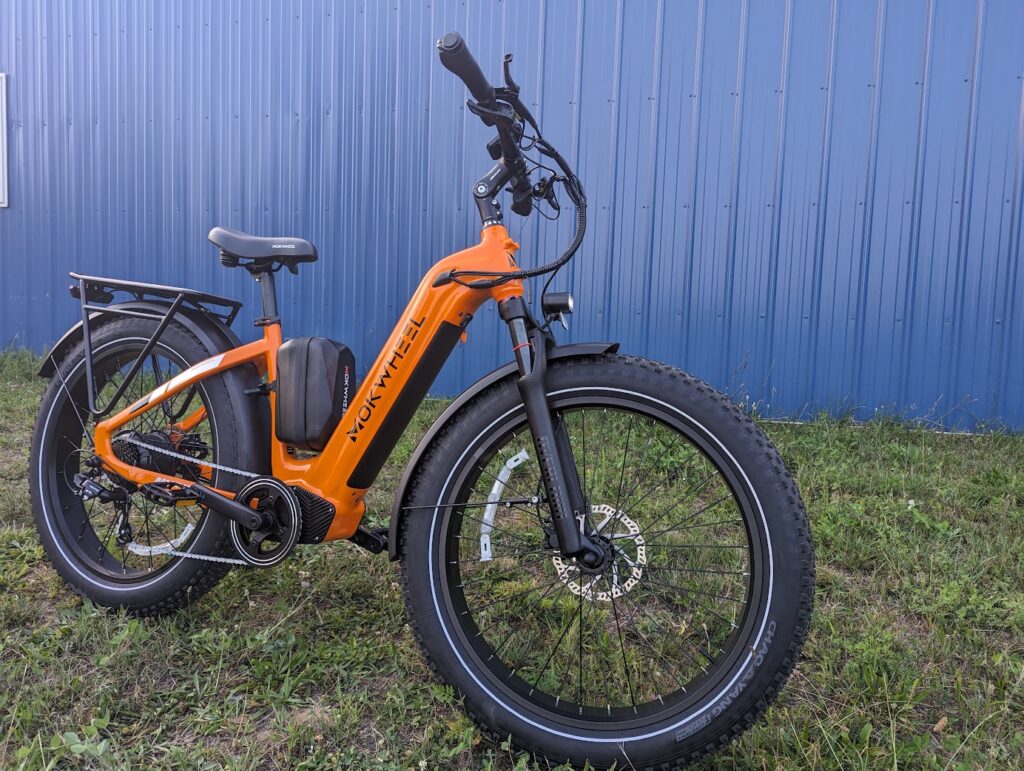 The Mokwheel Basalt houses a robust 750W nominal motor coupled with a 19.6Ah battery, propelling riders up to 30 mph. Included is a 3 amp charger, charging your battery 50% faster than we typically see on most ebikes. The website advertises the Mokwheel Basalt as a Class 3 ebike with a top speed of 28 miles per hour, but we found it went even faster.
The entry-level Shimano 7-speed drivetrain operates smoothly, though the 14/28T rear freewheel could induce ghost pedaling at higher speeds. The torque sensor, generally considered an upgrade to a cadence sensor, significantly enhances pedaling efficiency, allowing for more precise motor engagement and disengagement. In addition, the sensor optimizes the battery usage and extends the claimed range to an impressive 60-80 miles.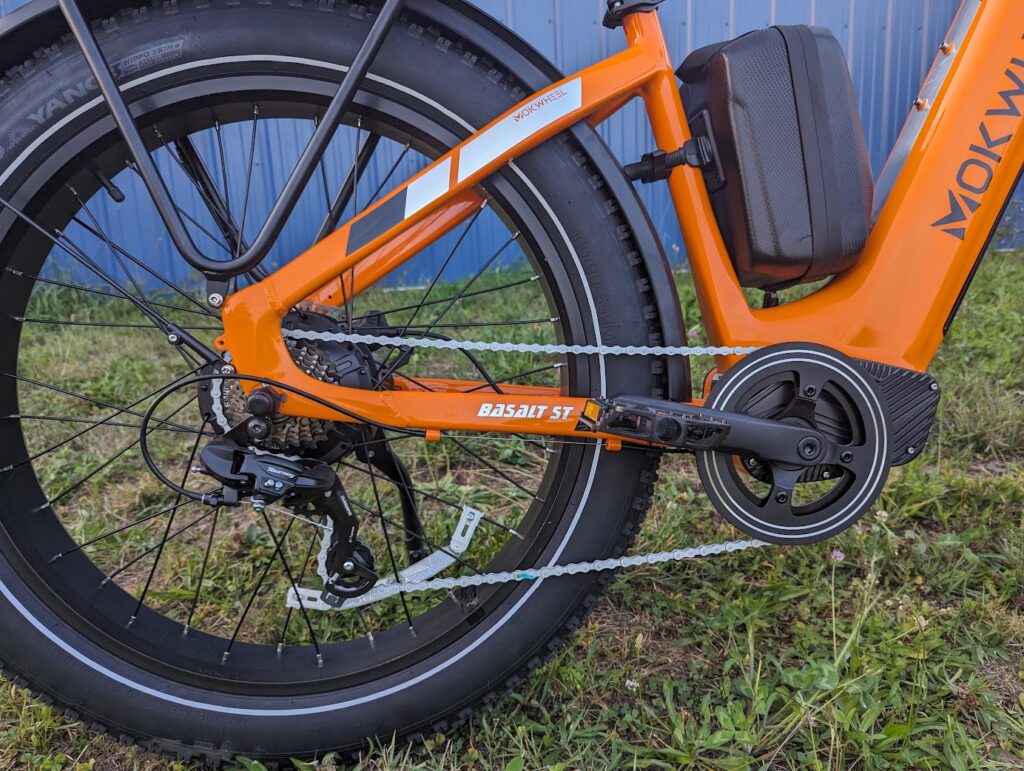 Frame and Design
With a sleek frame design devoid of the usual welding scars, the Mokwheel Basalt looks cleaner than most up close. The step-thru (ST) comes in bright orange, clean white, or forest green. The high step (HS) comes in blue, camo, and grey. There is an adjustable front suspension fork with 110 mm of travel on both the ST and HS. The two frames are nearly identical in specs.
The Mokwheel Basalt ST has a generous total payload capacity of 350 lbs, which is higher than many ebikes. For those needing even more, the HS model with a 400 lbs capacity might be a better fit. Despite its hefty motor and battery, the Basalt ST maintains a reasonable fully loaded weight of 77 lbs.
Comfort and Fit
The Basalt HS caters to a wide range of riders, with its large frame advertised to fit riders between 5'6″ and 6'8″.
The ST model has two "sizes". The "normal" size is advertised to fit riders from 5'2″ to 6'4″, with the large fitting riders between 5'6″ and 6'8″. Both sizes are the same frame with different seat tube lengths and reach – from the seat to the handlebars. Standover height is 16.9 inches for the ST and 29.3 inches for the HS. If you find yourself on the shorter end, the Mokwheel Scoria could be a better fit with its 20″ wheels.
Solar and Inverter Review for the Mokwheel Basalt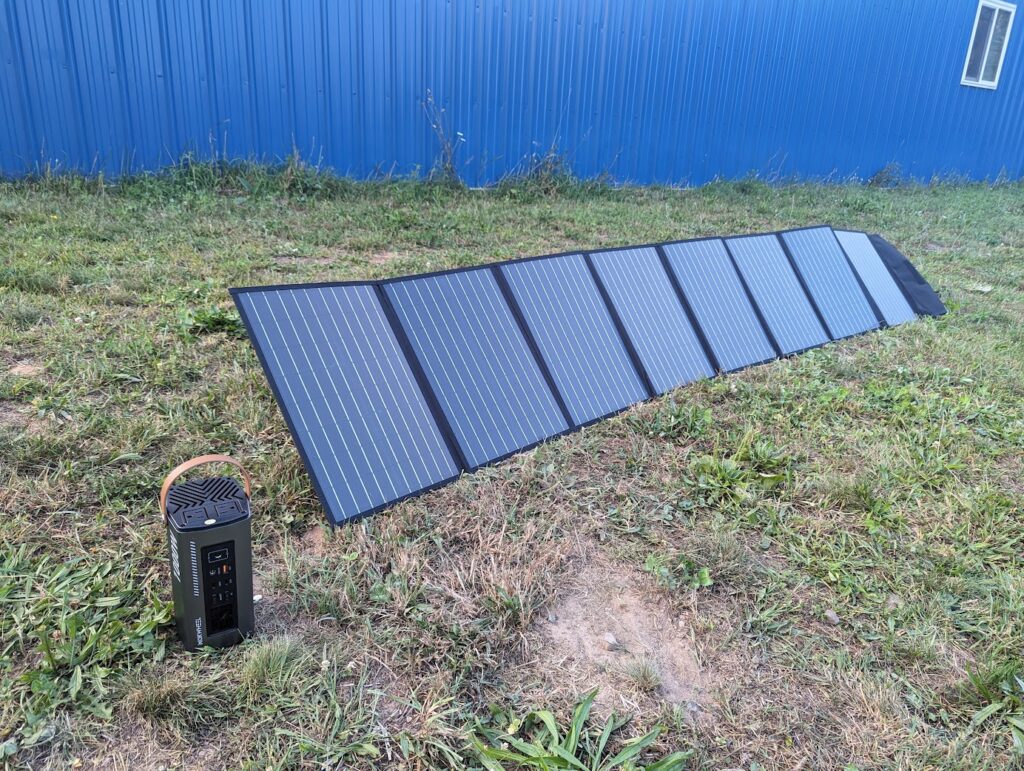 The Basalt is from a collection of ebikes Mokwheel refers to as "power station" ebikes. This is, of course, because of their unique ability to be charged via Solar panels and/or to use the bike battery as a camping/portable battery bank. That extra utility is not something we have seen before, and we are pretty excited about the possibilities.
The solar panel and inverter addition, though sold separately, open up a realm of possibilities for the environmentally conscious rider, as well as for a rider who may not have immediate access to outlets such as those that take their ebikes camping. At nearly $1000, this add-on isn't cheap, but it might be a game changer for some.
The ability to harness solar power for charging or use the ebike battery as a portable power bank during camping excursions adds a layer of utility that's hard to overlook. It is advertised to take about 5 hours to fully charge your battery in full sunlight with the solar panel.
Braking and Display
The Tektro hydraulic disc brakes with 180 mm rotors provide reliable stopping power. And the color LCD display, although like all LCD displays, can be challenging to read under bright sunlight, offers valuable ride data. It's a nice touch that Mokwheel included brand-name components and allowed user customization on the display settings. See the video above for further details.
Accessories
The Mohwheel Basalt comes with front and rear fenders. It also includes a rear rack for extra carrying capacity and an optional front basket can be added. There is a dual beam LED front headlight that includes a front reflector as well. The rear light includes a brake light actuated with the brakes. I love seeing this safety feature on ebikes. For after-market accessory options, check out our page of favorites.
Support and Availability
Mokwheel, being based in China, might present longer resolution times for any issues that arise due to geographical and language barriers. However, the ebike's performance out of the box has been solid. We have had no initial concerns during our review, and this is our first review of a Mokwheel ebike. Do you have experience with their customer service? Comment below to help other riders know what to expect.
Conclusion
After our review, the Mokwheel Basalt stands out in the crowded fat tire market with its torque sensor, inverter/solar options, and high top speed. It is a solid ebike even without the solar panels, but with them, it's an exciting venture into what ebikes can offer beyond just a powered ride. Though the additional cost for solar and inverter options is significant, the utility and sustainability they bring to the table are invaluable. Mokwheel is a brand we're curious to explore further, and the Basalt has left a promising impression.
If you are comparison shopping for ebikes similar to the Mokwheel Basalt, consider looking at the Himiway Zebra, the Ride1Up Rift, the RadRover 6 Plus, and the Lectric XPeak. None of these have solar panels, but they are fat ebike options similar in other aspects.
Electronics (Battery, Motor, Display)
9
Components (Shifter, Derailleur, Fork, Brakes)
8.5
Mokwheel basalt pros
Powerful 750-watt Motor
Big Battery
Torque Sensor
Speed up to 30 mph
High max payload
Fat tires
Hydraulic Disc Brakes
Compatible with a solar panel/inverter
Multiple color options
Mokwheel basalt cons
Solar panels and inverter are expensive
Foreign-based customer support
One frame size