Recently, we got to review both the Denago eXC1 and eXC2, two affordable electric mountain bikes. After crushing it on the local single-track trails and a flat gravel trail, we are happy to endorse both versions of the ebike. Whether you are looking to flow, jump, or cruise off-road, the Denago eXC ebikes are worth a look. The eXC1 sells for $2,749, while the eXC2 goes for $3,199. They are affordable, powerful, and feature a Bafang mid-drive motor. Plus, like all Denago ebikes, you can get them online or from a local bike shop. That way, you can take it for a ride before you buy. Let's dig in to everything you need to know before purchasing.
Denago eXC1 and eXC2 Video Review
Frame on Denago's eXC E-MTB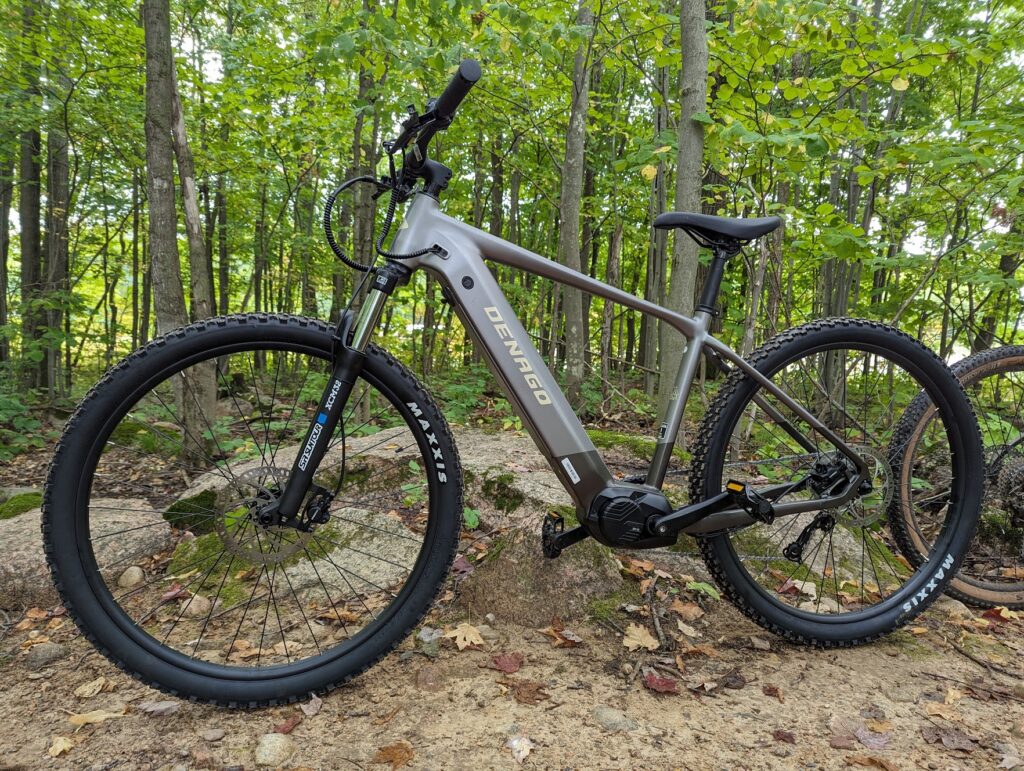 The Denago eXC1 and eXC2 have a typical mountain bike frame designed for aggressive singletrack but are also suitable for crushed gravel trails. With it being hard-tail it will feel most at home on more cross-country trails though in our testing can still handle rock gardens and some small drops.
Both ebikes come in three sizes: medium, large, and extra large. The medium is recommended for riders between 5'5″ and 5'9″, while the extra large is for riders between 6'1″ and 6'5″, with the large filling in the gap, 5′ 10″ – 6′ 1″. Standover height for the three frames is 30.7 inches for the medium, 32.25 inches for the large, and 33.8 inches for the extra-large.
One small difference between the sizes: handlebar width. The size medium sports 740mm long bars and the large and extra large bump up to 780mm. The total weight capacity on all models is 300 lbs.
Both versions have an integrated battery, hidden nicely into the downtube. Many riders may not even realize you are riding an ebike. A removable cover underneath the frame exposes the battery.
Both ebikes have a 15 mm thru-axle which is common on most higher-end mountain bikes these days but also offers more strength than a quick release. Each bike comes in a single color option: the eXC2 is black with gray, while the eXC1 is gray with titanium.
The suspension is slightly upgraded between the two models. From a Suntour XCM32 on the eXC1 to an XCM34 on the eXC2. Both of these have 100 mm of travel but are still spring forks instead of air forks. The eXC2 also includes boost spacing, which increases strength and provides an opportunity for upgrades.
One key feature that is included on the eXC2 but not the eXC1 is a dropper seatpost. If you are riding on gravel or flowy single track, the dropper won't make a difference. But if you plan to hit some jumps, technical terrain, or even significant inclines and declines then you'll appreciate the dropper seatpost.
Denago eXC1 vs eXC2: the specs
| | | |
| --- | --- | --- |
| Comparison | eXC1 | eXC2 |
| Price | $2,749 | $3,199 |
| Color | Gray with Titanium | Black with Gray |
| Size Options | M, L, XL | M, L, XL |
| Weight | 56 lbs with battery | 55 lbs with battery |
| Suspension fork | Suntour XCM32 | Suntour XCM34 w/ boost spacing |
| Dropper Seatpost | no dropper | 150mm dropper |
| Tires | Maxxis Ardent 29×2.4″ tires | Maxxis Rekon Race 29×2.4″ tires |
| Display | LED Display | Digital Display |
| Motor | Bafang M410 mid-drive | Bafang M510 mid-drive |
| Torque | 80 Nm | 95 Nm |
| Battery | 499 Wh, 48V, 10.4 Ah | 720 Wh, 48V, 15 Ah |
| Shifter | Shimano Altus SL-M2010, 9 Speed | Shimano Alivio SL-M3100, 9 Speed |
All other components are the same between the eXC1 and eXC2
Motor and Battery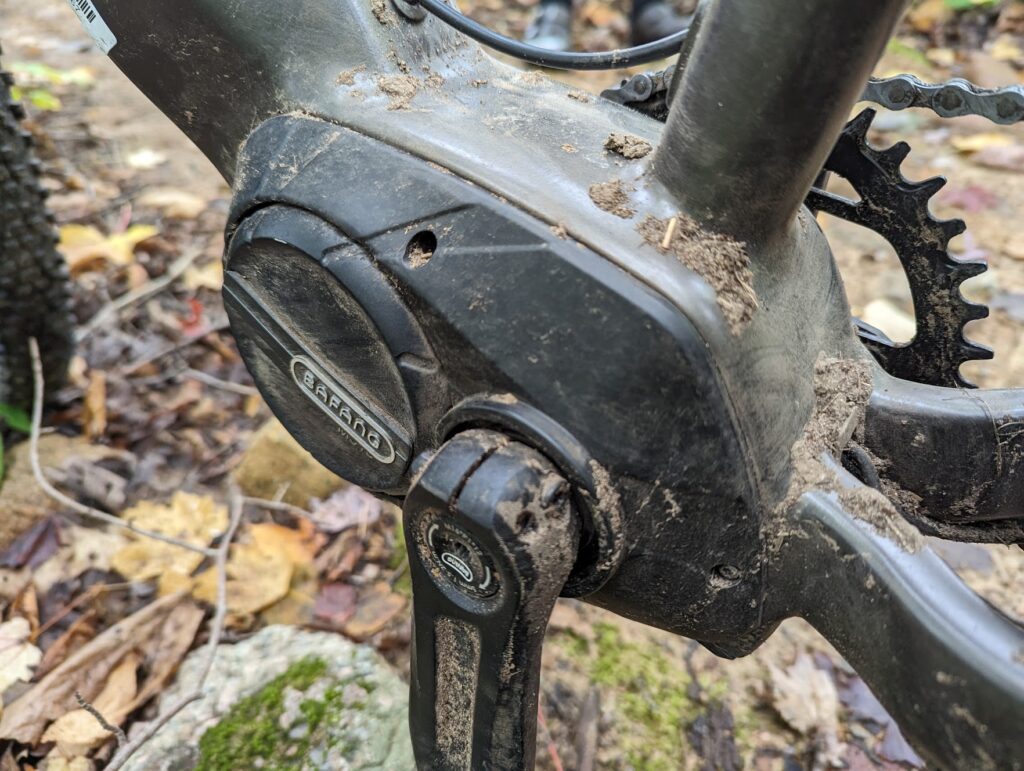 Both versions of this Denago eMTB have mid-drive Bafang motors which in our opinion hold their own against mainstays like Bosch and Brose. The eXC1 has an M410 compared to the more powerful M510 in the eXC2. We were pleasantly surprised by the power both motors provided. The larger motor in the eXC2 provides 95 Nm of torque compared to 85 Nm in the smaller motor. Both did well in our hill test and are plenty capable, but you can tell the difference. Both bikes measure torque, which means as you provide more human power, the ebike responds with more power as well.
The eXC1 boasts a 48 V and 10.4 Ah battery for a total of 499 watt hours. The eXC2 battery is even bigger at 48V with 15 Ah for a total of 720 watt hours. The latter is a generous battery size for an e-MTB. Even better, the entire bike is UL 2849 certified which provides peace of mind.
Class and Pedal Assist
The Denago eXC1 and eXC 2 are Class 1 ebikes with a max speed of 20 MPH (no throttle). Some trail systems limit ebikes to Class 1 only, so this is important. Class 2 electric mountain bikes exist, but they are rare.
Both versions of this bike have 5 levels of pedal assist, which include eco, tour, sport, sport+, and boost. The eXC1 has a simple LED handlebar display with arrow buttons and lights. In comparison, the eXC2 has an LCD display, which allows you to see trip distance, odometer, max speed, average speed, estimated range remaining, and calories burned.
The LED display is great for its simplicity. It allows you to much more easily see your pedal assist level and battery capacity at a glance and really if you're out on the trails your focus will be on what's ahead of you. However, some will appreciate the additional features of the eXC2 Bafang display.
Components on the Denago eXC1 and eXC2 mountain ebikes
The Denago eXC eMTBs feature a 9-speed Altus (eXC1) or Alivio (eXC2) shifter with an Alivio Shadow rear derailleur. The crankset has 40 teeth, and the cassette has 11-32 teeth. These are relatively entry-level components when it comes to what you can expect on most mountain bikes, especially higher end, but in our test ride, they performed surprisingly well. However, there is no clutch so you will notice your chain bouncing around on rough terrain. Even so, no chains were dropped in our test ride.
There is a shift cut, so the motor will briefly cut power every time you shift. It does this to prevent stripping of the rear gear, which can be a problem with mid-drive systems.
Both versions feature Tektro hydraulic disc brakes with 180 mm rotors, providing great stopping power. Tire sizes are the same at 29″x2.4″ though the eXC1 has Maxxis Ardent, compared to the Rekon Race tires equipped on the eXC2 – a minor difference considering some of the other upgrades on the eXC2.
Neither the eXC1 nor eXC2 will include a kickstand, lights, fenders, or racks; this stuff gets in the way of off-road riding! If you are planning to use this for more leisurely riding, you can add some modifications. Check out our accessories page for some suggestions.
Concluding remarks after our review of the Denago eXC1 and eXC2
We love that these are affordable eMTBs. These ebikes are great equalizers when riding with more fit or advanced riders. They can also enhance the fun factor as you fly up steep inclines, extend rides, or simply allow you to ride a mountain bike again. We were hesitant of the Bafang motors as most electric mountain bikes sport Bosch or Brose motors but the M410 and M510 performed extraordinarily well.
Price-wise, you won't find much that compares with these affordable electric bikes unless another brand is running a significant scale.
Both bikes were nice, but the more powerful motor, significantly larger battery, dropper seat, boost front wheel, and nicer shifter make the eXC2 a more compelling pick for the more serious mountain biker. Both bikes can be bought at a dealer, which allows you to test them out, but if you buy online, we would appreciate it if you use our link to help support the channel.
For more of our Denago reviews, click here. For other electric mountain bike options, check out the Specialized Turbo Tero. Depending on your needs you can also check out the Ride1Up Prodigy V2 (our review) or the Vvolt Sirius (our review). And for the ultimate full-suspension electric mountain bike take a look at the WattWagon Hydra.
Denago exc1 and exc2 review
Electronics (Battery, Motor, Display)
9
Components (Shifter, Derailleur, Fork, Brakes)
8
exc1 and exc2 pros
Well-priced
Discrete and Large Battery (eXC2)
Powerful Bafang Motors
Multiple sizes
Name-brand components
Upgradeable
Denago dealer network
Lifetime frame warranty
UL 2849 and UL 2271 certified
exc1 and exc2 cons
Entry-level derailleur without a clutch
No color options
Spring fork
No step-thru option