Overview
Clip in, ebike enthusiasts, because Lectric eBikes has just unleashed an off-road juggernaut that's ready to redefine your outdoor adventures. The Lectric XPeak, the latest gem in Lectric's lineup, is a full-sized electric bike designed to tackle the toughest terrains, making it the most capable offering in their range.
With its jaw-dropping specs and an affordable price point of just $1,299, the XPeak is poised to set a new standard for fat tire ebikes. If you're on the hunt for a powerful, rugged, and wallet-friendly ebike, the XPeak might just be your dream ride.
XPeak Specs at a Glance
| Specification | Detail |
| --- | --- |
| Tires | 26×4" Chao Yang Fat Tires |
| Suspension | RST Renegade Fork with 80mm travel |
| Motor Power | 1310W Peak (750W Rear Hub-Motor) |
| Battery | Integrated, 48V 14Ah |
| Pedal Assist | Five Levels |
| Throttle | Ergonomic Right-Hand Thumb Throttle |
| Ebike Class | Class 1, 2 or 3 |
| Brakes | Hydraulic with 180mm Rotors |
| Drivetrain | Shimano Tourney 7 Speed 11-28 with Shimano Thumb Shifter |
| Frame | High-step (black), Step-thru (white) |
| Safety Testing | ISO 4210-10 eMTB, UL 2849 certified |
| Accessories Included for preorder | Front & Rear Rack, Fenders, Elite Headlight, Bike Lock, Large Basket, Small Basket |
| Warranty | 1 Year |
Unveiling the XPeak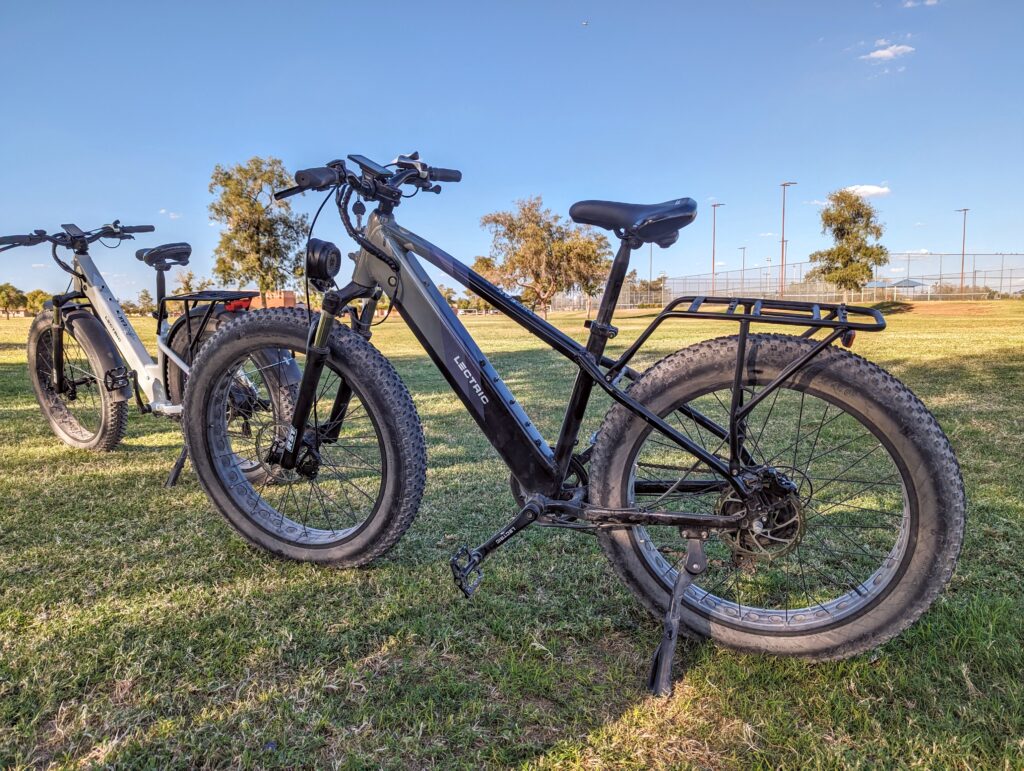 The XPeak is all set to make its grand entrance into the world of electric bikes, promising to revolutionize your outdoor escapades. So, what's all the buzz about? Let's dive into the details of this sensational ebike that is causing ripples in the industry.
Ready for Any Terrain
The standout feature of the XPeak is its ability to conquer the roughest terrains with ease. Equipped with massive 26×4″ Chao Yang fat tires and an RST Renegade suspension front fork with 80mm travel, this ebike is your ticket to off-road bliss. Buying this fork alone is $400+ aftermarket, meaning Lectric likely had to fight hard to make it a feature on this ebike.
These specs are unheard of for a bike of this price, especially considering its ISO 4210-10 eMTB certification, which ensures its high-quality manufacturing. It's a standard only set in Europe, but Lectric went ahead and did it anyway to differentiate this fat tire ebike. This is only made possible by the robust frame and name-brand spring suspension fork.
It doesn't matter if you're tackling rocky paths, muddy trails, sandy dunes or just pavement – the XPeak's robust tires and suspension will make sure you ride in style, comfort, and safety.
Additionally, you can take off as a Class 1, 2, or 3 ebike (customizable to preference & state law). But when cruising downhill, the XPeak's front and rear hydraulic disk brakes paired with 180 mm rotors will keep you in control on both wet and dry surfaces.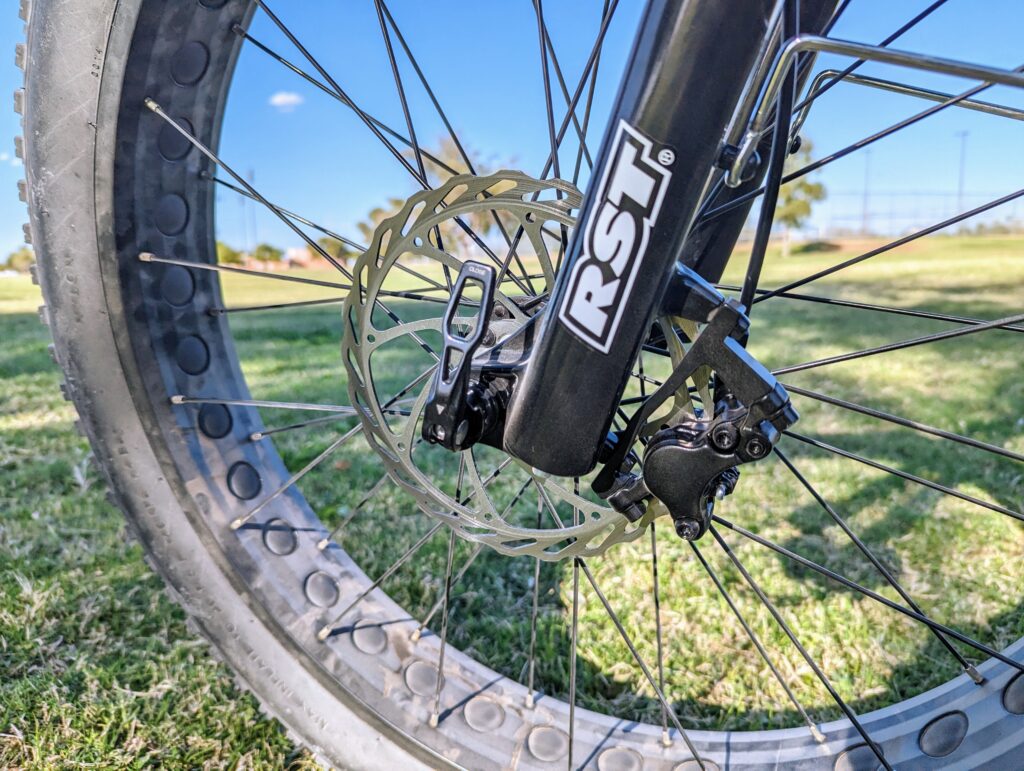 Raw Power Under the Hood
Behind every great ebike is a powerful motor, and the XPeak is no exception. With a 1310W peak rear hub motor with 85Nm of torque (750 watts nominal), this beast packs a punch. Whether you're cruising uphill or speeding along a straightaway, the XPeak ensures you'll never be left in the dust.
Despite the power this motor achieves, its Stealth M24 technology makes the motor 400% quieter so you can enjoy the sounds of nature surrounding you. or more stealthily arrive at your hunting spot. The Lectric XPedition sports the same power but is noticeably louder, so this is a nice improvement.
Energize Your Journey Safely
A reliable ebike needs a dependable battery to match, and the XPeak delivers on this front too. Featuring an integrated 48V 14Ah battery, it guarantees that your adventures won't be cut short. No need to worry about frequent recharging – the XPeak's battery offers both power and longevity.
Additionally, to prove Lectric's dedication to the safety of their riders, this new rig is UL 2849 certified, meaning all electrical components have undergone rigorous testing for the prevention of electrical-based fires.
Intuitive Riding Experience
Lectric has gone the extra mile to make the XPeak a joy to ride. With five levels of pedal assist and an ergonomic right-hand thumb throttle, you can tailor your riding experience to your preferences. This is thanks to the Lectric's PWR controller which is current based instead of speed based. This gives you a certain amount of amps in each pedal assist level, allowing you to more easily provide human power.
Unlike on other Lectric models, riders get full access to throttle power in every level of pedal assist. Not to mention the Shimano Tourney 7-speed derailleur, which allows you to shift gears with ease to accommodate terrain and stamina fluctuations. Whether you want to kick back and enjoy the scenery or unleash the full power of the XPeak, it's all at your fingertips.
Style, Functionality & Assembly
The XPeak comes in two variants—the high-step in sleek black and the step-thru in pristine white. Choose the one that suits your needs and personality and enjoy the versatility these designs offer.
One of the standout features of the Lectric XPeak is its user-friendly assembly process. With a thru-axle for easy assembly and quick-release pedals, Lectric's ethos of ensuring the customer doesn't have to struggle with complicated setup shines through. Thru-axles not only make the assembly process a breeze but also provide a more precise and rigid connection, ensuring that your XPeak is ready to hit the trails in no time.
More than Just an Ebike
Lectric is all about exceeding your expectations. For those who preorder the XPeak, you'll receive a bundle of valuable accessories worth $450, including a front and rear rack, fenders, Elite Headlight, bike lock, and both a large and small basket—all included to enhance your riding experience.
Additionally, we know that Lectric stands by its products, and the XPeak comes with a 1-year warranty, giving you the peace of mind that you're investing in a quality, long-lasting ebike.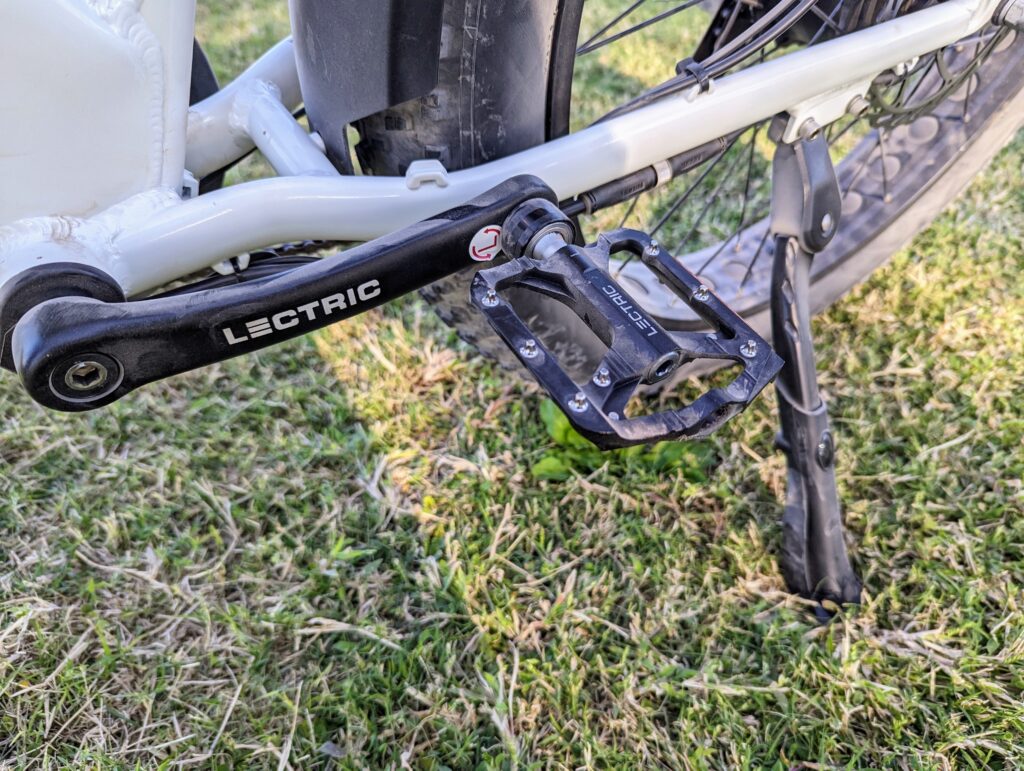 The Verdict
The Lectric XPeak is setting a new standard for off-road electric bikes, combining power, versatility, and affordability. At just $1,299, this ebike offers specs and features that are typically found in much more expensive models. The XPeak isn't just an ebike; it's a promise of unforgettable adventures, off the beaten path and beyond.
But the journey doesn't end here. Our full review of the Lectric XPeak will launch on November 1, 2023, on our YouTube channel. Join us for an in-depth look at this game-changing ebike.
Still not convinced? Be sure to check out our other Lectric eBike reviews and discover the perfect ride for your next adventure. Whether you're an off-road warrior or a city slicker, Lectric has an ebike that will elevate your riding experience.
Get ready to conquer the great outdoors and explore uncharted territory with the Lectric XPeak. Your next adventure awaits—are you up for the ride of a lifetime?
Electronics (Battery, Motor, Display)
9
Components (Shifter, Derailleur, Fork, Brakes)
9
Lectric xpeak pros
Insanely low price
Quality front fork
UL 2849 and ISO 4210-10 certified
Thru-axle
Easy assembly
Lots of available accessories
US based customer support
lectric xpeak cons
Basic Shimano components