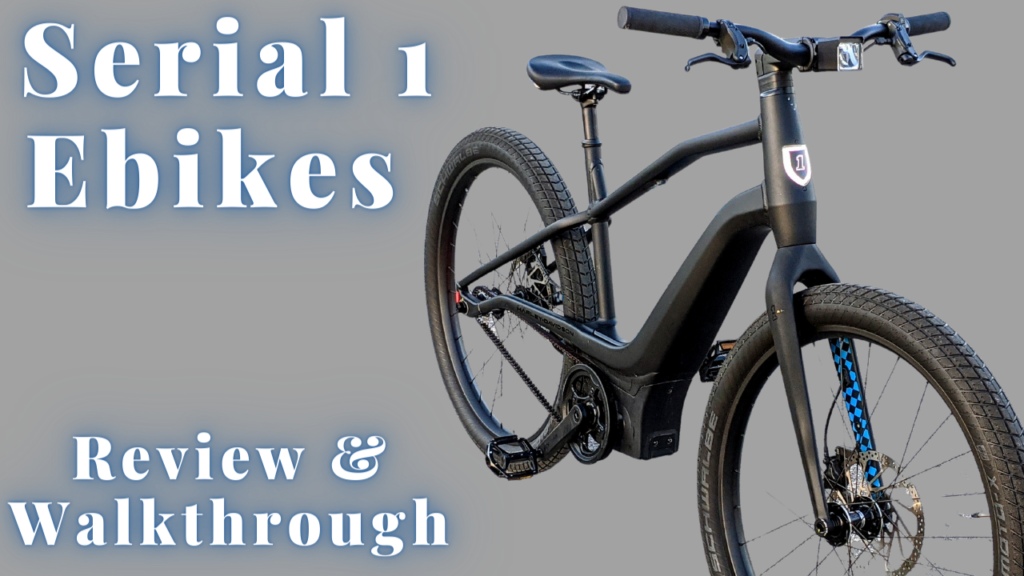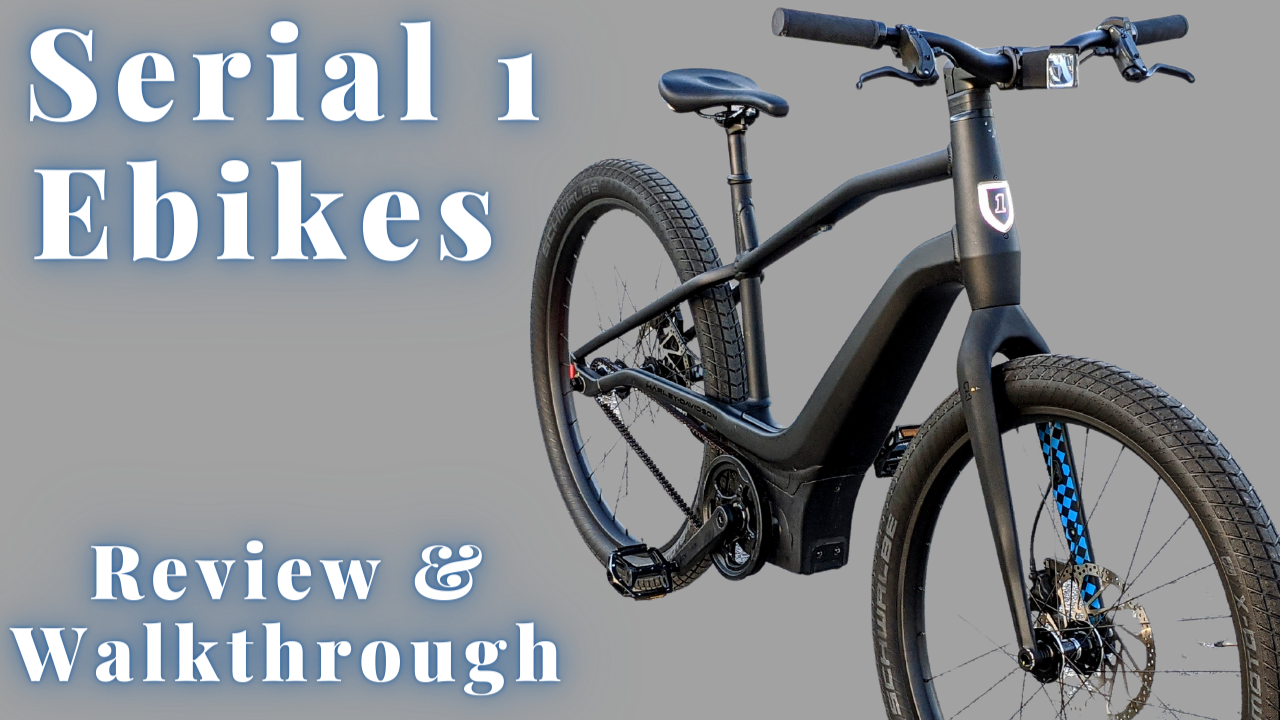 Ever since Harley Davidson announced their ebike line, Serial 1, I have been eager to take their bikes on a test ride. When I reached out to Serial 1, I discovered they had planned a pop-up test drive event mere miles from where I was going to be in Florida. You better believe I built this into my plans so I could do a Serial 1 ebike review! And there is good news too, Serial 1 is rolling out more test ride locations and Harley Davidson dealerships will also have ebikes on hand for you to test ride. Having dealerships across the US works in their favor. Those who are looking to purchase a Serial 1 electric bike can even select to pick up their Serial 1 electric bike at a dealer. But if you prefer to do some minor assembly, you can also get a bike shipped right to your door.
The Serial 1 ebikes are available for pre-order with an availability date expected in summer 2021 with some models available as soon as spring 2021. Prices on the Serial 1 electric bikes range from $3,399 to $4,999 for their top-end model. If you prefer a video walkthrough and review of the Serial 1 electric bikes check out the video at the bottom of this post. Hannah, Lead Brand Marketing Specialist at Serial 1 Cycle Company explains all of the Serial 1 models. I also share riding footage and my thoughts.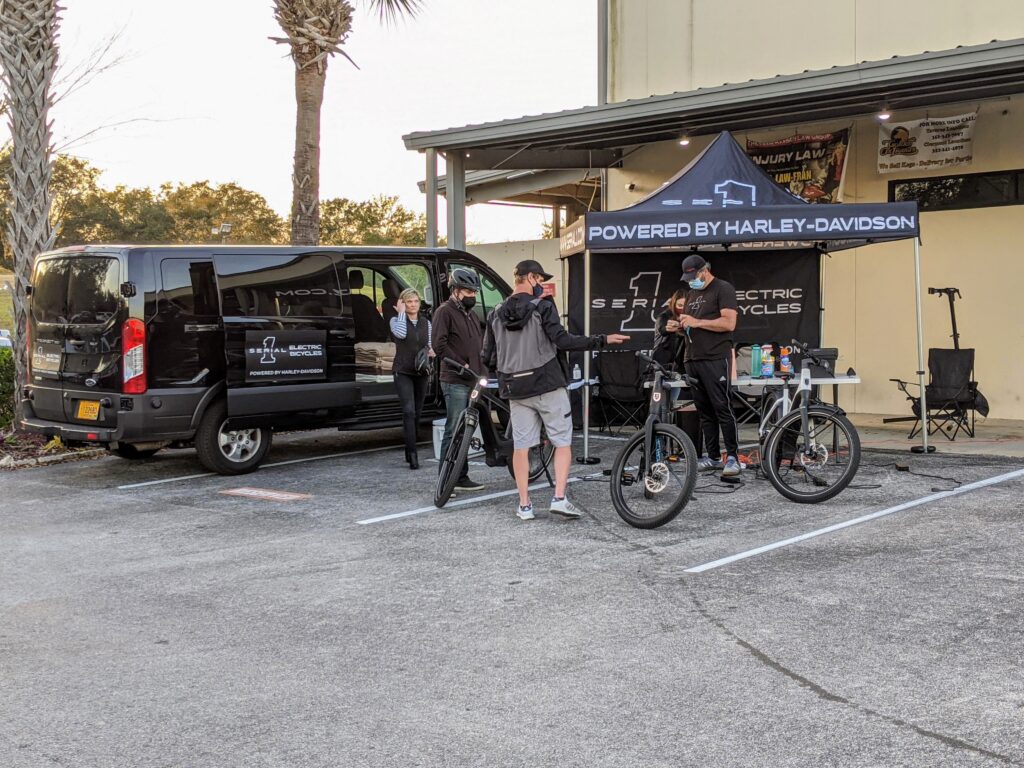 Serial 1 Ebikes Overview
Serial 1 ebikes are no doubt premium-priced electric bikes, but they also feel like premium electric bikes. They offer a luxuriously smooth ride, sleek aesthetics, and worry-free maintenance. Plus, Serial 1 is coming at the ebike market with a clean slate and you're sure to notice some different touches on these ebikes if you look close. When you consider the Serial 1 specs against other ebikes in this price range I think you'll find them fairly priced.
Serial 1 decided to focus on city or commuter electric bikes as their launchpad into the electric bike industry. While I have no knowledge of future plans, my hope is that they continue to expand the product line to offer more options to consumers. I have no doubt that there will be demand for Serial 1 electric bikes with different features, equipped to tackle different terrain. Both fat tires and suspension come to mind.
The company opted for mid-drive motors on all of their models by Brose, a German company. These motors are paired with a maintenance-free belt drive. No chain, no mess. Moving even more in the direction of maintenance-free, the company opted for automatic shifters on the geared models. This leaves you with a simple cockpit consisting of only brakes and a display. Simplicity was clearly a goal with the Serial 1 city bikes and it really is a marvel when you feel these components working together for yourself. If you want an electric bike that allows you to simply hop on and ride with little worry about maintenance or shifting then a Serial 1 electric bike might be for you.
Serial 1 Ebike Design
I found the design of the bikes to be refreshing. This is likely due to Serial 1 really starting from scratch. Remember, Serial 1 was spun out of Harley Davidson. Even the name Serial 1, is a homage to the first model Harley Davidson model ever produced. To say that the bike is well thought out is an understatement and clearly, no corners were cut when outfitting the bike.
Cables seem to disappear into the frame, unlike anything I've personally seen on an electric bike. The cables are all internally routed, starting at the handlebars. Let me reiterate this point. The brake cables literally enter through the handlebars. You really have to look to see any exposed cables on the bike.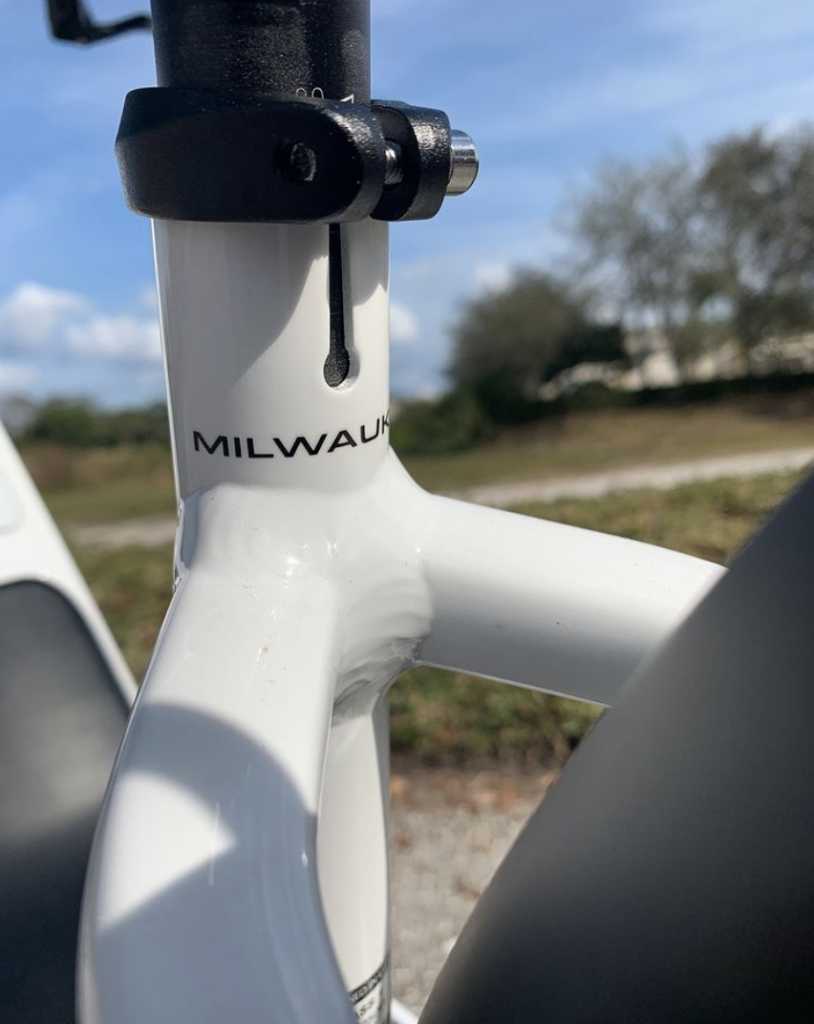 The company designed its frames to have the weight centered on the bike. The mid-drive helps lower the center of gravity but the battery design also places more weight towards the bottom. The battery location gave them room for a glove box that can hold small items like a wallet, keys, phone, etc. The glovebox was designed with the ABUS Bordo bike lock in mind.
If you're spending some serious money on an ebike, you want it to fit perfectly. All of their ebikes come in four frame sizes: small, medium, large and extra-large. The only exception is the step-thru model doesn't come in an extra-large frame. This is due to ensure frame rigidity.
Moving on to looks, I think Serial 1 nailed it. The illuminated badge on the front is a nice touch, but they also include an integrated front light. Plus you have the rear lights. The rear lights brighten when slowing down, engaged with a built-in accelerometer. All Serial 1 electric bikes are offered in two colorways.
The front and rear fenders along with the front/rear rack included on the RUSH/CTY models felt solid. The company hopes to have accessories for sale at some point. I hope Serial 1 releases its own branded bags that match the aesthetics of the bikes.
There are also some minor touches like the Harley Logo outlined near the stem and the city of Milwaukee written on the seat tube. This of course is where Harley Davidson was founded. Perhaps the only thing that didn't quite fit in were the Wellgo pedals which are included on a significant number of ebikes. It would have been a good opportunity to include branded Serial 1 pedals. Plus I do personally prefer more grip than the Wellgos offer. Check out my electric bike accessories list for my up to date recommendations.
Serial 1 Ebike Shifter (Enviolo AUTOMATiQ CVT)
Besides the design, there is one thing that will likely set the Serial 1 electric bikes apart from others you might be considering in this price range. All of the models, with the exception of the MOSH/CTY sport an Enviolo AUTOMATiQ CVT (Continuously variable transmission). Since the bikes use a belt-drive, there is no cassette or freewheel. All of the gearing is located internally in the Enviolo CVT hub.
It's a bit hard to explain the CVT automatic shifter. The best way I've found to describe it is that pedaling is never too easy or too hard once you get going – at least the way these test models were configured. You'll likely notice in the video below that my pedals are spinning a little bit to get started but this can be changed using the Enviolo mobile app. As soon as I started pedaling harder and applying more torque the shifting quickly adjusted. I was able to hit the 28 mph top speed (on the RUSH/CTY Speed). I'd probably adjust the settings slightly if I owned one of the Serial 1 electric bikes.
I imagine there will be a small number of people who don't prefer the automatic shifting, just like those who prefer to drive stick shift cars. But for those that want to hop on and ride, it's the ultimate no-thinking ebike. I expect it to be a compelling selling point of the Serial 1 bikes. And if you haven't ever been on an ebike with an automatic shifter, it is well worth a trip to check it out for yourself.
Serial 1 RUSH/CTY Models Compared
The entry-level model which is a single-speed is called the MOSH/CTY, and is priced at $3,399. Their line continues all the way to the Serial 1 RUSH/CTY Speed listed at $4,999. There are actually three models of the Serial 1 RUSH/CTY electric bikes:
Both the RUSH/CTY and RUSH/CTY Speed have the Brose TF MAG motor. The RUSH/CTY Step-Thru uses the Brose S MAG. Both motors are rated for 250 watts continuous and 750-watt peak power. The motors also provide 90-newton meters of torque to get you going. From my test ride, I could not tell the difference between the Brose motors after testing both of them out. Below are the specifications on the Brose S motor which are located in a magnesium housing.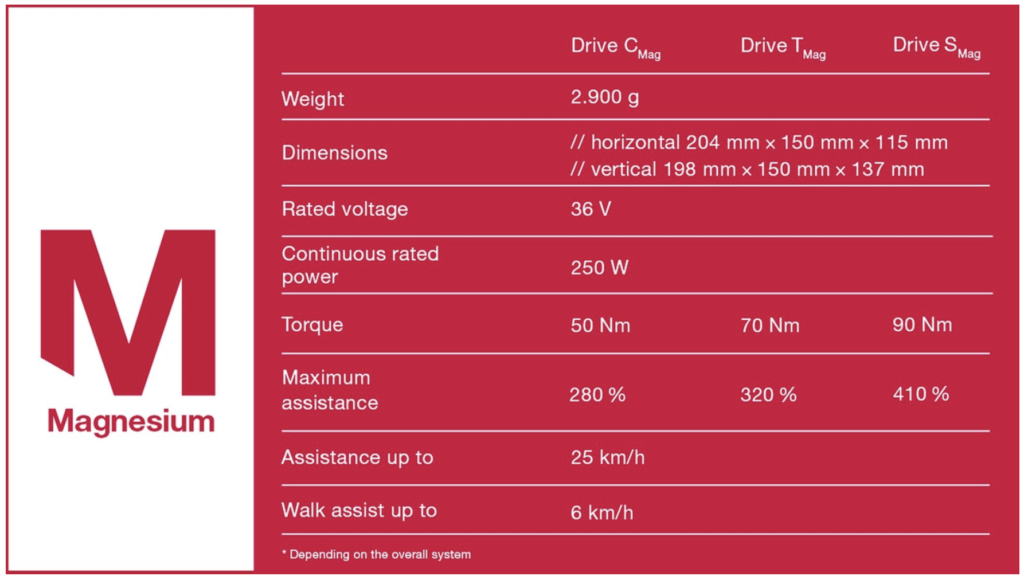 However, there is another reason you may want to consider the RUSH/CTY and RUSH/CTY Speed and that is the battery capacity. The RUSH/CTY Step-Thru has a smaller 529 watt-hour battery compared to the larger 706 watt-hour battery on the RUSH/CTY and RUSH/CTY Speed. Real-world range estimates are 30-90 miles on the smaller battery and 25-115 miles range on the larger battery. Extra batteries will eventually be sold on the Serial 1 website.
The other important distinction is that the RUSH/CTY Speed is capable of reaching speeds up to 28 mph whereas the RUSH/CTY and RUSH/CTY step-thru top out at 20 mph. All RUSH/CTY models use a nice Brose 1.5 inch color display with four modes of assist eco, tour, sport, and boost.
The weights on the RUSH/CTY bikes are all around 59 lbs, in line with what you'd expect from other electric bikes on the market today. But the lower center of gravity due to the motor and battery placement makes for a not-so-top-heavy electric bike.
Besides these differences, the RUSH/CTY models are largely the same. All the RUSH/CTY models have impressive 203mm x 2.3mm "heavy-duty" rotors. So the disc rotors are not only larger, but also wider than you'll find on many (all?) electric bikes. Suffice to say, stopping power won't be an issue.
So if you're considering these bikes, buy the STEP-THRU if you need more accessibility. Buy the RUSH/CTY if you want the larger battery or if you want the extra speed and cost isn't a factor, buy the RUSH/CTY Speed.
Serial 1 MOSH/CTY Review
The MOSH/CTY is the Serial 1's urban play bike if you will. If you're looking for the budget-priced Serial 1 electric bike, the MOSH/CTY comes in about $1000 cheaper than the Rush/CTY bikes It weighs less at 48 lbs, lacks a fender and rear rack but has wider tires (2.8 inch vs 2.4 inch tires on other models). The design of the MOSH/CTY looks a bit edgier, a look that I prefer. Add the gloss rowdy blue colorway and you've got an electric bike that will be sure to turn heads.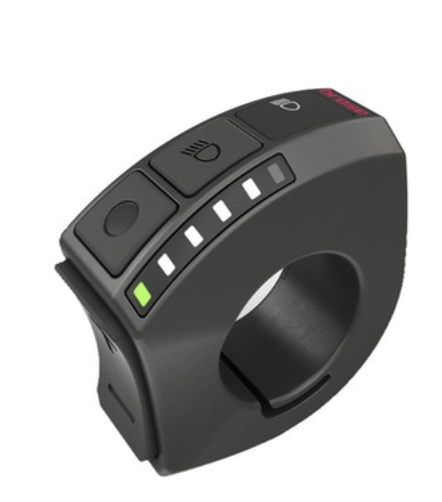 The MOSH/CTY is also a single-speed electric bike, meaning no Enviolo automatic shifting. The motor is still plenty powerful at 750-watt peak power but you'll just have to work a little more on hills. On flat ground, the MOSH/CTY felt plenty zippy.
The MOSH/CTY has the same 529 watt-hour battery of the RUSH/CTY Step-Thru for between 35-105 miles of range. To keep the price more budget-friendly the MOSH/CTY has a simplified display. The simple controls allow you to change pedal assist levels and turn on the headlight. For tracking speed and distance you'll want to use a third-party app like Strava or my favorite speedometer app "Speedometer" by Cool Niks.
Being a single speed with a belt drive, MOSH/CTY will be just as maintenance free as the other models.
Conclusion
To sum it up, the Serial 1 electric bikes are a strong contender if you're looking at a premium ebike. The price for each model is in line given how nice of a package Serial 1 has put together. I'd personally lean towards the RUSH/CTY or RUSH/CTY Speed simply for the larger battery. And of course, if you ride in mostly flat terrain or are looking for something more budget-friendly then the MOSH/CTY is still a great ebike. 
Serial 1 carefully considered every detail of these bikes – and it shows. Even better, the low maintenance these bikes are likely to need makes them stand out from the competition. I'm certainly impressed with the Serial 1 electric bikes and can't wait to see what comes next. Planning to purchase a Serial 1 electric bike? Clicking this link before purchasing helps support Ebike Escape.
Check out my full video review of the Serial 1 electric bikes below. I also run a forum dedicated to Serial 1 electric bike owners.