Tire liners are a very popular item for avid bike riders especially those riding in areas with goatheads or other debris that are notorious for flat tires and fun ruining. Unfortunately, tire liners can also be an accessory item that is overlooked until you have experienced that stranded-with-a-flat-tire moment and it's too late. This is why we were excited to review the Tannus Armour Tire Liners.
For ebike owners, this is an especially tough situation as changing a tire can be more complicated with an ebike, especially one with a rear hub motor. These types of ebikes have a bolt on the rear hub instead of a quick-release feature. Now picture being on the side of the road having to deal with this situation.
I experienced the pain of changing an ebike tire first hand when I stripped the bolt of my RadWagon as I was creating the review video (below). My goal is to reduce the chances of ever having to change or patch a tire on an ebike on the side of a road. That's why Tannus Armour Tire Liners are one of the top items I would recommend every ebike owner install.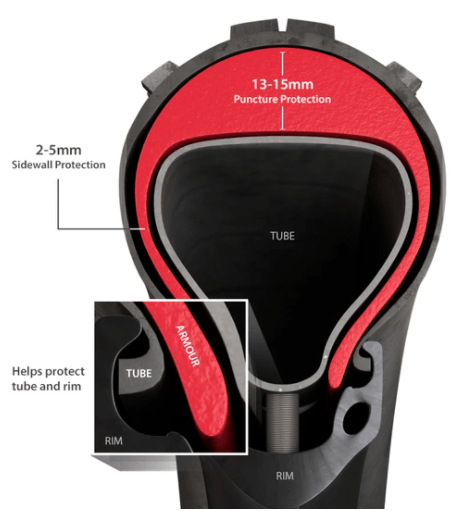 Why You Need These Liners
The Tannus Armour Tire Liners eliminates 90% of all punctures. The liners not only have 13-15 mm puncture protection on top of the wheel, but also 2-5 mm sidewall protection. In the unlikely event that you still get a flat, these liners will buy you time by allowing you to ride on the flat for a short period. This run-flat capability is made possible by the thickness of the Tannus Tire Liners.
Tannus Armour Cost and Promo Code
I believe the Tannus Armour Tire Liners are well priced at the $89.99 starting price for the peace of mind this product brings. Additionally, as an Ebike Escape reader, you can use the promo code RYANLxTANNUS for 20% off your Tannus Armour Tire Liner purchase. You can also purchase Tannus Armour directly from Rad Power Bikes. If the Tannus liners prevent just one flat the cost is justified.
Size Chart for Tannus Liners
The Tannus Armour Tire Liners come in 15 sizes. You should size down one tube size compared to your normal tube size since the liners take up space inside your tires. Tannus makes this easy by allowing you to purchase your liners with or without tubes (Presta or Schrader valve). The Eunorau Fat Tire AWD ebike that I used to demonstrate the installation in the video below has 26×4 inch tires. It came with 26×3.0 – 3.5 inch tubes.
Tannus Tire Liners Installation
I recommend planning 1-2 hours per bike if you are installing them yourself and have some experience taking apart your ebike. See the video at the end of this post for an installation demo.
If self-installation doesn't sound like your idea of a good time, your local bike shop is likely familiar with Tannus and will be able to do the installation for a service fee. Many bike shops also sell liners so check out the Tannus dealer locator.
Note that some tire sizes will require you to trim the tire liners so they fit inside your tire (see above chart under trim to fit).
The Future of Tannus
Tannus is targeting the electric bike market with their tire liners and will soon offer a new size of liners for 20×4 inch tires. I was told by Tannus that they should be available in the next six weeks which will be welcome news for many electric bike owners with this tire size.
Conclusion
If you want to decrease the chance of getting a flat on your electric bike then I highly recommend Tannus Tire Liners. You should especially consider them if you live in an area where goatheads or other debris are prevalent. The 15 mm of protection along with the sidewall protection are your best bet at keeping you out riding.
Tannus Armour Tire Liners Review Video
In the below video I share our full review and install of Tannus Tire Liners on our electric bikes.
Interested in more ebike accessory recommendations? View our favorites.
This website uses affiliate links to support the creation of new articles. Please consider using the links if making a purchase. Reminder, promo code RYANLxTANNUS will get you 20% off your Tannus Armour Tire Liner purchase.