In the last year, my brother joined the ebike family. With two kids to tow, he opted for the RadWagon 4 (read about my RadWagon obsession here). Now as an owner of a beautiful new ebike, another decision had to be made: How do we haul this thing? I recommended our premium hitch mounted bike rack, Hollywood Racks, which has served our family well. Instead, my brother opted to save some money with the Fultyme RV Hitch Bike Rack at Walmart for $120. Unfortunately, Walmart is struggling to keep up with demand, and the rack goes out of stock often.
The good news is that Northern Tool is selling a similar (if not identical) rack, the Ultra-Tow Fat Tire 2-Bike Carrier for $159.99. Northern Tool charges $30 for shipping but ship to store is free if you happen to live near a store. Northern Tool's bike rack is currently on backorder, but shipping estimates are reasonable.
After taking the Northern Tool rack on a 1600+ mile trip to Florida with 4 ebikes, I have some thoughts to share on this affordable rack. Check out the video at the bottom of this post for a closer look.
Northern Tool Bike Rack Features
Impressive 200 lbs Capacity
Many electric bikes (including Rad Power Bikes) are more than 60 lbs each, which is the limit on other bike racks. The impressive weight capacity sets this Northern Tool bike rack ahead of its competition, at a price that is much more affordable than racks from companies like Thule, or Kuat. Suffice to say if you own a heavy electric bike your options for a bike rack are limited. (Featured in video below at 3:21)
Fits Wide Tires
The Fultyme Hitch Bike Rack and the Northern Tool Ultra-Low Fat Tire 2-Bake Carrier easily fits fat-tire bikes up to 5″ wide. My brother hauled his RadWagon 4 and a Ride1Up 500 Series ST to Florida on this rack. Note that that the wheel holders can accommodate narrower tires as well. (Featured in video below at 5:02)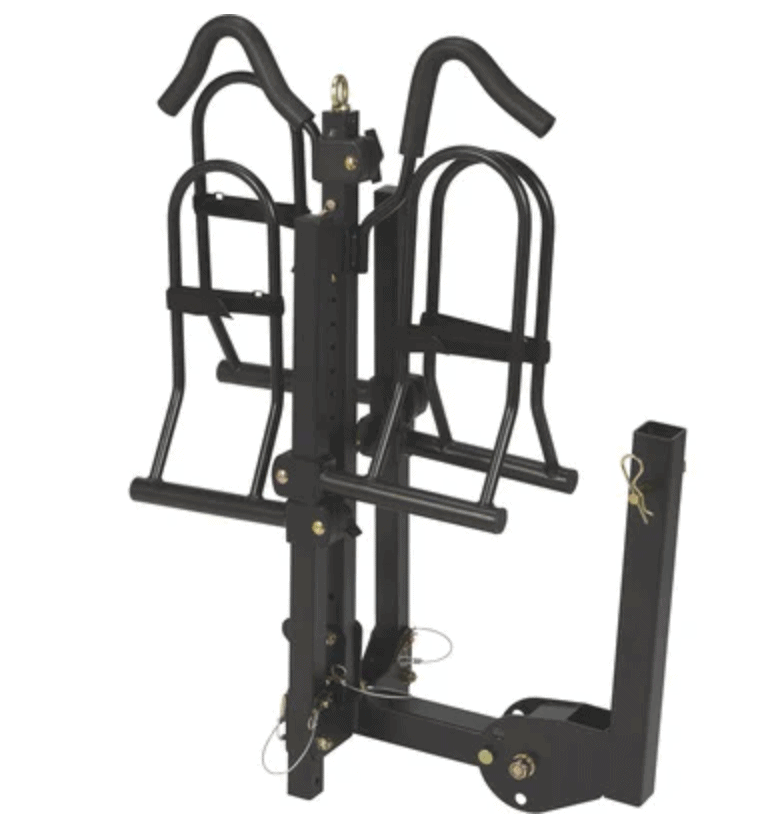 Foldability
The foldability makes this bike convenient in two ways. First, the middle bar folds down so which may allow you to access your trunk with bikes on the rack. Second, when the rack is not in use, you can fold it lengthwise or vertical depending on your preference. (Featured in video below at 5:11)
Recommended Add-Ons
Hitch Stabilizer
While not always necessary, my brother opted into buying a hitch stabilizer to further prevent hitch wobble/rattle. (Featured in video at 1:58)
Reflector
The rack has a button reflector included. I am not sure how useful it is. I opted to add an LED trailer light bar to my Hollywood Racks for increased visibility. (Featured in the video at 9:22)
Allen Top Tube Bar/Fake Top Tube
We added the Allen Top Tube Bar to the Ride1Up 500 Series ST that didn't have the top crossbar in order to secure the bike to the rack. These bar adapters are important to keep bikes with step-through frames secured. (Featured in the video at 11:00)
Fultyme RV and Northern Tool Hitch Bike Rack vs. Hollywood Racks
I am impressed by the Fultyme RV/Northern Tool Hitch Bike Rack and what it offers at a much lower price point than my Hollywood Racks. The Hollywood Racks is of higher quality but the Northern Tool hitch rack is a more affordable way to travel with your electric bikes.
The main benefits to the Hollywood Rack hitch mounted bike rack are:
Locking hitch pin, locking frame mounts, and a light security cable lock for added security
Hitch pin is easier to install
Anti-wobble hitch system with no accessories needed
Clicking mechanism to clamp down on top tubes
Hollywood Racks is sturdier
You can check out my full Hollywood Racks review here.
Conclusion
You can easily spend half of what an ebike costs for a bike rack to haul your electric bikes. I like that Northern Tool offers a more affordable option though of course there are compromises to keep costs down. If you travel with your electric bikes often it may be easier to justify the better quality (and higher-priced) racks from companies like Hollywood Racks, KAC Overdrive, Thule, and Kuat.
Please consider using our affiliate links in this article if making a purchase to help us continue to make articles like this.