Imagine an ebike that combines the best of the ebike world with the frame of a BMX bike? That's the GT Power Performer. Everything about this bike is bad to the bone. If punk rock could be a bicycle, it would be this ebike.
Everything about the GT Power Performer just screams 80s rad nostalgia. It's like getting on what would have been my dream bike as a kid, except in an adult size. GT designed this ebike to look like a giant BMX Bike, and it's a ton of fun too.
It's a surprisingly comfortable bike with its 29-inch slick wheels and riding it around feels like cruising on your bike with your friends when you were a kid. GT clearly geared the Power Performer toward the Stranger Things crowd: Us Gen Xers who grew up with BMX bikes and younger millennials and Gen Z who see the 80s as retro-cool.
GT Power Performer: The frame
You really are getting on an oversized BMX bike with the GT Power Performer. GT even threw in a version of the top tube protector pad that BMX bikes were known for (and that were popular amongst the fixie crowd in the early aughts). Not to mention the BMX style handlebars you just don't see much of anymore.
The floating frame stander seatstays are a nice touch too, in case you want to try some tricks on your ebike. Though I think I'm safe in saying most people will keep their feet where they belong – on the pedals.
The frame comes in one size, with two colors: gloss military green camo with peach or a gloss battleship grey and black with hot pink and mint blue. Both designs look incredible, aimed squarely at those who want to stand out. On the green camo model, there's a shark mouth graphic on the frame's front which is the focal point. The reflective decals, platform pedals, and bmx seat complete the look. And let's not forget about the matching ribbed grips will send your right back to your childhood.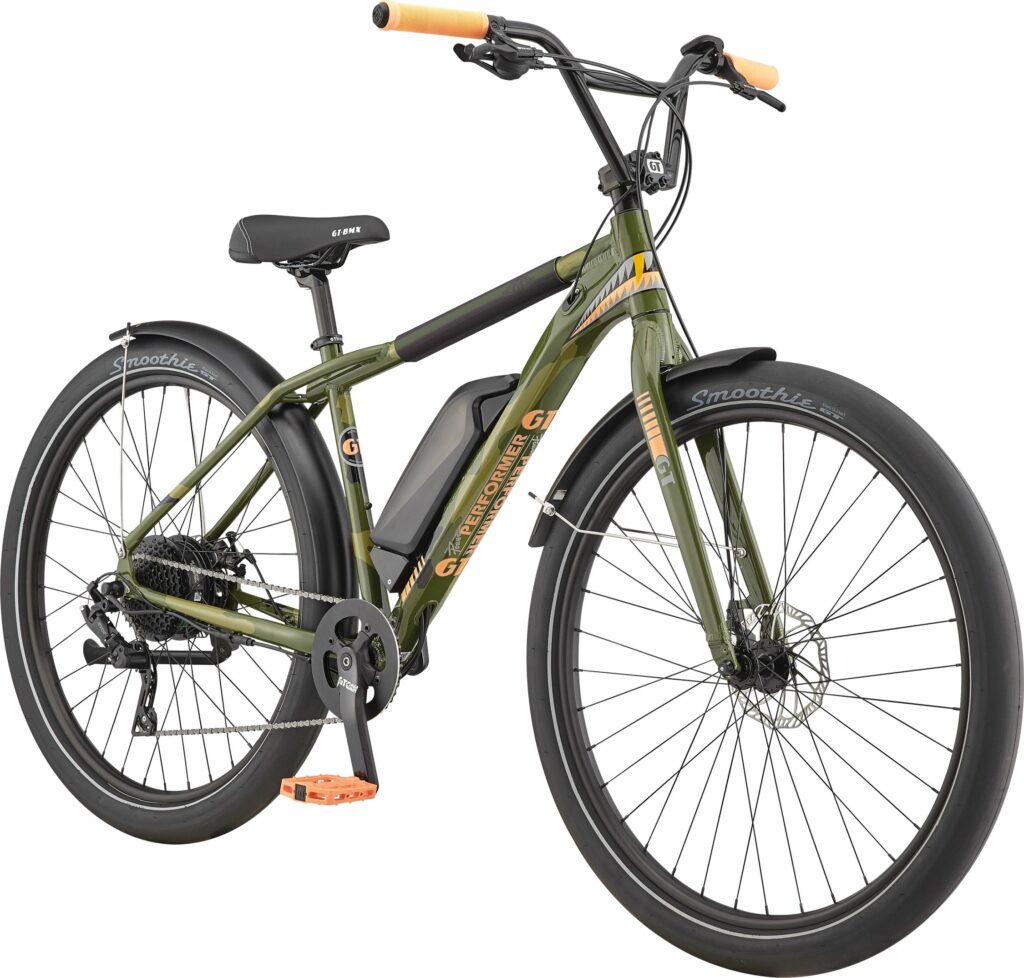 The drivetrain
The GT Power Performer is driven by a 350-watt Bafang rear hub motor (250 watts in the EU). It's powered by a 36 volt 11.6 Ah battery (418 watt-hours) downtube mounted battery. The battery locks to the frame and is removable for easy charging on and off the bike. An included 1.5 watt USB port is available for charging your phone. Worth noting is that the left-hand thumb throttle doesn't engage from a dead stop. The Power Performer needs to be moving first either by pedaling or kicking yourself forward from the ground.
The Power Performer has a 1×9 microSHIFT Advent drivetrain and trigger shifter. This allows for plenty of gearing to reach the top speed of 20 mph with the help of the motor or to shift down to tackle steep hills. The throttle alone will take you to 20 mph on flat ground. Check out our video at the bottom of this post to learn more about the speed at various pedal assist levels and how the Power Performer handles hills.
Components
Worth noting here are the tires. They're not exactly BMX tires or mountain bike tires — they're Smoothie Session slicks that are 2.5″ wide, which are perfectly suited for urban riding. That seems to be the market GT is going for with this bike. They're 29ers too, which give the bike some roll and fit a wide range of riders. The standover height is 31.06″.
The bike comes with Tektro hydraulic disc brakes for plenty of stopping power. Sporty fenders and a kickstand are also included with a BMX-style saddle.
GT Power Performer: Cruising the 1980s again
There are higher-powered electric bikes that are also less expensive than the GT Power Performer, which will list at $2,225. But none have the cool retro style of this bike which is this electric bike's main selling point. It's a lifestyle bike, a sleek new creation from GT, and a piece of 80s (or 90s) nostalgia. It rides surprisingly smooth even with the rigid frame and will sure to turn heads if you decide to pick one up for yourself. Check out the Power Performer on the GT Bicycles website.