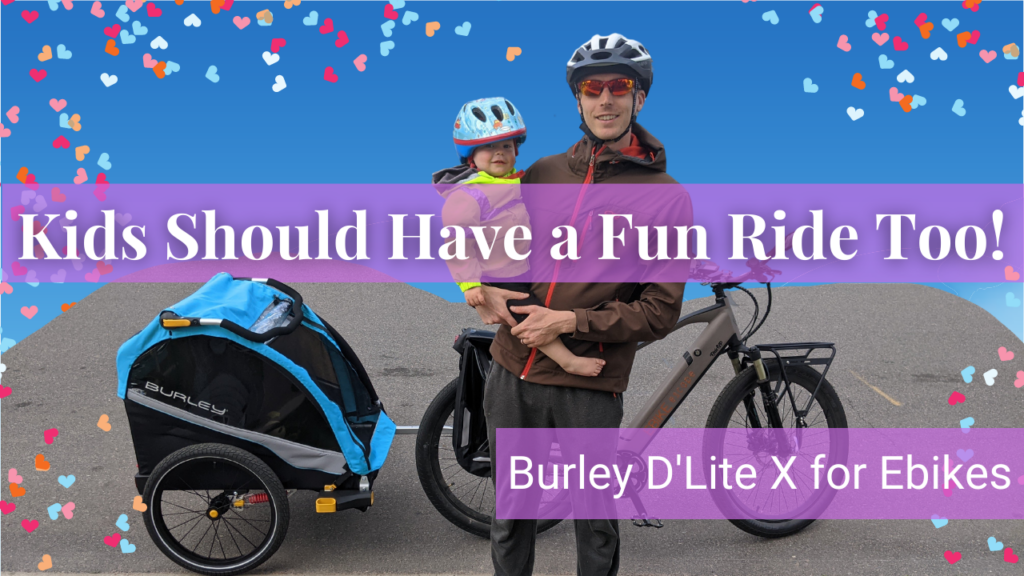 When my wife and I introduced the Rad Power Bikes RadWagon into our lives (our first ebike, read our review), our world changed for the better. We had so much fun riding our new 'vehicle' and were happily a one-car family. Not only did we save money, but our physical fitness improved with the reliance on our ebike for travel. When my son entered our lives, we knew it would be vital to find a way for him to have fun and be comfortable riding too. Otherwise, as any parent knows, it will be a short experience if the toddler is miserable. So the search began to find the best way to transport kids with our electric bikes. Enter Burley kids bike trailers.
Before the Burley Child Trailer
For our RadWagon, we use the Thule Yepp Maxi. While we have used the Thule Yepp Maxi frequently there are some limitations depending on your ebike. Namely the weight limit on the rear rack and the kiddos being exposed to the elements. Taking those limitations into consideration, we have been on the hunt for a trailer that our child would love and that works with our ebikes.
We found just the trailer to fit these needs. The Burley D'Lite X is a premier bike child trailer that has exceeded expectations. Not only does it work well with ebikes, but the Burley D'Lite X offers a very smooth and comfortable ride. We love that the trailer has multi uses, add-on options, and safety features too. Read on for our full Burley D'Lite X review.
Burley D'Lite X Review
Cost
We own the Burley D'Lite X double seat model ($850). Burley also offers a single child seat model ($750). This is a premium child trailer that offers a lot of luxurious features. If the price tag is more than you were hoping to spend, we will also mention Burley's step-down models, the Encore X ($600) below to help you decide what you might be able to live without. That is one of the great things about Burley – They offer a lot of models with a wide price range to meet the needs of many. Now that we have the Burley D'Lite X though, it is difficult for me to imagine what features I would be willing to downgrade. This trailer drives like a luxury vehicle!
Specifications:
The Burley D'Lite X is ebike compatible. The double seat model has a 100 lbs weight capacity, and the single seat has a 75 lbs weight capacity. The seats are removable if you are looking to haul items other than kids. The double trailer weighs 30.4 lbs. (trailer only) and the single trailer weighs 27.5 lbs. (trailer only). The trailer folds down for easy travel or storage.
Standard Features We Love: Included on Every Burley Kid Trailer
Compatibility:
Every Burley Kid Trailer is ebike compatible, but not all ebikes are compatible with the Burley kid bike trailers. Read on for more on that topic.
Safety:
Internal roll bar for protection in an accident
5-point harness system
Great visibility: reflective materials, reflectors, ability to add lights, included safety flag
UPF 50+ tinted windows
Comfort:
Recessed helmet pocket for more headroom
Front cover and rear window open up to maximize ventilation
Wind and water-resistant cover
Ease of use:
Push button wheels for quick removal
Folds down easily for transportation in a vehicle or storage
And a feature we really have been enjoying: Burleys also double as a stroller making for the ideal all-weather stroller.
Burley D'Lite X Premium Features (D'Lite X vs. Encore X)
The premium features of the Burley D'Lite X compared to the closest step down model Burley offers, the Encore X, focuses on increased comfort and for both the rider and the pusher (if using it as a stroller). For increased comfort, the Burley D'Lite X has extra elbow room, premium seat pads, and the ability to recline the rider seats. For an extra touch of comfort, the zippers are water-resistant and the sunshade is adjustable. For the benefit of both the rider and pusher, the adjustable suspension makes for a very smooth experience on all types of terrains. These are the features you would need to be willing to give up in a step-down model, like the Burley Encore X. For a $150 price difference, it might make your decision tougher or easier depending on your needs versus budget requirements. We are very happy with this premium trailer, but we love saving money too. Moving down further in the lineup are the Honey Bee ($399) and the Bee ($279 – $299).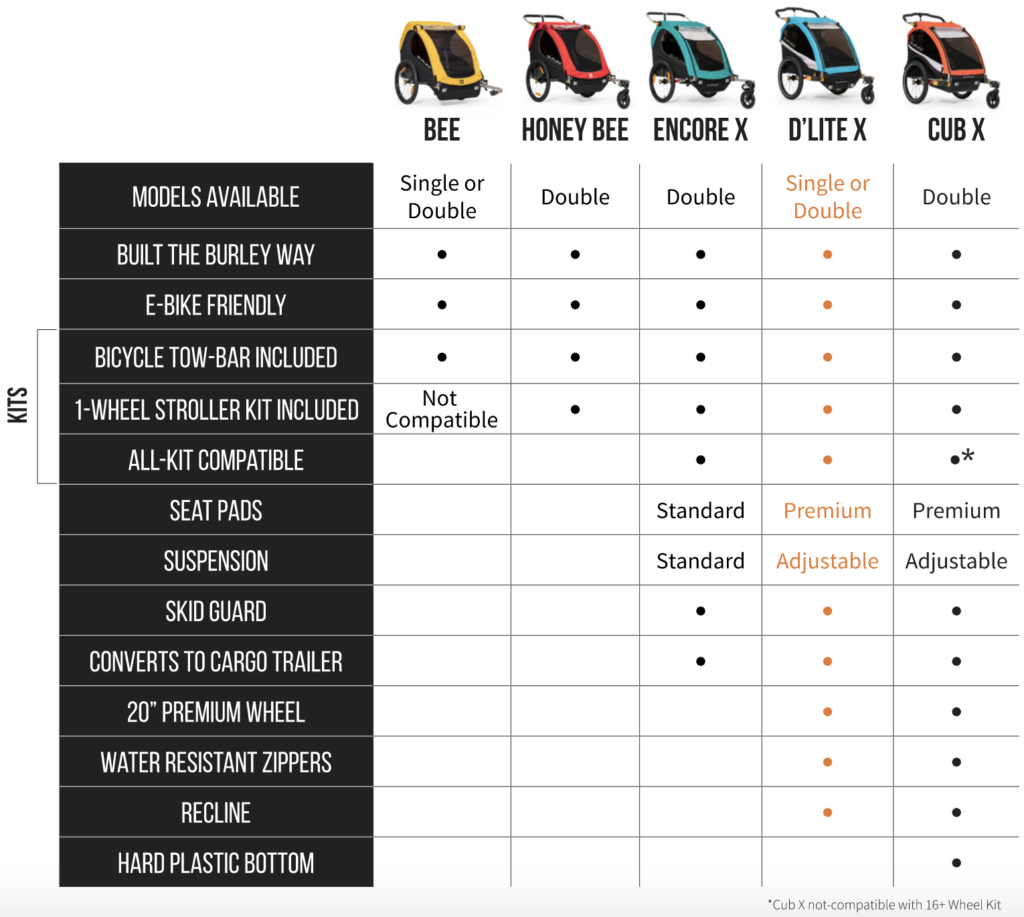 The Burley D'Lite X Ebike Compatibility
Burley Kids bike trailers come with a steel hitch that will fit on most bikes. And if you're not sure of the components on your bike, Burley has a handy hitch guide linked from their steel hitch page.
The steel hitch will work with ebikes with disc brakes or if the bike has full suspension. It also works on quick-release axles and important for ebikes with rear hub motors: solid axles up to 12mm. The biggest consideration for ebikes with rear hub motors is whether you have enough threads to still allow the bolt to tighten after putting on the steel hitch. If you don't have enough threads on your electric bike check out our video review where we show an adapter you can buy.
We tested the Burley D'Lite X on our Ride1Up LMT'D and it took minutes to install. Once the steel hitch is attached, you simply drop in the hitch pin and attach the safety strap. Switching from stroller mode to bike mode takes no time at all. Make sure you raise the wheel and extend the Burley tow arm to the bike indicator.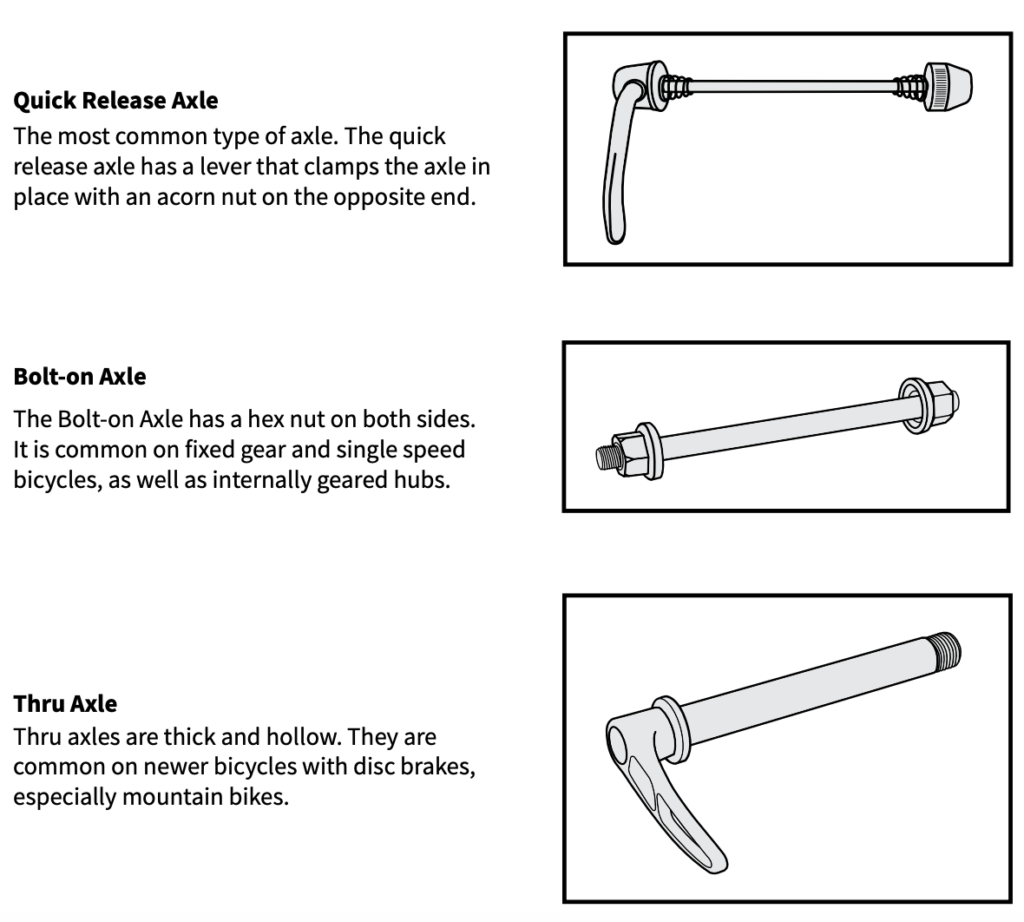 Final Thoughts on the Burley D'Lite X
Our child has had some excellent rides in our Burley D'Lite X. His ability to tolerate long rides has increased tremendously (and admittedly he also tends to fall asleep from time to time). We are grateful we have a comfortable trailer for our son so that he can have just as much fun riding as we do on our ebikes. Not only have we been using the trailer behind our ebikes frequently but we've also been using the trailer as a stroller more than I thought. The rain cover, screen, and sunshade have been nice features to keep our son happy in any climate.
We love the extra storage the Burley kid trailers have for all the other odds and ends we bring with us when riding. The adjustable suspension is an excellent touch as we ride on many different terrains. We love our premium ride, but more so, we love the quality that Burley offers in its kid trailers. Whether you spring for the Burley D'Lite X or check out their other models, we think you will be very impressed with the options from Burley.
If you want to see the Burley D'Lite X up close check out our Burley D'Lite X unboxing video or our full Burley D'Lite X review below: