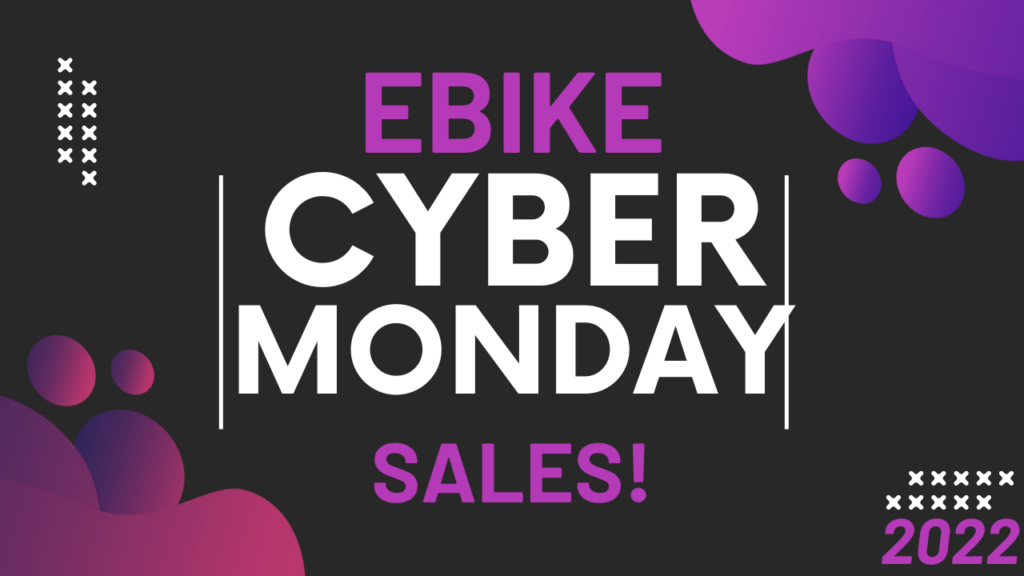 Missed a deal on an ebike for Black Friday? Electric bike deals for Cyber Monday 2022 are now live! Check out the current deals below and be sure to check back on this page for updates.
Jump to specific brand:
Rad Power Bikes Cyber Monday Sale
Rad is offering a variety of savings on various models. The savings is from $100 to $600 off. In addition, accessories are up to 60% off!
Ride1Up Cyber Monday Sale
Ride1Up has announced its Black Friday sale! If there was ever a perfect time to purchase that Ride1Up ebike you've had your eye on, this is it. These are the best prices we've ever seen on Ride1Up ebikes. The Core-5 is just $945 but if you have a little extra money burning a hole in your pocket the Cafe Cruiser and Prodigy mid-drive are among our favorite ebikes.
Lectric's Cyber Monday Sale
With the release of the XP 3.0 Lectric is offering the XP 2.0 at a discount of $100 off ($899), and if you purchase multiple XP 2.0s you can receive an additional $100 off. Which stacks up to $300 in savings on 2 XP 2.0s.
They are offering up to $277 in free accessories. Here is a breakdown of the different accessories packages:
XP 3.0– $999 or $1,199 PLUS $277 in accessories (Bike Lock, Elite Headlight, Suspension Seat Post, and Giant Seat)
XPremium– $1,599 PLUS $256 in accessories (Bike Lock, Suspension Seat Post, Giant Seat, Pannier Bags, and Phone Mount) This is the lowest price we've seen on the XPremium.
XP Lite– $799 PLUS $127 in accessories (Premium Headlight, Phone Mount, and Bike Lock)
Aventon Cyber Monday Sale
Not sure what exactly Aventon has planned for Cyber Monday. But ahead of that sale, they are a great deal with the Aventure.
Juiced Bikes Cyber Monday Sale
The Juiced Cyber Monday Sale has begun. Most notably they are offering their Class 2 RipRacer at $999 or the RipCurrent S for $2,199. Check out the link below for a look at all the savings being offered by Juiced bikes. Along with these ebike savings Juiced is also offering 20% off all accessories.
Ariel Rider Cyber Monday Sale
Ariel Rider is offering savings across their entire line-up. Save $200 off a Grizzly, X-Class, or even the Keplar.
Serial 1 Cyber Monday Sale
Not normally a brand that has sales, but for Cyber Monday Serial 1 has made an exception. Check out this great deal below:
Himiway Cyber Monday Sale
Variety of savings across the entire Himiway lineup. We are big fans of the big battery and motor performance of the Zebra and Big Dog ebikes.
Denago Cyber Monday Sale
Denago is offering decent savings on their City Top Tube bike. $300 off makes this city-style ebike $1199. The provided code can also be used to save 20% off Helmets, Pumps, Locks, and Car/Truck racks.
Velotric Cyber Monday Sale
Velotric is pulling out all of the stops for this holiday sale. From the $700 off the Discover 1 to the additional $250 off when you purchase 2 ebikes. Velotric has some great offerings for this holiday season.
Eunorau Cyber Monday Sale
For Cyber Monday Eunorau is keeping it simple. 15% off all of their ebikes. We are big fans of the Defender S, but they offer some awesome mid-drive and dual-motor ebikes.
KBO Cyber Monday Sale
KBO's Cyber Monday sale includes $200 off one ebike or $500 off two. Our favorite pick out of the bunch is the KBO Ranger as it is one of the most affordable cargo ebikes on the market.
Blix Cyber Monday Sale
This sale doesn't go live until 11/01/22. But here is a glimpse at what you can expect. Our favorite Blix ebike is going on sale; the Packa Genie (Dual Battery) is being offered at $300 off. Be sure to check out the savings being offered on the Aveny, Sol, and Dubbel as well.
Propella Cyber Monday Sale
Propella is offering some of the largest savings we have seen on their ebikes. The savings varies between models. From $150 off the Mini up to $300 off the 7S. And they are even offering $200 off the 9S, their newest top-of-the-line model.
Flyer Cyber Monday Sale
Flyer is offering $500 off their M880 ebike. This is a "mid-tail" fat tire ebike, that is capable of hauling cargo. We are big fans of our L885 kid hauler. Be sure to check out the Flyer accessories, they have some awesome cargo and person carrier options.
Vvolt "Chalk White" Cyber Monday Sale
Like Chalk White? This is the Cyber Monday Sale for you! Save between $200 and $500 on Vvolt's Alpha, Alpha S, Centauri, and Sirius models.
BikTrix Cyber Monday Sale
BikTrix is offering up to 40% off select ebikes. Another notable deal they are offering; purchase any 2 ebikes and recieve a free Kutty FS.
Euphree Cyber Monday Sale
Euphree for Cyber Monday is offering up to $300 off and a free mirror. Save $300 and receive a free mirror when you purchase a 2022 City Robin. Or save $100 and receive a free mirror when you purchase a City Robin X. You can also stack this offer with our code "EbikeEscape" at checkout to not only get the above offer, but also receive a free lock with either purchase.
Espin Cyber Monday Sale
Espin is offering a variety of savings across all of its models. Be sure to use the correct code below for the corresponding model.
Cyrusher Cyber Monday Sale
Not usually a brand that offers savings on its models. But for the holiday season, Cyrusher is offering up to $300 off their line up of ebikes and you can save $500 off when you purchase 2 Cyrusher models.
Charge Cyber Monday Sale
Charge Ebike is someone we have had our eye on for some time. They have some great commuter ebikes and even an XC mid-drive ebike. For Cyber Monday they are offering $500 off their entire line-up of ebikes.
Zugo Bikes Cyber Monday Sale
Zugo is a new brand to us. However, we are receiving one of their ebikes shortly to give it a thorough testing. For Cyber Monday they are offering $100 off their fat tire ebike and 2 free accessories.
Electric Bike Company Cyber Monday Sale
EBC is offering two great deals this holiday season. First, Purchase a single bike, and use code "BLACKFRIDAYLOCK" to receive a free lock and alarm ($219 value). The second deal is, Purchase two bikes and receive a free Hollywood Bike Rack with your purchase. Use code "BLACKFRIDAYRACK" to receive this offer.
Thousand Helmet Cyber Monday Sale
This is the largest discount Thousand has ever offered on their helmets. This sale changes as the month progresses, with the best savings being offered on 11/28. However, the 30% off Heritage helmets, is live now.
Smith Cyber Monday Sale
Smith is offering 20% off site-wide (with the only exclusion of some new products). Smith not only offers Ryan & I's favorite helmets to Mountain bike in, but they also offer some great sunglasses, goggles, and snowboard helmets.
Nutcase Helmets Cyber Monday Sale
The holiday sale is on at Nutcase helmets. They are offering 25% off site-wide. Their helmets are great for kids and adults alike.
Tannus America Cyber Monday Sale
Tannus tire liners are the best way to protect against goat heads and road debris. If you have ever had to repair a rear ebike flat while out on the road, you know how frustrating that can be. Tannus Tire liners help protect the tube and stop this from happening. For Cyber Monday Tannus is offering 25% off select products. Use the below code to receive this holiday discount.
Be the first to know about Electric Bike Cyber Monday deals!
Stop back at this page or subscribe below to be the first to see the electric bike brands offering Cyber Monday sales for 2022. Happy Shopping!