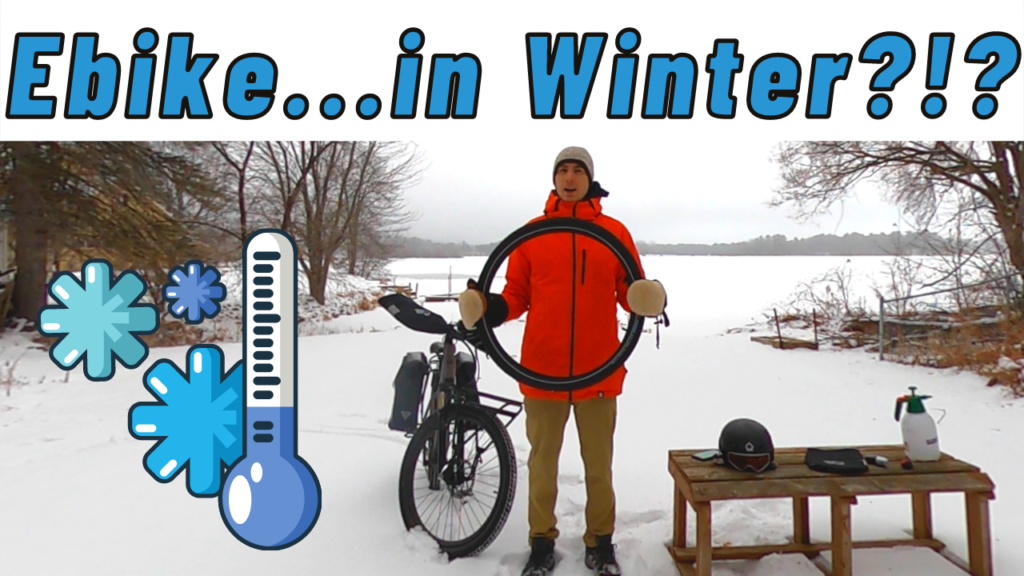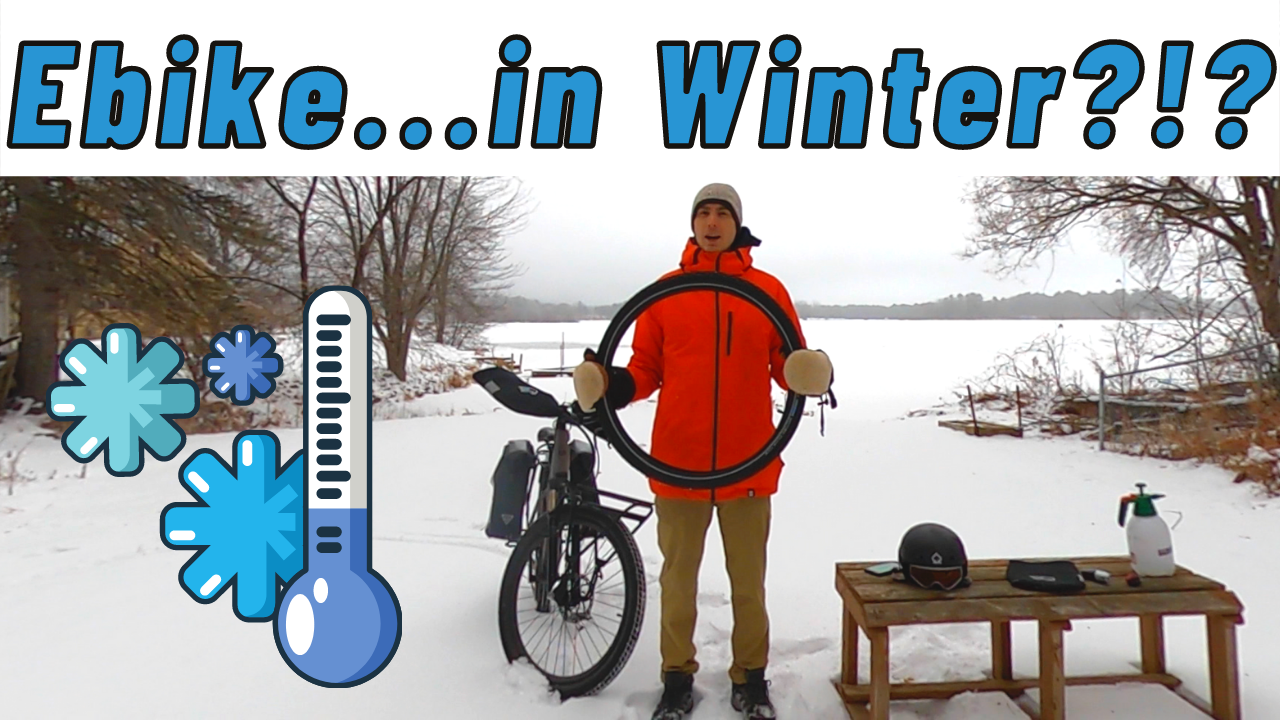 Recently I shared winter storage tips for your electric bike battery. However, if you're looking to ride on your electric bike in winter check out these 12 tips for winter riding. My video on 12 tips for riding your electric bike in winter is embedded at the bottom of this post.
1. Tires for your Ebike – Studded or Knobby
Bike tires make a world of difference for winter riding. If you have fat tires you can first try to lower your tire pressure to increase the amount of surface area that comes in contact with the snow. This will help you to float over the snow. You can also purchase knobbier tires such as these ones from Mongoose (20″x4″ and 26″x4″).
If you're really serious about riding in all conditions consider studded tires. I have tested and personally use Schwalbe Marathon Winter Plus 26 x 2 inch tires. Be sure to find a set that will fit your electric bike. The best way to get an idea of what tire size will work is to look at the size of tires currently on your electric bike. Remember if you try to go with wider tires you may have issues with front fork clearance.
In my experience studded tires work well on hard packed snow and ice. They are less effective in fresh snow, especially with thinner tires such as the ones pictured on either side below.
2. Fenders
Many electric bikes come with fenders, but if your electric bike doesn't have them then I would highly recommend a set. Fenders help in year-round riding but also help in winter from salt and sand getting all over. Amazon sells a wide variety of styles and you should be able to find a set that will fit your electric bike.
3. Winter Bike Helmets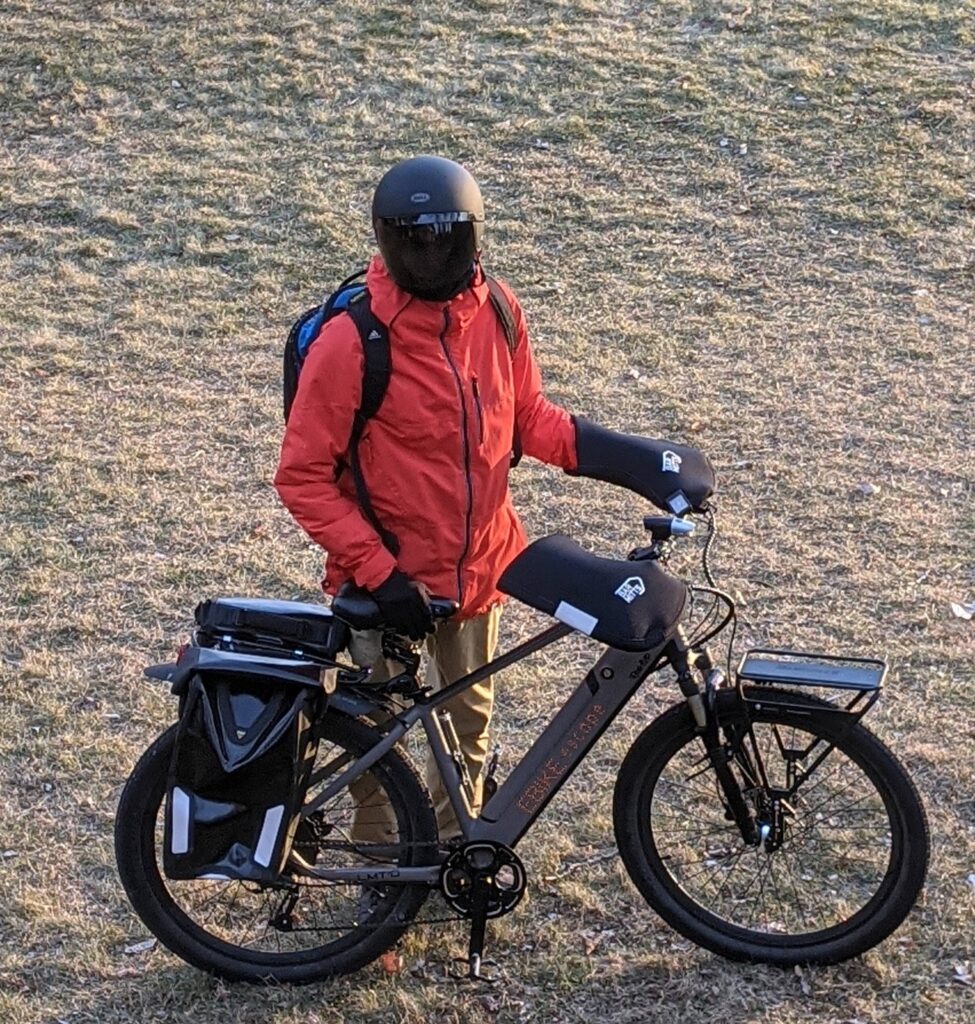 The first option is to wear a hat that fits under your current helmet. For colder days you can also wear a ski or snowboard helmet. Add goggles if it is snowing outside or extra windy. My current favorite winter electric bike helmet is the Bell Scout Air motorcycle helmet. What makes this helmet special is the optional $20 face shield for added wind protection.
4. Lower Your Bike Seat
Lowering your seat to a lower point will allow you to easier plant your feet if you become out of control. This is a great idea if you are just starting to ride out in winter or if you just want additional stability. It is especially helpful when roads and sidewalks are not maintained.
5. Pogies and Bar Mitts
Pogies are must-have for winter riding in my opinion. Bar Mitts is a popular brand and they come in various styles such as those made for flat handlebars or those made for curved handlebars. They even have an option with holes for bar end mirrors so you can continue to use them. Made out of neoprene it is surprising the protection that pogies provide. Wearing thinner gloves can provide additional warmth and add hand warmers if desired. Make sure that the Bar Mitts are compatible with your LCD screen and throttle on your electric bike. You'll want to make sure that there is no chance of the throttle being accidentally pressed.
6. Fleece Lined Pants or Snowpants plus Socks!
I've been really impressed with these fleece-lined pants from Costco. The benefit of fleece lines pants is they aren't as bulky as snow pants but they still provide plenty of warmth. If you do plan to layer with snow pants just be aware of the potential of getting your snow pants stuck in the chainring. To keep your feet warm I highly recommend Darn Tough socks. I've been enjoying a pair of their midweight socks this winter.
7. Neck Warmer/Gaiter
A neck warmer prevents air from entering the top of your jacket. You can alternatively use a scarf if you prefer. I've been using a Smartwool gaiter and find that the lighter weight provides plenty of protection against the elements. Fleece gaiters are also an option.
8. Winter Jacket
Quality winter jackets are worth every penny. I've personally been using a Ride snowboard jacket which is longer and provides lots of warmth though there are tons of quality brands out there. For additional safety opt for a high visibility colored jacket.
9. Wicking Baselayer
Cotton t-shirts actually make you colder when you sweat which is why I prefer a base layer. Base layers wick moisture away and keep you comfortable on longer rides. I currently have an older Smartwool base layer which I've been happy with but you can find plenty of other brands available.
10. Extra Bike Lights and Reflective Tape
Rechargeable lights that have flashing modes allow motorists to see you better especially during short winter days. I've personally been using the Planet Bike Blaze 600 SLX front light and the Planet Bike Rojo 100 rear light. You can also wear a reflective vest and purchase tires with reflective sidewalls. Custom Taylor 33 also sells high-quality reflective rim tape for various size rims.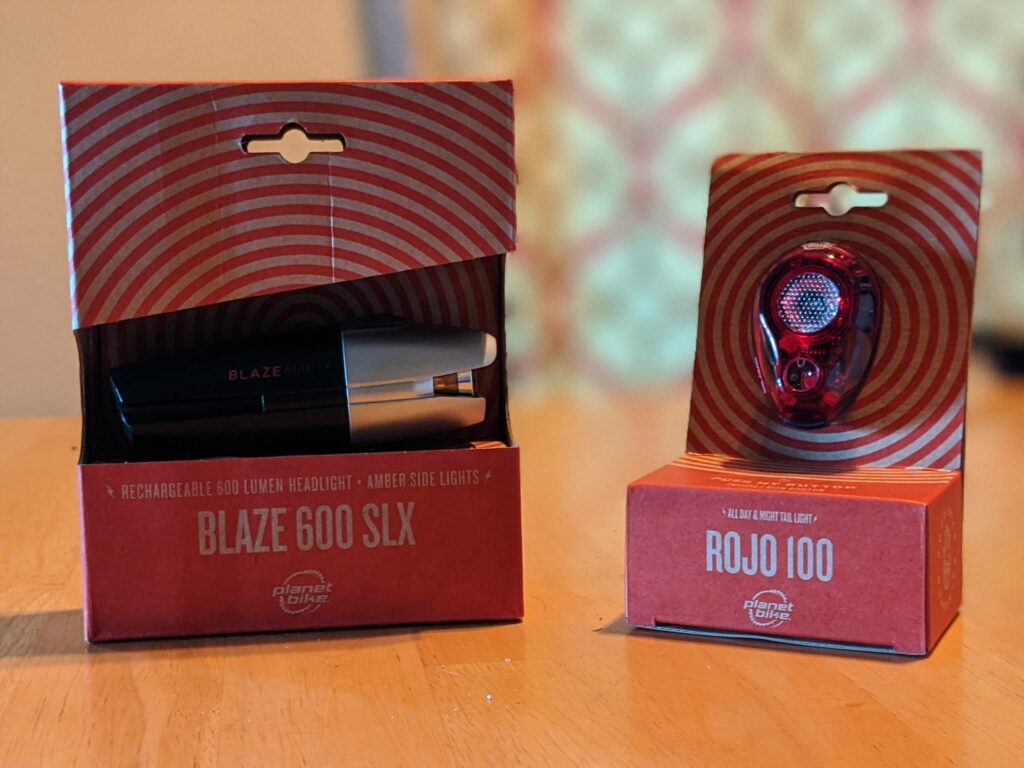 11. Winter Safety Tips
With snowfall comes blind corners and narrower streets. Ride slower and be aware that others may not expect to see cyclists out in winter.
12. Cleaning Your Bike
After you've gone for a ride you'll want to make sure your bike is clean of all salt and debris. I find that this affordable garden sprayer from Harbor Freight (others on Amazon) allows you to clean your bike without making a big mess. Don't forget to dry your bike after!