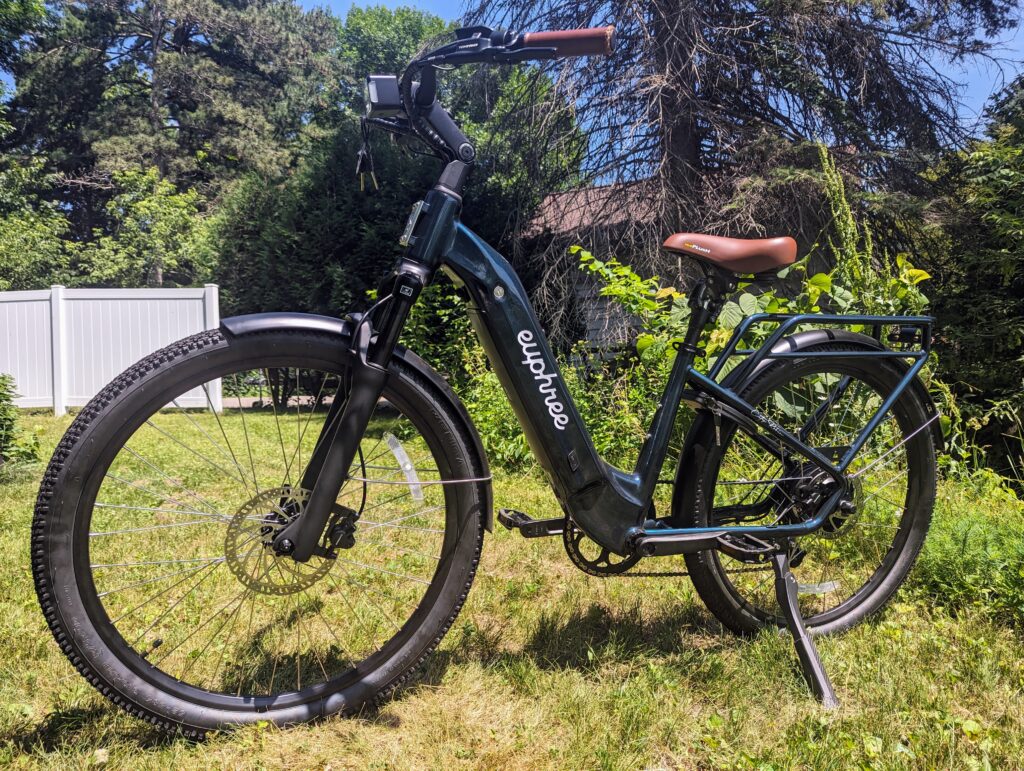 The Euphree City Robin X+ is the third iteration of Euphree's City Robin ebike. This US-based company keeps refining its product rather than releasing a bunch of new models. A $2099 price tag pitches this ebike in the mid-range, yet the features belong to a more premium option.
Check out our in-depth reviews of earlier versions of the Euphree City Robin and our full video review of the new City Robin X+ below.
Euphree City Robin X+ Video Review
Premium Paint Jobs
The glossy paint jobs are certainly a premium look, with a choice of rebel blue, emerald green (our favorite), pearl white and midnight black. Branding is subtle and unobtrusive. An easily accessible step-through design offers a load capacity of 270lb, whilst weighing in at just 58lb. This latest upgrade also has a 2" shorter seat tube, making it a great choice for shorter riders from 5' 1″ and up.
New torque sensor with same powerful motor and battery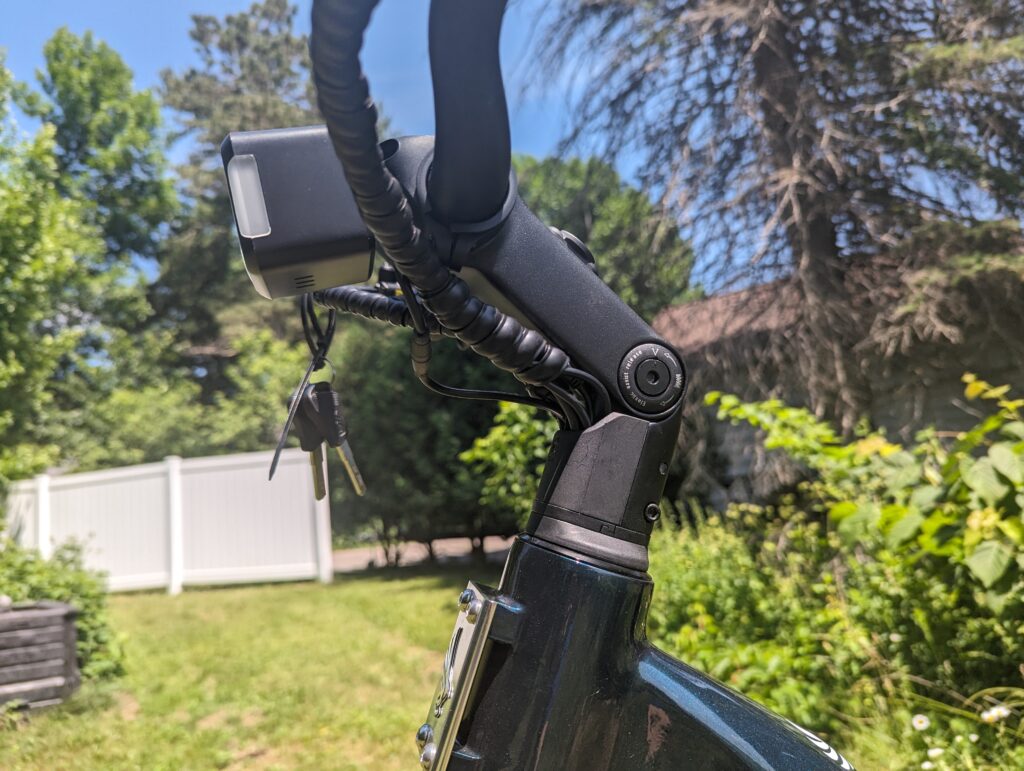 Perhaps the most significant change in the City Robin X+ is the switch to a torque sensor, which more naturally transmits human effort through the four levels of pedal assist, with a Bafang motor of 500 watts sustained, peaking at 900 watts. For riders wanting more assistance, there are two settings within the display to change how much the bike's motor responds to your pedaling.
The bike ships as a Class 3 electric bike, allowing up to 28 mph with throttle-off. The throttle can be turned on and the top speed set to 20 mph for areas that restrict access to Class 2 ebikes. Simply access the advanced settings menu and use code "1801". Additionally, the amps the controller outputs can be changed from 15 amps, up to 20 within the advanced settings.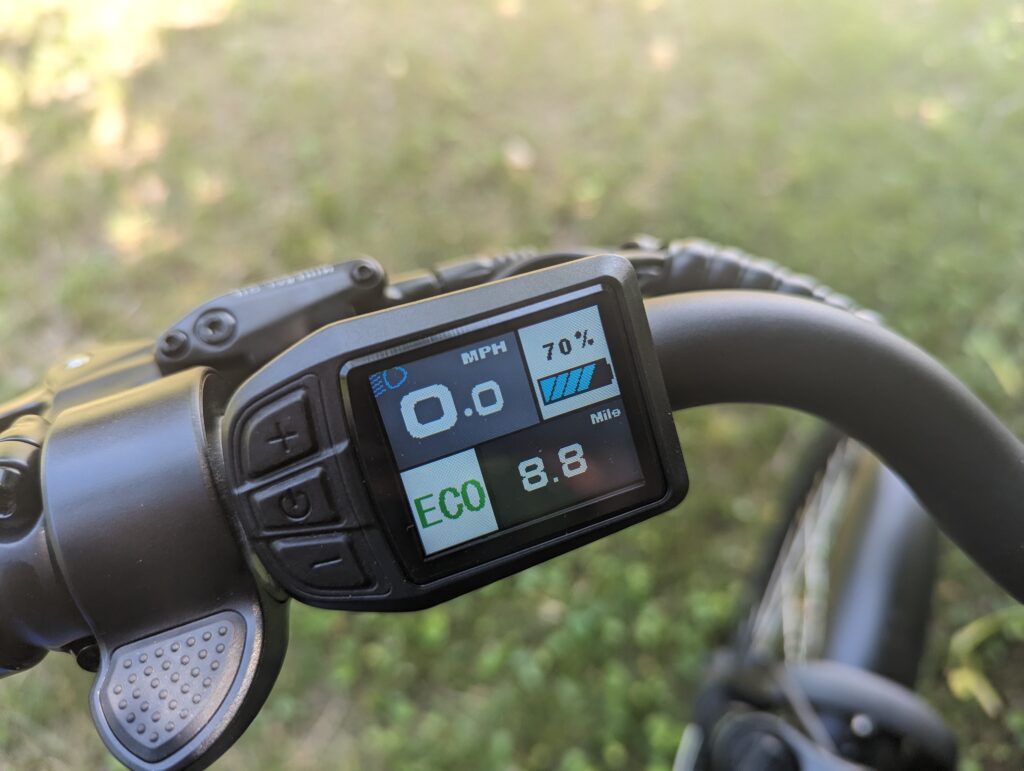 The battery itself is still a standard 14Ah battery hidden underneath the downtube of the frame. The Display is straightforward, attached on the left, with an SP Connect bracket included at the center for those with the matching phone case.
The cabling is very neatly wrapped and integrated into the frame, enhancing the premium finish and not obstructing the optional front basket.
Branded Components as Standard
The amount of branded components included with the City Robin X+ far exceeds expectations for an ebike at this price. In particular, the Velo Plush saddle now comes as standard, along with stylish fake leather Velo ergonomic locking grips. And the included SR Suntour front suspension fork provides 100mm of travel, paired with the deluxe SR Suntour NCX suspension seatpost to give a super comfortable ride.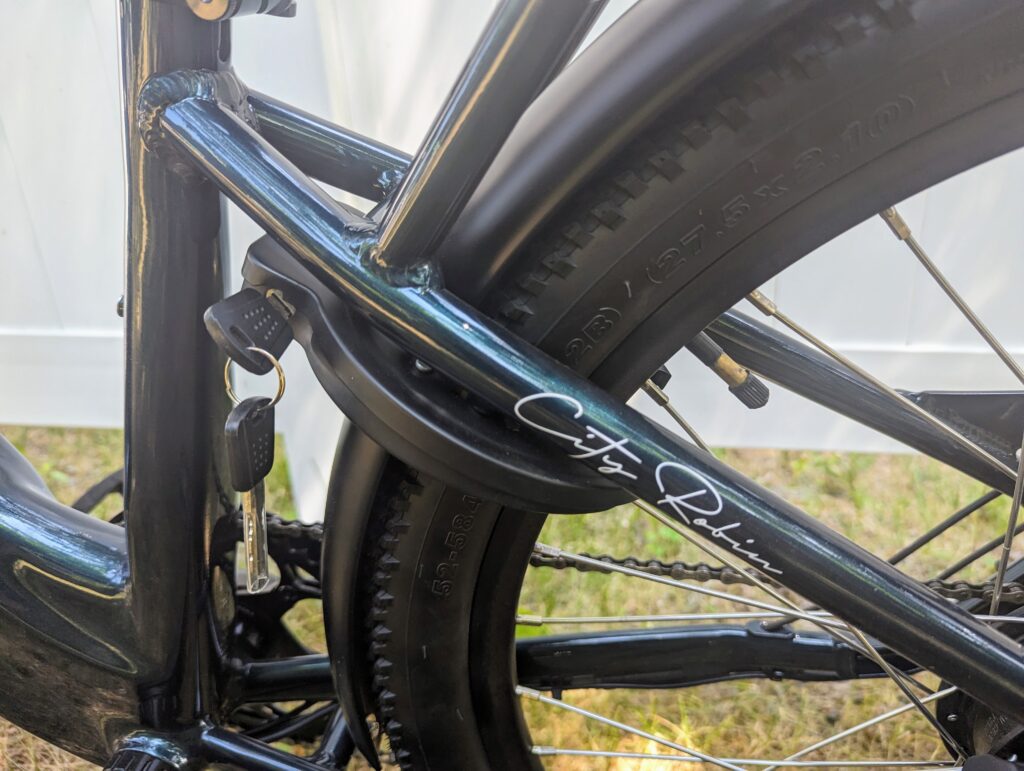 A MicroShift 7-speed drivetrain is a notable improvement on the more usual Shimano thumb shifters. And an upgrade to 11-28 tooth rear free wheel – from 14-28 – limits ghost pedaling at higher speeds. Tektro hydraulic disk brakes, 180mm at front, 160mm at rear, offer tried and trusted stopping power.
Quick release wheels make it easier to stash this ebike in the trunk for transit and an increase to 12 gauge spokes at the back adds strength. Kendra tires sized at 27.5" by 2.1" give a hybrid feel to what is essentially a city bike. It certainly is capable of light off-roading like crushed gravel paths with all of the suspension, though it does have its limitations compared to a mountain bike. The adjustable stem with swept-back handlebars maximizes comfort for all riders and allows you to customize the bike to your liking.
View the full Euphree City Robin X+ components list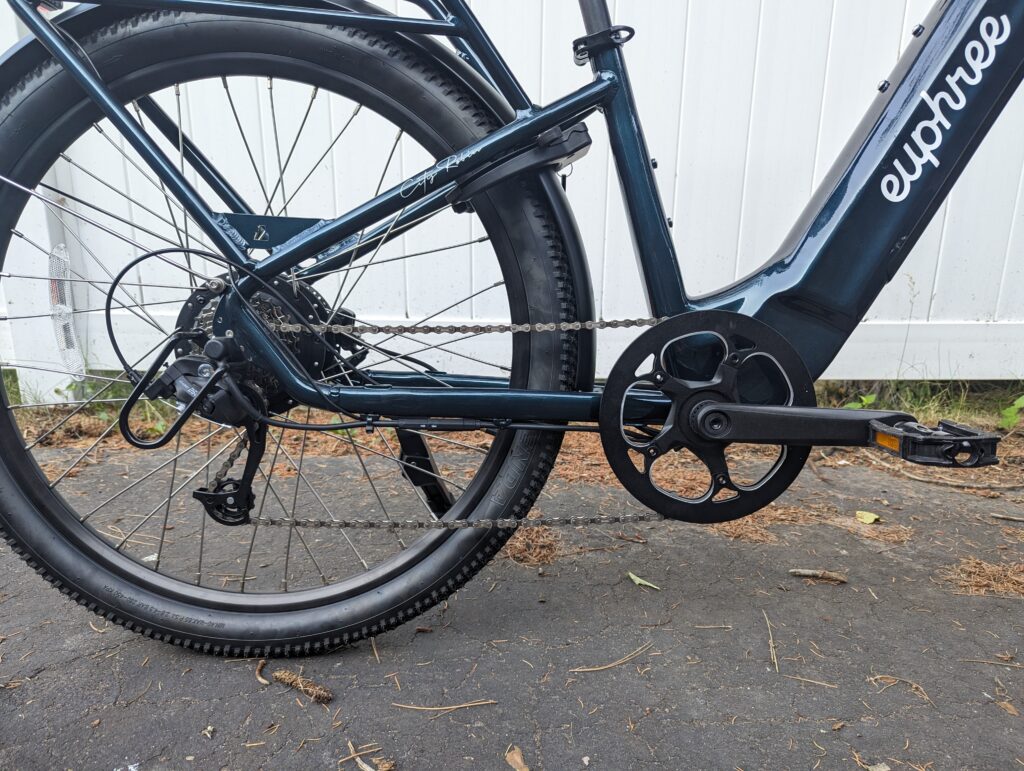 Notable Additions
Also included is a powerful 200-lumen headlight that runs off the main battery, which is brighter than most. The welded rear rack is nicely finished and has a sizable load capacity of 100lb. Thicker metal fenders are thrown in this upgrade too, which are not only durable but also make for a quieter, cleaner ride. And there's a built-in "cafe" lock for basic security in low-theft settings.
Supplied accessories include a t-handle allen, multi-tool, 2 amp charger, and reflectors in a nice, burlap bag.
Conclusion
The Euphree City Robin X+ is a superb cruising city ebike with an impressive range of features giving a smooth, safe and comfortable ride. it's also great to have a growing network of Euphree bike shops (50+) and customer support direct from Texas. The bike is deserving of its spot on our list of "best ebikes for seniors" for the most comfortable category. Though riders of all ages should consider this ebike for its incredible value.
Euphree City robin x+ review
Electronics (Battery, Motor, Display)
9
Components (Shifter, Derailleur, Fork, Brakes)
9.5
Euphree City robin X+ Pros
Torque sensor
Adjustable stem with swept-back handlebars
Capable of Class 3 speeds
Hydraulic disc brakes
Integrated rear rack
Bright front light
Clean cable routing
Included lock
Nicer than most paint jobs with 4 choices
Name brand front suspension fork
Quality suspension seatpost
Euphree City robin x+ cons
Smaller LCD screen
Average size battery