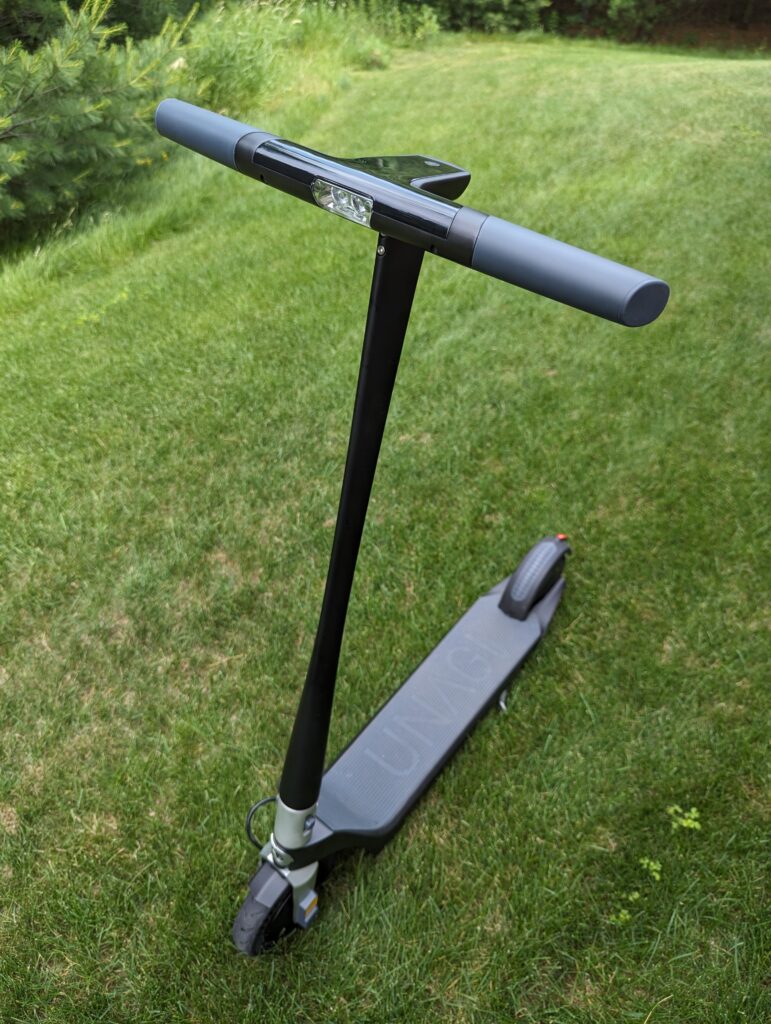 At Ebike Escape we are always on the lookout for new compelling means of transportation on two (or three, or more?) wheels. The Unagi Model One Voyager is a new electric scooter from Unagi that blends a mix of style and performance that sets it apart from the rest of the market. If you are familiar with the Unagi model one classic, the Voyager improves on the power and range of Unagi's base model. The Voyager retails for $1,190 but is also available for rent for $69 a month. Let's jump in and see what makes this scooter special!
Appearance
My first impression is that the voyager is straight out of a sci-fi movie. The sleek modern look makes it known that this is not a children's toy. Cables are well hidden throughout the scooter – they only make a slight appearance near the bottom stem. The thumb-controlled throttle and brakes complement its design. There are only 3 buttons – 1 for the horn, 1 for speed control/mileage display, and the power button which also swaps between single and dual motors. The deck has a nice grippy rubbery feel to it that runs the entire length of the scooter. There are four small allen screws that secure the handlebar and display to the stem that are barely noticeable. The display is easy to read even in bright sunlight.
The stem has a simple sliding switch that easily collapses and locks the stem into place for portability. It is the easiest folding scooter I've reviewed. The stem is triangular shaped, so be aware any accessories you want to attach to it might not work if they are designed for a perfect cylinder-shaped stem. At almost 30 lbs (29.6 according to the spec sheet), I found it easy to carry up and down some stairs during one of my riding breaks.
Model One Voyager Power and Performance
The Unagi Model One Voyager is powered by dual 250 watt motors, capable of 500 watts each for a total of 1000 watts of power. This is an additional 200 Watts of total power over their classic model. I felt comfortable riding flat-level terrain with a single motor, but the additional motor is there when you are in a hurry or climbing lots of hills. The battery capacity is listed at 360Wh / 10 Ah which advertises a 12-25 mile range. This is a significant improvement over the classic's range of 7-12 miles. The voyager also has the added app 'range calculator' feature on the app to help you keep track of how far you can go on your current charge.
Riding the Unagi Model One Voyager
The Unagi Model One Voyager performed admirably during my road tests. Keep in mind I'm about 165 lbs and 5'10" – as each person's build will produce a slightly different experience. There was more than enough power on even, level roads to keep me cruising at a comfortable pace. The dual motors provided ample power to tackle some very steep hills where I live.
I enjoyed the three different speed settings to "lock in" a max speed. For example, when riding alongside one of my kids, I kept it at speed level two, which kept the scooter under 13 mph so I didn't get too far ahead. I did unlock the scooter to test out hitting the max of 20 mph as advertised and experienced no problems in stability. For me, 20 mph is the upper limit where I start to feel uncomfortable with how fast I am going. With how easy the scooter folds, I expected more wobble out of the stem but was happily surprised when there was none.
One added feature that Unagi should consider in the future is a cruise control setting. If I wanted to cruise at a certain speed for a longer time, it would be nice to not have to hold down the throttle.
The electronic lever controlled brake is something that takes some getting used to. It is quite different than the pull lever of a traditional brake, and the stopping power is more than I expected. Fortunately, there is a manual heel brake that can help you ease into a stop if the lever brake is too much. Having ridden the scooter for a number of miles now, I am much more comfortable using the electronic brake and I appreciate the stopping power it has in the case of an emergency.
The tires are solid rubber with no suspension, so you would expect a rough ride. I prepared myself for this when I first took it out on the road, but it wasn't as bad as I originally thought. I've ridden on other scooters that are far worse than what I experienced with the Voyager One. I think a lot of this has to do with how the tires have built-in air pockets which allow more flex than a completely solid tire. I wouldn't want to ride any scooter (or bike) over rough, pothole-filled roads anyway. That being said, beefier tires or some kind of suspension would be a welcome change for Unagi's next model.
Voyager One Mobile App
The voyager also has a dedicated app that syncs via Bluetooth which will give you an additional readout of mileage, battery, and speed/motor settings. I have an Android phone and had no problems turning the lights on and off or switching the motor from single to dual. You can also lock the motor out using the app which is an added bonus. Anything you can control via the app you can also do on the scooter itself, so no worries about trying to fumble around for your phone while concentrating on your commute.
Our Take on the Voyager
The Unagi Model One Voyager is one of the best commuter-type scooters available on the market today. The style, performance, and extra features put it a step ahead of the competition. Their pricing model to buy or rent is a unique twist that should help make the scooter even more accessible to a wider range of people. After seeing what Unagi can do with only a single iteration over their classic model, I'm excited to see what comes next!
Unagi model one voyager review
Electronics (motor, display and battery)
9
Components (brakes, suspension, tires etc.)
8
Styling, finish and comfort
9
Unagi voyager one pros
Modern stylish look
Powerful Dual Motors
Easily Foldable and Portable
Buy or Rent
Mobile app
LED lights
unagi voyager one cons
No Suspension
Horn is quiet