Allow me to introduce and review the Denago City Model 2 ebike. If you couldn't guess from the name, this bike is designed for city riding. It's a great choice for commuting or bumming around town. The base model comes at a very reasonable price of $1,399, and there are plenty of options to customize from there. This comfortable and powerful Class 3 ebike will get you where you are going. Read ahead for all of the fun details.
If you decide to buy the Denago City Model 2 online, please consider using our link. This is a free way for you to support Ebike Escape.
Denago City Model 2 Video Review
Review of Frame Style and Color Options for the Denago City Model 2
The Denago City Model 2 comes in both step-through and top-tube (step-over) frame options. We always prefer step-through ebikes for ease of mounting and dismounting but to each their own. Both frame types come in two sizes for slightly different rider heights.
The step-through S/M fits riders from 4′ 11″ to 5′ 8″, while the L/XL fits riders from 5′ 8″ to 6′ 5″. For the top tube frame, the S/M is for slightly taller riders, recommended for riders from 5'0″ to 5'9″. The L/XL top tube frame fits riders 5'9″ to 6'4″.
Having multiple sizes and frame styles means most adults will be able to find the right fit. The standover height for the top tube bike is 27.9″ for the S/M and 30.5″ for the L/XL. Of course, the step-through has a much lower standover height of 21″ for either frame size.
The color options for the step-through are black, with light gray accents, or wavy, a blueish gray with black accents and a neon green stripe. The top tube frame comes in a single color, blue.
The maximum capacity for the Denago City Model 2 is 300 lbs; the bike itself weighs in at 58 lbs with the battery in place. This is on the lighter end for ebikes. If you want something even lighter, check out our list of the best ebikes under 50 lbs and less than $1,600.
Overall the frame provides a nice upright riding position which is aided by the adjustable stem and swept-back handlebars. The front fork, while rigid, has future upgrades in mind. It's a suspension-corrected geometry front fork meaning if you were to add a suspension fork, the riding position would be identical, albeit with more cushion.
Battery and Motor
In the rear is a 500-watt Shengyi hub motor. It's paired with a 48V with 13.6 Ah, providing a total of 652.8 watt-hours. The estimated range is 40 miles with pedaling and 20 with throttle only. These estimates are assuming a 180 lb rider in ideal conditions meaning flat terrain, proper tire pressure etc.
Overall the motor performed as expected, but did struggle with a 225lb rider up a steep hill on throttle alone. Pedaling went a long way to increase speed during the hill climb. Compared to the Denago Folding 1, this bike is less powerful.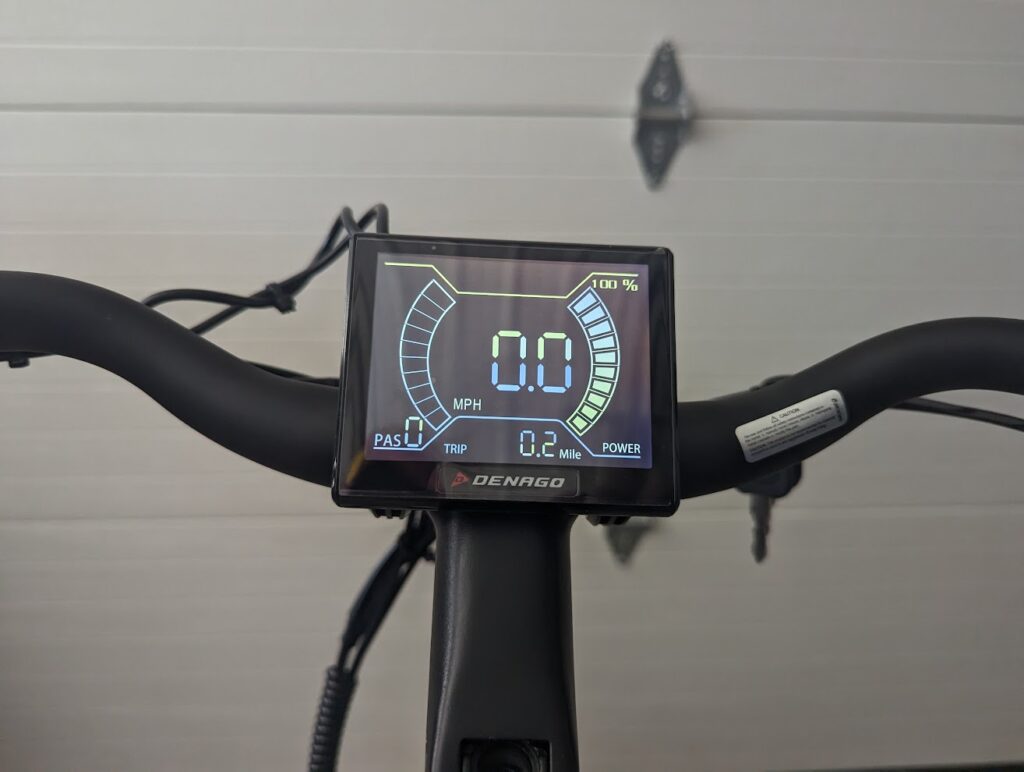 The Denago City Model 2 is a Class 3 ebike with a 28 mph maximum speed with pedal assist and 20 mph maximum speed with throttle alone. The large display can be locked with a pin code for added security. It also shows speed, distance, battery charge, trip distance and more. Pedal assist levels are adjusted with the left-hand controls with options 1-5. It also features a walk mode.
This ebike has a cadence sensor. That means as long as the pedals are moving, the ebike will provide the appropriate amount of power based on the pedal assist level. Some ebikes now feature torque sensors that provide varying amounts of power based on how much effort, or torque, the rider is providing. This gives a smoother and more natural riding experience but also requires more effort from the rider.
Components on the Denago City Model 2
An 11-32 tooth cassette with an 8-speed drive train is in the rear. This is an upgrade from the City Model 1, which was only a 7-speed. An optical gear display on the shifter lets you know what gear you are in with a quick glance down at the handlebars. The derailleur is a Microshift M26 paired with a Microshift thumb shifter, perfect for recreational riding. Up front is a 42-tooth chainring.
Zoom hydraulic disc brakes with 180 mm rotors provide ample stopping power. Motor cut-offs on the levers immediately cut power to the motor when applied, an important safety feature, especially for newer ebike riders.
An additional safety feature is that you can not engage the left-hand thumb throttle from a standstill. This is great for new riders as it is easy to hit the throttle while mounting and end up with the bike going before you are ready. So you'll need to take a couple pedal strokes before the throttle is active.
On the other hand it is a bit of a hindrance to more experienced riders. Unfortunately, there is no way to override this setting at this time. This is something we hope is addressed in the next generation.
Tires and Accessories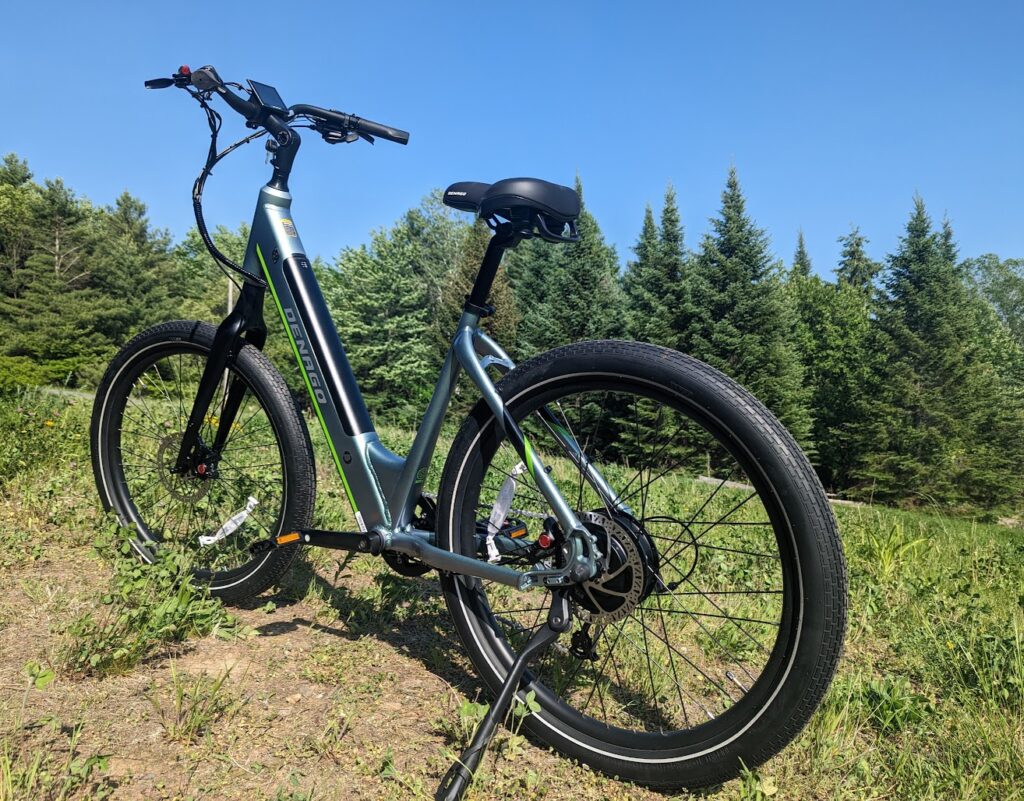 The tires are slightly larger than the previous model and are sized at 27.5″ x 2.6″, which should handle crushed gravel and pavement. I wouldn't plan on much off-roading with the City as there is no included suspension but the wider tires do give riders some increased stability. Another option to add suspension is a suspension seatpost. Our favorite is the SR Suntour NCX suspension seatpost.
As an affordable ebike, the Denago City Model 2 also lacks lights, fenders, and racks. We would recommend bright rechargeable lights front and rear for increased safety. If you plan to ride in light rain or while the roads are wet, you may consider adding fenders. You can buy many of these accessories on the Denago website or check out our list of favorite accessories.
If you would rather get a few more bells and whistles, check out the Denago Commute Model 1. It has fenders, an integrated headlight, a front fork suspension, and more. Check out all of our reviews of the Denago ebikes here.
Upgrades from the Denago City Model 1
The City Model 1 is $1,299, while the Model 2 is $1,399. Compared to the City Model 1, the Model 2 has wider tires, a suspension-corrected front fork, and an integrated battery. The Denago City Model 2 also has an 8-speed drivetrain rather than a 7 for the slightly higher price tag.
Concluding Thoughts on Our Review of the Denago City Model 2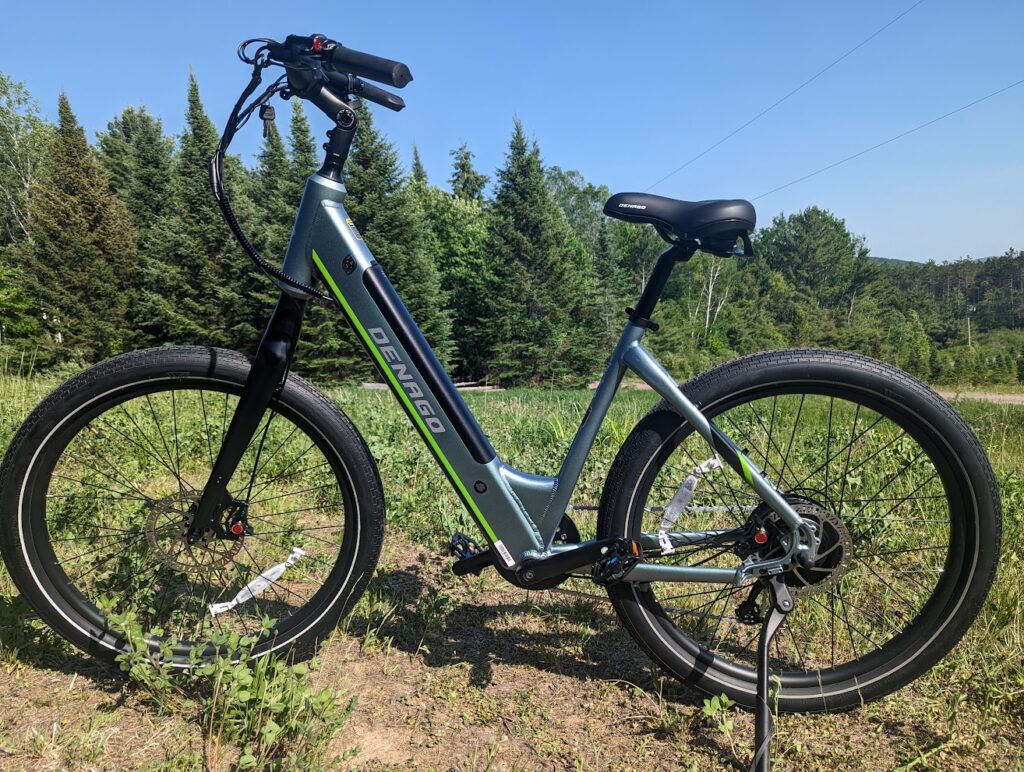 We were pleasantly surprised with our review of the Denago City Model 2. This ebike is in a competitive class but has some great features that help it stand out. The frame sizes allow for a great fit, and because Denago uses dealers, many people will be able to try before they buy if they want. It has an average sized battery and great hydraulic disc brakes with an above-baseline drivetrain. The 500-watt motor is powerful but will need some pedaling on the hills. Overall, we love that it has an affordable price tag and the ability to customize if you'd like to spend a little more for an upgrade.
Denago City Model 2 Review
Electronics (Battery, Motor, Display)
8
Components (Shifter, Derailleur, Fork, Brakes)
8.5
Frame, Geometry and sizing
10
Denago city model 2 pros
Hydraulic disc brakes
Two frame style options with different sizes on each
Sold in dealerships across the US
Fun color accent
The ability for future customization
Capable of Class 3 speeds
Comfortable riding position
Denago city model 2 cons
No included lights
No fenders or racks
No suspension
If you are looking for similiar ebikes try the Aventon Pace 500, RadCity 5 Plus, or Ride1Up Turris. If you want a front fork suspension look at Ride1Up 700 and if you need a more comfortable ebike, try the Euphree City Robin X+.