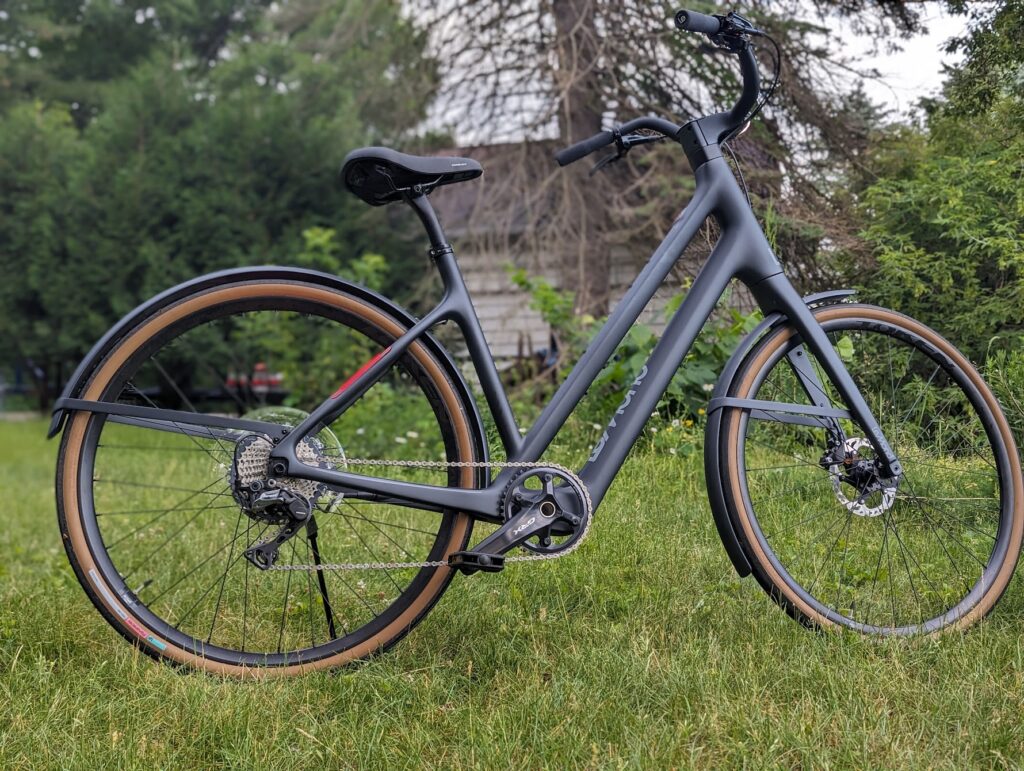 Today we get to review and discuss the LeMond Dutch. This is a premium ebike with top-quality parts that is beautiful and easy to ride with or without motor assistance. No detail has been overlooked. The price tag feels steep at $5,495, but we do feel it is appropriate with everything you are getting with this amazing ebike. Read ahead for all the details, or if you prefer, check out our video review below.
If you decide to get a LeMond ebike, please consider using our link. It is a free and easy way to support Ebike Escape so we can keep reviewing ebikes for you. Thank you!
Lemond Dutch Video Review
Beautiful and Clean Frame Design
The most notable thing about this beautifully designed frame is that it is all carbon! With the frame and many of the components being carbon, this ebike weighs in at only 27 lbs, and that is with the battery in place! That is ridiculously light for an ebike. With the low weight, pedaling this bike with or without motor assistance is easy.
The LeMond Dutch frame is designed with an upright riding position to maximize both comfort and visibility. The swept-back handlebars have comfortable grips for long rides.
There is no suspension, but the saddle, a Selle Royal, is wide and soft. If you wanted to, you could add a suspension seat post for added comfort but keep in mind this is a city-oriented ebike designed for smooth surfaces. We like the SR Suntour NCX suspension seatpost, but there are several options out there.
As you can expect with many premium bikes, several sizes are available to ensure you get the best fit possible. The small frame is recommended for riders between 5'2″ and 5'6″ with a standover height of 30.2″. The medium frame is for riders 5'5″ to 5'11" with a standover height of 32.3 inches. Finally, the large is for riders between the heights of 5'10" and 6'5″ with a standover height of 33.15 inches.
Along with choosing a frame size, you get to choose from three colors, ice blue, noir (black), and rosa (pink).
Battery and Motor Review for the LeMond Dutch
The LeMond Dutch features a fairly petite Mahle 250-watt rear hub motor with a max torque of 40Nm. This can power you up to 20 miles per hour (or faster with your pedaling). With a top pedal assist speed of 20 and no throttle, this ebike qualifies as a Class 1 ebike. Motor sound is almost non-existent, helped by the refined Mahle motor but also the smaller size. This is one of those ebikes that you have to take a close look at to even notice the electrical components.
The battery is embedded in the downtube and is not designed to be removed except in the case of maintenance. It is 36V and 6.9 Ah, providing a total of 250 watt-hours. An optional $650 range extender battery increases your range by 70% and mounts directly in a custom bottle cage.
The estimated range is 40-70 miles. This may seem like a large estimate given the battery size, but because the bike is so light, it makes long rides possible. Remember, the LeMond Dutch is easy to pedal. Even if you run out of battery, getting home without it won't be difficult.
Because the battery is hidden in the downtube, many people won't even realize this is an ebike. Having it embedded also makes it harder to remove. This is not a battery designed to be easily removed. Overall this shouldn't be an issue; however, if you live somewhere with cold winters, you may need a temperature-controlled space to store your bike.
Pedal Assist and Cadence Sensor
There are 3 pedal assist levels that work from a cadence sensor. You can adjust the pedal assist levels with a single button on the downtube. This is another way to make your ebike look like a traditional bike since there is no display to speak of. The button changes colors based on your current assist level. After a few seconds, it changes to a color that is associated with how much battery you have remaining.
If you want to be able to switch pedal assist levels from the handlebars, there is a remote control as an add-on option called the iWOC Trio Controller ($130). There is also a free mobile app you can download that gives you all sorts of details on your ride. You can adjust the amount of power that comes with each pedal assist level, get percentages of remaining battery life, track your ride, and more. Check out our new Ebike Escape store if you need a phone mount.
Components
The LeMond Dutch consistently chooses higher-level parts from Shimano's GRX line. It features an 11-speed Shimano GRX derailleur with 11-40T cassette. A 40-tooth crankset can be found up front. This wide gearing allows the rider to manage a variety of terrain and always find the right gear for the job. The Shimano components continue to the handlebars with a Shimano Rapidfire plus RS 700 trigger shifter. Shimano hydraulic disc brakes with 160 mm rotors provide excellent stopping power.
Of note, there is no motor cut-off. This means if you pedal, you will get power from the motor even if the brakes are applied.
The tires are LeMond branded Panaracer 700 x 38 mm designed for street riding. The base model comes with aluminum wheels, but you can upgrade to carbon wheels if you prefer.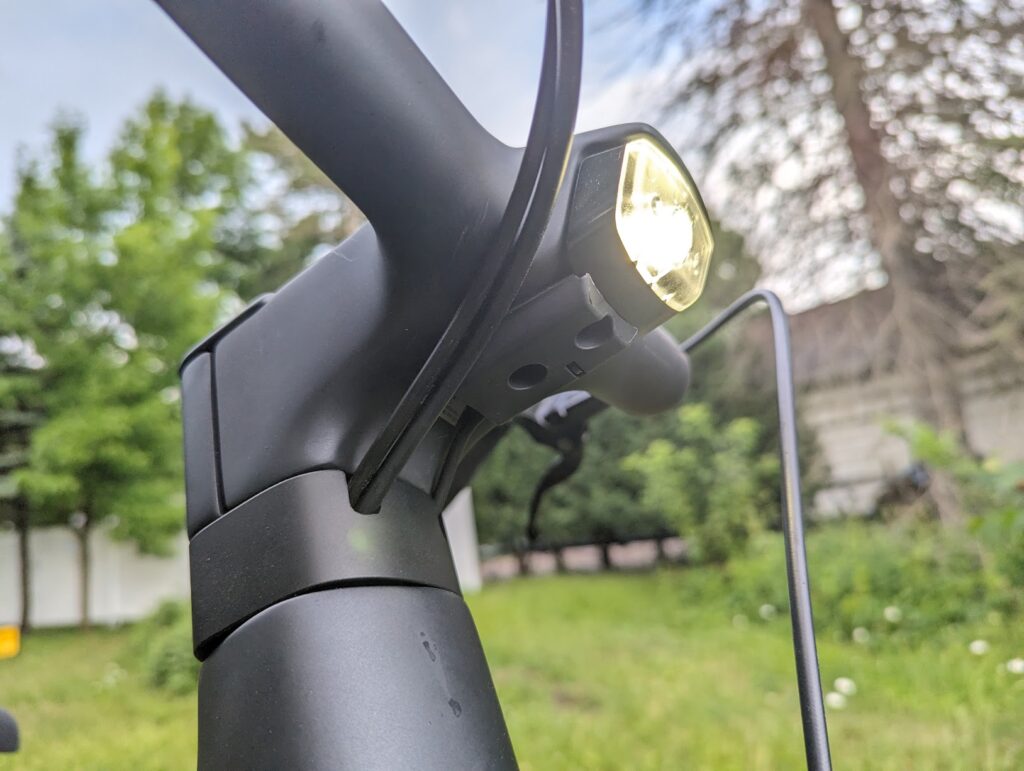 An integrated headlight (500 lumens) and integrated taillights (70 lumens each) located on the rear stays are automatically turned on when the bike turns on.
View the full list of components
Optional Accessories
One accessory I would really consider is the kickstand. It costs $38 and can add to the convenience of your ride. While the LeMond Dutch has quality components all around, they also feature upgrades to many of them. You can upgrade your shifter (wireless), wheels (carbon), or add carbon fiber fenders to help keep you dry. There are no options for a rack.
Concluding remarks after our review of the LeMond Dutch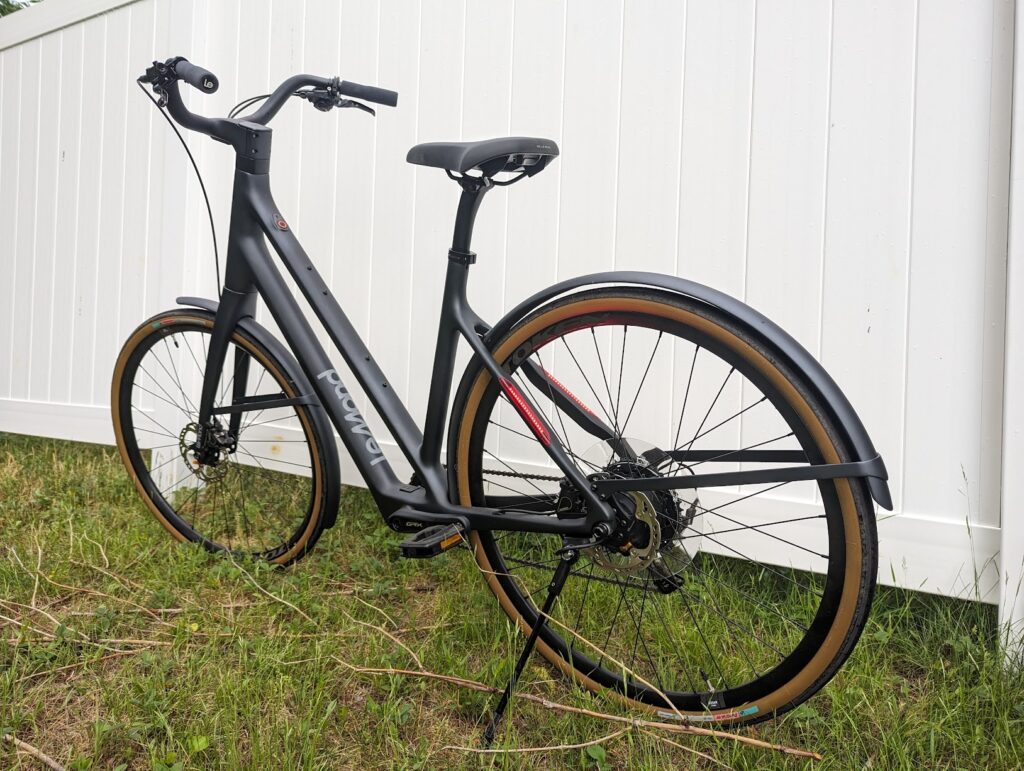 The LeMond Dutch is one of the cleanest ebikes we have reviewed. I love that the carbon fiber frame makes this ebike so ridiculously light. This makes it easy to pedal with or without the extra kick from the 250-watt motor. While the battery may seem small, the range is still generous due to how light the ebike is.
The price tag on the LeMond Dutch is higher than we normally review, but it is appropriately priced as it has a lot of higher-end Shimano components. The design of this whole bike is well thought out, and the gearing never seems to lack. It's also assembled here in the US so you can expect that your ebike is already tuned when it arrives at your door. Assembly is simple and LeMond includes all of the tools necessary. Plus a US-based team is available should you ever need any help.
All things considered, the LeMond Dutch is unique, premium, simple, quiet, and elegant. You won't regret getting this bike if the price tag is within your budget.
Electronics (Battery, Motor, Display)
8.5
Components (Shifter, Derailleur, Fork, Brakes)
10
Frame, Geometry and Sizing
10
LeMond Dutch Pros
Lightweight
Beautiful Frame Design
Integrated headlight and taillights
Quality Shimano GRX components
Easy to pedal with no battery
Stealthy ebike with integrated battery and no display
Three size options
Three color options
Great cable management
Mobile app for customization
Lemond Dutch Cons
Premium price
No suspension
No racks
The battery is not easy to remove
No included kickstand
No throttle
If you like this bike but it isn't a perfect fit, check out LeMond's Prolog. It has the same carbon features with higher-end components, but the frame geometry lends itself to a more traditional bike riding position.