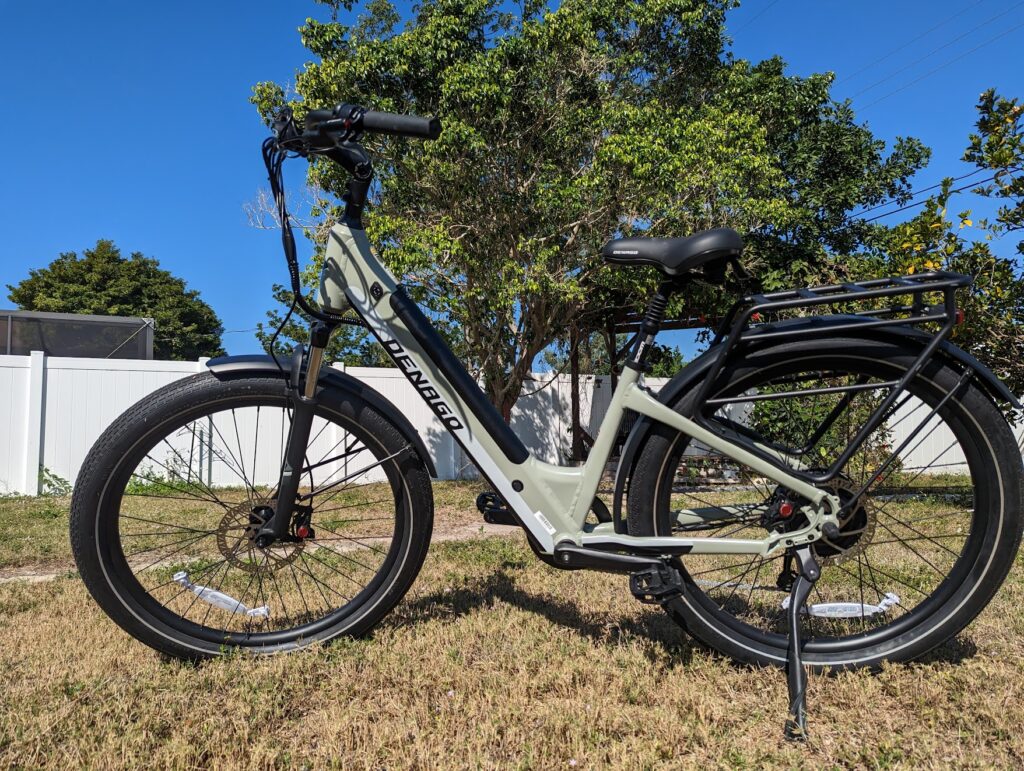 While Denago eBikes may not be a familiar brand name for some ebike enthusiasts, it is quickly making a splash in the US market. We have reviewed the Denago Fat Tire ebike, which was well spec'd and we were excited for the opportunity to check out and review the Denago Commute Model 1. This urban ebike has a low standover height with a step-thru design and is currently selling for $1,799. Check out our video review below, where we were able to visit a dealership to get some riding time on the Denago Commute Model 1.
Denago Commute Model 1 Video Review
Denago: 100 Dealers and Growing
The fact that Denago ebikes are sold at dealerships around the US is a huge plus. Being able to ride the bike before you buy it ensures that it's a good fit for you. It is also helpful for assistance if any future problems arise. We certainly won't hold it against you if you decide to get this bike from a dealer. If you decide to buy online, please consider using our link, a free way to show your support for Ebike Escape. Otherwise, see if you live near one of Denago's 100 dealers.
Frame Design
This city-oriented ebike has several features designed to increase comfort. The stem is adjustable so you can get the right angle for your ideal riding position. The swept-back handlebars complement this feature and put the rider in an upright right position.
There is a suspension front fork and a suspension seat post to help get a smoother ride. While it is nice to see both of these features, we would have liked to see slightly upgraded products, such as a front fork that includes a lock-out and preload adjustment. We love suspension seat posts, but you may want to upgrade this to a nicer suspension seat post. If you are looking for options, check out our accessory page.
The Denago Commute 1 comes in two sizes and two frame options. The step-thru in S/M is designed for riders between 4'11" and 5'8″ and an L/XL for riders between 5'8″ and 6'5″. It comes in two color options, bone and light blue. Both sizes have a standover height of 21″.
Comparatively, the more traditional frame style targets a slightly smaller range of rider heights. The S/M is for riders from 5'0″ to 5'9″, and the L/XL fits those between 5'9″ and 6'4″. The top tube frame comes in a single color option: gray.
Altogether, the total weight of the ebike is between 64-66 lbs depending on frame style and size. The weight capacity for any of the Denago Commute Model 1 ebikes is 280 lbs, with the included rear rack having a limit of 55 lbs.
If you aren't sure what frame or size to get, check out Denago's dealer locator to see if a dealer is nearby so you can try a test ride.
Denago Commute Model 1 Motor and Battery
This Class 3 ebike has a top speed of 28 mph with pedal assist, or if you want to sit back and relax, 20 mph with the left-hand thumb throttle. We were impressed with the motor as reaching and sustaining 28 mph felt effortless. As a safety feature, the throttle will not immediately engage when you are at a stop. This means you'll have to use pedal-assist to get started or give yourself a push with your feet. It is helpful for beginner riders but may be a bit irksome for more experienced riders. There are 5 levels of pedal assist with a cadence sensor determining how much power is added.
The motor is a Shengyi 500-watt rear hub motor which is designed to maximize climbing power on hills. It is powered by a 48V, 13.6 Ah battery (652.8 watt-hours). The battery is nicely integrated into the top of the frame for easy removal. Note the battery comes out of the bottom of the high-step model. With this battery, the estimated range is 45+ miles. Keep in mind that the estimate is with ideal conditions in lower pedal-assist levels. The average rider can expect a shorter range especially when traveling at higher speeds and using the throttle.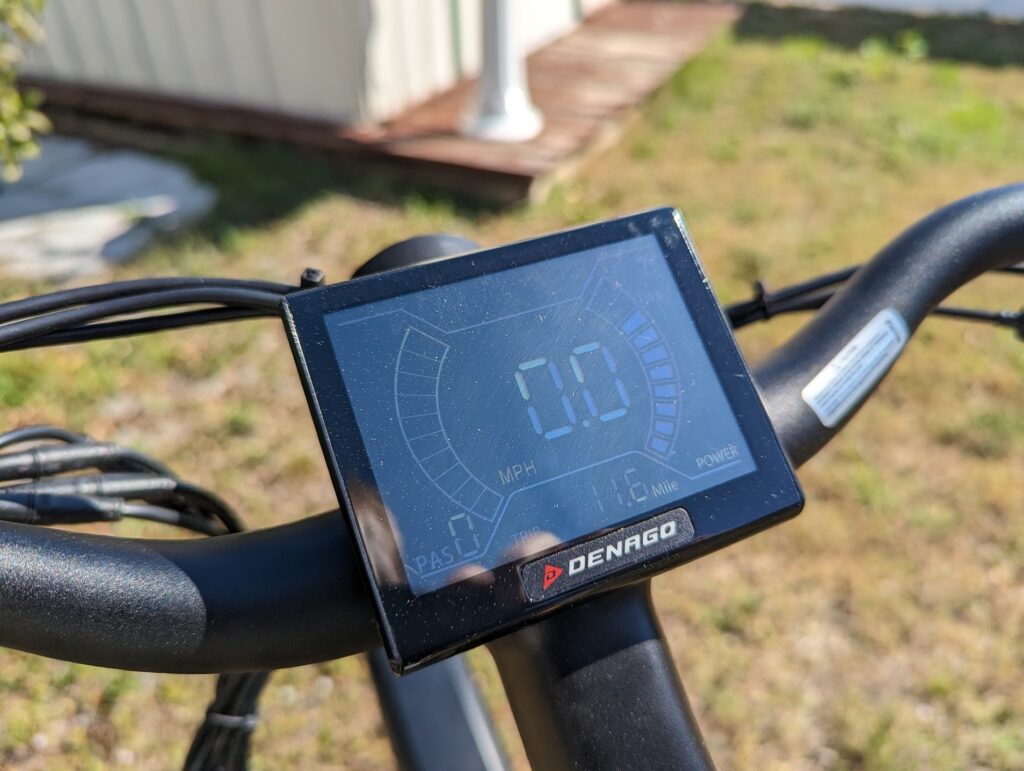 There is an LCD display which includes much of the typical information. This includes speed, distance traveled, battery charge, motor power, trip time, battery charge level, pedal assist level, and walk mode. Finally, a less common feature is the option to use a PIN lock to discourage others from taking your ride.
Components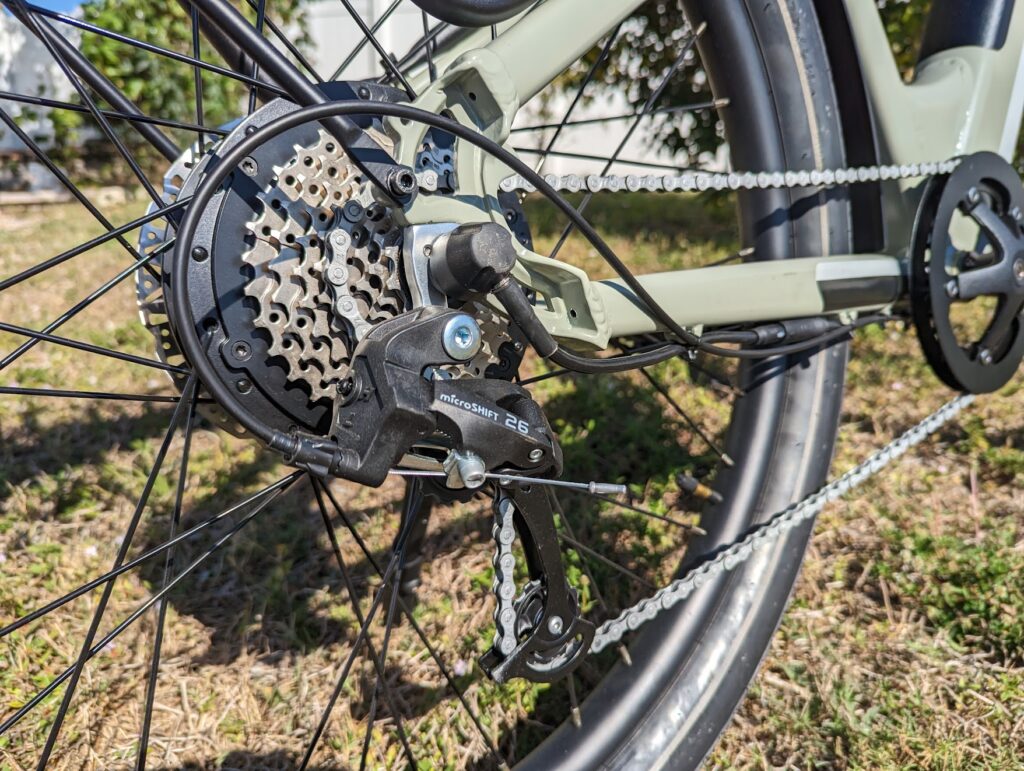 The Denago Commute Model 1 features a Microshift 8-speed drivetrain with an 11-32 tooth cassette and a 42-tooth front chainring. These lower gears are designed to make it easier to climb hills and it's a nice bonus to have 8 gears instead of the typical 7. The drivetrain is by microSHIFT, which we believe is one of the better entry-level drivetrain components. It uses a trigger shifter in the cockpit compared to the thumb shifters we often see.
We are happy to see Zoom hydraulic disc brakes with 180 mm rotors. The motor will immediately cut-off when applying the brakes.The tires are puncture-resistant 27.5″ x 2.6″ and have reflective sidewalls. These slightly wider tires provide extra confidence and cushion for around town. It is a unique choice that we don't often see on these types of electric bikes.
There is an integrated headlight on the handlebars for increased visibility. The rear light, however, runs on a AAA battery instead of the bike battery. It would be nice to see an integrated light in the next-generation Commute. We have our recommendations for additional bright lights here. If you are riding in the rain, this bike has you covered, they include metal fenders for both the front and rear wheels. There is an included rear rack for some light cargo.
Concluding Thoughts on Our Review of the Denago Commute Model 1
Denago is a newer company and we are pleased with the ebikes we've seen. The company is US based so replacement parts should be easy to purchase. Specifically, the Denago Commute Model 1 is a solid choice for those looking for an urban riding experience. It features a few more bells and whistles than Denago's more basic models like the City Model 2 ($1,399).
There are several features to maximize comfort, specifically including an adjustable stem and some basic dual suspension. The benefit of being able to get this from the dealer can seal the deal for some buyers. Plus, the prices are usually the same whether you buy online or in-store. If you are on the fence, take it for a spin! Learn more about the Denago Commute 1.
Denago Commute Model 1 REview
Electronics (Battery, Motor, Display)
8.5
Components (Shifter, Derailleur, Fork)
9
Denago Commute Pros
Hydraulic disc brakes
Powerful 500-watt motor for Class 3 speeds
Included rear rack and fenders
Large LCD display
Adjustable stem/swept-back handlebars
Available at bike shops
Step-thru frame design with multiple sizes
Denago Commute cons
No integrated taillight
Entry level suspension
Some pedal assist levels might provide too much power for some