Until now, Himiway has focused solely on fat tire ebikes, a category that has served them well. In their latest ebike drop in late 2021, four new fat tire ebikes were released. Now the company is switching things up. Two of these new ebikes will appeal to those who love the Himiway ebikes but want something a bit more nimble and lightweight.
But don't worry fat tire fanatics, Himiway released their longest-range ebike yet, and yes, it's a fat tire bike. For 2023, we have three new additions, the Himiway Pony, Rambler and finally, the Rhino. Let's dig into the lineup and be sure to keep an eye out for our Himiway reviews of these models on YouTube.
Himiway Pony: Lightweight and Affordable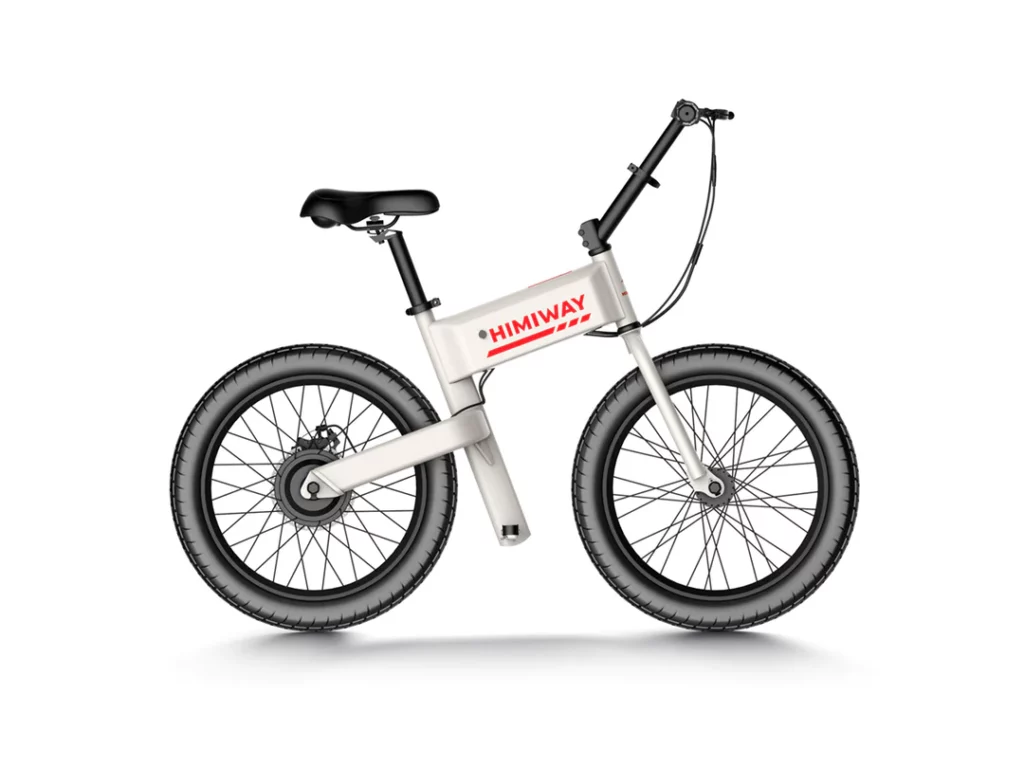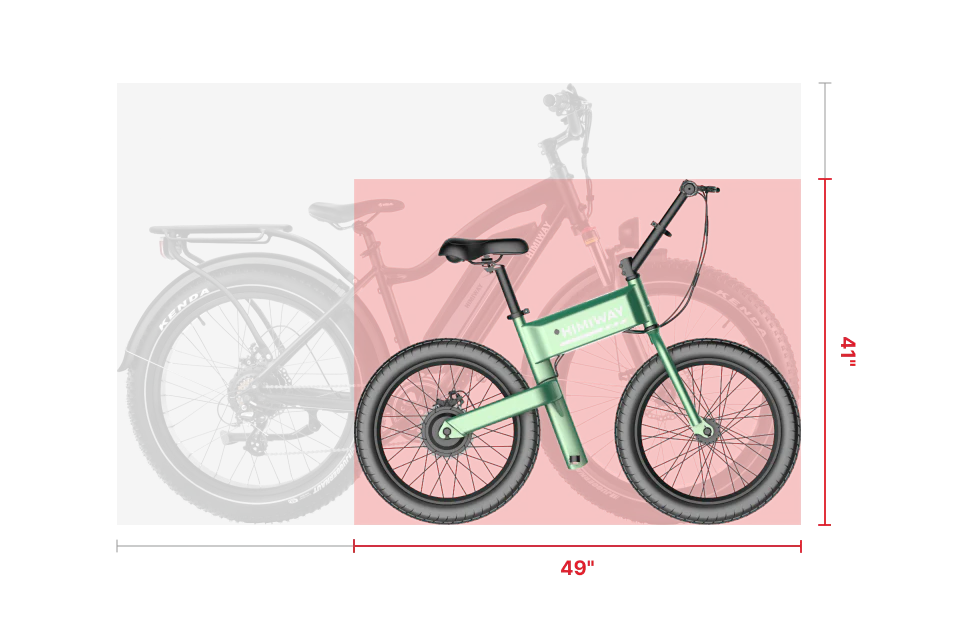 The Himiway Pony diverges from anything Himiway is known for. In fact, it's not even an ebike because it lacks pedals altogether. It's affordable, at just $499 for the 5Ah model and $599 for the 10Ah variation. Unsurprisingly, the Pony uses a 36-volt system compared to the 48-volt systems most often found on ebikes. Himiway is touting a range of up 20 miles on the larger battery though I imagine most riders will get around half that.
The Pony is one of those last mile, or last-few-mile mobility solutions. It's got a 300-watt motor with Kenda 20 x 2.4″ tires. The short wheelbase and small frame mean this ebike is easy to transport.
Hauling it up a set of stairs or bringing it inside shouldn't be too much of a hassle since it only weighs 33 lbs (35 lbs for the larger battery version). It's just 50.4″ long, with the handlebars reaching 41.7″ high, though they are telescoping both for adjustability and portability. The Himiway Cruiser above gives scale to just how tiny the Pony is.
The motor is engaged with a right hand twist grip throttle and it will get you going up to 16 mph. Stopping power is provided by the single rear mechanical disc brake. Offered in 5 different colors, the Pony starts shipping in April 2023.
Our review of the Himiway Pony
So who's this for? Some may laugh at this ebike, but trust me there is a market. It reminds me of the Jetson Bolt ebike, which is also compact, though with a pretty different design due to the small wheels. I've seen a surprising amount of Jetson ebikes during my travels. People commuting or simply those just looking for a super affordable ebike that is capable of short trips.
Himiway Rambler: Commuter/City Ebike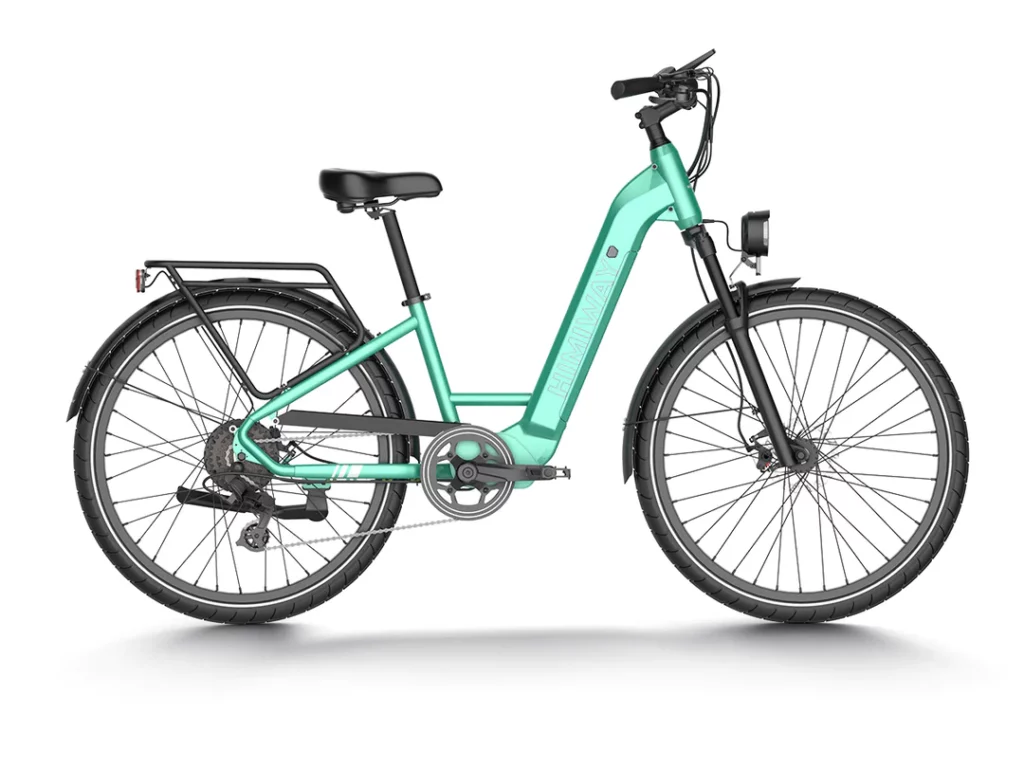 New to the Himiway lineup is the Rambler, a fully outfitted commuter or city ebike. This is the model that I imagine most people were waiting for. Fat tire ebikes can be heavy, and not everyone feels comfortable riding them. The Rambler is also more nimble with its 27.5 x 2.4″ tires, and even better, it's a step-thru frame design for increased accessibility.
What's interesting is the Rambler starts at $1,299 with a hub motor and mechanical disc brakes. Want hydraulic disc brakes? Just $200 more. And for those that want a mid-drive ebike, the price is $2,199. So Himiway is letting customers choose between three different options without having to go with a different model/frame.
Both motors are rated at 500 watts and come with slightly above-average 15Ah batteries. On the mid-drive Rambler is a Bafang M600 motor with 120 Nm of torque. It's paired with Bafang's color LCD screen in the cockpit.
Himiway has also spec'd the bike with a large 500-lumen integrated headlight. Fenders, a rear rack, and integrated brake light are also included. The Rambler will be offered in "Himi Grey", pearl white and mint green.
Our review of the Himiway Rambler
We always like to see affordable ebikes that still offer good components for the price and that's what the Rambler offers in its base-level configuration. While there are a few companies offering city-style ebikes in the $1,300 range, it's nice to have choices. For those that want hydraulic brakes, $200 seems like a reasonable price to pay, but even more, there are few choices for mid-drive ebikes at the low $2000 mark. Plus, the M600 is a tried and true motor from Bafang, and that 120 Nm of torque should power riders up any hill.
Himiway Rhino: Prioritizing Dual Batteries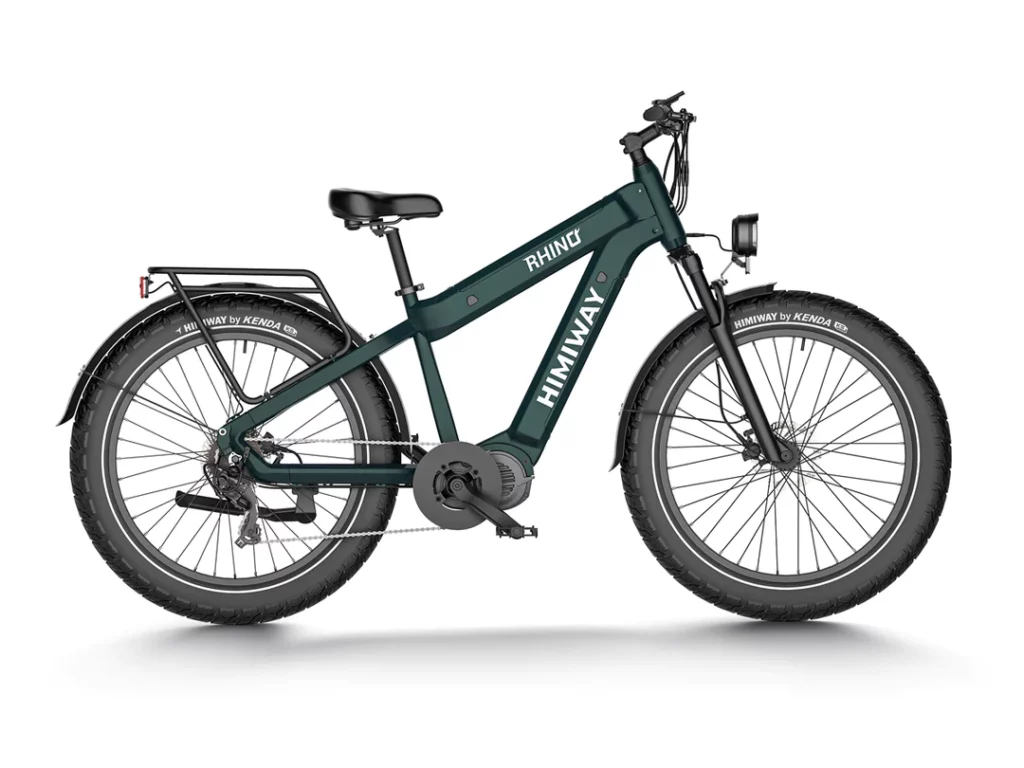 Himiway couldn't release ebikes without a fat tire model. Enter the Himiway Rhino and Rhino Pro. The Rhino is offered in two variations, both with dual batteries. The 1000-watt hub motor (90 Nm torque) Rhino model is priced at $2,999, and the 1000-watt (160 Nm torque) mid-drive "Rhino Pro" is priced at $3,999. Both models have throttles and are capable of speeds up to 28 mph while pedaling (20 mph on throttle alone).
Both bikes come with two 48V 15Ah batteries for a total of 30Ah of capacity (1440 watt-hours). One battery is housed internally in the top tube and the other in the downtube. Due to the large battery, the Rhino is no lightweight at 97 lbs, something potential buyers will want to consider.
This isn't a typical fat tire ebike either, Himiway decided to go with extra wide 26″ x 4.5″ tires for those who plan to venture off the beaten path. The Rhino comes equipped with hydraulic disc brakes, integrated lights, fenders, and a rear rack. Color options are midnight forest and "Himi grey".
Our review of the Himiway Rhino
The Rhino is geared towards those who really want to extend their adventures. It's on the pricey side for a fat tire ebike which can be found typically for between $1,500 and $2,000, but the Rhino offers double the battery capacity of the average fat tire ebike. This bike is also powerful, no matter which motor you choose.
Our Take on the Himiway 2023 Launch
This is quite the diverse lineup, and no one can argue that Himiway isn't exploring other types of ebikes and what people want out of their ebike. We're most excited about the Rambler, given its value price point. The Pony and Rhino will appeal to more specific use cases. Let us know in the comments section below which Himiway model you'd like us to review in depth.